Open Access This article is
freely available
re-usable
Review
Nitric Oxide-Dependent Posttranslational Modification in Plants: An Update
Institute of Biochemical Plant Pathology, Helmholtz Zentrum München, Ingolstädter Landstr. 1, 85764 Neuherberg, Germany
*
Authors to whom correspondence should be addressed.
Received: 6 September 2012; in revised form: 16 October 2012 / Accepted: 6 November 2012 / Published: 16 November 2012
Abstract
:
Nitric oxide (NO) has been demonstrated as an essential regulator of several physiological processes in plants. The understanding of the molecular mechanism underlying its critical role constitutes a major field of research. NO can exert its biological function through different ways, such as the modulation of gene expression, the mobilization of second messengers, or interplays with protein kinases. Besides this signaling events, NO can be responsible of the posttranslational modifications (PTM) of target proteins. Several modifications have been identified so far, whereas metal nitrosylation, the tyrosine nitration and the S-nitrosylation can be considered as the main ones. Recent data demonstrate that these PTM are involved in the control of a wide range of physiological processes in plants, such as the plant immune system. However, a great deal of effort is still necessary to pinpoint the role of each PTM in plant physiology. Taken together, these new advances in proteomic research provide a better comprehension of the role of NO in plant signaling.
Keywords:
metal nitrosylation;
S
-nitrosylation; tyrosine nitration; nitric oxide; posttranslational modification; plants
1. Introduction
Nitric oxide (NO) is a ubiquitous diatomic gas that has been described as an important regulator of a wide range of physiological processes in animal models [
1
]. NO production is not restricted to animal cells, and several studies have shown that it takes place in other kingdoms, such as plant organisms [
2
]. Several lines of evidence indicate that NO can be synthesized in plants from nitrite, polyamines and L-arginine, through nonenzymatic or enzymatic mechanisms [
3
,
4
]. However, with the exception of nitrate reductase, the corresponding enzymes are yet to be identified, and understanding NO generation in plants remains an important challenge [
4
,
5
]. Nevertheless, the functions of NO in plants have been widely studied over the past decades and a significant amount of evidence demonstrated the involvement of NO in the regulation of several biological processes, including hormonal signaling, root growth, stomatal closing, iron homeostasis, germination, or pollen tube growth. Moreover, NO participates in the establishment of adaptive responses against biotic and abiotic stresses in plants [
2
,
6
–
8
].
Although the described NO functions in plants have been increasing over the last years, the precise molecular mechanisms underlying its physiological roles are still poorly understood. Some works about NO way of action in plants demonstrated that artificially generated as well as endogenously produced NO can modulate several gene expressions, involved in stress responses, hormonal signaling or primary metabolism [
4
,
9
–
11
]. In addition, NO has been demonstrated to impact cGMP, Ca
2+
, protein kinase, ROS or phytohormones signaling in plants [
2
,
12
–
14
]. Moreover NO can directly modify target proteins by posttranslational modification (PTM), three of them being the major NO-dependent PTM. The first one concerns the interaction of NO moiety with metalloproteins in a so-called metal nitrosylation. The second refers to the modification of tyrosine residues of proteins by NO, resulting to the formation of 3-nitrotyrosine. The last one concerns the formation of a nitrosothiol group on cysteine residues of target proteins, in a reaction called
S
-nitrosylation. Under distinct conditions, other NO-dependent modifications, such as
S
-glutathionylation or formation of disulfide bridges, are also observed [
15
–
17
]. However, these modifications will not be discussed in this review.
Here, we will highlight metal nitrosylation, tyrosine nitration, and S-nitrosylation, discuss their importance and mechanisms of formation, and finally present recent examples of plant proteins modified by NO.
2. Metal Nitrosylation in Plants
3. Tyrosine Nitration in Plants
If all these recent studies provided putative candidates for Tyr nitration, only few studies characterized a single protein with the determination of the nitrated residue(s). These more detailed characterizations are essential to confirm the potential candidates obtained by the broad proteomic analyses presented above, and to confirm the biological impact of this PTM.
4.
S

-Nitrosylation in Plants
5. Conclusions
NO-triggered PTMs constitute today a major field of investigation in order to better understand the NO-dependent signalization in plants (
Table 1
,
Figure 1
). To date, metal nitrosylation reports in plants are scarce, and the main purpose of this PTM is assumed to be a scavenging and detoxification process. More effort must be put on determining the involvement of this PTM in the induction of further signaling events, such as the production of cGMP by putative NO-dependent sGC. On the contrary, Tyr nitration has begun to be recognized over the last years as an emerging and important PTM in plants. Nevertheless, a lot of work remains, such as by using more physiological approaches to decipher the real biological role of this PTM in general plant physiology, thus allowing for a better understanding of the impact of NO.
S
-nitrosylation is the best characterized NO-dependent PTM and a general picture of the involvement of this PTM is emerging in different processes, especially in plant defense mechanisms against biotic and abiotic stresses. Here again, several efforts are needed to better understand the relevance of this PTM in physiological contexts.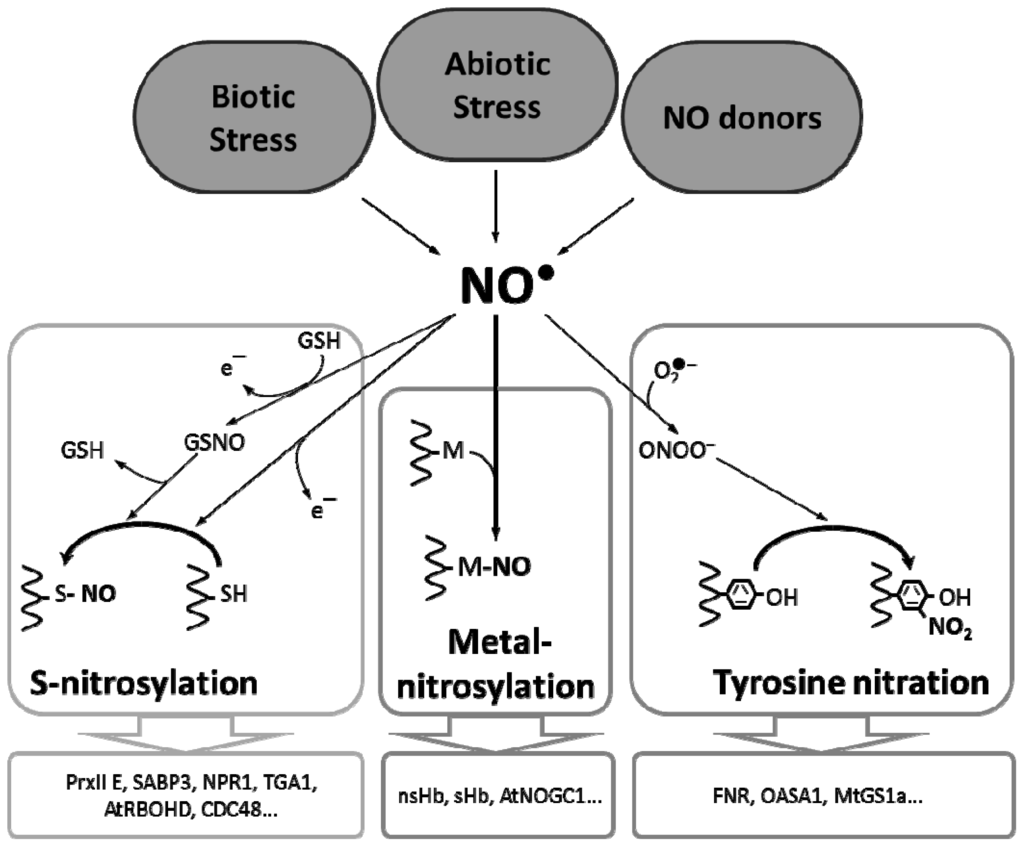 Figure 1.
Schematic illustration of NO dependent PTM in plants. To date, all the analyses of NO-modified proteins in plants followed an NO production induced by (a)biotic stress or NO donors treatment. The NO radical can react with transition metals (M) of metalloproteins. This process is called metal nitrosylation and can affect notably (non)-symbiotic hemoglobins (nsHb and sHb) and an
Arabidopsis thaliana
NO-dependent guanylate cyclase (AtNOGC1). The Tyr nitration depends on the formation of NO derivatives, particularly peroxynitrite formed in the presence of the superoxide anion (O2
•−
). Nitration occurs on one of the two carbon equivalent (C3) of the aromatic ring of tyrosine residues to form a 3-nitrotyrosine. This reaction has been demonstrated in plants for the ferredoxin-NADP oxidoreductase (FNR), the guanylate cyclase of
Medicago truncatula
(MtGS1a) or the of O-acetylserine(thiol)lyase A1 (OASA1). Protein
S
-nitrosylation is the electrophilic attack of nitrosonium cation (NO
+
, resulting from the oxidation of NO) on a thiolate group of a cysteine residue of a target protein. Among numerous proteins, this posttranslational modification affect for example peroxyredoxin II E (PrxII E), salicylic acid binding protein 3 (SABP3), nonexpressor of pathogenesis-related gene 1 (NPR1), transcription factor TGA1, respiratory burst oxidase homologue D (RBOHD) or cell division cycle 48 (CDC48). All these modifications will participate to the change of the plant cell physiology depending on the stimulus applied.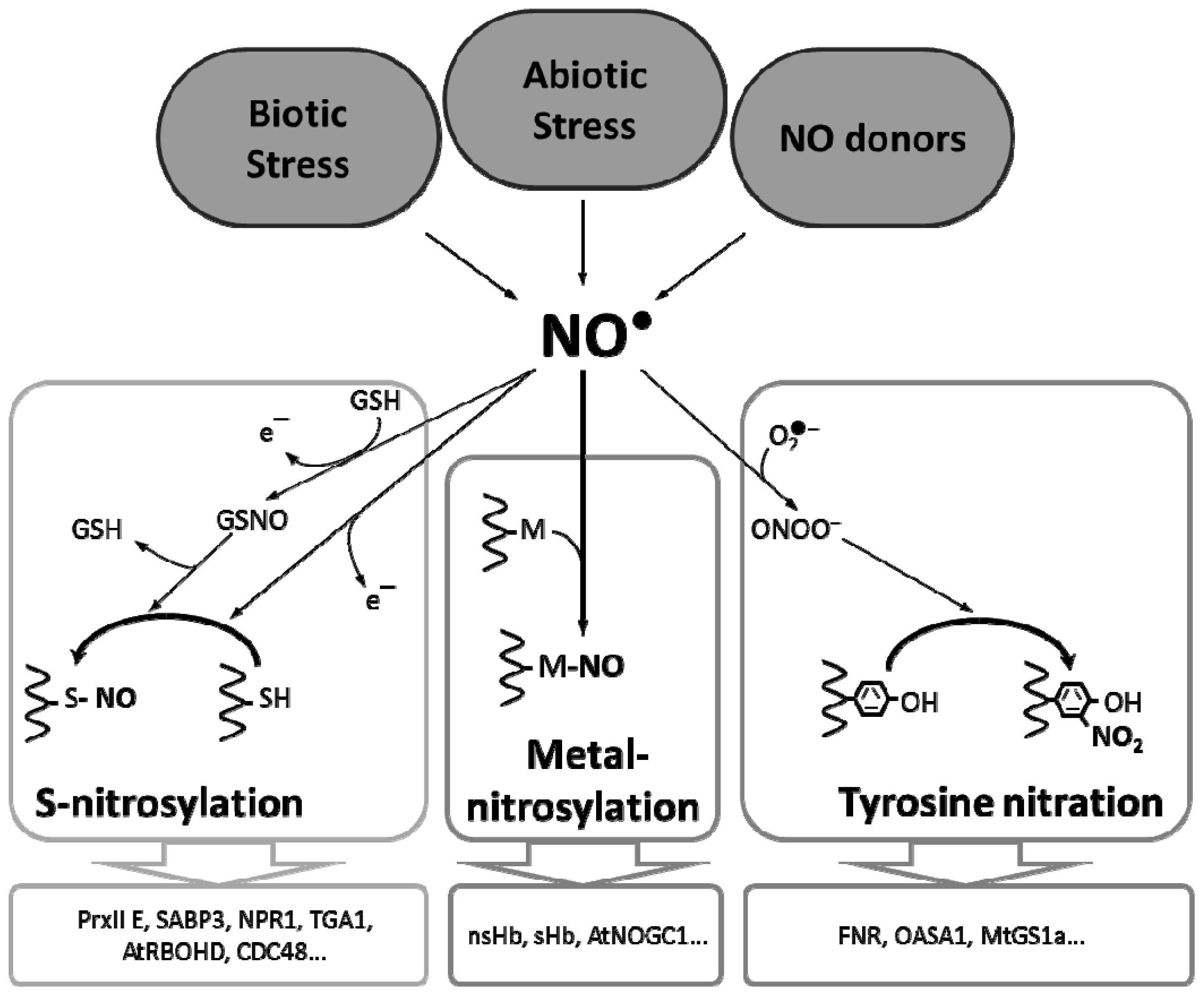 Table 1. Examples of nitric oxide target proteins in plants.
Posttranslational modification
Target protein
References
Metal nitrosylation
NO-dependant Gunylate cyclase 1 (AtNOGC1)
[24]
Hemoglobins
[25–37]
Aconitase
[42]
Tyrosine nitration
Ferredoxin-NADP oxidoreductase (FNR)
[63]
O-acetylserine(thiol)lyase A1 (OASA1)
[64]
Guanylate cyclase
[65]

S

-nitrosylation
Peroxiredoxin II E (PrxII E)
[50]
Nonexpressor of pathogenesis-related gene 1 (NPR1)
[75,90]
Transcription factor TGA1
[90]
Salicylic acid binding protein 3 (SABP3)
[93]
Respiratory burst oxidase homologue D (RBOHD)
[94]
Cell division cycle 48 (CDC48)
[84]
Transport inhibitor response 1 (TIR1)
[92]
© 2012 by the authors; licensee Molecular Diversity Preservation International, Basel, Switzerland. This article is an open-access article distributed under the terms and conditions of the Creative Commons Attribution license (http://creativecommons.org/licenses/by/3.0/).