Sulfur Bridged Multidentate Ligands Based on (Bi)pyridyl-(Bi)-1,3,4-Thiadiazolyl Conjugates
1
Department of Physical and Chemical Methodologies for Engineering, Engineering Faculty, University of Catania, V.le Andrea Doria 6, I-95125 Catania, Italy
2
Department of Economy and Territory, Economy Faculty, University of Catania, Cso Italia 55, I-95129 Catania, Italy
*
Author to whom correspondence should be addressed.
Received: 22 January 2003 / Revised: 14 March 2003 / Accepted: 17 March 2003 / Published: 31 March 2003
Abstract
The synthesis of a series of mixed (bi)pyridyl/(bi)1,3,4-thiadiazolyl ligands, derived from the condensation of 2-mercapto-5-methylthio-1,3,4-thiadiazole or 5-mercapto-5'-methylthio-2,2'-bi-1,3,4-thiadiazole with 2,6-bis(chloromethyl)pyridine or 6,6'-bis(chloromethyl)-2,2'-bipyridine (compounds L1–L4), and of 2,5-dimercapto-1,3,4-thiadiazole or 5,5'-dimercapto-2,2'-di-1,3,4-thiadiazole with picolyl chloride hydrochloride or 6-chloromethyl-6'-methyl-2,2'-bipyridine (compounds L5–L8) in the presence of triethylamine is described. All new compounds have been characterized by FAB (+) spectrometry and NMR spectroscopy.
13
C-NMR spectra are crucial to firmly establish the thiol structure of the title ligands.
View Full-Text
►

▼

Figures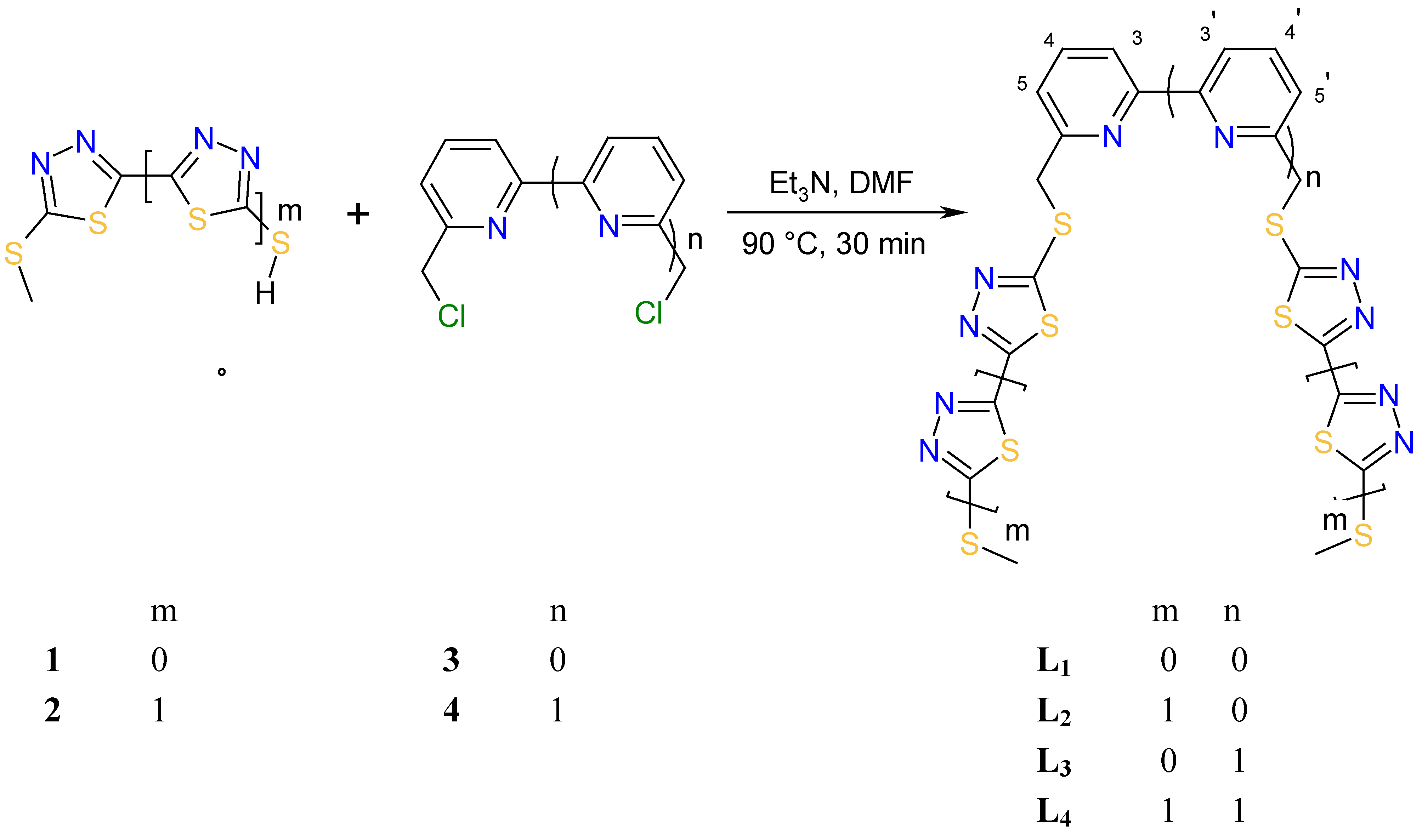 Figure 1

Share & Cite This Article
MDPI and ACS Style
Mamo, A.; Pappalardo, A.; Clasadonte, M.T. Sulfur Bridged Multidentate Ligands Based on (Bi)pyridyl-(Bi)-1,3,4-Thiadiazolyl Conjugates. Molecules 2003, 8, 310-317.
Related Articles
Comments
[Return to top]