Open Access This article is
freely available
re-usable
Article
Nanocellulose and Polycaprolactone Nanospun Composite Membranes and Their Potential for the Removal of Pollutants from Water
1
Department of Water and Energy, University of Guadalajara Campus Tonalá, Tonalá 45425, Mexico
2
Food and Bioprocess Engineering Lab, Department of Biological Systems Engineering, University of Wisconsin, Madison, WI 53706, USA
3
Quality Environmental Laboratory, University of Guadalajara Campus Ciénega, Ocotlán 47829, Mexico
*
Author to whom correspondence should be addressed.
Academic Editor: Ming-Chung Wu
Received: 14 December 2019 / Accepted: 1 February 2020 / Published: 6 February 2020
Abstract
:
A composite membrane based on polycaprolactone (PCL) and cellulose nanofibers (CNF) with different compositions was prepared using the electro-spinning method, with the objective of developing organic membranes with good mechanical properties to remove contaminants from water. Water is a resource of primary importance for life and human activities. In this sense, cellulose obtained from agave bagasse and polycaprolactone nanofibers was used to prepare membranes that were tested by filtering tap water. The membranes obtained presented a porosity and structure on a nanometric scale. The water quality variables evaluated after filtration with the PCL/CNF membranes showed 100% turbidity removal, 100% conductivity, and heavy metal removal of the order of 75% to 99% for iron and chromium. CNF comprises biowaste derived from tequila production, and it has added value. Electro-spun CNF and PCL membranes can be applied as a "green" and eco-friendly filtration system for water purification.
Keywords:
agave bagasse; cellulose nanofibers; membranes; electro-spinning; water filtration
2. Results and Discussion
2.1. Characterization of the Electro-spun Agave Bagasse Membranes
2.2. Filtration Performance of the PCL:CNF Composite Electro-spun Membranes
3. Materials and Methods
Polycaprolactone (molecular weight = 80,000, GPC and melt viscosity ASTM D1238:73);
N
-dimethylformamide (DMF) (anhydrous, 99.8%
w
/
v
); and chloroform (99.8%
w
/
v
) were purchased from Sigma-Aldrich (St. Louis, MO, USA) [
40
]. Cellulose and nanofiber fibers (CNF) were obtained according to the methodology described in a previous work [
7
]. In summary, the agave bagasse fibers of the
Agave tequilana
Weber Plant (Arenal Jalisco, Mexico) were delignified, degreased, and cut, and the cellulose was then obtained using the organosolv method. The cellulose pulp was then bleached. Subsequently, agave cellulose fibers were processed at 1.5% consistency in an M-110P microfluidizer and, thus, fibrillation and CNF formation occurred.
The reagents used to determine the chemical composition were supplied by Sigma-Aldrich (Toluca, Mexico), i.e., aqueous solutions of acetic acid (CH
3
COOH 99%
w
/
v
); sodium chlorite (NaClO
2
, 80%
w
/
v
); potassium hydroxide (KOH, 90%
w
/
v
); sodium hydroxide (NaOH, 97%
w
/
v
); and nitric acid (H
3
NO
3
, 99.5%
w
/
v
). All chemicals were used without further purification.
3.1. Preparation of Membranes by Electro-Spinning
For the preparation of PCL/CNF composite membranes, 2 g of CNF was weighed with a consistency of 2.5%
w
/
v
and diluted in DMF. The solution was left in a shaker for 24 h and then placed in ultrasound for 30 min, followed by mixing with PLC (40%
w
/
v
) diluted in chloroform. Three types of membranes were prepared using different PCL:CNF ratios, i.e., 80:20, 50:50, and 60:40 (
v
/
v
).
The electro-spinning equipment was set up as follows: collector distance, 20 cm; flow rate, 0.5 mL/h; and the voltage 15 to 20 kV (GAMMA, High Voltage Research, FL, USA). The CNF/PCL composite blend was loaded into a 3 mL syringe with a stainless-steel needle and was injected and collected on a plate with a ground connection covered with aluminum foil. After 90 min, the deposited fibers matted into an electro-spun membrane of 10 × 8 cm, which was stored in a dissector for subsequent characterization and use.
3.2. Characterization of the Obtained Membranes
The functional groups in the membranes were analyzed using Fourier transform-infrared (FT-IR) spectroscopy (Nicolet 4700 ATR FT-IR, Thermo Scientific, Grand Island, NY, USA). Sixteen scans were performed in the wavenumber range of 400 to 4400 cm
−1
and at a resolution of 4 cm
−1
. The membrane crystallinity index was determined based on the empirical method of Segal [
7
], using X-ray diffraction spectroscopy (XRD; Empyrean, Siemens, Washington, DC, USA). To study the thermal degradation characteristics of the membranes, thermogravimetric analysis (TGA) was carried out (Q100, TA Instruments, Lindon, UT, USA) with heating and cooling rates of 20 °C/min. A 5 mg sample was heated to temperatures in the range of 50 to 400 °C in a nitrogen-rich atmosphere. A flow rate of 20 mL/min was used, and measurements were carried out in duplicate.
A scanning electron microscope (SEM; Leo 1530-FE, Zeiss, Cambridge, UK) was used to analyze the morphology of the membranes and the contaminant retention capacity. To perform these tests, images of the membranes were taken before and after filtration of contaminated water. The micrographs were obtained at an acceleration voltage of 15 and 20 kV and an increased range of 1000X to 5000X. The ImageJ program was used to measure the diameter of the fiber and porosity area in the SEM image for each membrane [
41
]. The porosity calculation was according to Equation (1), where
ve
is the volume of empty spaces and
v
is the total volume of the sample:
Tensile properties were measured on 0.5-mm-thick, 12-mm-wide, and 50-mm-long strips of the membranes using a universal testing machine (Instron 5967, 50-N load cell) at a crosshead speed of 5 mm/min. The measurements for each sample were carried out in triplicate. Young's modulus was calculated by dividing the tensile stress by the engineering extensional strain in the elastic (initial, linear) portion of the stress–strain curve. In the case of the electro-spun prepared membranes, their permeability was determined using the Tappi T460 and Gurley method [
42
], which is based on the time that a volume of air (100 mL) passes through the membrane at a determined and controlled pressure. A Gurley-Hill-type apparatus was used, and the results were expressed in seconds per 100 mL. The calculated permeability was found by using Equation (2):
where
P
is permeability µm/Pa/s and
t
is time in seconds per 100 mL.
3.3. Filtration Performance of the PCL:CNF Composite Electro-Spun Membranes
The PCL/CNF membranes were tested for their ability to filter tap water. The tap water was analyzed for certain water quality parameters before and after being filtered with the prepared membranes. The conductivity (Hach model HQ40d, Ocotlán, Jal, México); turbidity (HANNAH Instruments model HI 03703, Ocotlán, Jal, México); and heavy metal concentration atomic absorption spectrometry (ICP Perkin-Elmer—Optima 4300 DV, Madison, WI, USA) were measured. The initial characteristics of the tap water samples are shown in
Table 3
.
The filtration testing system apparatus consisted of a filtration Buchner funnel that contained the PCL/CNF membrane as a water filter. The funnel was mounted in a Kitasato flask and connected to a vacuum pump (WELCH 1HP, Ocotlán, Jal, México) with a pressure of 59,984.4 Pascal, as shown in
Figure 8
. The volume of tap water to be filtered was 100 mL, and the time was 10 s. The membranes had a diameter of 4 cm and a thickness of 0.25 mm. After filtering the water, samples of the filtered water were taken and heavy metals, conductivity, and turbidity were measured. The membranes were dried at room temperature, and then SEM photographs were taken and the surface contaminants analyzed.
4. Conclusions
Nanocellulose and polycaprolactone composite membranes were developed via electro-spinning. The results of the characterization of the PCL/CNF composite membrane showed a good compatibility between the CNF and PCL, since the mechanical properties of the composite biomaterial were higher, which is important in water filtration systems. Three membrane systems were compared in terms of their ability to improve water quality, in terms of turbidity, conductivity, and the removal of contaminating metals (iron and chromium). The differences found in these properties were interpreted with respect to the nanostructural morphology of the membranes and the interconnection between the composite nanofibers of PCL and CNF. The electro-spun PCL50:CNF50 membrane successfully retained heavy metals in tap water (Fe = 75% and Cr = 99%) and removed 100% turbidity and conductivity. The results showed that CNF is a suitable biowaste material derivative from tequila production, with an added value in the production of composite PCL/CNF electro-spun membranes that can be applied in eco-friendly filtration systems for water purification.
Author Contributions
Methodology and experimental work: H.P.H. and H.U.-S.; formal analysis: F.Z. and A.A.G.d.L.; writing—original draft preparation: H.P.H. and B.S.-R.; conceptualization and supervision: G.S. and B.S.-R. All authors have read and agreed to the published version of the manuscript.
Funding
This research received no external funding.
Acknowledgments
The authors are grateful to the National Council of Science and Technology México (CONACyT) for their financial support of student grants, as well as Ms. Janessa Grieve for providing help with the language in this document.
Conflicts of Interest
The authors declare no conflicts of interest.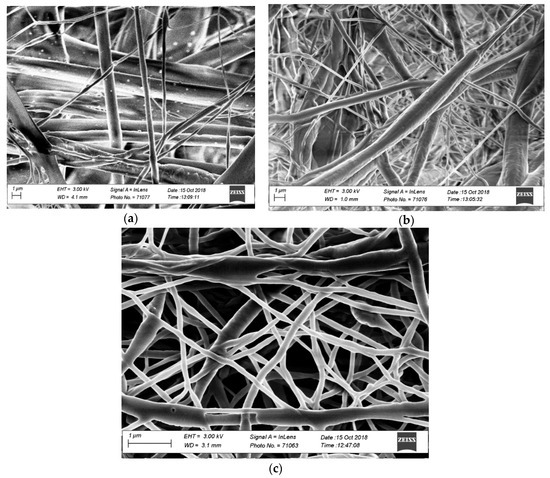 Figure 1.
SEM images of electro-spun nanofibrous membranes fabricated from polycaprolactone/cellulose nanofiber (PCL/CNF) copolymer blends at (
v
/
v
) ratios: (
a
) 80:20, (
b
) 60:40, and (
c
) 50:50.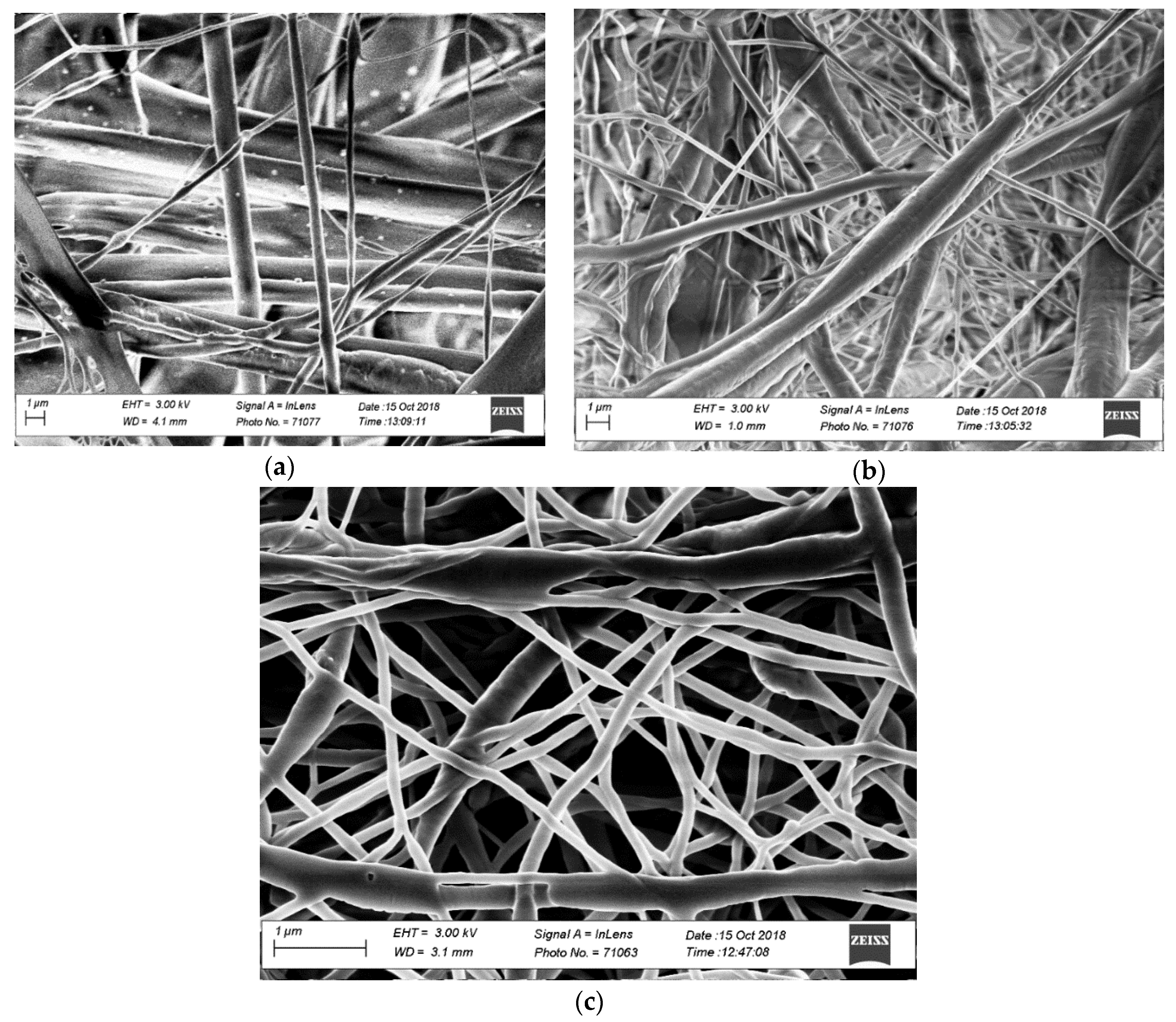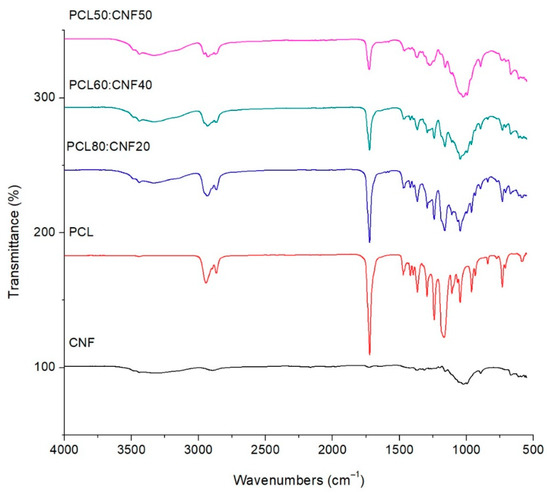 Figure 2.
FTIR spectra of cellulose nanofibers (CNF), polycaprolactone (PCL), and electro-spun membranes for 50:50, 60:40, and 80:20 PCL/CNF (
v
/
v
) ratios.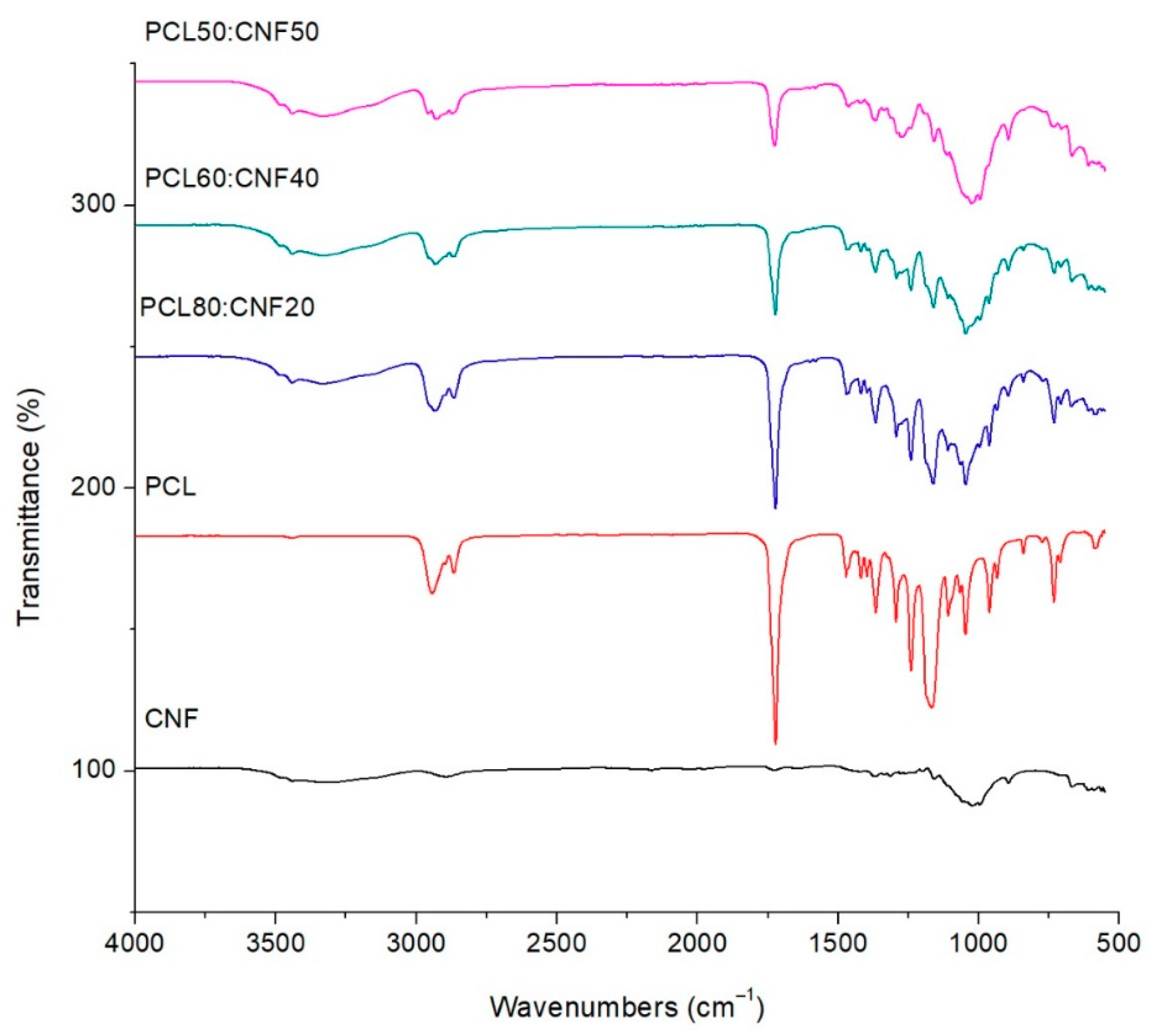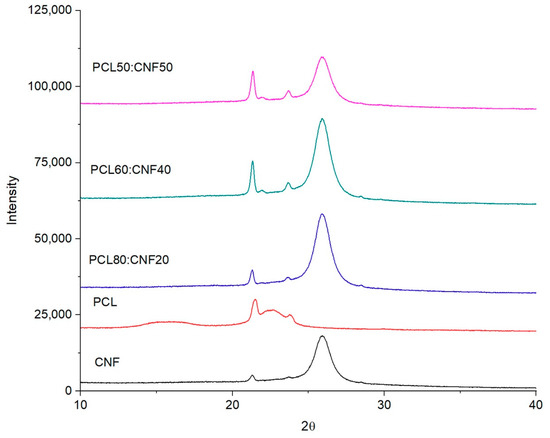 Figure 3.
XRD spectra of cellulose nanofibers (CNF), polycaprolactone (PCL), and electro-spun membranes of 50:50, 60:40, and 80:20 PCL/CNF (
v
/
v
) ratios.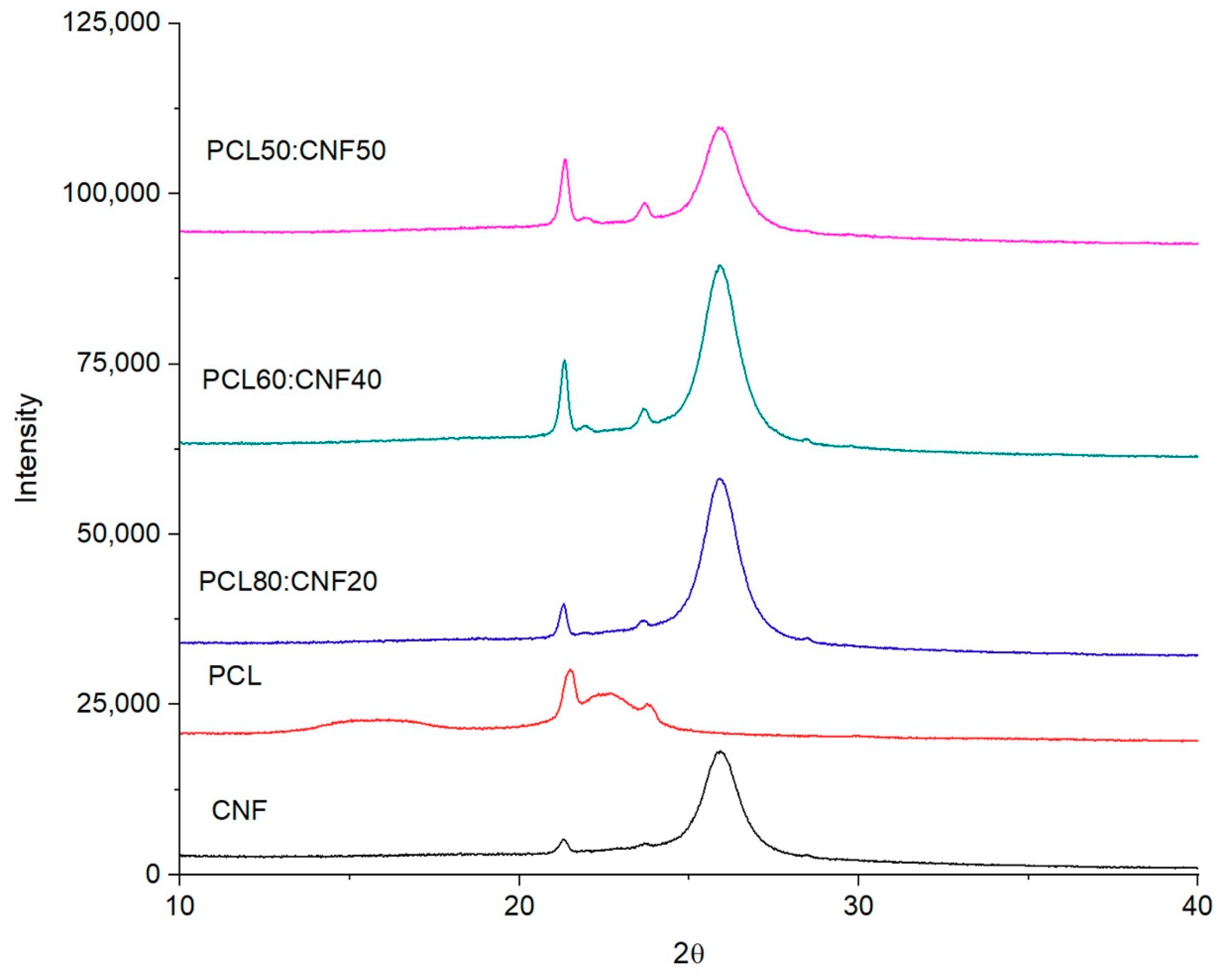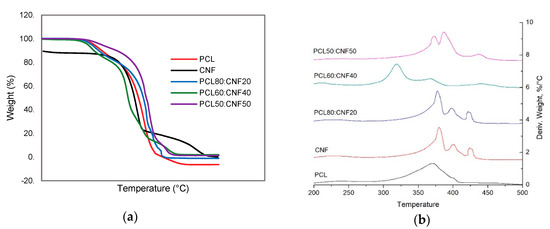 Figure 4.
Thermogravimetric analysis: (
a
) TGA curves of cellulose nanofibers (CNF), polycaprolactone (PCL), and electro-spun membranes of 50:50, 60:40, and 80:20 PCL/CNF (
v
/
v
) ratios. (
b
) DTG curves of cellulose nanofibers (CNF), polycaprolactone (PCL), and electro-spun membranes of 50:50, 60:40, and 80:20 PCL/CNF (
v
/
v
) ratios.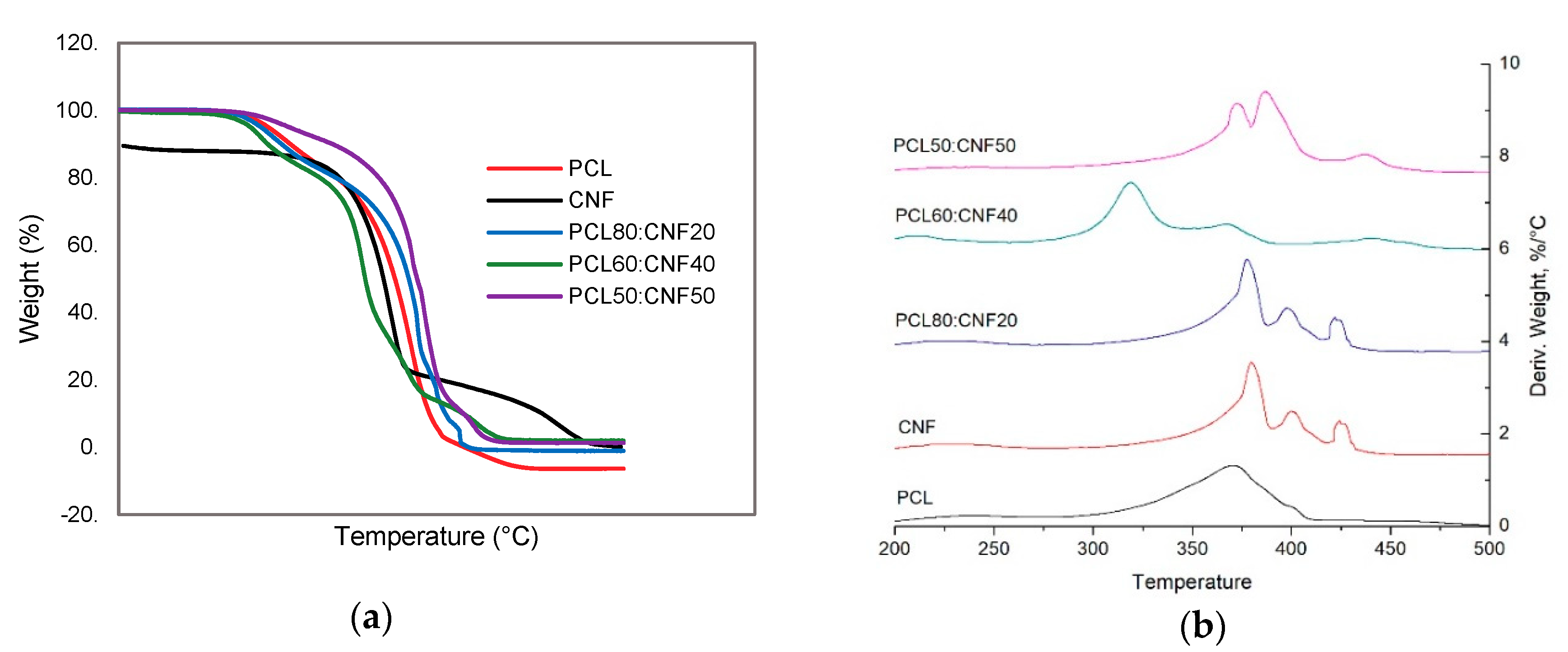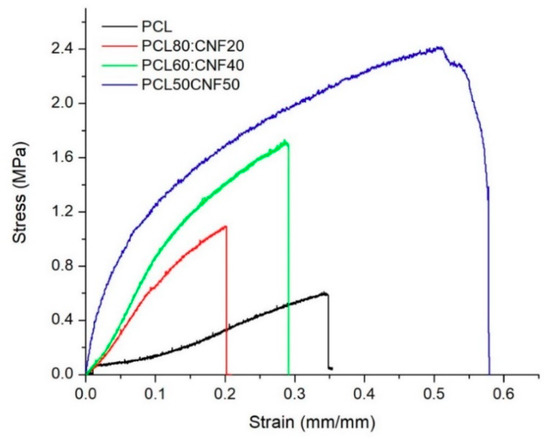 Figure 5.
Stress–strain curves of polycaprolactone (PCL) and electro-spun membranes of 50:50, 60:40, and 80:20 PCL/CNF (
v
/
v
) ratios.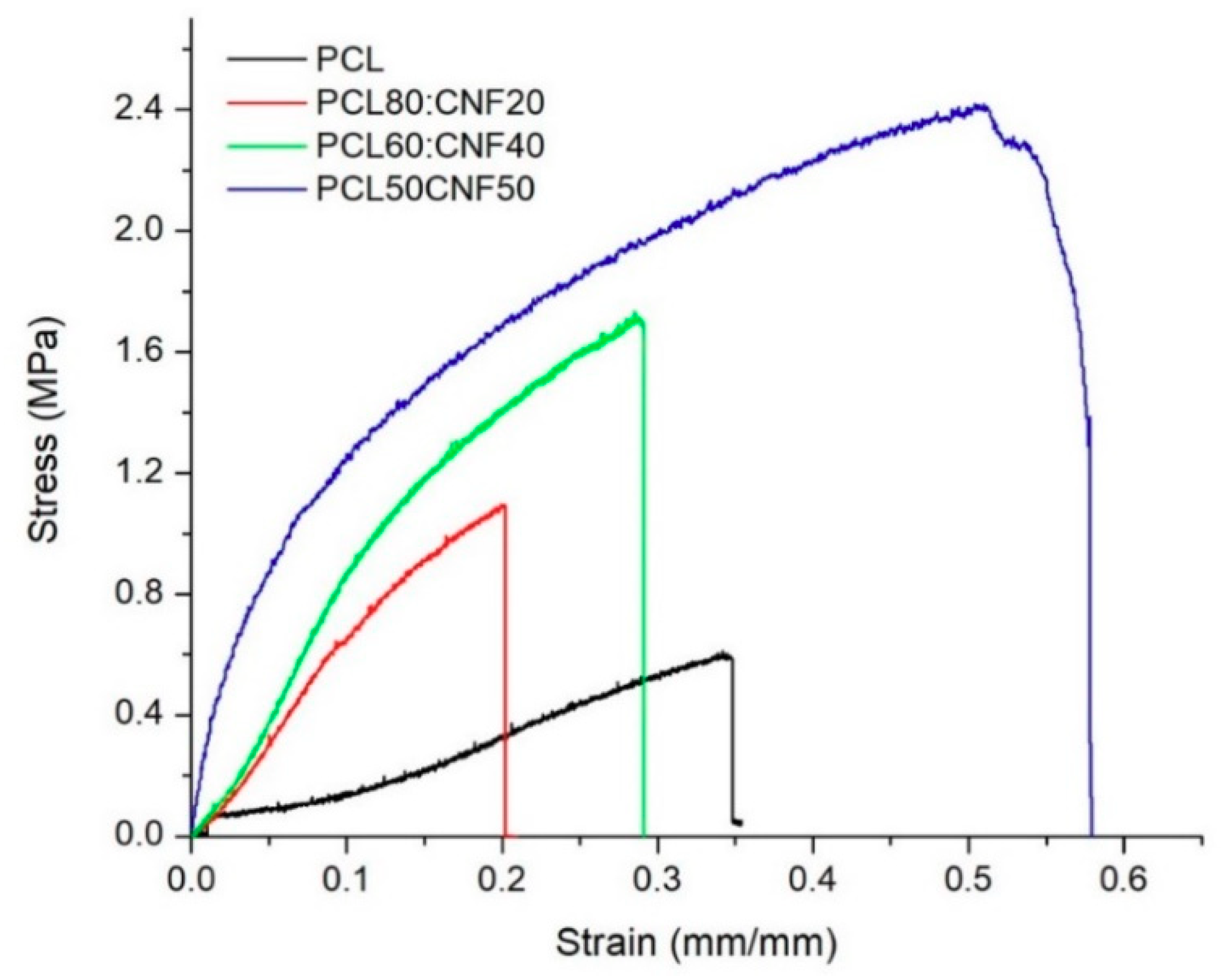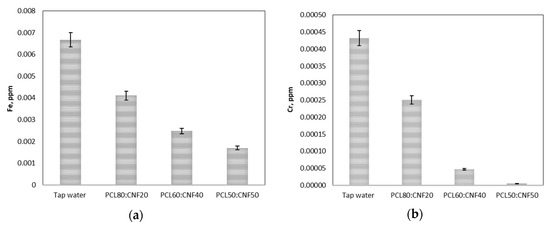 Figure 6.
Removal of heavy metals in tap water using PCL/CNF (
v
/
v
) ratio (80:20, 60:40, and 50:50) composite electro-spun membranes: (
a
) Iron (Fe) and (
b
) Chromium (Cr).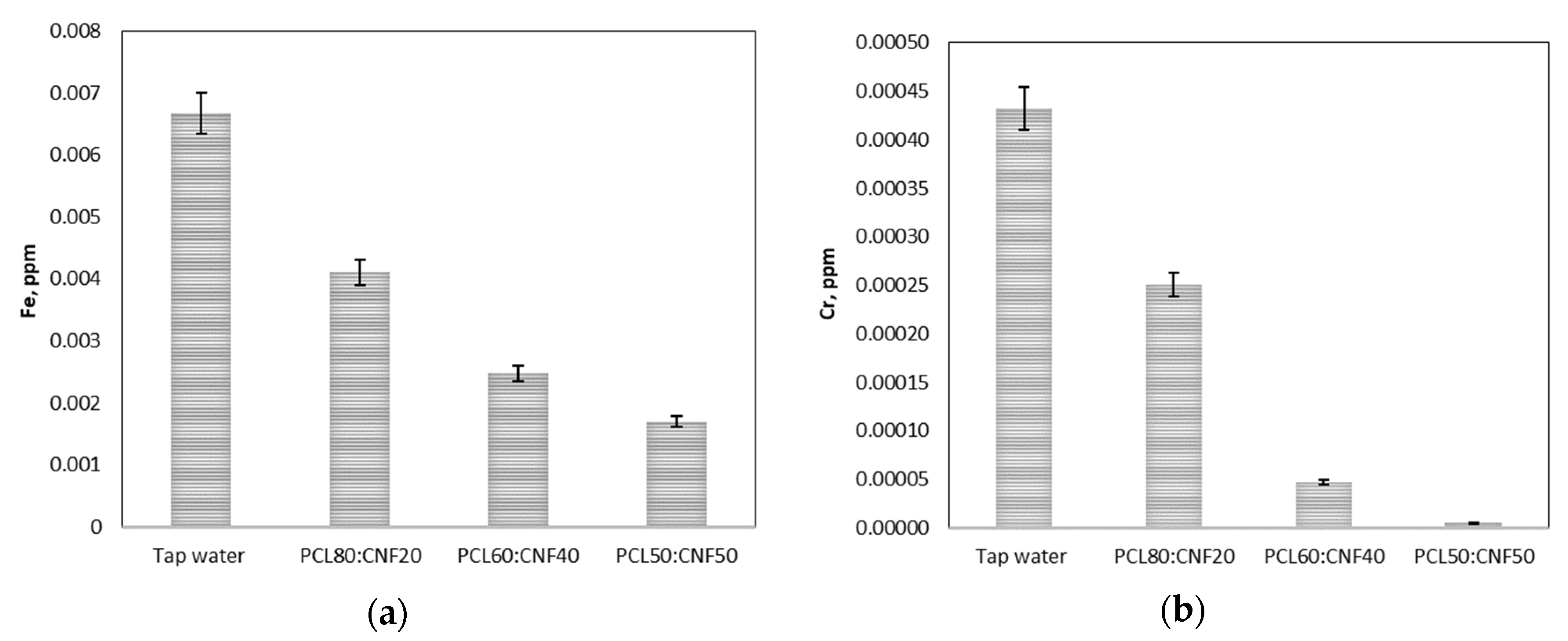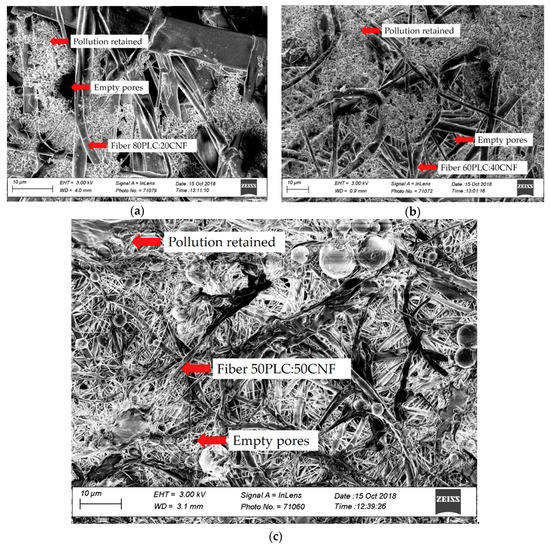 Figure 7.
SEM images after filtration of tap water using electro-spun membranes of PCL: CNF (
v
/
v
) ratios: (
a
) 80:20, (
b
) 60:40, and (
c
) 50:50.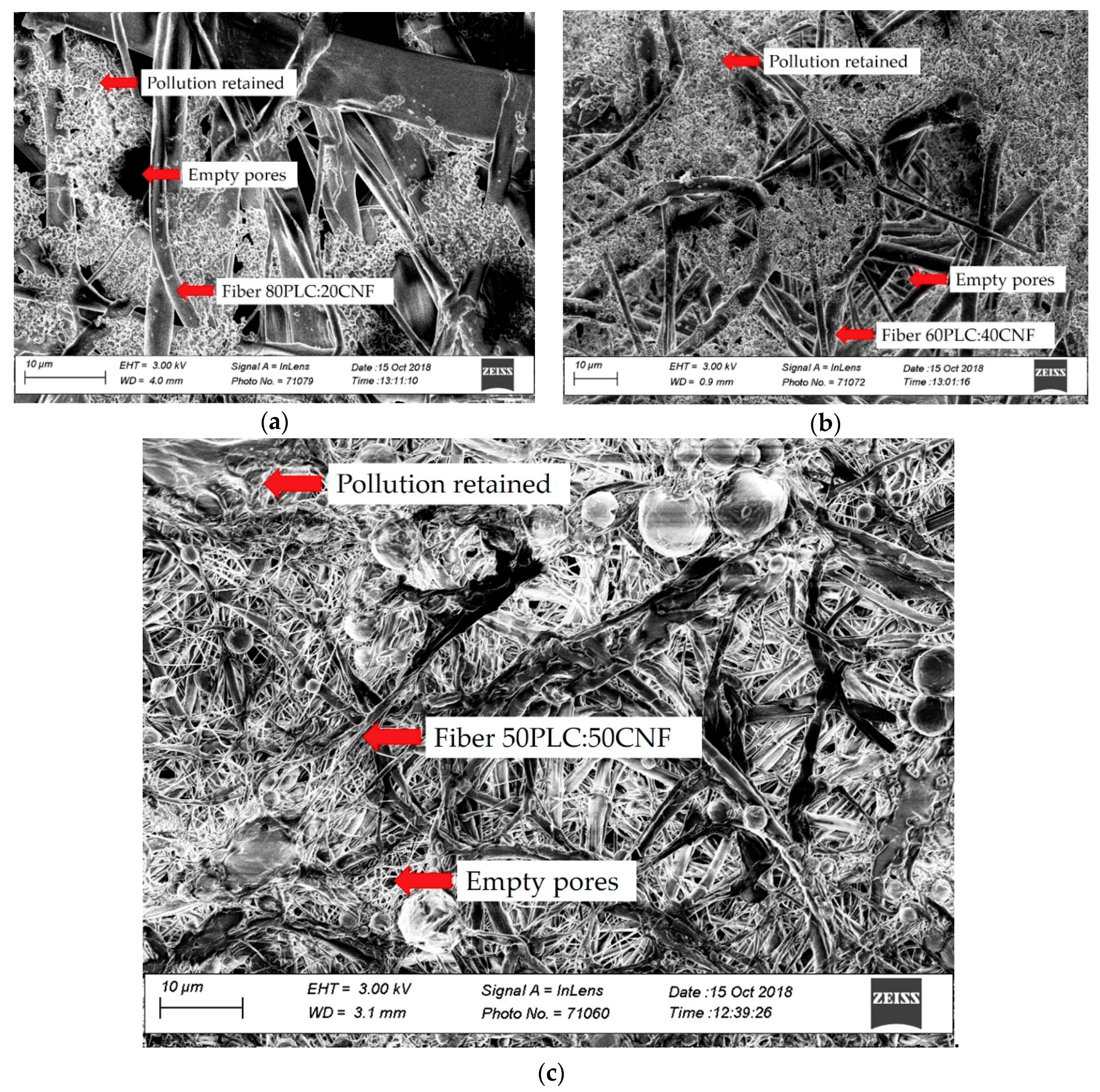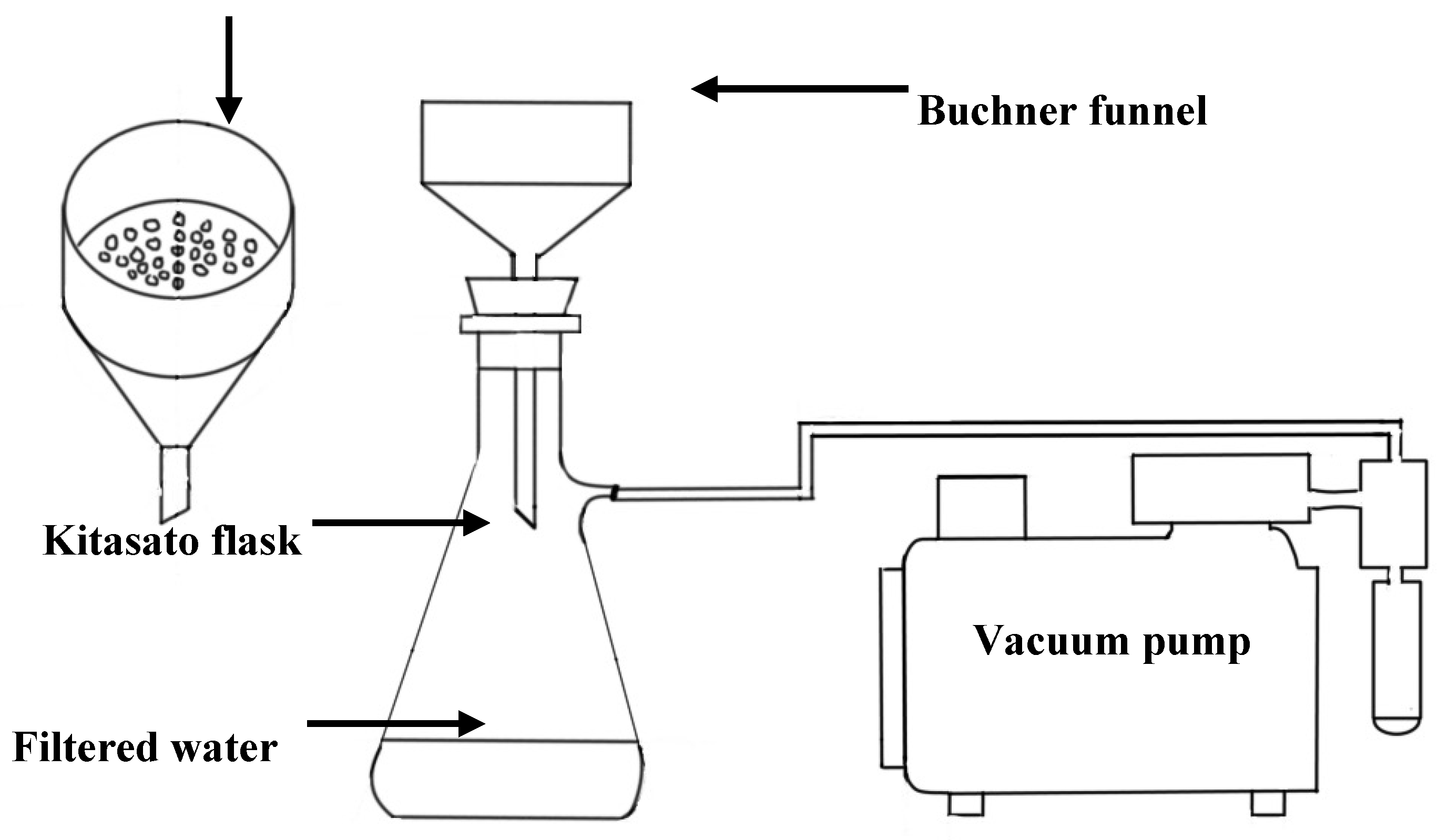 Table 1. Morphology of electro-spun nanofibers constituting the membranes. PCL = polycaprolactone and CNF = cellulose nanofiber.
| Membrane | Fiber Diameter (nm) | Permeability (µm/Pa/s) | Porosity |
| --- | --- | --- | --- |
| PCL80:CNF20 | 1049 ± 98 | 0.635 ± 0.01 | 0.455 ± 0.03 |
| PCL60:CNF40 | 1747 ± 153 | 0.317 ± 0.02 | 0.468 ± 0.02 |
| PCL50:CNF50 | 216 ± 12 | 0.317 ± 0.04 | 0.302 ± 0.05 |
| Commercial cellulose membrane | 938 ± 20 | 1.270 ± 0.04 | 0.592 ± 0.01 |

Table 2. Reduction of turbidity, conductivity, and heavy metal content (iron and chromium) in tap water before and after filtration.
Membrane
Turbidity (NTU)
Conductivity (S/m)
Iron Reduction (%)
Chromium Reduction (%)
Before
After
Before
After
PCL80:CNF20
70 ± 3.5
0.91
669 ± 3.5
0
38 ± 1.9
42 ± 2.1
PCL60:CNF40
83 ± 4.1
0.00
669 ± 3.5
0
62 ± 3.1
90 ± 4.5
PCL50:CNF50
83 ± 4.1
0.00
669 ± 3.5
0
75 ± 3.5
99 ± 3.5

Table 3. Characteristics of the tap water used for testing filtration performance of the electro-spun membrane.
pH
Temperature (°C)
Conductivity (μS/cm)
Turbidity (NTU)
Heavy Metal Concentration (ppb)
Chlorine
Iron
Chromium
8.69 ± 0.17
27.5 ± 0.5
669 ± 0.18
81 ± 1.62
57.041 ± 0.11
6.676 ± 0.13
0.432 ± 0.08

© 2020 by the authors. Licensee MDPI, Basel, Switzerland. This article is an open access article distributed under the terms and conditions of the Creative Commons Attribution (CC BY) license (http://creativecommons.org/licenses/by/4.0/).