The Effects of Mono-(2-Ethylhexyl) Phthalate (MEHP) on Human Estrogen Receptor (hER) and Androgen Receptor (hAR) by YES/YAS In Vitro Assay
1
Environmental Safety Group, Korea Institute of Science and Technology (KIST–Europe), 66123 Saarbrucken, Germany
2
Dept. of Pharmaceutical Science and Technology, Kyung Sung University, 309, Suyeong-ro, Namgu, Busan 48434, Korea
3
Division of Innovative Education and Development, Chonbuk National University, 567, Baekje-daero 54896, Korea
*
Author to whom correspondence should be addressed.
†
These authors contributed equally to this work.
Received: 9 April 2019 / Revised: 19 April 2019 / Accepted: 19 April 2019 / Published: 19 April 2019
Abstract
Endocrine active compounds with structural similarities to natural hormones such as 17β-estradiol (E2) and androgen are suspected to affect the human endocrine system by inducing hormone-dependent effects. This study aimed to detect the (anti-)estrogenic and (anti-)androgenic activities of mono-(2-ethylhexyl) phthalate (MEHP) by yeast estrogen/androgen bioassay (YES/YAS). In addition, the mechanism and uptake of MEHP to receptors during agonistic and antagonistic activities were investigated through the activation signal recovery test and chromatographic analysis using liquid chromatography and tandem mass spectrometry (LC-MS/MS). Estrogenic and androgenic activities of MEHP were not observed. However, MEHP exhibited anti-estrogenic (IC
50
= 125 μM) and anti-androgenic effects (IC
50
= 736 μM). It was confirmed that these inhibitory effects of MEHP were caused by receptor-mediated activity of the estrogen receptor and non-receptor-mediated activity of the androgen receptor in an activation signal recovery test. When IC
50
concentrations of anti-estrogenic and androgenic activity of MEHP were exposed to yeast cells, the uptake concentration observed was 0.0562 ± 0.0252 μM and 0.143 ± 0.0486 μM by LC-MS/MS analysis.
View Full-Text
►

▼

Figures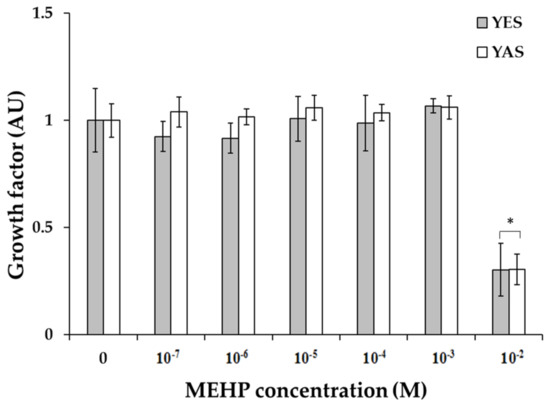 Figure 1
This is an open access article distributed under the
Creative Commons Attribution License
which permits unrestricted use, distribution, and reproduction in any medium, provided the original work is properly cited (CC BY 4.0).

Share & Cite This Article
MDPI and ACS Style
Kim, D.-H.; Park, C.G.; Kim, S.H.; Kim, Y.J. The Effects of Mono-(2-Ethylhexyl) Phthalate (MEHP) on Human Estrogen Receptor (hER) and Androgen Receptor (hAR) by YES/YAS In Vitro Assay. Molecules 2019, 24, 1558.
Note that from the first issue of 2016, MDPI journals use article numbers instead of page numbers. See further details here.
Related Articles
Comments
[Return to top]