Phytochemical Diversity in Rhizomes of Three
Reynoutria

Species and their Antioxidant Activity Correlations Elucidated by LC-ESI-MS/MS Analysis

1

Department of Pharmaceutical Biology and Botany, Wroclaw Medical University, 50-367 Wrocław, Poland

2

Department of Pharmacognosy and Molecular Foundations of Phytotherapy, Warsaw Medical University, 02-097 Warszawa, Poland

3

Department of Dental Surgery, Wroclaw Medical University, 50-425 Wrocław, Poland

4

Botanical Garden of Medicinal Plants, Wroclaw Medical University, 50-367 Wrocław, Poland

*

Author to whom correspondence should be addressed.

Academic Editors: Susana M. Cardoso and Alessia Fazio

Received: 25 February 2019 / Revised: 11 March 2019 / Accepted: 14 March 2019 / Published: 21 March 2019
Abstract
The rhizome of
Reynoutria japonica
is a well-known traditional herb (Hu zhang) used in East Asia to treat various inflammatory diseases, infections, skin diseases, scald, and hyperlipidemia. It is also one of the richest natural sources of resveratrol. Although, it has been recently included in the European Pharmacopoeia, in Europe it is still an untapped resource. Some of the therapeutic effects are likely to be influenced by its antioxidant properties and this in turn is frequently associated with a high stilbene content. However, compounds other than stilbenes may add to the total antioxidant capacity. Hence, the aim of this research was to examine rhizomes of
R. japonica
and the less studied but morphologically similar species,
R. sachalinensis
and
R.
x
bohemica
for their phytochemical composition and antioxidant activity and to clarify the relationship between the antioxidant activity and the components by statistical methods. HPLC/UV/ESI-MS studies of three
Reynoutria
species revealed 171 compounds, comprising stilbenes, carbohydrates, procyanidins, flavan-3-ols, anthraquinones, phenylpropanoids, lignin oligomers, hydroxycinnamic acids, naphthalenes and their derivatives. Our studies confirmed the presence of procyanidins with high degree of polymerization, up to decamers, in the rhizomes of
R. japonica
and provides new data on the presence of these compounds in other
Reynoutria
species. A procyanidin trimer digallate was described for the first time in, the studied plants. Moreover, we tentatively identified dianthrone glycosides new for these species and previously unrecorded phenylpropanoid disaccharide esters and hydroxycinnamic acid derivatives. Furthermore, compounds tentatively annotated as lignin oligomers were observed for the first time in the studied species. The rhizomes of all
Reynoutria
species exhibited strong antioxidant activity. Statistical analysis demonstrated that proanthocyanidins should be considered as important contributors to the total antioxidant capacity.
View Full-Text
►

▼

Figures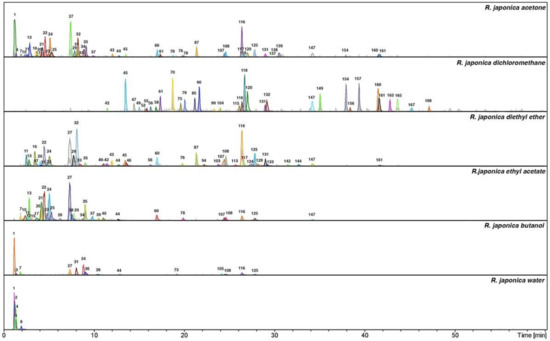 Figure 1
This is an open access article distributed under the
Creative Commons Attribution License
which permits unrestricted use, distribution, and reproduction in any medium, provided the original work is properly cited (CC BY 4.0).

Share & Cite This Article
MDPI and ACS Style
Nawrot-Hadzik, I.; Ślusarczyk, S.; Granica, S.; Hadzik, J.; Matkowski, A. Phytochemical Diversity in Rhizomes of Three Reynoutria Species and their Antioxidant Activity Correlations Elucidated by LC-ESI-MS/MS Analysis. Molecules 2019, 24, 1136.
Note that from the first issue of 2016, MDPI journals use article numbers instead of page numbers. See further details here.
Related Articles
Comments
[Return to top]