Predicting Ewing Sarcoma Treatment Outcome Using Infrared Spectroscopy and Machine Learning
1
Clinic of Paediatric Oncology and Haematology, Faculty of Medicine, University of Rzeszow, ul. Kopisto 2a, 35-310 Rzeszow, Poland
2
School of Chemistry, University of Bristol, Bristol BS8 1TS, UK
3
Department of Surgical Oncology for Children and Youth, Institute of Mother and Child, 01-211 Warsaw, Poland
4
Department of Pathology, Institute of Mother and Child, 01-211 Warsaw, Poland
5
Department of Pediatric Hematology, Oncology and Bone Marrow Transplant, Medical University of Lublin, 20-081 Lublin, Poland
6
Institute of Nuclear Physics, Polish Academy of Sciences, 31-342 Krakow, Poland
7
Laboratory of Molecular Biology, Centre for Innovative Research in Medical and Natural Sciences, Faculty of Medicine, University of Rzeszow, 35-959 Rzeszow, Poland
8
Department of Human Histology, Chair of Morphological Sciences, Faculty of Medicine, University of Rzeszow, 35-959 Rzeszow, Poland
9
Center for Innovation and Transfer of Natural Sciences and Engineering Knowledge, University of Rzeszow, 35-959 Rzeszow, Poland
*
Author to whom correspondence should be addressed.
Academic Editor: Christian Huck
Received: 1 February 2019 / Revised: 3 March 2019 / Accepted: 14 March 2019 / Published: 19 March 2019
Abstract
Background: Improved outcome prediction is vital for the delivery of risk-adjusted, appropriate and effective care to paediatric patients with Ewing sarcoma—the second most common paediatric malignant bone tumour. Fourier transform infrared (FTIR) spectroscopy of tissues allows the bulk biochemical content of a biological sample to be probed and makes possible the study and diagnosis of disease. Methods: In this retrospective study, FTIR spectra of sections of biopsy-obtained bone tissue were recorded. Twenty-seven patients (between 5 and 20 years of age) with newly diagnosed Ewing sarcoma of bone were included in this study. The prognostic value of FTIR spectra obtained from Ewing sarcoma (ES) tumours before and after neoadjuvant chemotherapy were analysed in combination with various data-reduction and machine learning approaches. Results: Random forest and linear discriminant analysis supervised learning models were able to correctly predict patient mortality in 92% of cases using leave-one-out cross-validation. The best performing model for predicting patient relapse was a linear Support Vector Machine trained on the observed spectral changes as a result of chemotherapy treatment, which achieved 92% accuracy. Conclusion: FTIR spectra of tumour biopsy samples may predict treatment outcome in paediatric Ewing sarcoma patients with greater than 92% accuracy.
View Full-Text
►

▼

Figures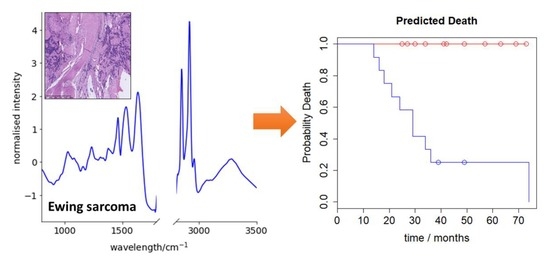 Graphical abstract
This is an open access article distributed under the
Creative Commons Attribution License
which permits unrestricted use, distribution, and reproduction in any medium, provided the original work is properly cited (CC BY 4.0).

Share & Cite This Article
MDPI and ACS Style
Chaber, R.; Arthur, C.J.; Łach, K.; Raciborska, A.; Michalak, E.; Bilska, K.; Drabko, K.; Depciuch, J.; Kaznowska, E.; Cebulski, J. Predicting Ewing Sarcoma Treatment Outcome Using Infrared Spectroscopy and Machine Learning. Molecules 2019, 24, 1075.
Note that from the first issue of 2016, MDPI journals use article numbers instead of page numbers. See further details here.
Related Articles
Comments
[Return to top]