Open Access This article is
freely available
re-usable
Article
Design of Aerogels, Cryogels and Xerogels of Alginate: Effect of Molecular Weight, Gelation Conditions and Drying Method on Particles' Micromeritics
1
Department of Pharmacy, University of Salerno, 84084 Fisciano, Italy
2
Drug Discovery and Development, University of Salerno, 84084 Fisciano, Italy
3
Department of Pharmacology, Pharmacy and Pharmaceutical Technology, R+D Pharma group (GI-1645), Faculty of Pharmacy and Health Research Institute of Santiago de Compostela (IDIS), Universidade de Santiago de Compostela, E-15782 Santiago de Compostela, Spain
*
Authors to whom correspondence should be addressed.
Received: 26 February 2019 / Accepted: 14 March 2019 / Published: 17 March 2019
Abstract
:
Processing and shaping of dried gels are of interest in several fields like alginate aerogel beads used as highly porous and nanostructured particles in biomedical applications. The physicochemical properties of the alginate source, the solvent used in the gelation solution and the gel drying method are key parameters influencing the characteristics of the resulting dried gels. In this work, dried gel beads in the form of xerogels, cryogels or aerogels were prepared from alginates of different molecular weights (120 and 180 kDa) and concentrations (1.25, 1.50, 2.0 and 2.25% (
w
/
v
)) using different gelation conditions (aqueous and ethanolic CaCl
2
solutions) and drying methods (supercritical drying, freeze-drying and oven drying) to obtain particles with a broad range of physicochemical and textural properties. The stability of physicochemical properties of alginate aerogels under storage conditions of 25 °C and 65% relative humidity (ICH-climatic zone II) during 1 and 3 months was studied. Results showed significant effects of the studied processing parameters on the resulting alginate dried gel properties. Stability studies showed small variations in aerogels weight and specific surface area after 3 months of storage, especially, in the case of aerogels produced with medium molecular weight alginate.
Keywords:
aerogel; alginate; prilling; supercritical-CO
2
; cryogel
2. Results and Discussion
2.1. Effect of Alginate Molecular Weight, Alginate Concentration and Gelling Solution Properties on Aerogel Beads
2.2. Aerogel Beads Stability
The stability under storage of the aerogels was tested after 1 and 3 months under the humidity and temperature conditions of ICH-climatic zone II. These conditions are usually taken for stability tests of drug products to cover the climatic zones I and II corresponding to most of the territory of Europe, USA and Japan [
40
].
Differences in stability between aerogels obtained from hydrogels and alcogels were evaluated using samples produced at the same concentration and alginate molecular weight (HMW150). Moreover, aerogels obtained from alcogels at the same polymer concentration (2.25% (
w
/
v
)) were used to assess the influence of alginate molecular weight on aerogel stability. After 1 month of storage, aerogels did not show significant differences in weight, whereas an increase in weight between the 3.6% and 32.5% was observed after 3 months, probably due to the uptake of humidity. The gain in weight upon a 3-month storage of HMW150 aerogels obtained from the hydrogel and the alcogel showed an increase of 3.6% and 13.1%, respectively. This phenomenon can be explained by the fact that starting aerogels (
t
= 0) obtained from alcogels have higher specific surface areas and pore volumes than those obtained from hydrogels, thus conferring them a higher ability to uptake humidity and, as a consequence, their weight increase easier. The gain in weight for 2.25% (
w
/
v
) alginate concentration aerogels was higher for alginates of higher molecular weight (32.5% in the case of HMW225 and 21.2% in the case of MMW225). These differences can be explained considering that the starting aerogels obtained from HMW alginate have higher specific surface areas and pore volumes than those ones obtained from MMW alginate due to the presence of more carboxylic groups for a single chain of alginate able to interact with the Ca
2+
ions during the prilling production of the gel beads.
Specific surface area (S
a
) decreased in all cases after 3 months of storage probably due to the increasing in pore size related to the uptake of humidity. For HMW150 aerogels, the reduction was higher in aerogels produced from alcogels (ca. 50%) due to the fact that the originating alcogels demonstrated higher surface areas than hydrogels, leading to higher adsorption capacity being able to uptake higher amounts of humidity. The effect of alginate molecular weight on the Sa values was less pronounced after 3-months storage with variations of 18.5% and 28.0% for MMW225 and HMW225, respectively (
Figure 3
). BJH pore volume and pore diameter of the beads demonstrated similar behaviour during the storage conditions showing main variations after 1-month storage. Aerogels obtained by hydrogels with the lowest concentration in alginate demonstrated the highest increase, whereas its homologous obtained by alcogels showed only slight variations in BJH pore volume (about 10%) while pore diameter increased of about 45% after one month then it remained almost constant over time, as shown in
Figure 3
b,c.
3. Materials and Methods
3.1. Materials
High viscosity sodium alginate from brown algae (HMW, 180 kDa, 1% viscosity: 65 mPa·s; M/G ratio 70/30) was purchased from Carlo Erba (Milan, Italy) and medium viscosity sodium alginate from brown algae (MMW, 120 kDa, 1% viscosity: 40 mPa·s; M/G ratio 70/30) from Dompè Pharma (L'Aquila, Italy). Calcium chloride (CaCl2, 93% purity) was obtained from Sigma-Aldrich (Milan, Italy) and absolute ethanol (≥99.8% purity) from VWR (Llinars del Vallés, Spain). Carbon dioxide (99.8% purity) from Praxair (Madrid, Spain) was used for the supercritical drying of the gels. All other reagents were purchased from Sigma-Aldrich (Milan, Italy) and employed as received.
4. Conclusions
In this work, alginates with different molecular weight were used for the production of gel beads through the prilling technique in single nozzle configuration, using both aqueous and ethanolic calcium chloride solutions as gelling agent obtaining hydrogel and alcogel beads in a very narrow size distribution (ca. 2.4 mm ± 6.0% for each formulation). Supercritical CO2 drying of these gels allowed to obtain aerogel particles with spherical shape. Gelation in ethanolic media promoted the formation of aerogels with superior textural properties in comparison with the aerogels derived from particle gelified in aqueous media. The textural properties of aerogels were far higher than those obtained from cryogels and xerogels obtained by freeze-drying and oven drying, respectively. The alginate molecular weight had an important effect on the degree of shrinkage and the porosity during the production of alginate aerogels. The use of medium molecular weight alginate was the most suitable to reduce shrinkage and leading to aerogels with higher porosity. On the contrary, aerogels with higher surface areas where obtained when high molecular weight alginate was used. Alginate aerogels may reduce their textural properties upon storage at 25 °C and 65% of relative humidity depending on the formulation, being aerogels produced with medium molecular weight alginate especially stable after 3 months of storage under these conditions. In conclusion, the size and the high specific surface areas and porosities of those materials make them suitable as carriers for topical administration of drugs, since they are easily manageable and due to their textural properties. High surface area, in fact, allows fast absorption of biological fluids that could be useful to set controlled drug release hydrogels or by absorbing high quantities of exudates once applied on a wound could produce a first line wound dressing.
Supplementary Materials
The following are available online.
Author Contributions
R.R.-D. and C.L.-I. as first and second author performed the experiment and the data analysys; P.D.G. and C.A.G.-G. supervised the experiments and the writing of the manuscript; R.P.A.R and G.A. reviewed & edited the manuscript; All authors read and approved the final version of the manuscript.
Funding
This work was supported by Xunta de Galicia [ED431F 2016/010] & [ED431C 2016/008]; and FEDER. C.A. García-González acknowledges MINECO for a Ramón y Cajal Fellowship [RYC-2014-15239]. This work has been realized in the frame of AERoGELS COST Action CA18125–Advanced Engineering and Research of aeroGels for Environment and Life Sciences.
Conflicts of Interest
The authors declare no conflict of interest. The funders had no role in the design of the study; in the collection, analyses, or interpretation of data; in the writing of the manuscript, or in the decision to publish the results.
| | |
| --- | --- |
| | Sample Availability: Samples of the compounds are not available from the authors. |
Figure 1. Textural characterization of alginate aerogels from different alginate sources, aqueous concentrations and gelation conditions (aqueous-in blue- or ethanolic-in red- solutions); (a) Specific surface area (m2/g), Sa; (b) BJH cumulative desorption pore volume (cm3/g); (c) BJH-pore diameter of aerogels.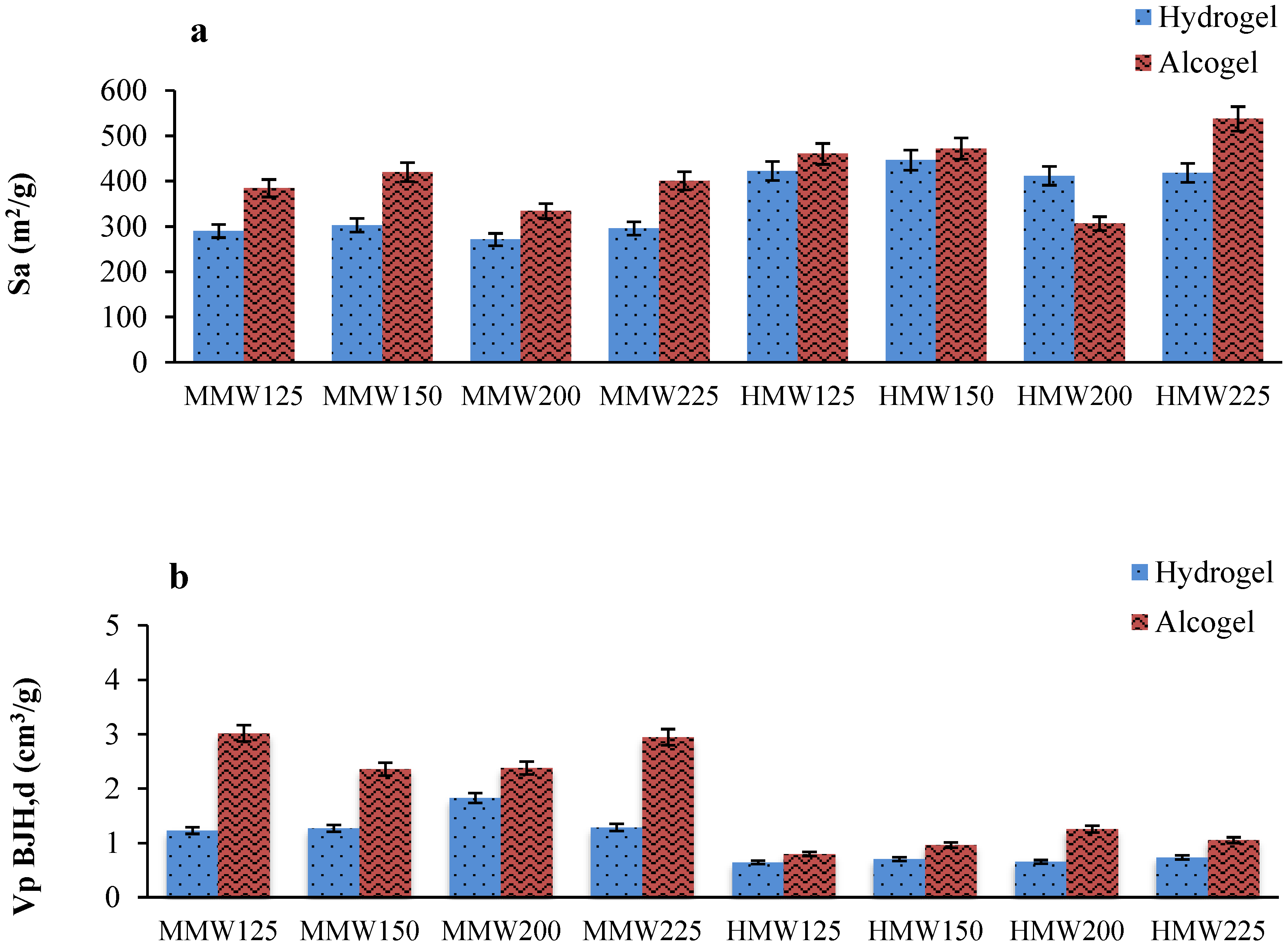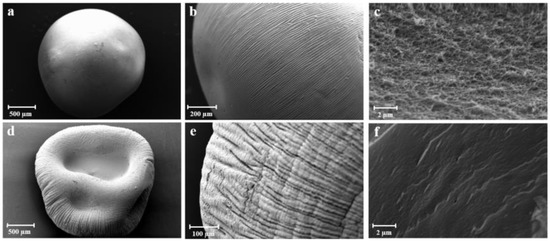 Figure 2. SEM images of dried HMW225 alcogel: spherical beads (a), magnification on the smooth surface (b), inner porous network (c) of aerogels; collapsed structure (d), magnification of the surface (e) and inner structure (f) of cryogels.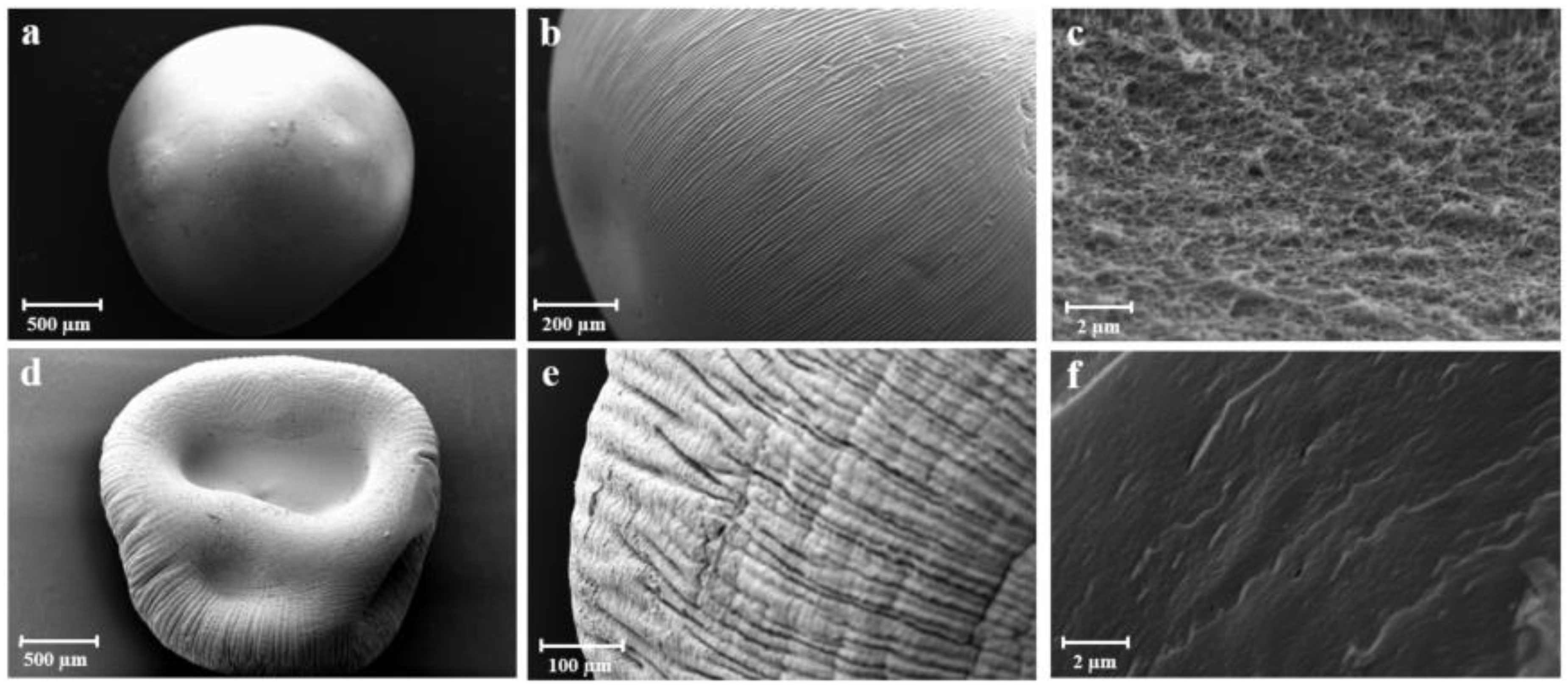 Figure 3. Effect of stability tests under storage (25 °C, 65% r.h.) during three months on textural properties of alginate aerogels; (a) Specific surface area (m2/g), Sa; (b) BJH cumulative desorption pore volume; (c) BJH-mean pore diameter. Mean values ± SD.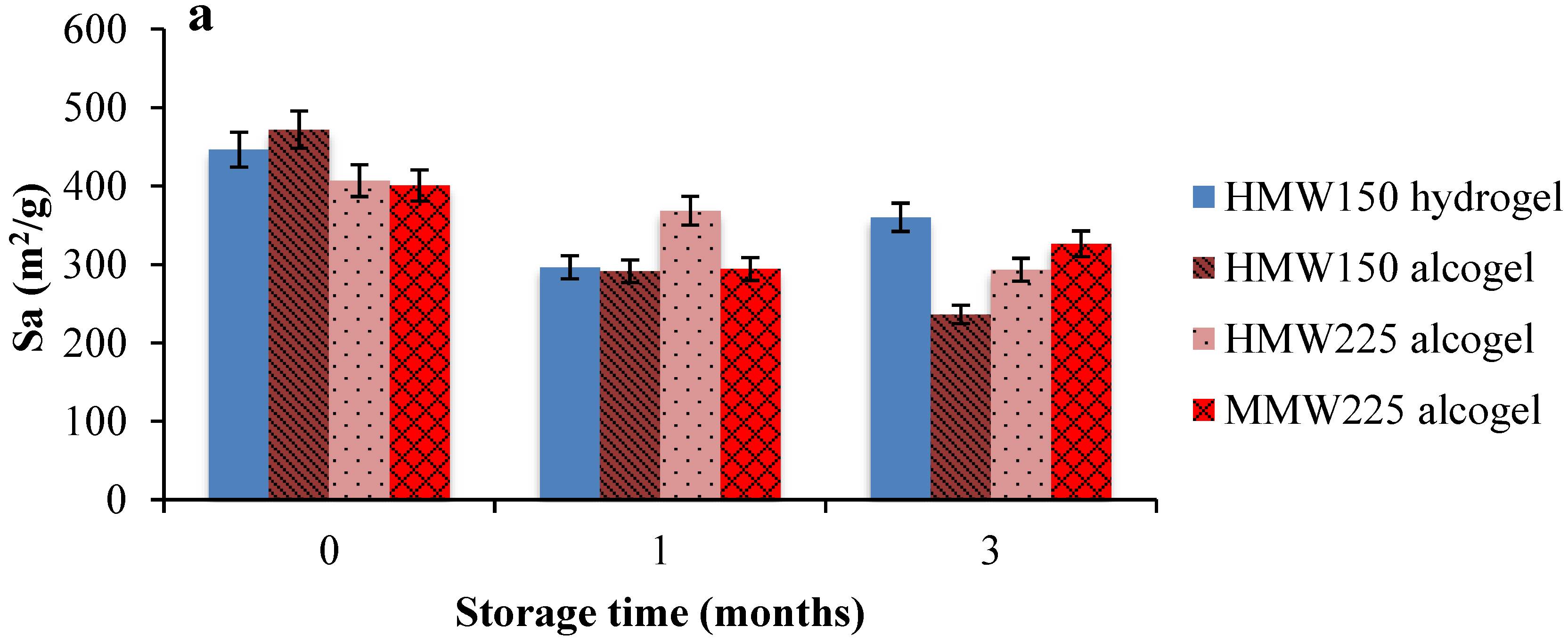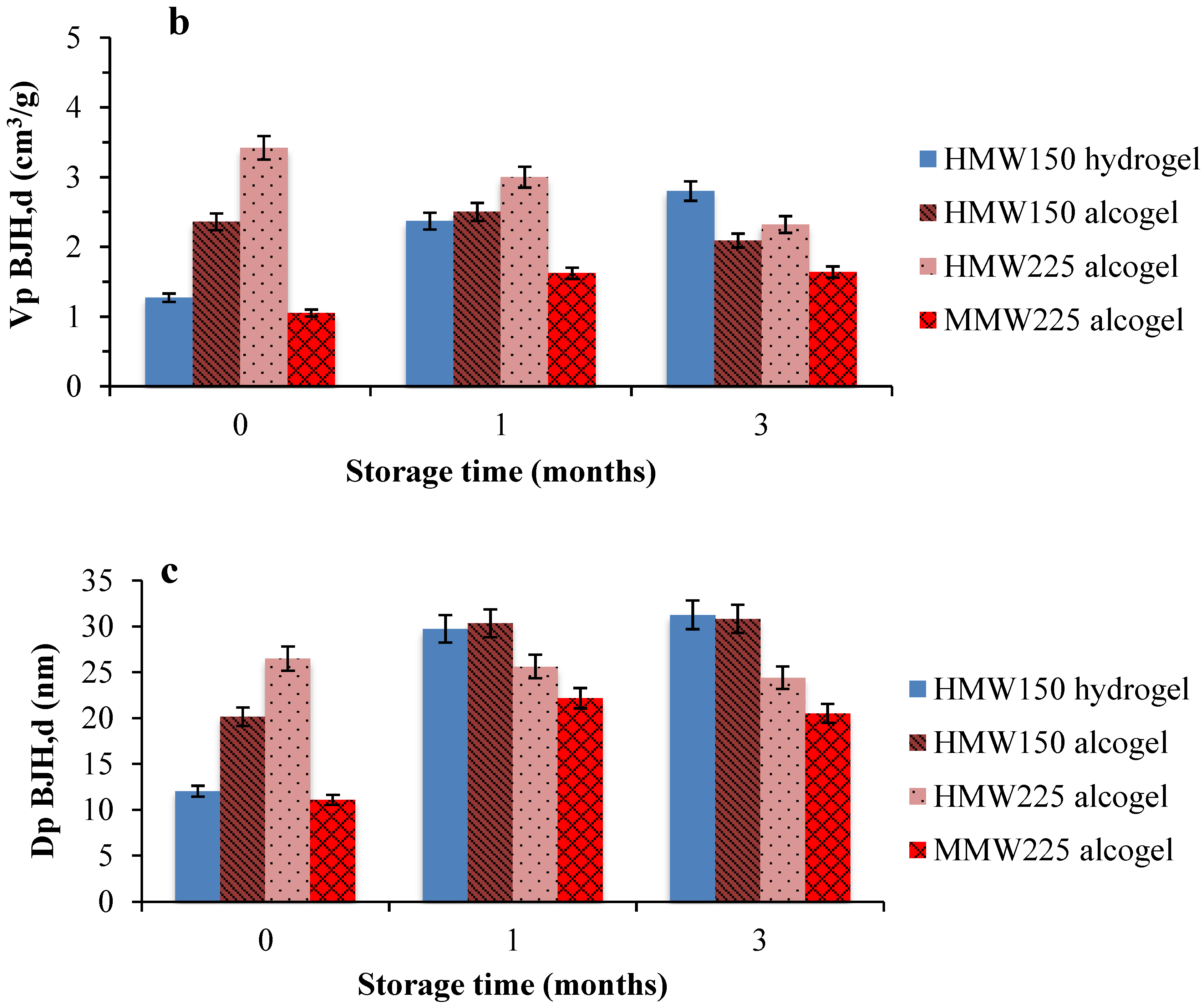 Table 1.
Average diameter (mm) of native gel beads (hydrogel and alcogel) and aerogels, volume shrinkage and porosity (in percentage) of each batch after supercritical drying. Mean ± SD; (
n
= 6).
Formulation
Diameter (mm)
Shrinkage (%)
ε (%)
Diameter (mm)
Shrinkage (%)
ε (%)
Hydrogel
Aerogel
Alcogel
Aerogel
MMW125
2.64 ± 0.20
2.52 ± 0.19
13.3
99.7 ± 0.0
2.31 ± 0.13
2.77 ± 0.23
−75.4 *
99.8 ± 0.0
MMW150
2.51 ± 0.15
2.20 ± 0.10
32.5
99.5 ± 0.0
2.38 ± 0.16
2.51 ± 0.16
−16.9 *
99.7 ± 0.0
MMW200
2.43 ± 0.09
2.36 ± 0.16
6.7
99.5 ± 0.0
2.44 ± 0.13
1.86 ± 0.02
60.9
97.6 ± 0.1
MMW225
2.41 ± 0.11
2.33 ± 0.14
10.8
99.3 ± 0.0
2.37 ± 0.13
1.96 ± 0.10
43.7
98.7 ± 0.0
HMW125
2.18 ± 014
1.93 ± 0.08
30.9
99.3 ± 0.0
2.46 ± 0.23
1.81 ± 0.02
60.8
99.2 ± 0.0
HMW150
2.34 ± 0.14
1.73 ± 0.02
60.3
98.4 ± 0.0
2.32 ± 0.12
1.55 ± 0.06
71.2
98.6 ± 0.0
HMW200
2.56 ± 0.13
2.03 ± 0.13
50.6
99.5 ± 0.0
2.33 ± 0.09
1.81 ± 0.03
53.7
99.5 ± 0.0
HMW225
2.40 ± 0.13
1.92 ± 0.08
49.3
99.2 ± 0.0
2.33 ± 0.10
1.90 ± 0.08
46.3
99.3 ± 0.0
(*) Negative values indicate a swelling behaviour instead of shrinkage after the sc-CO2 drying.

© 2019 by the authors. Licensee MDPI, Basel, Switzerland. This article is an open access article distributed under the terms and conditions of the Creative Commons Attribution (CC BY) license (http://creativecommons.org/licenses/by/4.0/).