Open Access This article is
freely available
re-usable
Article
Enhanced Supercapacitor Performance Based on CoAl Layered Double Hydroxide-Polyaniline Hybrid Electrodes Manufactured Using Hydrothermal-Electrodeposition Technology
Center for Crystal Science and Technology, University of Yamanashi, 7-32 Miyamae, Kofu, Yamanashi 400-8511, Japan
*
Author to whom correspondence should be addressed.
Received: 24 January 2019 / Accepted: 7 March 2019 / Published: 10 March 2019
Abstract
:
Electrodes with nanosheet architectures can offer the possibility to achieve enhanced energy storage performance. Herein, we have designed and synthesized novel nanosheet structures of CoAl layered double hydroxide (LDH)-polyaniline (PANI) nanocomposite thin films by a hydrothermal-electrodeposition method. The molecular structure, crystal structure, morphology and chemical composition of the composites were characterized by FT-IR, XRD (SXRD), FESEM, and XPS, whereas their electrochemical properties were evaluated by cyclic voltammetry, electrochemical impedance spectroscopy and galvanostatic charge-discharge tests. Compared with the unmodified CoAl LDH, the CoAl LDH-PANI exhibits significantly improved the specific capacitance and cyclic stability. The composite exhibits a high specific capacitance of 528 F/g at a current density of 10 A/g and excellent cyclic stability with an increase of the specific capacitance of 42.7% after 6000 cycle tests. We revealed the degradation behavior of PANI in 1 M KOH/KCl electrolyte, and the active degradation products also further increased the total specific capacitance of the composite. The enhanced electrochemical performance of the nanocomposite can be attributed to its well-designed nanostructure and the synergistic effects of each component. By analyzing the band structure and density of states of CoAl LDH and PANI, we proposed the possible mechanism of synergistic effect in a new perspective.
Keywords:
CoAl layered double hydroxides; conductive polymer polyaniline; electrochemical properties; pseudocapacitor
1. Introduction
Supercapacitors (also known as electrochemical capacitors), as promising energy storage devices, have excellent electrochemical properties such as fast charge-discharge capability, high power density, and long cycle life [
1
,
2
,
3
]. Pseudocapacitors (also called Faraday capacitors) represent an appealing type of supercapacitors, which have the potential to achieve high specific capacitance and high energy storage resulting from the active electrode materials and reversible redox reactions [
4
,
5
,
6
]. The research on pseudocapacitors has therefore drawn increasing attention in recent years [
7
]. In the meantime, the energy stored in the supercapacitor is still relatively lower than battery and thus limiting its application in high cycle life and power density [
8
].
Electrode material is the most critical part of supercapacitor, and it is also a key factor in determining its performance [
9
]. At this stage, there are three main categories of electrode materials: transition metal oxides/hydroxides, carbon-based, and conductive polymers [
10
]. The transition metals, including layered double hydroxides (LDHs), are ideal electrode materials for pseudocapacitors owing to their high redox activity, structural controllability and environmentally friendly nature [
11
,
12
,
13
]. Nevertheless, the relatively poor cycling life and low electronic conductivity of the LDHs limit their practical applications. To further improve the electrochemical performance, several unique carbon hybrid materials such as activated carbon/LDHs, carbon nanotube/LDHs, graphene/LDHs, and graphene oxide/LDHs have been fabricated [
14
,
15
,
16
,
17
]. Recently, more advanced and innovative nanocomposites based on LDHs have been constructed to improve the performance of pseudocapacitive materials by creating nanostructures, such as hollow LDHs spheres, LDHs/metal hydroxides, and LDHs/conducting polymers hybrid materials [
14
,
18
,
19
,
20
,
21
,
22
,
23
]. A few studies so far have focused on LDHs/conducting polymers nanocomposites, with the aim of improving the specific capacitance and cyclic stability. Han et al. successfully prepared CoAl
[email protected]
nanocomposite, which exhibited excellent long-term cycling stability [
23
]. Whereas, its specific capacitance didn't show a significant increase and needed to be further improved. Shao et al. prepared a
[email protected]
core-shell composite via a two-step electrosynthesis, which exhibited a high energy density and excellent cycling stability [
24
]. Compared to conductive polymer polypyrrole (PPY) and poly(3,4-ethylenedioxythiophene) (PEDOT), polyaniline (PANI) has broader application and becomes important research subject because of its excellent electrical conductivity, good environmental stability, high specific capacitance, ease of synthesis and redox stability [
25
,
26
,
27
,
28
]. Little is known, however, about the investigation of CoAl LDH-PANI nanocomposite. The aim of this research was consequently to study the performance of CoAl LDH-PANI nanocomposite. We deemed that the study of CoAl LDH-PANI would usefully supplement and extend the research field of LDHs/conducting polymer hybrid electrode.
Inspired by the idea that conductive polymer of PEDOT and PPY can improve the electrochemical performance of LDHs, here, we elaborately designed and fabricated CoAl LDH-PANI nanocomposites directly grown on a Ni substrate by the hydrothermal-electrodeposition route and used them a binder-free electrode for pseudocapacitor. The nanocomposite exhibited significantly improved specific capacitance, good rate performance, and cyclic stability. The synergistic effect of inner LDH and outer PANI coating layer was studied in detail. Hence, we also believe that this work provides a promising approach for design and fabricate LDH/PANI electrode, which can be potentially used in energy storage devices.
2. Results and Discussion
2.2. Electrochemical Performance
The nonrectangular shape of the CV curve also indicated that Faradaic reactions contributed to most of the charge storage.
Based on the above results, the high specific capacitance and excellent cycling stability of CoAl LDH-PANI composite should be related to its well-designed nanosheets structure and synergistic effect between the inner LDH layer and outer PANI coating layer. They can be explained by the following reasons. (1) The CoAl LDH nanosheet can directly grow on the substrate with its ab-faces perpendicular to the substrate without any additive, which revealed a lower contact resistance and large specific surface area.
3. Materials and Methods
3.1. Synthesis of the CoAl LDH Nanosheet Structures
The CoAl LDH was synthesized by a homogeneous hydrothermal method [
9
]. In a typical synthesis, Co(NO
3
)
2
·6H
2
O (0.857 mmol), Al(NO
3
)
3
·9H
2
O (0.286 mmol), NH
4
F (2.86 mmol) and urea (5.7 mmol) were dissolved in 50 mL distilled water. The mixed solution was stirred for 30 min and then transferred to an autoclave with a Teflon lining. A piece of clean nickel plate (50 mm × 10 mm × 0.1 mm) was immersed into the reaction solution. The autoclave was sealed and heated at 120 °C for 6 h, subsequently cooled to room temperature. Finally, the sample was taken out gently from the solution and washed three times with distilled water. The sample was then dried at room temperature. The load weight of CoAl LDH on the Ni substrate was measured with an analytical microbalance, and the mass loading was about 1.4 mg/cm
2
.
3.2. Synthesis of the CoAl LDH-PANI Nanocomposites
Hybridization with polymer PANI was carried out by a potentiostatic electrodeposition technique in an aqueous medium (0.05 M aniline + 0.02 M sodium dodecyl sulfate + 0.1 M LiClO
4
). Cyclic voltammetry experiments were performed to determine the deposition potential of PANI in a three-electrode electrochemical cell with a Ni substrate as the working electrode, a saturated calomel electrode (SCE) as the reference electrode, and a Pt plate as the counter electrode, respectively [
23
]. The optimum redox potential is selected at 1.18 V vs. SCE electrode according to the CV curve of aniline monomer (
Figure S1
). Subsequently, the Ni substrate/CoAl LDH film was used as the working electrode for the deposition of PANI. The deposition time varied from 50 to 600 s. After deposition, extreme caution must be taken when the as-prepared CoAl LDH-PANI electrode was washed with distilled water to prevent wash away PANI coating. And then the composite electrode was dried at room temperature. Finally, the mass loading of these deposited PANI on the Ni plate was obtained by the weight difference before and after electrochemical deposition.
3.3. Structural Characterization, Theoretical Calculations and Electrochemical Performance Measurements
The chemical structures of the samples were examined by Fourier transform infrared spectrometer (FTIR, FTIR4100, JASCO Corp.,Tokyo, Japan) analysis with ATR attachment. X-ray diffraction (XRD) patterns of the samples were obtained on an X-ray diffractometer with monochromated Cu Kα radiation (RINT-2100, Rigaku Corp., Tokyo, Japan). Synchrotron X-ray diffraction (SXRD) measurements in this study were performed at SPring-8, BL02B2 (Hyogo, Japan). The surface morphologies of the samples were characterized by field emission scanning electron microscopy (FESEM, JSM-6500F, JEOL, Ltd., Tokyo, Japan) equipped with EDX analyzer. The surface compositions of the samples were analyzed by X-ray photoelectron spectroscopy (XPS, AXIS Ultra DLD, Kratos Analytical Ltd., Manchester, UK). The band structure and density of states (DOS) curves of the host CoAl LDH crystals were calculated by the Vienna ab-initio simulation with VASP 5.3 [
54
,
55
]. The model structure of the calculation was the LDH with Co: Al of 3:1 with intercalation of chlorine anion. The structure was optimized up to the convergence and then the band structure was calculated. These calculations were carried out by Perdew-Burke-Ernzerhof (PBE) potentials. The DOS curves for guest PANI molecules in the
supporting information (Figure S7)
were calculated by DV-Xα simulation [
56
].
The electrochemical measurements were carried out in a three-electrode mode using the HZ 7000 electrochemical workstation (Hokuto Denko Corp., Tokyo, Japan) at room temperature with the 1 M KOH/KCl aqueous solution. Cyclic voltammetry (CV) and galvanostatic charge-discharge (GCD) were measured in a three-electrode cell within the potential window between 0 to 0.56 V. The Ni substrate/sample was used as the working electrode, an SCE as the reference electrode, and a Pt plate as the counter electrode. Electrochemical impedence spectroscopy (EIS) measurements were conducted by using an AC voltage with 5 mV amplitude at 0.3 V in a frequency range from 0.01 to 100 kHz.
The specific capacitance and specific capacity values were calculated from the CV curves using the following Equations (2) and (3) [
57
]:
where
C
(F/g) and
C
(mAh/g) represent the specific capacitance and specific capacity from the CV curves;
s
and
m
are scanning rate and mass of the samples separately; and represent high and low potential values;
i
is the oxidation or reduction current. Specific capacitance and specific capacity were also calculated from the galvanostatic charge-discharge curves, by Equations (4) and (5) [
58
]:
where
C
(F/g) and
C
(mAh/g) represent the specific capacitance and specific capacity from the GCD curves;
im
is the current density; is the integral current area; and represent high and low potential values.
4. Conclusions
In summary, we have successfully used in hydrothermal-electrodeposition method to prepare a novel inner/outer layer structural CoAl LDH-PANI nanocomposite in which the CoAl LDH nanofilms are well grown on Ni surface and the inner CoAl LDH is decorated by outer PANI layer. The hybrid architecture CoAl LDH-PANI exhibited greatly enhanced specific capacitance and cyclic stability (528 F/g at a current density of 10 A/g, 142.7% retention after 6000 cycles) and was superior to the non-decorated CoAl LDH (425 F/g at a current density of 10 A/g, 83.3% retention after 6000 cycles). The hydrothermal-electrodeposition method for synthesis of LDH-PANI growth on Ni substrate was straightforward and controllable. Our study results indicate that the PANI can be oxidized to other products which can act in the alkaline solution to increase of the capacitance under a proper working electrode and device voltage. Future studies are required to further identify the specific molecular structures of PANI degraded active products for the enhanced electrochemical activity of the LDH-based hybrid capacitor, and they are currently underway to examine in our laboratory. The possible mechanism of synergistic effect is also proposed in a new perspective. We deem that our research will be valuable in improving knowledge about LDHs/conducting polymer hybrid. The novel design strategy presented here also have a potential application for the direct design and fabrication of other hydroxides/oxides and conductive polymers hybrid films, for obtaining high electrochemical performance supercapacitor electrode material.
Supplementary Materials
The Supplementary Materials are available online.
Author Contributions
G.Y. and T.T. conceived and designed the experiments; T.T. analyzed the data; S.Y. and N.K. analyzed part of the results. G.Y. contributed to the result analysis and manuscript preparation. All authors read and approved the final manuscript.
Funding
This research received no external funding.
Acknowledgments
The experiments at SPring-8 were performed with the approval of the Japan Synchrotron Radiation Research Institute (JASRI) (Proposal 2016B1510).
Conflicts of Interest
The authors declare no conflict of interest. The funding sponsors had no role in the design of the study; in the collection, analyses, and interpretation of data; in the writing of the manuscript, and in the decision to publish the results.
| | |
| --- | --- |
| | Sample Availability: Samples of the compounds are not available from the authors. |

Figure 1. Schematic illustration of the two-step fabrication process of CoAl LDH-PANI nanosheet structures.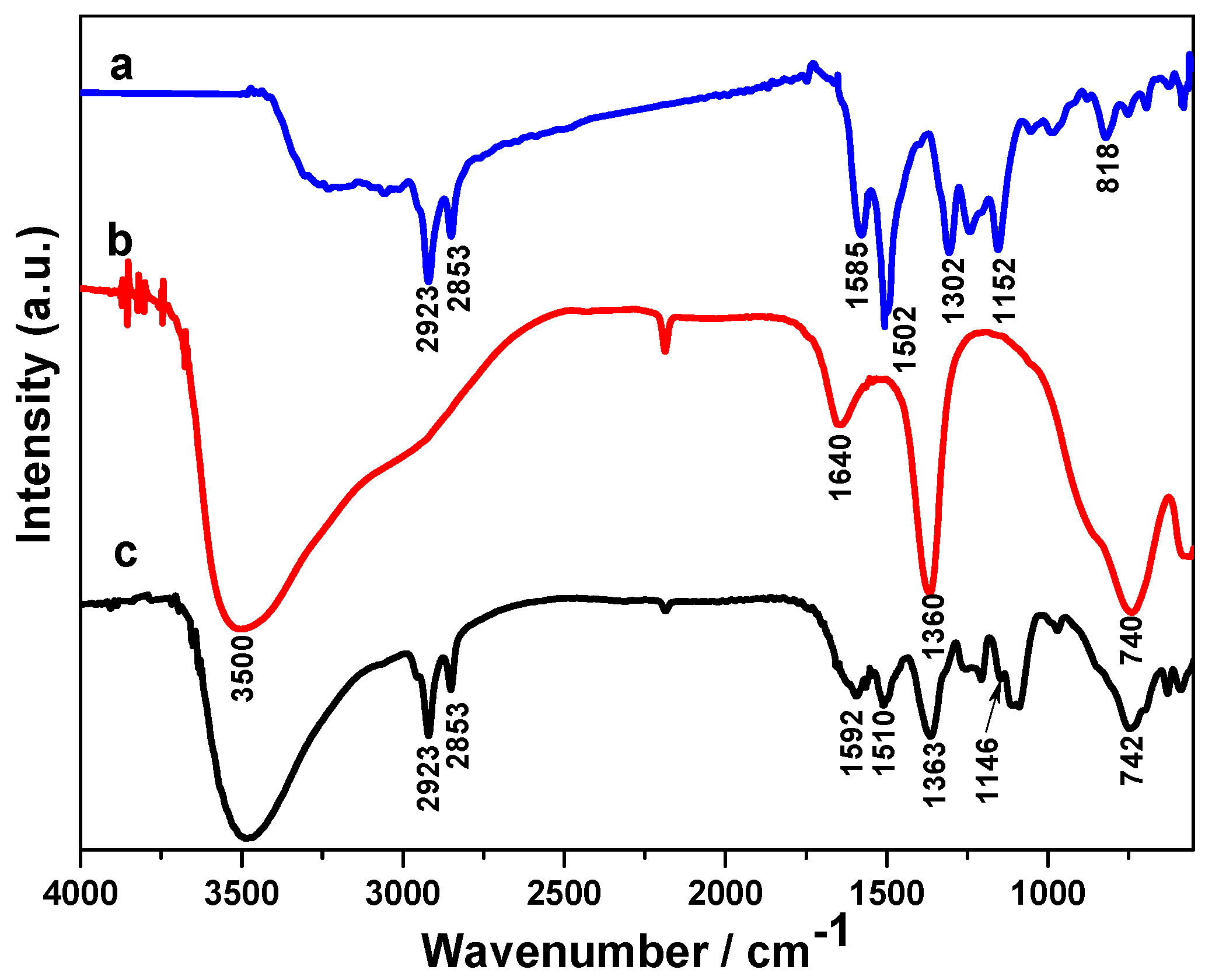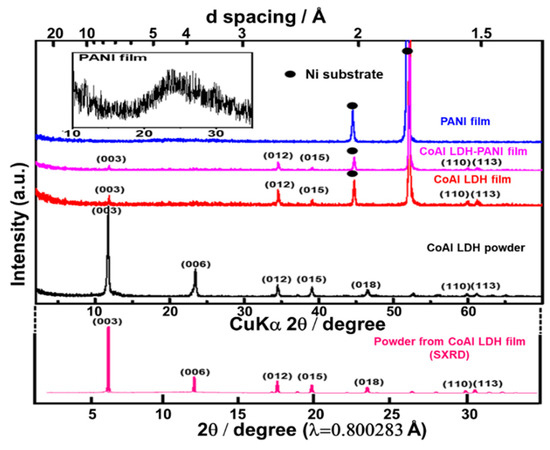 Figure 3. XRD patterns of CoAl LDH powder, CoAl LDH film, CoAl LDH-PANI film, PANI film, and SXRD patterns of the powder obtained from CoAl LDH film.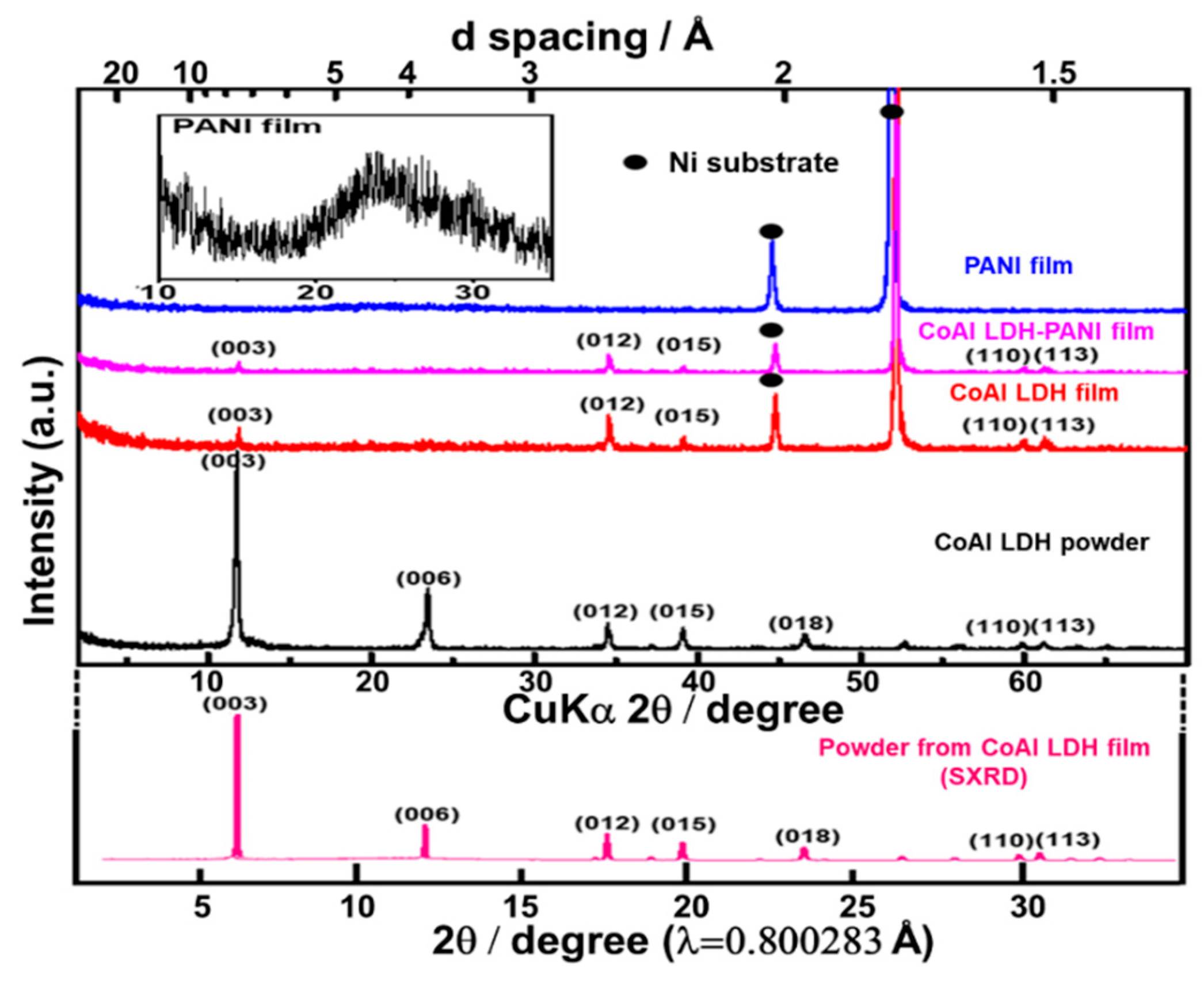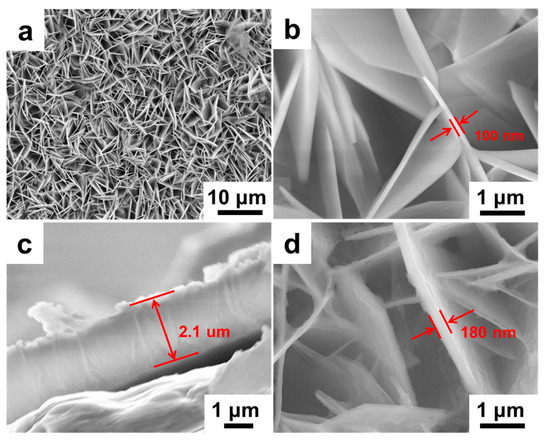 Figure 4. FESEM micrographs of (a,b) top-view of CoAl LDH, (c) cross-section of CoAl LDH, and (d) CoAl LDH-PANI composite.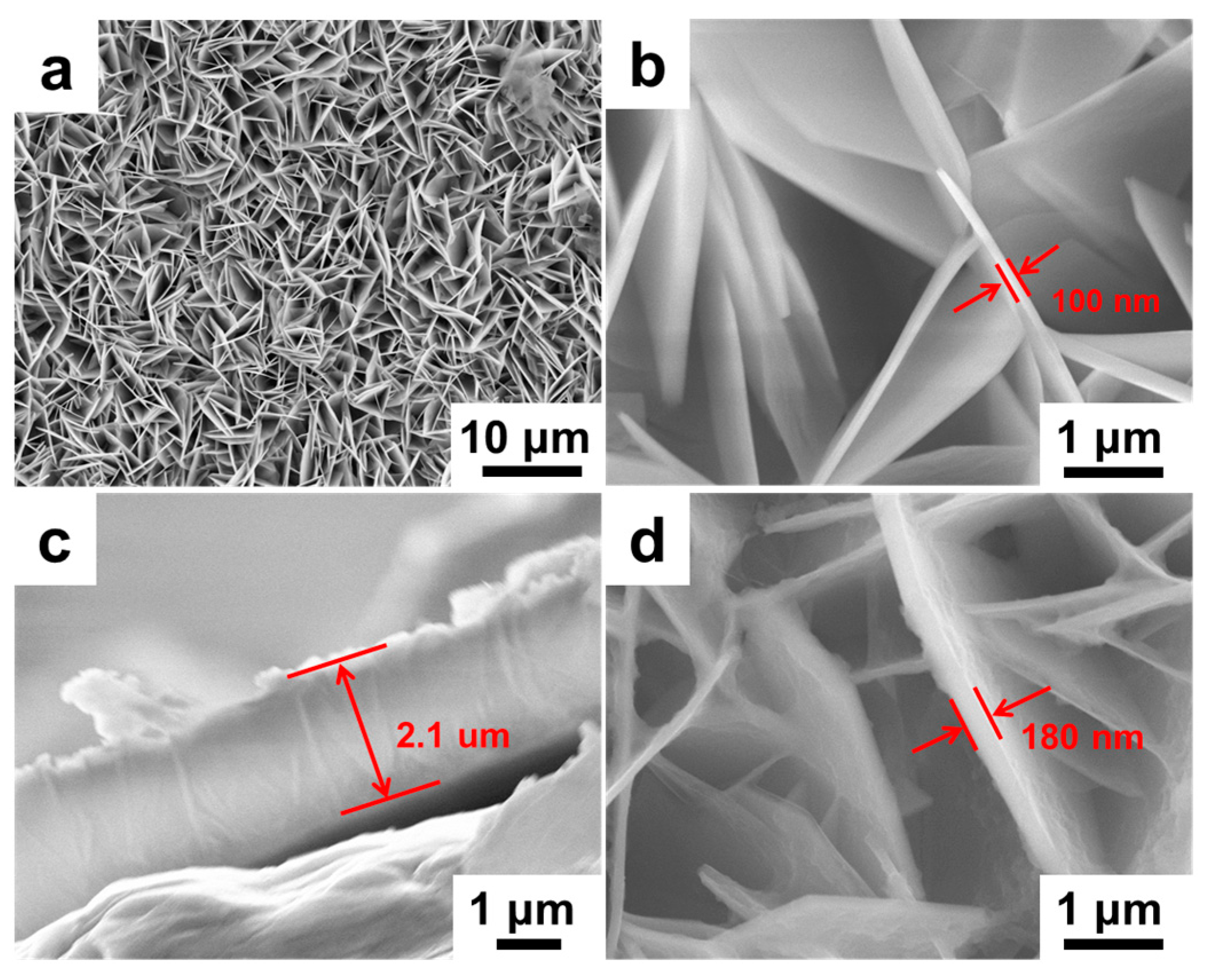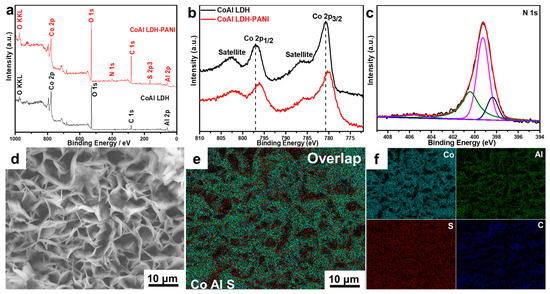 Figure 5. (a) The XPS full spectra and (b) Co 2p spectra of CoAl LDH and CoAl LDH-PANI. (c) N 1s spectrum of CoAl LDH-PANI. (d–f) FESEM image of CoAl LDH-PANI corresponding to the EDX elemental mapping images of Co, Al, S, and C showing uniform distribution of the elements.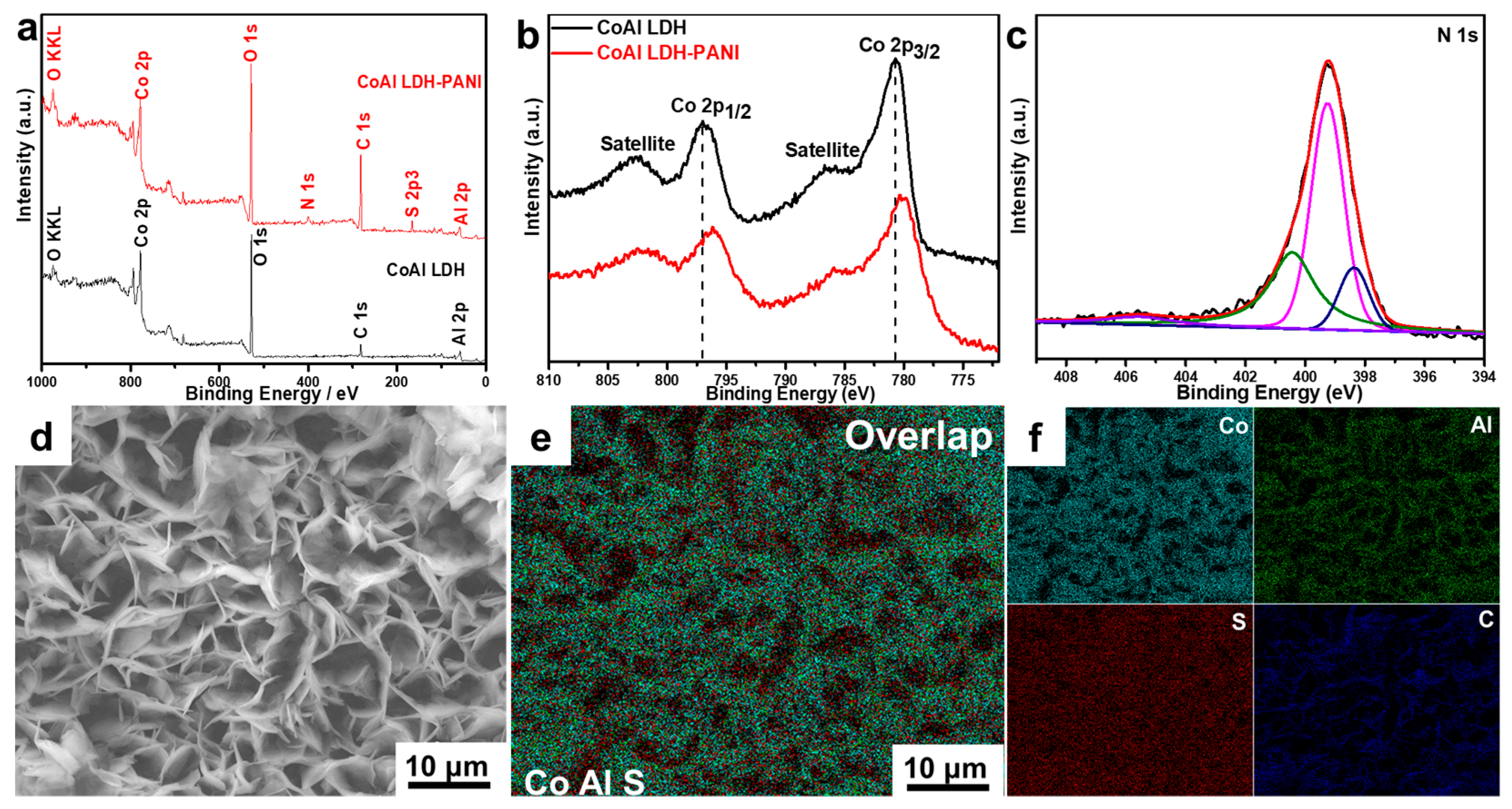 Figure 6. (a) CV curves of pristine PANI, CoAl LDH, and CoAl LDH-PANI composite obtained by deposition 200 s. (b) Specific capacitance values (obtained from CV measurement) and mass ratio of PANI: LDH for CoAl LDH-PANI electrode as a function of deposition time. (scan rate 20 mV/s)


Figure 7. (a) CV curves of CoAl LDH-PANI electrode at different scan cycles. (b) Specific capacitance and specific capacity values (obtained from CV curves) of CoAl LDH-PANI electrode as a function of cycle numbers. (scan rate 20 mV/s).

Figure 8. (a) Galvanostatic discharge curves of the CoAl LDH-PANI electrode at different scan cycles. (b) Cycling performance of the CoAl LDH, PANI, and CoAl LDH-PANI electrodes, respectively. (Current density 10 A/g)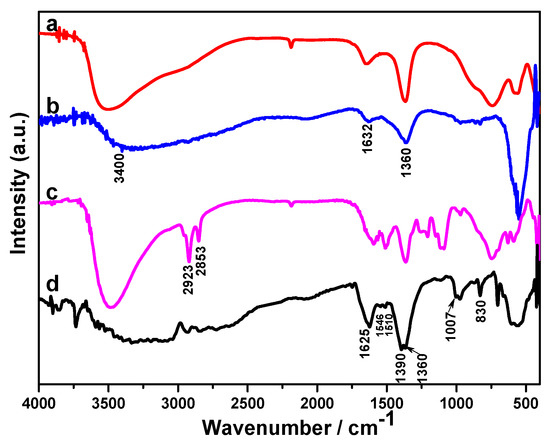 Figure 9. FT-IR spectra of (a) CoAl LDH obtained by pristine sample, (b) CoAl LDH obtained by 6000 GCD cycles, (c) CoAl LDH-PANI obtained by pristine sample, and (d) CoAl LDH-PANI obtained by 6000 GCD cycles.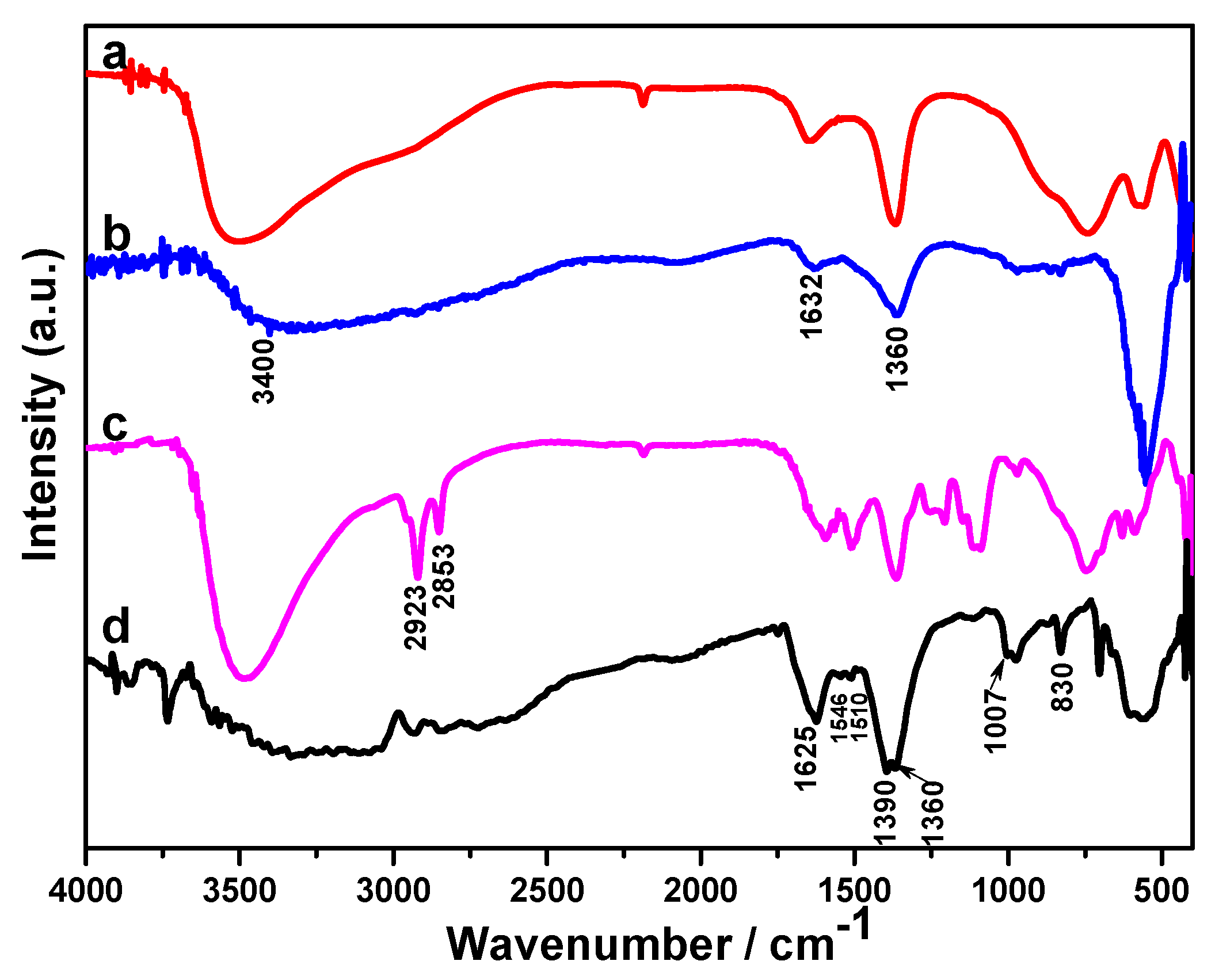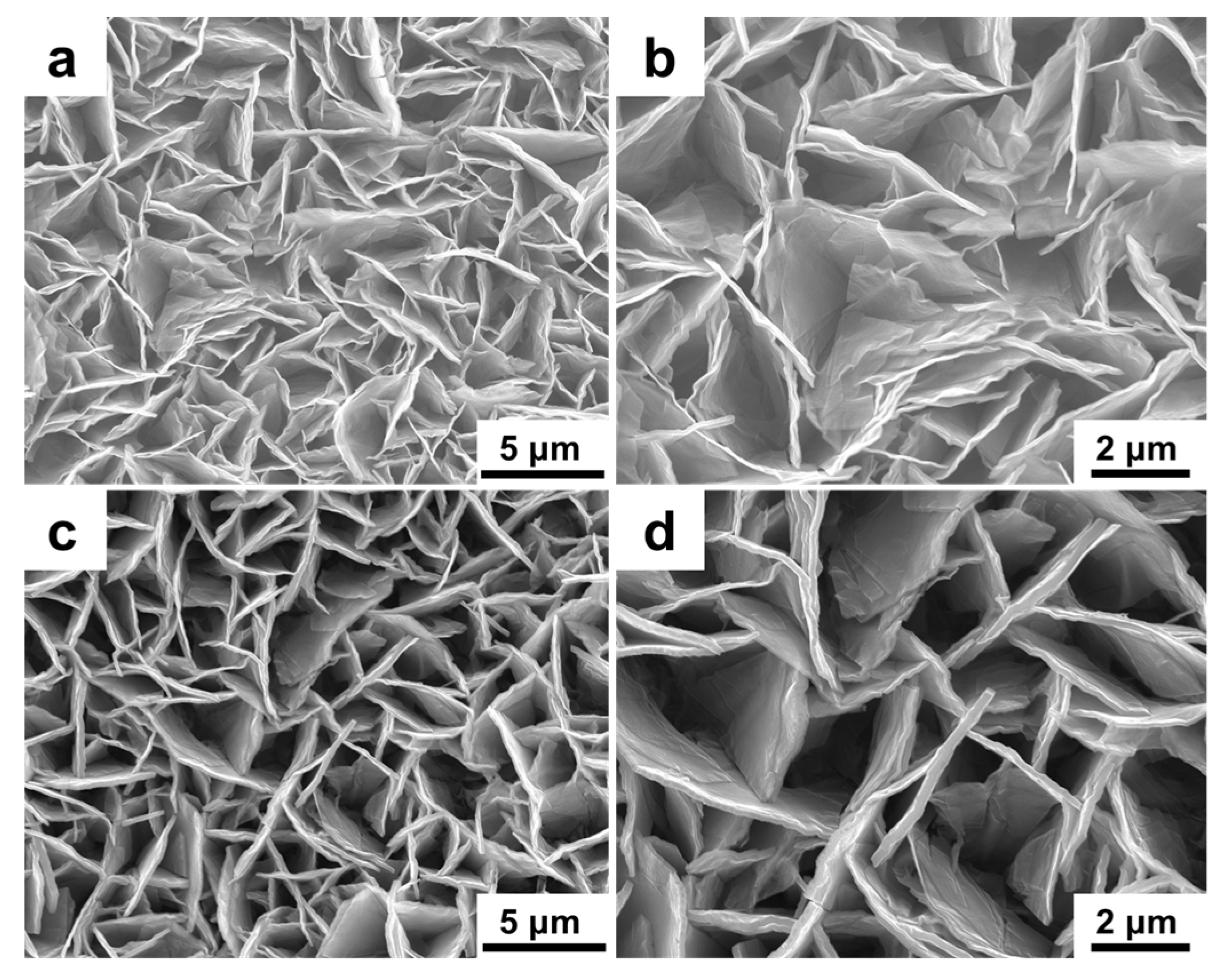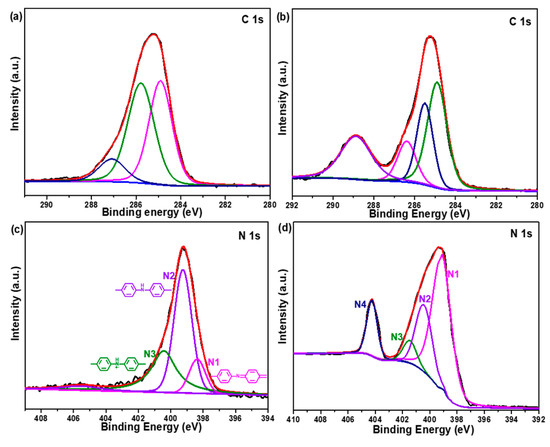 Figure 11. C 1s and N 1s spectra of (a,c) pristine CoAl LDH-PANI and (b,d) CoAl LDH-PANI obtained by 6000 GCD cycles.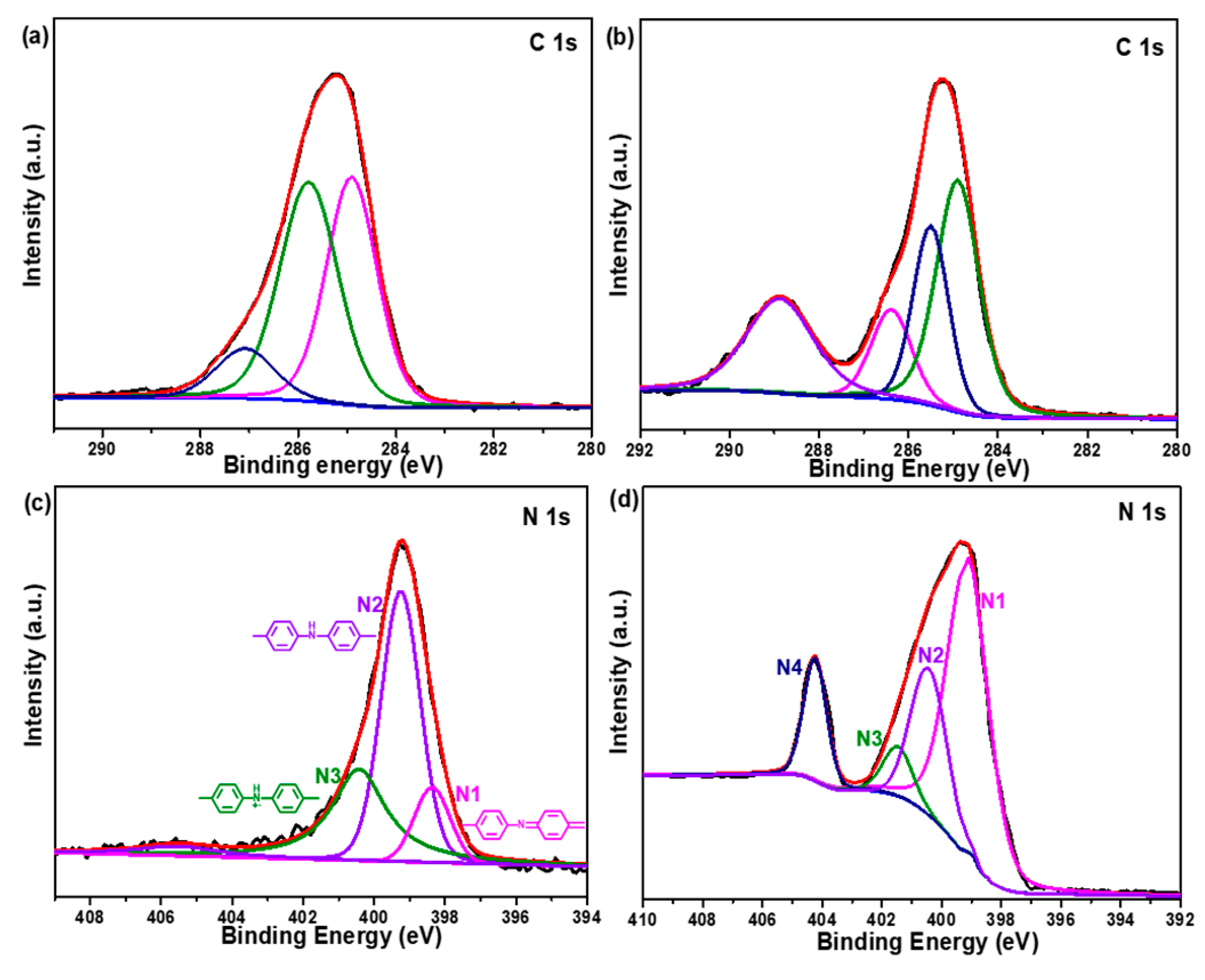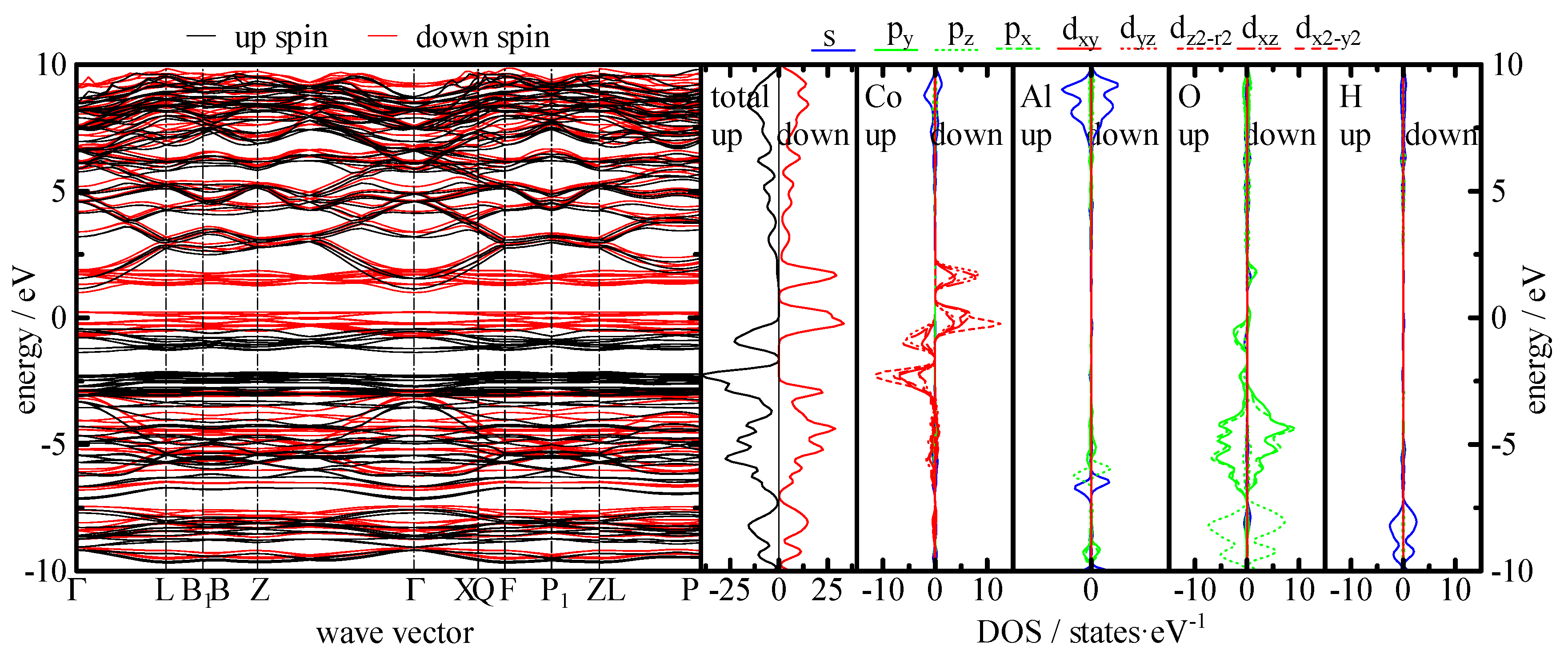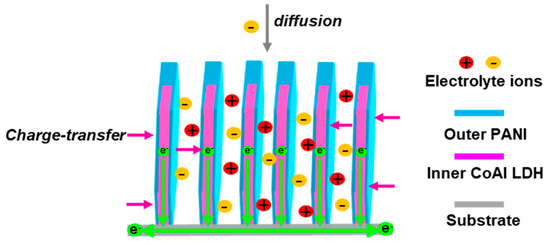 Figure 13. A schematic cross section illustration of electrolyte diffusion paths in CoAl LDH-PANI nanosheets.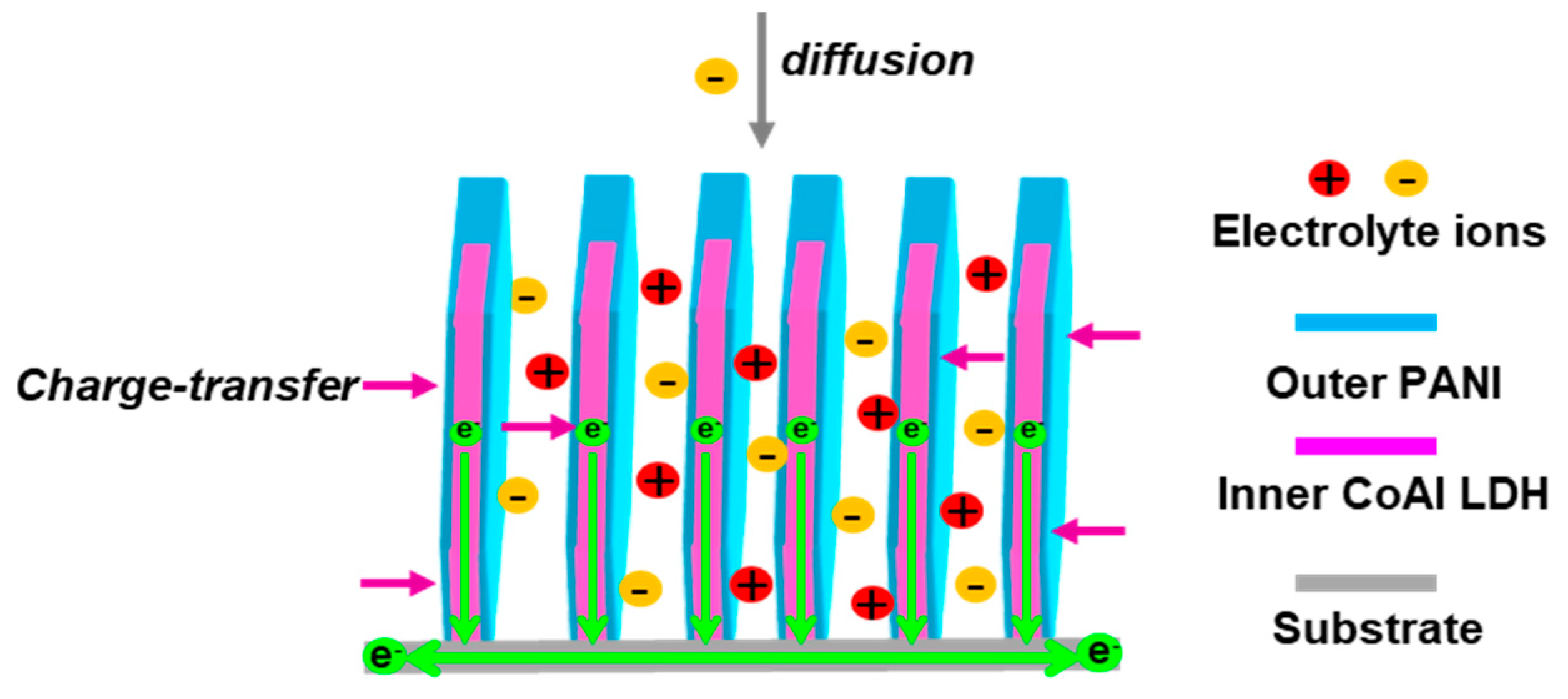 © 2019 by the authors. Licensee MDPI, Basel, Switzerland. This article is an open access article distributed under the terms and conditions of the Creative Commons Attribution (CC BY) license (http://creativecommons.org/licenses/by/4.0/).