Open Access This article is
freely available
re-usable
Article
Development of Time-Weighted Average Sampling of Odorous Volatile Organic Compounds in Air with Solid-Phase Microextraction Fiber Housed inside a GC Glass Liner: Proof of Concept
1
Department of Agricultural and Biosystems Engineering, Iowa State University, Ames, IA 50011, USA
2
Department of Meteorology and Hydrology, Al-Farabi Kazakh National University, Almaty 050040, Kazakhstan
3
Center of Physical Chemical Methods of Research and Analysis, Al-Farabi Kazakh National University, Almaty 050012, Kazakhstan
*
Author to whom correspondence should be addressed.
Academic Editors: Constantinos K. Zacharis and Paraskevas D. Tzanavaras
Received: 31 December 2018 / Accepted: 21 January 2019 / Published: 23 January 2019
Abstract
:
Finding farm-proven, robust sampling technologies for measurement of odorous volatile organic compounds (VOCs) and evaluating the mitigation of nuisance emissions continues to be a challenge. The objective of this research was to develop a new method for quantification of odorous VOCs in air using time-weighted average (TWA) sampling. The main goal was to transform a fragile lab-based technology (i.e., solid-phase microextraction, SPME) into a rugged sampler that can be deployed for longer periods in remote locations. The developed method addresses the need to improve conventional TWA SPME that suffers from the influence of the metallic SPME needle on the sampling process. We eliminated exposure to metallic parts and replaced them with a glass tube to facilitate diffusion from odorous air onto an exposed SPME fiber. A standard gas chromatography (GC) liner recommended for SPME injections was adopted for this purpose. Acetic acid, a common odorous VOC, was selected as a model compound to prove the concept. GC with mass spectrometry (GC–MS) was used for air analysis. An SPME fiber exposed inside a glass liner followed the Fick's law of diffusion model. There was a linear relationship between extraction time and mass extracted up to 12 h (
R
2
> 0.99) and the inverse of retraction depth (1/
Z
) (
R
2
> 0.99). The amount of VOC adsorbed via the TWA SPME using a GC glass liner to protect the SPME was reproducible. The limit of detection (LOD, signal-to-noise ratio (S/N) = 3) and limit of quantification (LOQ, S/N = 5) were 10 and 18 µg·m
−3
(4.3 and 7.2 ppbV), respectively. There was no apparent difference relative to glass liner conditioning, offering a practical simplification for use in the field. The new method related well to field conditions when comparing it to the conventional method based on sorbent tubes. This research shows that an SPME fiber exposed inside a glass liner can be a promising, practical, simple approach for field applications to quantify odorous VOCs.
Keywords:
SPME; retracted SPME; TWA SPME; GC–MS; on-site sampling; air quality; air monitoring; VOCs; odor; environmental analysis
Author Contributions
Investigation, M.T. and J.A.K.; methodology, M.T. and J.A.K.; software, D.L.M. and S.R.; resources, D.L.M. and J.A.K.; writing—original draft preparation, M.T.; writing—review and editing, M.T., J.A.K., B.K., and S.R.; visualization, M.T. and S.R.; supervision, J.A.K.; funding acquisition, M.T. and J.A.K.
Funding
This research was partially supported by the Iowa Agriculture and Home Economics Experiment Station, Ames, Iowa. Project No. IOW05556 (Future Challenges in Animal Production Systems: Seeking Solutions through Focused Facilitation) is sponsored by the Hatch Act and State of Iowa funds.
Acknowledgments
The authors would like to thank the Ministry of Education and Science of the Republic of Kazakhstan for supporting Madina Tursumbayeva with an M.S. study scholarship via the Bolashak Program.
Conflicts of Interest
The authors declare no conflicts of interest.
Appendix A. VOC Sampling Methods
There are numerous techniques for sampling VOCs, the most common of which are whole-air sampling techniques and sorbent tubes. The choice of air sampling technique depends on the chemical and physical properties of the VOCs of interest and on preferences motivated by regulatory reasons [
9
].
Whole-air sampling tools come in two common forms: evacuated stainless-steel canisters and sampling bags. In the US, evacuated canisters were introduced in the 1980s [
15
]. Today, canisters are applicable for sampling of up to 150 polar and nonpolar VOCs [
16
]. Canisters are equipped with flow controllers, particulate matter filters, and a vacuum gauge. For TWA sampling of VOCs in the field, the flow controller is pre-calibrated for the desired sampling time. Canister walls can modify the original content of sampled gas, as VOCs adsorb and undergo reactions, and samples can have poor recoveries [
15
,
17
].
Air sampling bags are used for the sampling of odorous gases [
14
,
15
]. Sampling bags are simple (consisting of a polymer film and a connector) and inexpensive to use. Despite their simplicity and cost-effectiveness, there are several limitations with regards to poor sample recoveries [
14
]. For example, Tedlar bags can desorb acetic acid and phenol, and absorb indole,
p
-cresol, nonanoic and octanoic acids, and some other VOCs resulting in an increased or decreased total mass of those VOCs in every sample [
14
]. Metalized bags can improve sample recovery for selected odorous VOCs [
18
]. Nalophane is the least expensive material; however, the material is not recommended for benzene and other petrochemicals, and it is not recommended to store samples for more than 6 h [
19
]. Teflon FEP bags are considered the most chemically inert among other bags, but they have a higher cost [
20
].
Sorbent tubes can be a good alternative to canisters and bags. Sorbents can be selected for application to a wider range of analytes including odorous VOCs [
10
]. Unlike canisters, sorbent tubes are compact and are easier to transport and store. Moreover, sorbent tubes have greater stability when exposed to polar compounds (most odorous VOCs are polar). In this approach, contaminated air passes through a tube containing sorbent material, which adsorbs VOCs. Usually, to facilitate this process, the contaminated air passes through the tube at a constant rate with the help of an air sampling pump. Sampling with sorbent tubes is one of the conventional sampling procedures for VOC quantification in ambient air [
10
,
13
,
14
,
21
]. All methods are summarized in
Table A1
.

Table A1. Comparison of sampling methods available for volatile organic compound (VOC) sampling. TWA—time-weighted average; SPME—solid-phase microextraction.
| Sampling Technique | Whole-Air Sampling (Sampling Bags and Canisters) | Active Sorbent Tubes Sampling | SPME in Grab Sampling Mode | SPME in Continuous (TWA) Sampling Mode |
| --- | --- | --- | --- | --- |
| Measurements in TWA mode | Possible | Possible | Possible | Possible |
| Advantages | Simple, accurate | Simple, accurate | Simple, accurate, fast, no pre-concentration and pump needed, low detection limits | Simple in operation, reusable, low cost, no pre-concentration and pump needed |
| Disadvantages | Relatively high cost; difficulties in transportation and storage; pump and pre-concentration required; the need for evacuation and cleaning in lab prior sampling; could be problematic to reuse bags | Pump and thermal desorption system required | Several grab samples needed for TWA concentration; mass extracted greatly affected by environmental variables | Complicated standard gas generation system and calibration required |
Appendix B. Liquid Injection and Flow Rate Verification
Since the motorized syringe pump and the mass flow controller are key instruments to generate the concentration of acetic acid in the standard gas generation system, the reliability of these instruments was verified. To verify that the motorized syringe pump provided a correct rate of injection, a known volume of water was injected into the empty vial. The mass of the vial was weighed before and after injection. The results of the mass of injected liquid and the set point were compared, and the difference between them did not exceed 3%. The rate of injection was constantly verified visually during the experiments.
A similar verification for flow rate was completed to assure that the system did not leak. Measurements for three different flow rates were compared with the mass flow controller and the flowmeter. The difference between readings on the flow controller and the flowmeter depended on the flow rate. Smaller flow rates yielded a higher difference between readings on the two instruments.
| | |
| --- | --- |
| | Sample Availability: Samples of the compounds are not available from the authors. |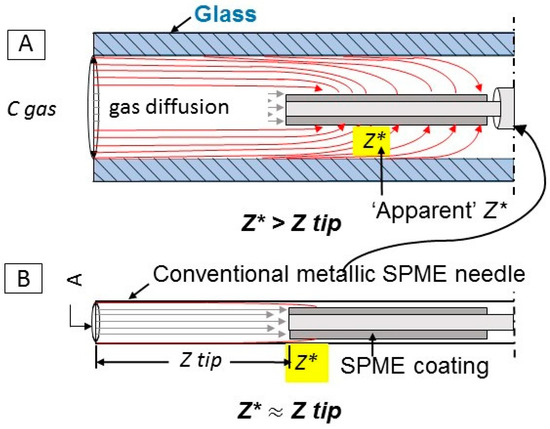 Figure 1.
Time-weighted average (TWA) gas sampling with solid-phase microextraction (SPME). Comparison of proposed (
A
) and conventional (
B
) TWA SPME. (
A
) Sampling with SPME fiber exposed and retracted inside of a glass liner; (
B
) a typical case of TWA SPME where the SPME fiber is retracted inside of a conventional SPME needle. Gray arrows represent the diffusion path between bulk gas (left side) and the retracted fiber tip (Z tip). Red arrows represent the "apparent" diffusion path extending beyond the tip to the SPME fiber coating side. The "apparent" diffusion path represents the extracting process enhanced by the sides of the SPME coating.
Z
* may continue to increase after the tip is saturated.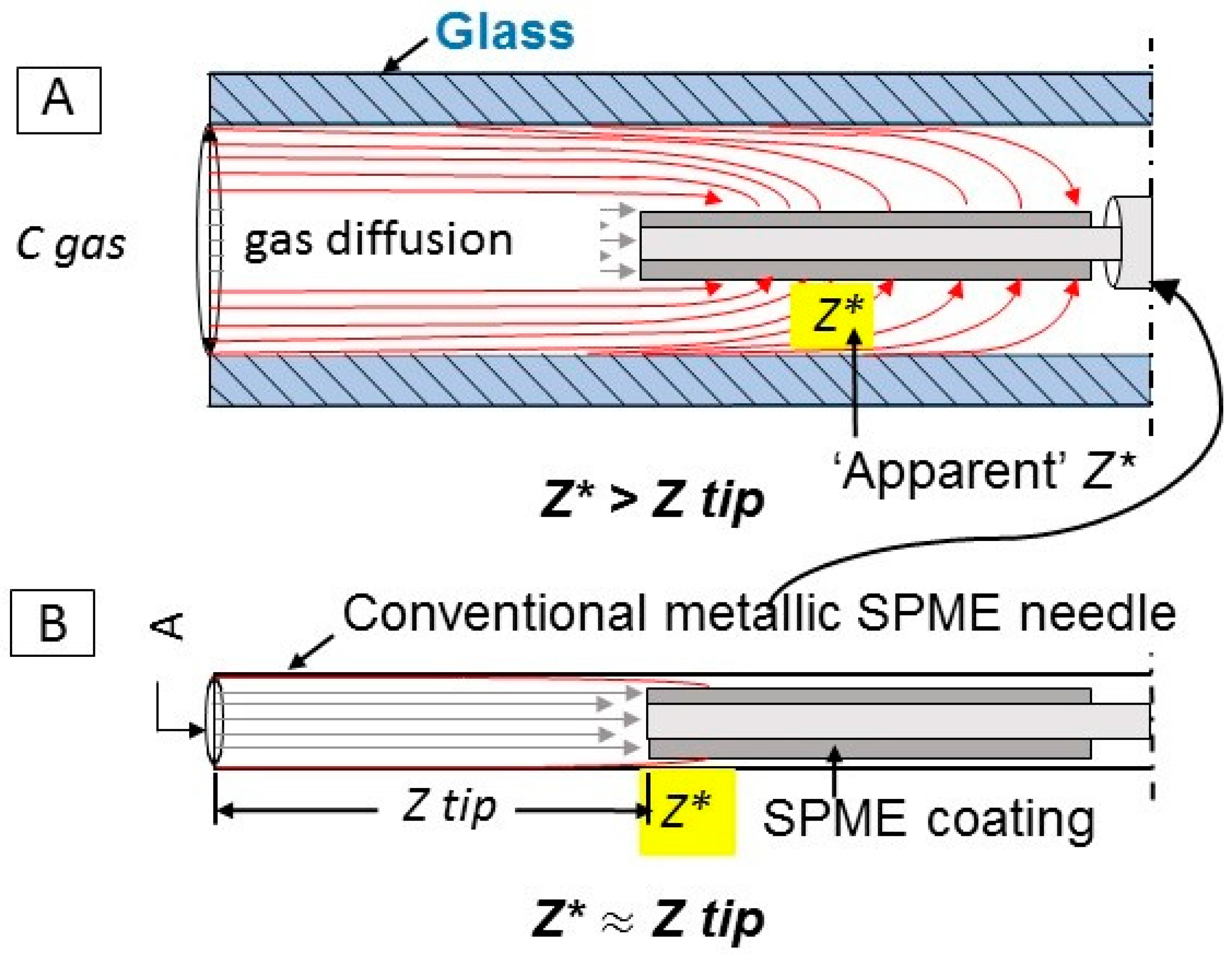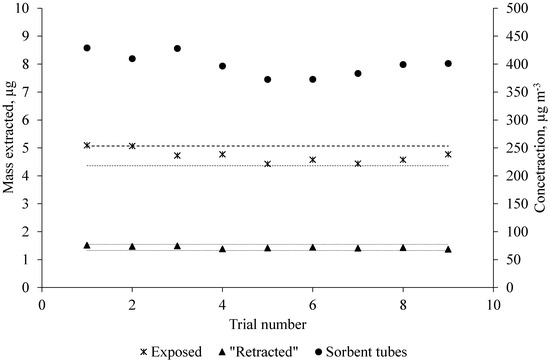 Figure 2.
Standard gas stability needed for simulating steady-state conditions for TWA SPME sampling. Extraction conditions: two 85-µm Car/PDMS SPME fibers (one was a standard exposed fiber, and the other was an exposed fiber that was kept inside of a glass liner). Both were exposed to the standard gas (acetic acid,
Cgas
= 617 µg·m
−3
). Retraction depth was 17.5 mm. Gas sampling was performed every hour for three consecutive days. Sampling times were 20 s for the exposed SPME fiber and 1 h for the retracted SPME fiber. The dashed lines on the graph indicate a ±7.5% band from the average. The concentration of acetic acid was verified with sorbent tubes. The concentration of acetic acid in the system obtained by sorbent tubes is shown on the right
y
-axis. Selected ion monitoring (SIM) mode at
m
/
z
60.0 was used for acetic acid detection and quantification.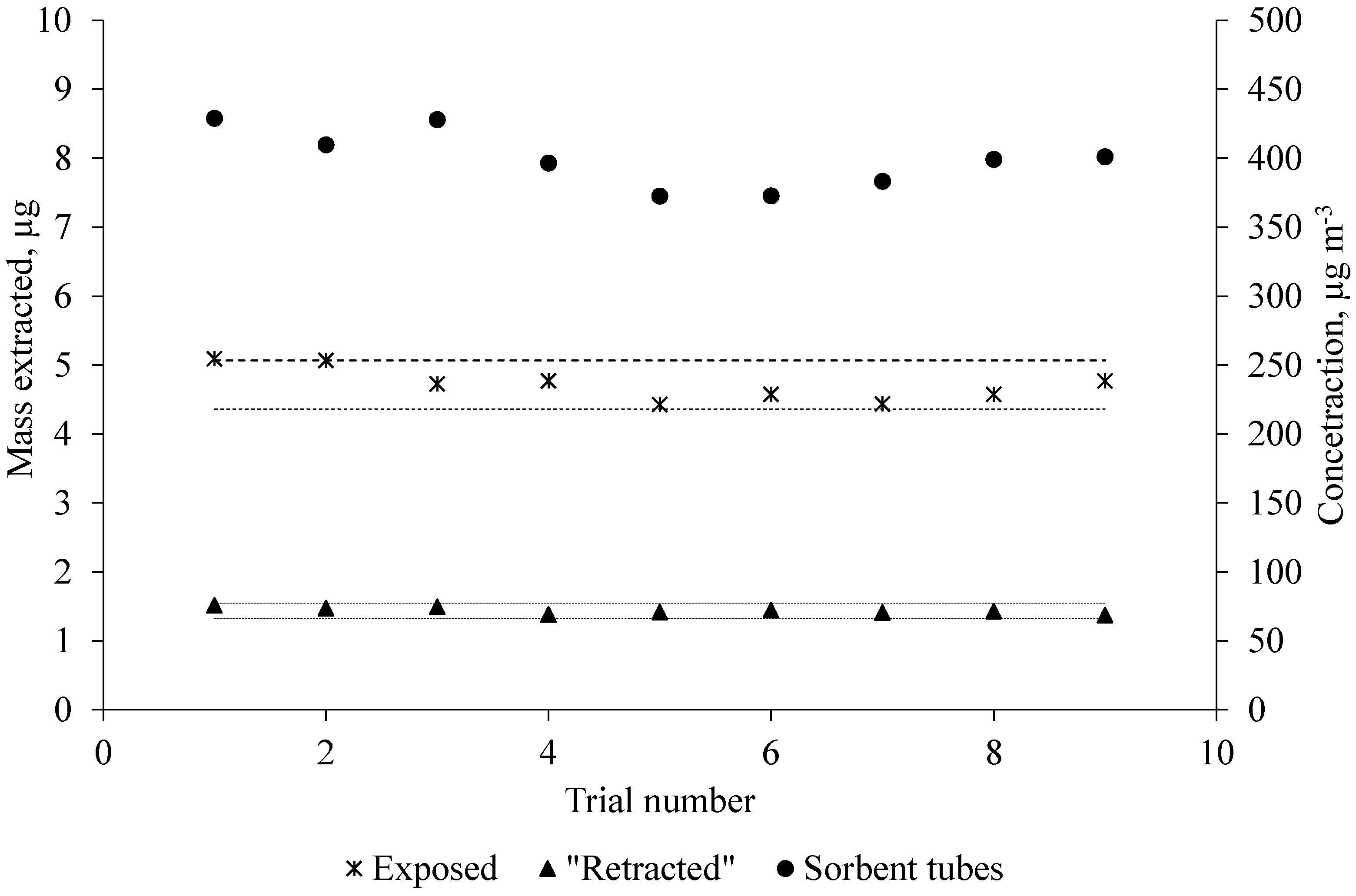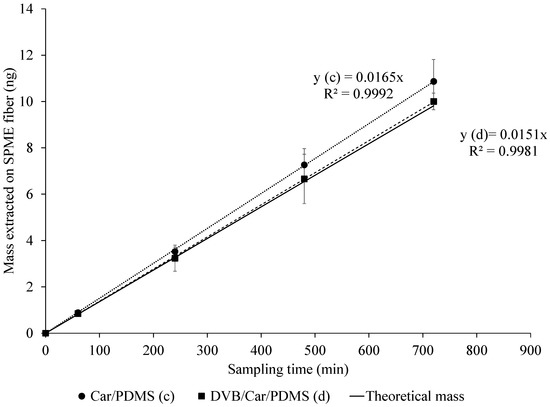 Figure 3.
TWA SPME where fiber is retracted into a glass liner. Comparison of the extraction efficiency of acetic acid by 85-µm Car/PDMS and 50/30-µm DVB/Car/PDMS SPME fibers. The theoretical mass on the SPME fiber (shown as a solid line) was calculated using Equation (1) (Fick's law of diffusion). The experimental masses are shown as dotted and dash lines for Car/PDMS and DVB/Car/PDMS fibers, respectively. Extraction conditions: 85-µm Car/PDMS fiber exposed inside a glass liner, standard gas (acetic acid,
Cgas
= 617 µg·m
−3
). Retraction depth was 1.75 cm. SIM mode at
m
/
z
60.0 was used for acetic acid detection and quantification. Experiments were completed in triplicate.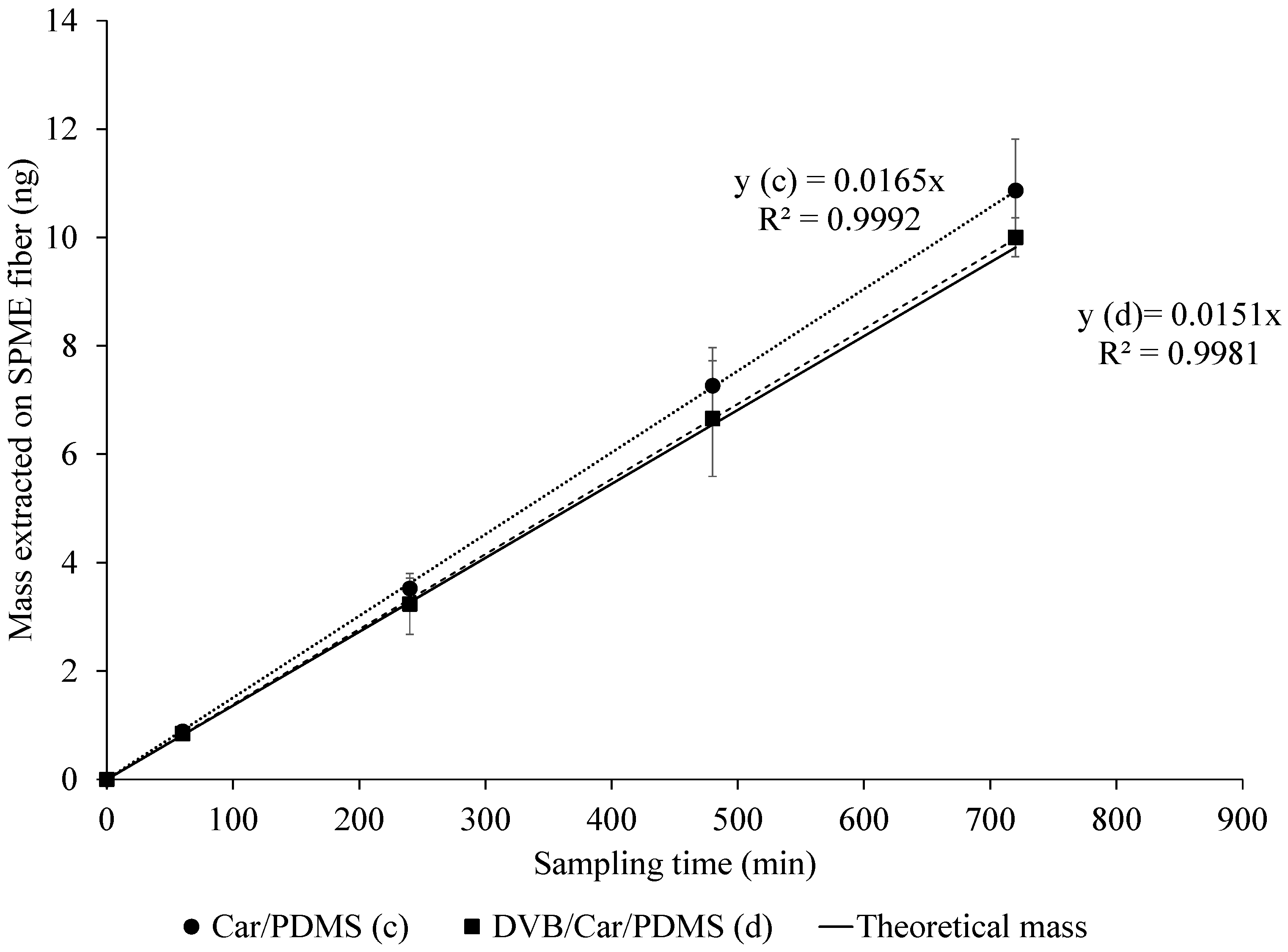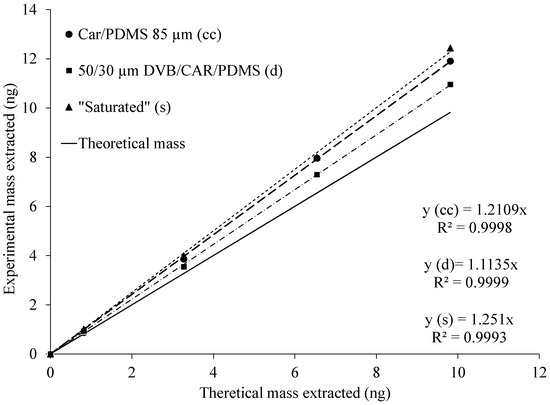 Figure 4. Comparison of the theoretical mass with the experimental masses extracted using 85-µm Car/PDMS (with clean and saturated glass liners) and 50/30-µm DVB/Car/PDMS fibers. The theoretical mass extracted was calculated using Fick's first law of diffusion (Equation (1)).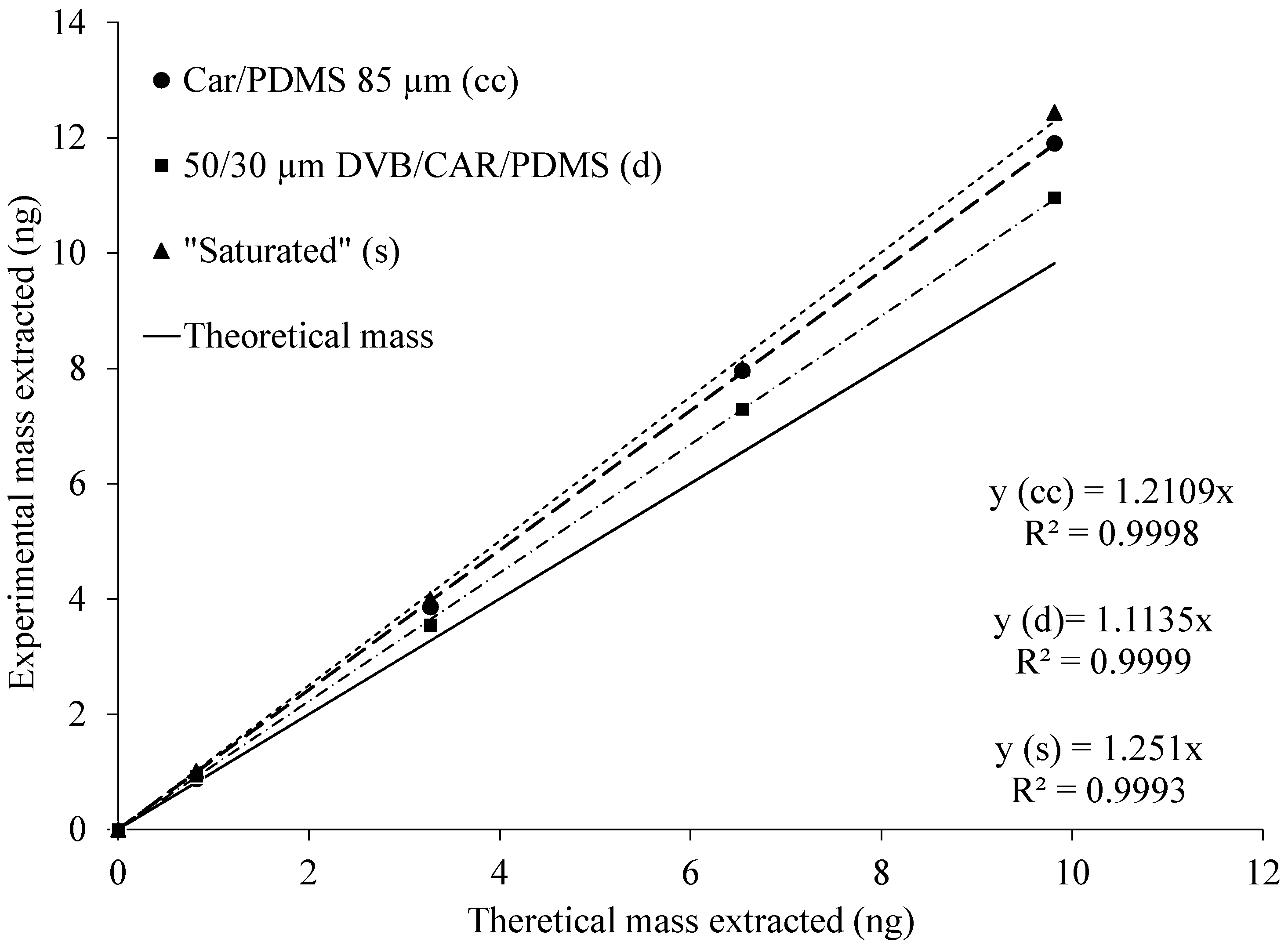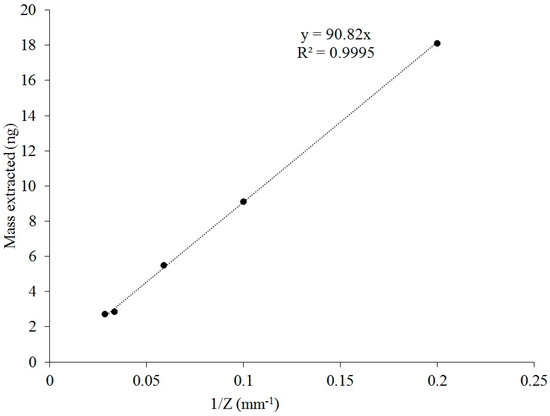 Figure 5.
Effect of diffusion path length (
Z
) on the extracted mass of acetic acid. Extraction conditions: "retracted" 85-µm Car/PDMS, standard gas (acetic acid). SIM mode at
m
/
z
60.0 was used for detection and quantification of the target compound. A sampling time of 4 h was used.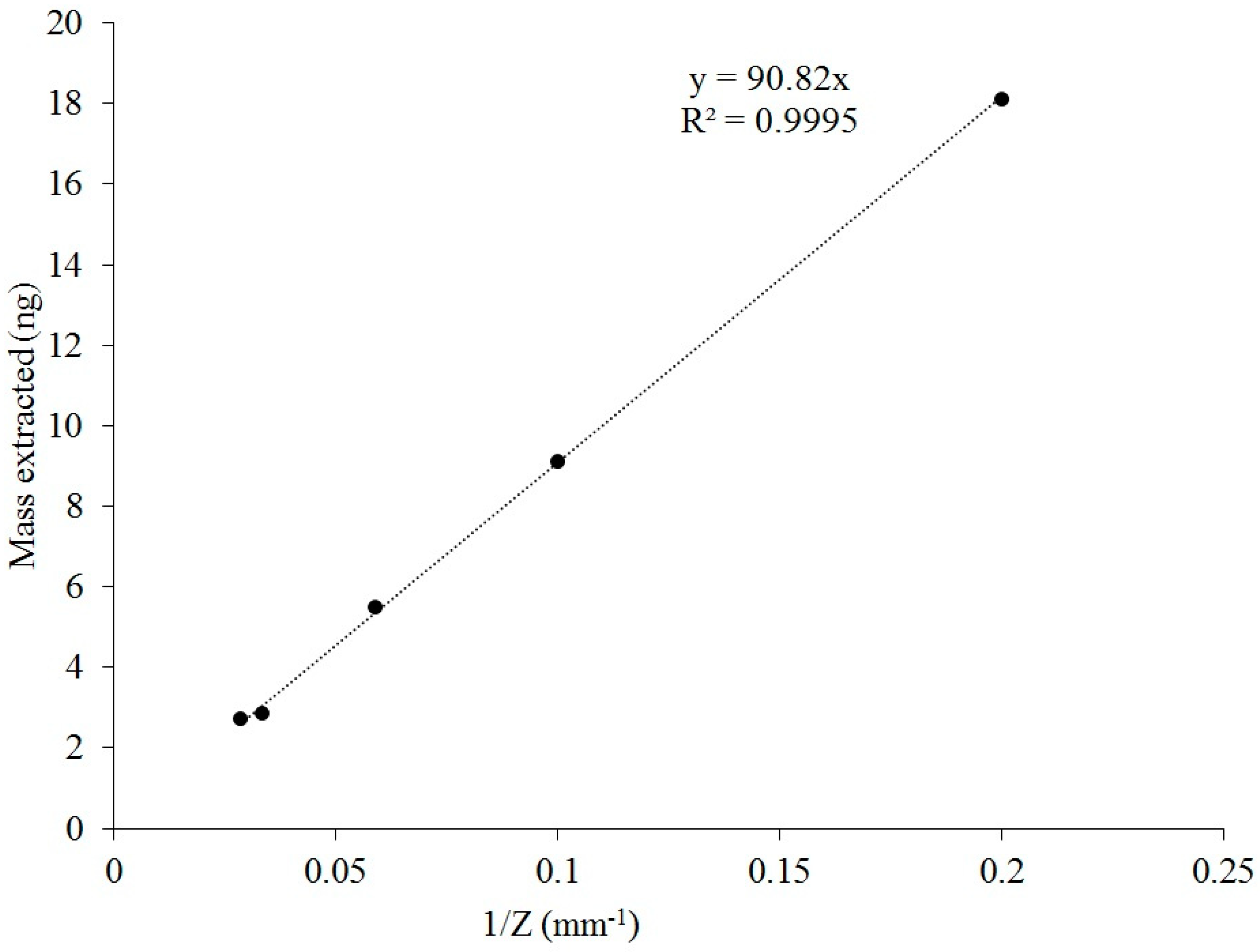 Figure 6. Schematic of standard mixture flow in the system. Passive gas sampling was completed with SPME retracted inside a gas chromatography (GC) injector glass liner.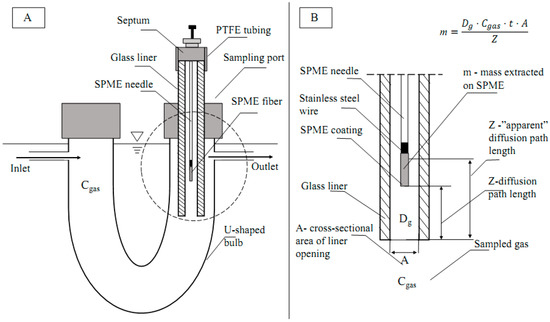 Figure 7. Passive gas sampling with SPME fiber retracted inside a GC injector glass liner. (A) Design of sampling port in the standard gas generation system. (B) Terms in Fick's first law of diffusion used for quantifications. The SPME fiber is exposed inside of a GC glass liner; thus, the walls of the liner serve as a protective needle in the conventional retracted mode.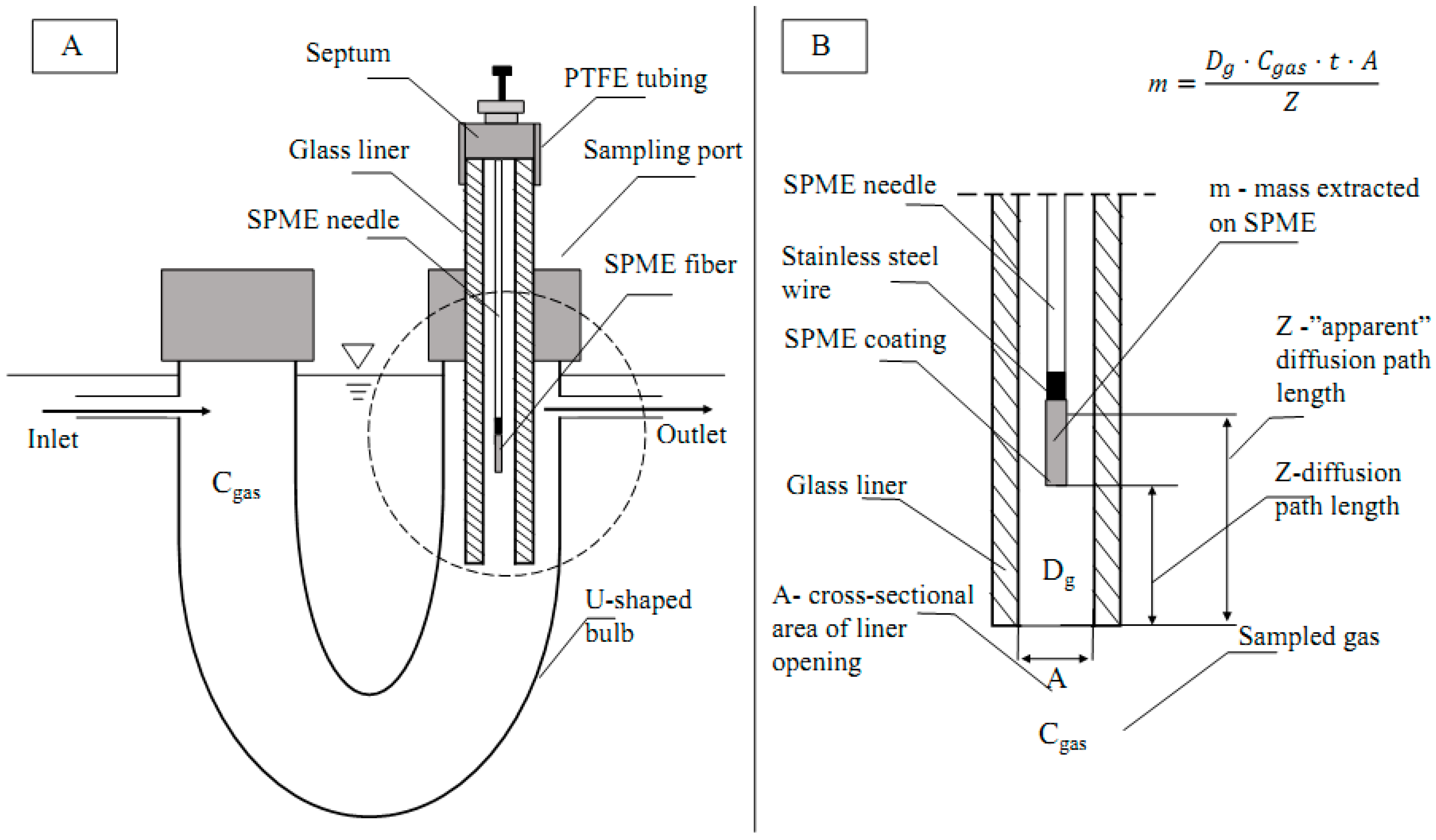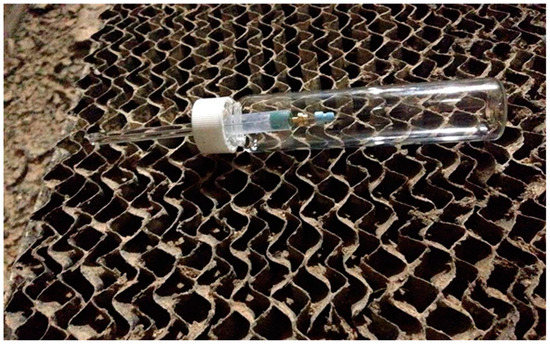 Figure 8. Field air sampling in TWA SPME mode on a commercial swine farm (Farm 2) in Iowa. The air sample diffuses through the opening in the GC glass liner (left side of the photo) onto an SPME fiber fully exposed inside the liner. A short section of Teflon tubing and a half-hole septum seal the liner and facilitate SPME insertion. A clear glass vial encloses the SPME assembly from dust and other gases in the sampled air.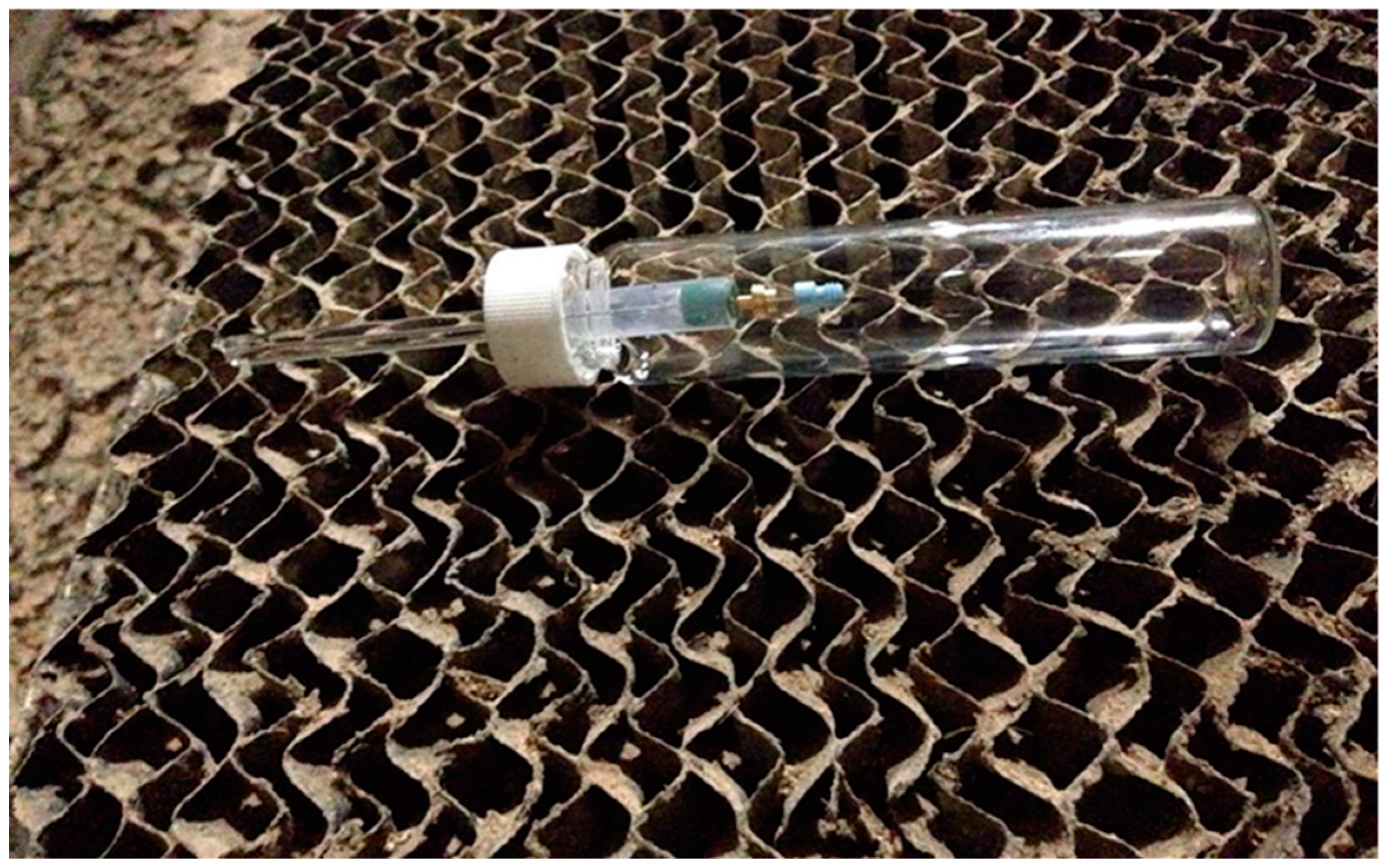 Table 1. Comparison of measured acetic acid concentrations in different locations using time-weighted average (TWA) solid-phase microextraction (SPME) (85 µm Car/PDMS) facilitated with a glass liner and sorbent-tube-based measurement.
Location
Measured Concentration (µg·m−3)
% Difference (TWA SPME vs. Sorbent Tubes)

p

-Value
TWA SPME (Glass Liner)
Sorbent Tubes
Office
17.7 (±2.7)
9.7 (±1.0)
58
0.002
Laboratory
15.2 (±0.8)
6.6 (±0.7)
78
0.0001
Farm 1, Day 1
3620 (±430)
755 (±20)
131
0.0004
Farm 1, Day 2
2400 (±310)
750 (±180)
104
0.0008
Farm 2, Day 1
685 (±70)
340
67
0.002
Farm 2, Day 2
750 (±90)
375 (±20)
67
0.0001

© 2019 by the authors. Licensee MDPI, Basel, Switzerland. This article is an open access article distributed under the terms and conditions of the Creative Commons Attribution (CC BY) license (http://creativecommons.org/licenses/by/4.0/).