Modulatory Effect of Guinep (
Melicoccus bijugatus

Jacq) Fruit Pulp Extract on Isoproterenol-Induced Myocardial Damage in Rats. Identification of Major Metabolites Using High Resolution UHPLC Q-Orbitrap Mass Spectrometry

1

Department of Basic Medical Sciences Physiology Section, Faculty of Medical Sciences, The University of the West Indies, Mona, Kingston 7, KGN, Jamaica

2

Facultad Ciencias de la Salud, Instituto de EtnoFarmacología (IDE), Universidad Arturo Prat, Iquique 1110939, Chile

3

Instituto de Farmacia, Facultad de Ciencias, Universidad Austral de Chile, Valdivia 5110566, Chile

4

Department of Pathology, Faculty of Medical Sciences, University of the West Indies, Mona Campus, Kingston 7, KGN, Jamaica

5

Laboratorio de Química Biológica, Instituto Antofagasta, Universidad de Antofagasta, Antofagasta 1270300, Chile

6

Departamento de Química, Facultad de Ciencias Básicas, Universidad de Antofagasta, Antofagasta 1270300, Chile

7

Laboratorio de Fisiología Experimental, Instituto Antofagasta, Universidad de Antofagasta, Antofagasta 1270300, Chile

*

Authors to whom correspondence should be addressed.

Academic Editors: Raffaele Capasso and Lorenzo Di Cesare Mannelli

Received: 25 December 2018 / Revised: 8 January 2019 / Accepted: 8 January 2019 / Published: 10 January 2019

Full-Text

|

PDF

[4383 KB, uploaded 11 January 2019]

|

|

Review Reports
Abstract
Guinep is traditionally used in the management of cardiovascular ailments. This study aims to evaluate its medicinal constituents and effects in the management of myocardial injury in an experimental isoproterenol (ISO) rat model. Sprague-Dawley rats were randomly assigned to four groups: Group 1 was the control group; Group 2 received
M. bijugatus
extract (100 mg/Kg; MB) for six weeks; Group 3 was given ISO (85 mg/Kg) i.p. twice during a 24-hour period; and Group 4 was given ISO (85 mg/Kg) i.p. and MB extract (100 mg/Kg) for six weeks. The MB was administered orally by gavage, daily. The blood pressure of conscious animals was measured, while ECG was performed under anesthesia. Blood and serum were collected for biochemical and hematological analysis. The ISO group treated with MB showed a significant decrease (
p
< 0.001) in (SBP), diastolic (DBP), mean arterial (MAP) and heart rate (HR) compared to the ISO only group. Conversely, MB treated rats that were not induced with ISO displayed a significant decreases (
p
< 0.001) in SBP, DBP, MAP, and HR. ISO significantly elevated the ST segment (
p
< 0.001) and shortened the QTc interval (
p
< 0.05), which were recovered after treatment with 100 mg/Kg of MB. In addition, the results showed a significant decrease (
p
< 0.001) in the heart to body weight ratio of the ISO group treated with MB compared to the ISO only group. Furthermore, the extract normalized the hematological values depressed by the ISO while significantly elevating the platelet count. UHPLC high-resolution orbitrap mass spectrometry analysis results revealed the presence of several antioxidants like vitamin C and related compounds, phenolic acids, flavonoid, fatty acids (oxylipins), and terpene derivatives. The results of this study indicated that
Melicoccus bijugatus
did display some cardio-protective effects in relation to myocardial injury.
View Full-Text
►

▼

Figures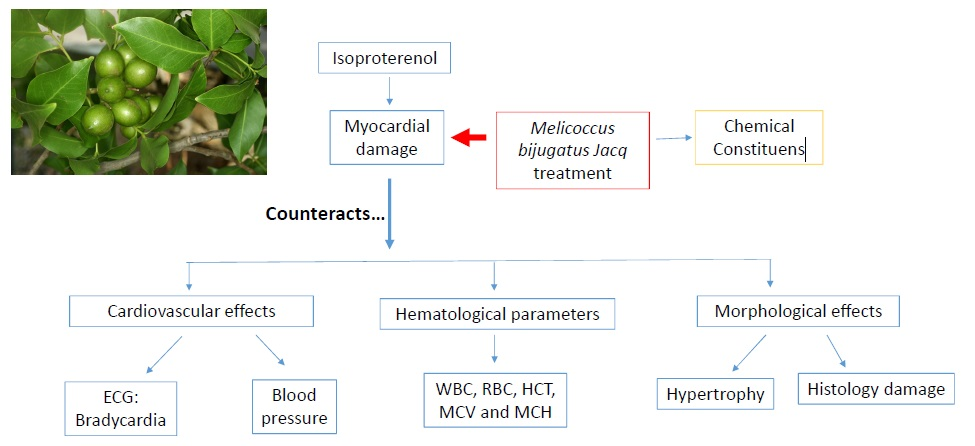 Graphical abstract
This is an open access article distributed under the
Creative Commons Attribution License
which permits unrestricted use, distribution, and reproduction in any medium, provided the original work is properly cited (CC BY 4.0).

Share & Cite This Article
MDPI and ACS Style
Nwokocha, C.R.; Warren, I.; Palacios, J.; Simirgiotis, M.; Nwokocha, M.; Harrison, S.; Thompson, R.; Paredes, A.; Bórquez, J.; Lavado, A.; Cifuentes, F. Modulatory Effect of Guinep (Melicoccus bijugatus Jacq) Fruit Pulp Extract on Isoproterenol-Induced Myocardial Damage in Rats. Identification of Major Metabolites Using High Resolution UHPLC Q-Orbitrap Mass Spectrometry. Molecules 2019, 24, 235.
Note that from the first issue of 2016, MDPI journals use article numbers instead of page numbers. See further details here.
Related Articles
Comments
[Return to top]