Open Access This article is
freely available
re-usable
Review
Autophagy Modulation as a Treatment of Amyloid Diseases
1
Centre of Excellence for Alzheimer's Disease Research and Care, School of Medical and Health Sciences, Edith Cowan University, Nedlands, WA 6009, Australia
2
Department of Biochemistry, North-Eastern Hill University, Meghalaya 793022, India
3
Hopwood Centre for Neurobiology, SAHMRI, Adelaide, SA 5000, Australia
4
School of Biomedical Science, Macquarie University, Sydney, NSW 2109, Australia
5
School of Pharmacy and Biomedical Sciences, Curtin Health and Innovation Research Institute (CHIRI), Faculty of Health Sciences, Curtin University, Bentley, WA 6102, Australia
*
Author to whom correspondence should be addressed.
Received: 31 August 2019 / Accepted: 10 September 2019 / Published: 16 September 2019
Abstract
:
Amyloids are fibrous proteins aggregated into toxic forms that are implicated in several chronic disorders. More than 30 diseases show deposition of fibrous amyloid proteins associated with cell loss and degeneration in the affected tissues. Evidence demonstrates that amyloid diseases result from protein aggregation or impaired amyloid clearance, but the connection between amyloid accumulation and tissue degeneration is not clear. Common examples of amyloid diseases are Alzheimer's disease (AD), Parkinson's disease (PD) and tauopathies, which are the most common forms of neurodegenerative diseases, as well as polyglutamine disorders and certain peripheral metabolic diseases. In these diseases, increased accumulation of toxic amyloid proteins is suspected to be one of the main causative factors in the disease pathogenesis. It is therefore important to more clearly understand how these toxic amyloid proteins accumulate as this will aide in the development of more effective preventive and therapeutic strategies. Protein homeostasis, or proteostasis, is maintained by multiple cellular pathways—including protein synthesis, quality control, and clearance—which are collectively responsible for preventing protein misfolding or aggregation. Modulating protein degradation is a very complex but attractive treatment strategy used to remove amyloid and improve cell survival. This review will focus on autophagy, an important clearance pathway of amyloid proteins, and strategies for using it as a potential therapeutic target for amyloid diseases. The physiological role of autophagy in cells, pathways for its modulation, its connection with apoptosis, cell models and caveats in developing autophagy as a treatment and as a biomarker is discussed.
Keywords:
amyloid; autophagy; clearance; toxicity; lysosome; Alzheimer's disease; Parkinson's disease; polyglutamine; Tau protein; beta amyloid; α-synuclein; Huntington's disease
1. Introduction
Amyloids are aggregates of proteins that become folded into a structure that allows multiple copies of that protein to accumulate, forming potentially toxic fibrous deposits in cells and tissues [
1
]. While other amyloid proteins have the common role in structural support or motility, amyloids in humans are most commonly associated with the pathology observed in various chronic diseases [
2
]. In these pathological amyloids, the fibrous proteins aggregate into toxic forms that causes cell death, which leads to tissue and organ damage, culminating into clinical symptoms [
3
]. Some cells, such as neurons, are more vulnerable to protein aggregation—which is evident when observing neurodegenerative disorders. One of the most widely known amyloid protein is the amyloid beta (Aβ) protein, which is known to play a critical role in the pathogenesis of AD [
4
]. Aβ was discovered in 1984, as the major component found in neuritic plaques in the cerebral parenchyma of AD brains [
5
]. Later, Aβ was found to be a normal physiological product of the cleavage of its parent protein amyloid precursor protein (APP) [
5
]. Years after this discovery, amyloid association in the pathogenesis of PD, polyglutamine disorders such as Huntington's disease (HD) and spinocerebellar ataxia (SCA) type 3 (otherwise referred to as Machado-Joseph disease), Creutzfedlt-Jakob disease, diabetes type 2, motor neuron diseases, amyotrophic lateral sclerosis (ALS) and peripheral tissue diseases such as familial amyloid polyneuropathy (FAP) [
3
] have been identified, in which all of the diseases involved are progressive disorders and are associated to high mortality and morbidity [
2
]. While the association between pathology and amyloid is widely known, the primary function of many amyloid proteins, including Aβ, is still unknown and remains controversial with experimental procedures, suggesting that it may have normal biological functions [
6
].
Cellular degradation and clearance pathways in the body assist in clearing misfolded proteins and preventing amyloid aggregation, therefore preventing the pathogenesis of amyloids in the body [
7
]. It is the dysfunction of these pathways that have shown to result in the accumulation of amyloid proteins like Aβ in the AD brain [
7
]. Protein aggregation is dynamic, and growing evidence shows that it is the small oligomer species that are the main toxic species. This is evident in studies showing high stability and resistance of the oligomeric intermediates of Aβ to degradation and clearance [
8
]. More so, Aβ oligomers have been demonstrated to even alter proteasomal clearance [
8
]. Despite protein aggregation or amyloidogenesis being hypothesized to be the underlying factor that causes various amyloid diseases, the connection between protein aggregation and tissue degeneration is not completely understood [
9
]. Recent studies have focused on a particular cellular degradation pathway known as autophagy where its dysfunction is implicated in AD and other amyloid diseases and its modulation may provide useful therapeutic pathways in treatment, which will be covered in this review. This pathway is responsible for degradation and recycling of misfolded or aggregated proteins and damaged organelles as well as other cellular components [
10
]. Other amyloid clearance pathways will be discussed in this review as well.
2. Clearance Pathways for Amyloid Proteins
To prevent unstable proteins from misfolding or aggregating, the protein folding process is tightly regulated through a network of cellular proteostasis pathways that ensures misfolded proteins do not accumulate [
11
]. Proteostasis is maintained in healthy cells through balance of the biological pathways, including protein synthesis, degradation and protein quality control (PQC) [
12
]. This complex proteostasis network coordinates these biological systems with intra- and extracellular molecular chaperones [
13
] and their regulators. Some of these chaperones, especially lens α-crystallins and milk caseins, operate in an ATP-independent manner to ensure that proteins are stabilized and do not misfold and aggregate into amyloid fibrils [
11
]. Bearing in mind that approximately 30% of proteins that are newly synthesized are misfolded, the influx of misfolded proteins calls for continuous operation of the PQC system [
12
]. The PQC system uses three main approaches to ensure that the misfolded or aggregated proteins do not threaten the survival of the cell and proteostasis is maintained. These include refolding, degradation and recycling, where the proteins are sequestered as inclusion bodies within the cell—all of which involve the function of molecular chaperones [
14
]. The degradation system involves two major systems: ubiquitin-proteasome system (UPS), which involves ubiquitin tagging of the target proteins followed by degradation by the proteasome [
15
], and the autophagy system, which is discussed later in this review. The proteostasis network has been shown to decline with age due to facing a range of both internal and external stresses that increase with age [
16
]. Studies implicate a dysfunction of this system to the abnormal protein assembly and amyloidogenesis in neurodegenerative diseases [
14
]. Increasing proteostasis network capacity therefore represents a promising pharmacological target that could delay the onset of age-related diseases [
16
].
Accumulation of the Aβ peptide into oligomers and amyloid plaques depends on the rate at which the Aβ peptide is synthesised and cleared [
17
]. There are several mechanisms that can achieve the clearance of Aβ peptide [
17
]. Examples of non-enzymatic clearance pathways include Aβ drainage in interstitial fluid drainage pathway and transport of amyloids into the circulation across walls of blood vessels [
17
]. Enzymatic pathways for Aβ degradation include insulin-degrading enzyme (IDE), neprilysin, matrix metalloproteins (MMPs), plasmin, angiotensin converting enzyme (ACE), and endothelin-converting enzyme (ECE) [
17
,
18
]. Notably, enzymes IDE, ACE and NEP have shown decreased activity levels in the hippocampus of AD patients (a region associated with Aβ deposition) which may suggest possible therapeutic strategies for AD [
18
]. Additionally, some of the enzymes above have even been successfully evaluated in animal models; however, their exact roles in regulating Aβ levels requires further investigation [
18
].
Another neurotoxic amyloid protein is α-synuclein, which is the pathological hallmark of PD, multiple system atrophy, and dementia with Lewy bodies. It is abundant in the presynaptic terminals that are responsible for the release of neurotransmitters [
19
]. Thus, despite its precise function remaining unknown, it appears that the main function of α-synuclein is to control the release of neurotransmitters, as well as dopamine regulation [
20
]. In PD, α-synuclein is the major fibrillar component of Lewy bodies, which consist of cytosolic protein inclusions [
21
]. These Lewy bodies spread and accumulate in dopaminergic neurons found in the substantia nigra of the brain, causing neuronal cell death [
21
]. Both the major degradation pathways, UPS and autophagy pathways are responsible for α-synuclein clearance [
12
]. Similar to AD and PD, HD is characterised by aggregation of the polyglutamine expanded huntingtin (polyQ-Htt) protein [
22
], while ALS is characterised by mostly mutant TAR DNA-binding protein 43 (TDP-43) aggregation as well as superoxide dismutase 1 (SOD1) aggregation, although shared pathogeny between these ALS-linked proteins is still uncertain [
12
]. Similar to Aβ, Tau protein and a-synuclein, both UPS and autophagy pathways are involved in the clearance of TDP-43, SOD-1 and polyQ-Htt [
12
].
3. Autophagy Pathway
It has been shown that one of the fundamental causes for the accumulation and deposition of toxic proteins is the inadequate clearance by autophagy, which is a part of the wider lysosomal system [
23
]. This pathway is a crucial degradation pathway for unwanted or damaged organelles and proteins [
24
]. Dysfunction of the autophagy-lysosomal system has been implicated in the pathogenesis of many neurodegenerative diseases that feature increased accumulation of amyloid protein deposits. At the same time, stimulating this pathway to clear the toxic amyloid proteins has gained interest as a therapeutic strategy [
25
].
The autophagic process involves a series of steps that are responsible for delivering vestigial intracellular macromolecules, damaged organelles and other cellular debris into the cell's lysosome for degradation [
24
]. Distinguished by their manner of delivery into the lysosomes, three autophagy subtypes have been identified: micro-autophagy, chaperone-mediated autophagy and macro-autophagy [
26
]. Macroautophagy is the most common form of autophagy to be discussed in this review, and is herein referred to as autophagy. This autophagy mechanism is used in eukaryotes when long-living proteins and organelles need to be catabolized [
24
]. The autophagy process begins when an isolation membrane (phagophore) is formed and this step is known as the nucleation process [
26
]. The phagophore elongates and fuses along the edges, enclosing the cellular debris to form an autophagosome. The autophagosome either fuses with the lysosome directly to form an autolysosome where the contents are digested and the inner membrane is degraded by lysosomal hydrolases or initially fuses with late endosomes to form amphisomes which later fuse with lysosomes [
26
,
27
].
4. Role in Amyloid Diseases
Overall, as observed above, autophagic dysfunction occurs in several neurodegenerative diseases at various stages of the autophagic process, and contributes to aggregate formation—eventually causing neuronal cell death. Autophagy dysfunction in the early stages of the autophagy process—during substrate sequestration and autophagosome formation—are observed in PD, HD, and Lafora's disease. Dysfunction during substrate recognition and selective autophagy occurs in PD, ALS, Paget's disease and SCA type 3. Dysfunction of autophagosome-lysosome fusion can occur as well in ALS, CMT2, frontotemporal dementia, and Kennedy's disease. Whereas, dysfunction in lysosomal digestion occurs predominantly in AD and PD.
5. Activation of Autophagy as a Therapeutic Target for Amyloid Diseases
6. Interplay of Autophagy and Apoptosis
7. Cell Models for Clearance of Protein Aggregates
Stimulating autophagy mediated clearance of protein aggregates is an important therapeutic target in protein misfolding disorders featuring amyloid protein accumulation in affected cells and tissues. A variety of cell models expressing wild type or pathogenic isoforms of the amyloid proteins have been used for investigating intracellular protein degradation mechanisms and drugs that promote the clearance of amyloid proteins such as α-synuclein, Tau protein, Aβ and proteins containing glutamine repeats (polyQ) such as Htt for developing novel treatment strategies. Activation of protein degradation systems has been proposed to be a potential strategy for removing amyloid proteins, but it still remains unclear how effectively protein aggregates can be degraded by these systems to promote cell survival.
8. Autophagy as a Biomarker for Amyloid Diseases
Author Contributions
Conceptualization, P.B.; methodology, P.B.; data acquisition, P.B.; writing—original draft preparation, Z.M, E.H, P.B, T.S.; writing and review—T.T, R.M, P.B, E.H, T.S.; funding acquisition, P.B.
Funding
This research was funded by National Health and Medical Research Council APP1107109 awarded to P.B.
Conflicts of Interest
The authors declare no conflict of interest.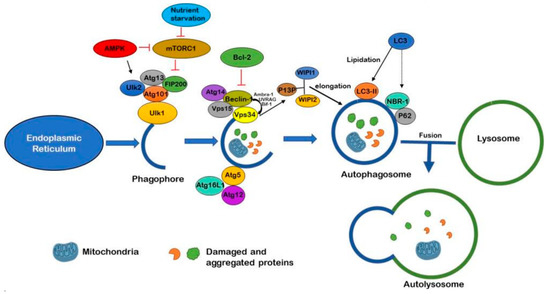 Figure 1. Regulation of autophagy mediated degradation: Autophagosome formation begins when phagophore is produced from ER initiated by either AMPK activation or mTOR inhibition by nutrient starvation. Once autophagosome formation is initiated, the ULK1 complex (composed of Atg13, Ulk2, Atg101 and Fip200) is phosphorylated. Vps4 complex is positively regulated and the developing phagophore elongates. Beclin-1 together with Ambra-1, Bif-1 and UVRAG activate Vps34, generates P13P—which then facilitates Atg16L1-Atg5-Atg12 recruitment. Beclin-1 mediated autophagosome generation can be inhibited by Bcl-2. P13P binds with WIPI1 and WIP2 and promotes phagophore elongation. LC3-I is lipidated to form LC3-II. LC3 additionally anchors adaptor proteins p62 and NBR-1 onto the phagophore for substrate targeting, and phagophore closes to become an autophagosome. Fusion of autophagosome and lysosome create the autolysosome, which digests the substrates and recycles back into the cytoplasm.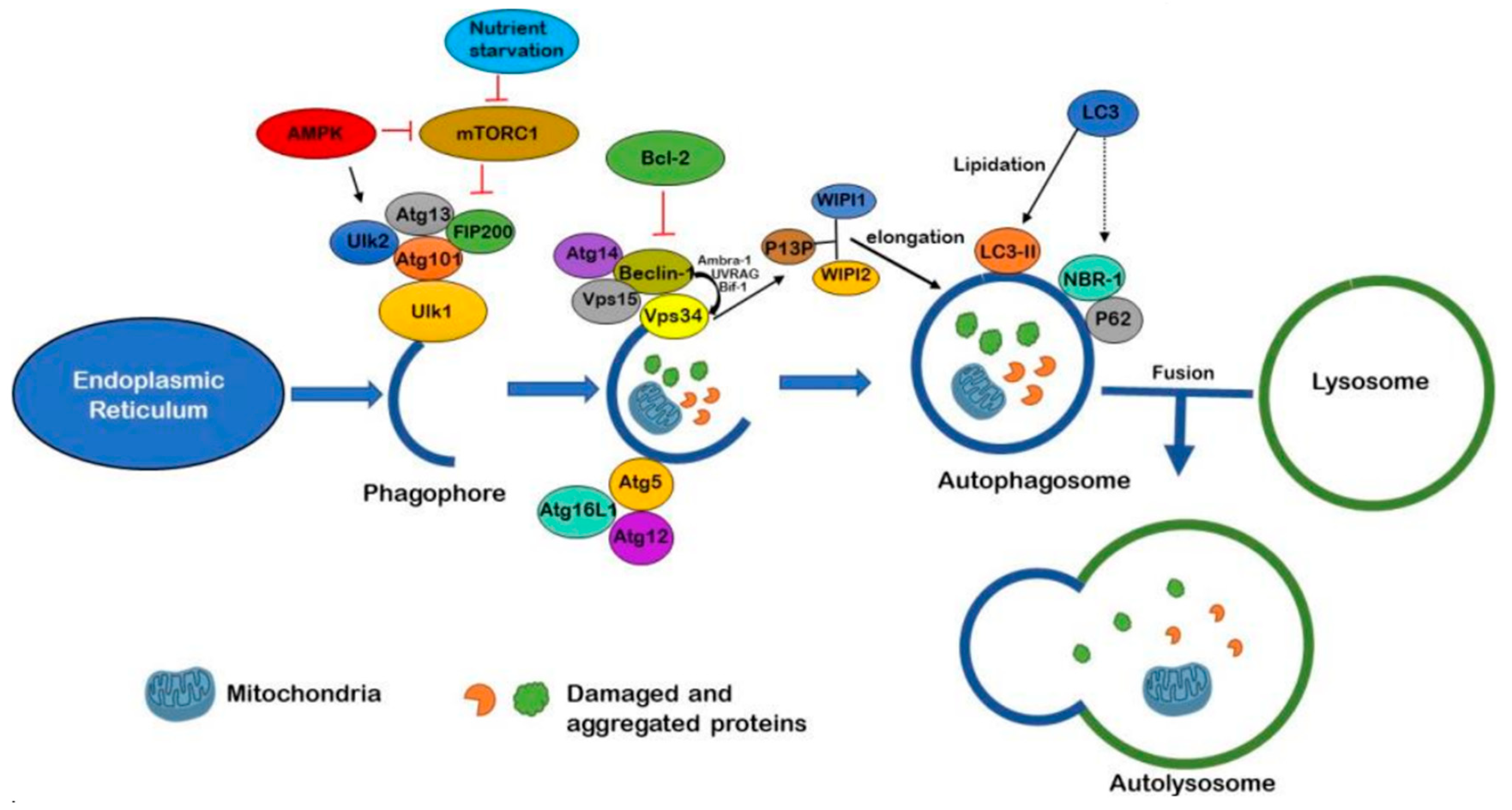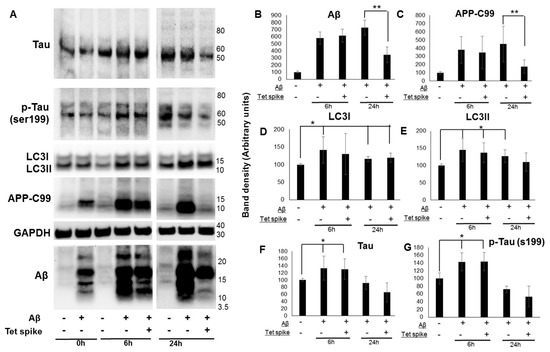 Figure 2.
Clearance of APP-C99 and Aβ in an AD neuronal cell model. Clearance of APP-C99 and Aβ was assessed in MC65, a human derived cell line that produces Aβ from a stably transfected precursor protein APP fragment C99. MC65 cells were grown without tetracycline for two days to activate APP-C99 and Aβ production, followed by spiking with tetracycline to block APP-C99/Aβ production. After spiking with tetracycline (1 µg/mL), cell lysates were collected at 6 and 24 h to measure levels of Aβ (
B
), APP-C99 (
C
), LC3I (
D
) LC3II (
E
), Tau protein (
F
), and phosphorylated Tau protein (ser199) (
G
) by western immunoblotting analysis. Representative image of the Aβ clearance assay is shown here (
A
). APP-C99 and Aβ levels were ~50% lower at 24 h in cells spiked with tetracycline compared to tetracycline depleted cells (**
p
< 0.001, n = 4), suggesting clearance. Aβ producing MC65 cells (tetracycline depleted) showed increased accumulation of Tau protein, phosphorylated Tau protein (ser199) at 6 h and autophagy markers LC3I and LC3II (*
p
< 0.005, n = 4) at both 6 and 24 h, suggesting increased autophagosome synthesis and autophagy activation.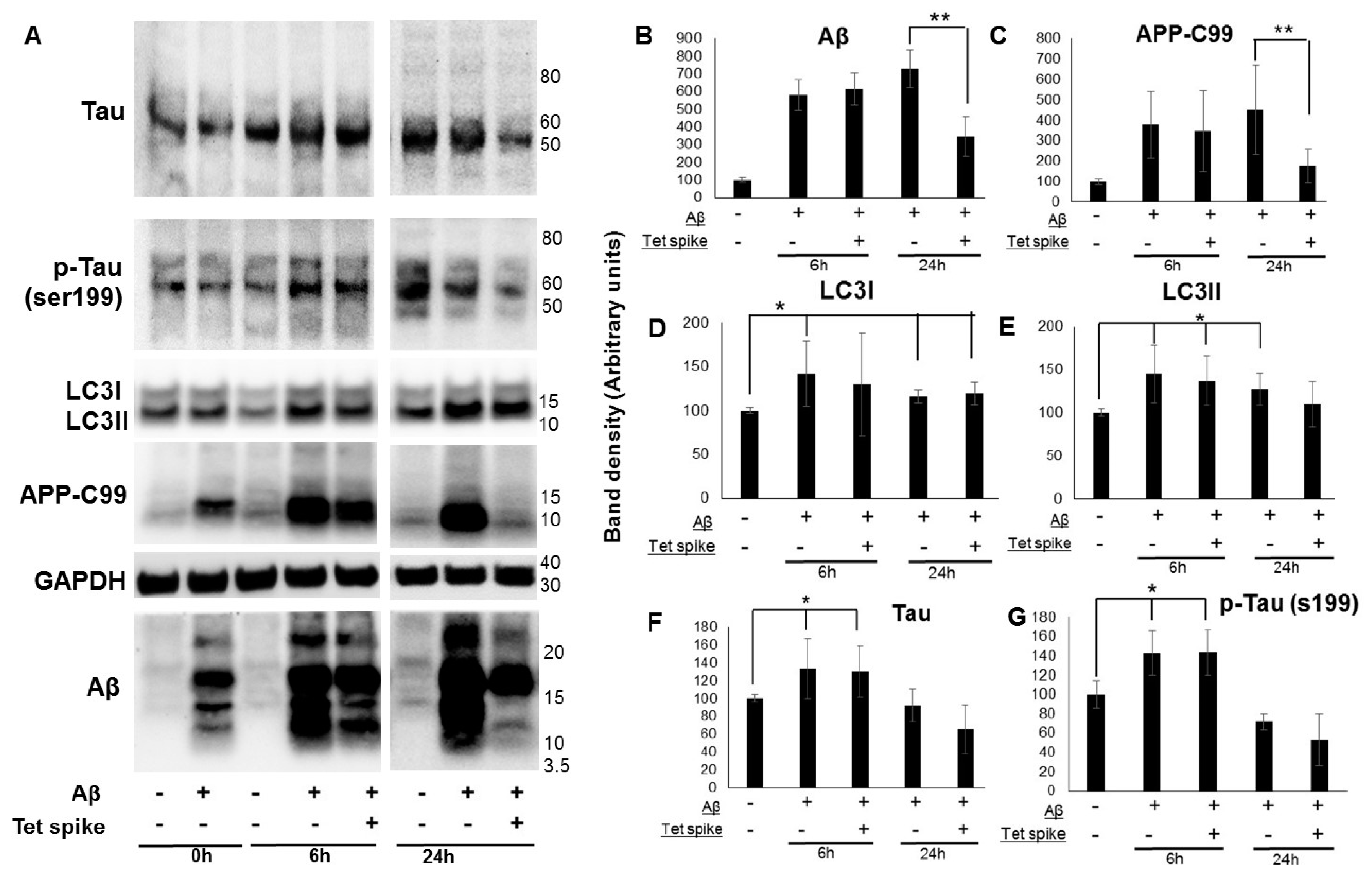 Disease
Biomarker Type
Lysosomal System Dysfunction
Study
AD
CSF
Increased EEA1, LAMP1, LAMP2, LC3, RAB3, RAB7
Armstrong et al. [115]
AD
Blood-derived brain exosomes
Increased CTSD, LAMP1, ubiquitinylated proteins
Goetzl et al. [118]
FTD
Blood-derived brain exosomes
Increased CTSD
AD
CSF
Increased CTSD
Schwagerl et al. [117]
AD
Plasma
Increased β-hexosaminidase, β-galactosidase activity
Tiribuzi et al. [119]
Peripheral blood mononuclear cells
Decreased β-hexosaminidase, β-galactosidase activity
PD
Monocytes
Reduced glucocerebrosidase activity
Atashrazm et al. [125]
PD
CSF
Reduced α-mannosidase, β-mannosidase, glucocerebrosidase, and β-hexosaminidase activity
Balducci et al. [124]
PD
CSF
Decreased LC3B, ATG5, LAMP2, Beclin1
Youn et al. [121]
PD
CSF
Decreased LAMP1, LAMP2
PSP
CSF
Decreased EEA1
CBD
CSF
Increased LAMP1, LAMP2, LC3
Boman et al. [122]
PD
CSF
Decreased LAMP2 (specifically in female LRRK2-mutation carrying patients)
Klaver et al. [123]

© 2019 by the authors. Licensee MDPI, Basel, Switzerland. This article is an open access article distributed under the terms and conditions of the Creative Commons Attribution (CC BY) license (http://creativecommons.org/licenses/by/4.0/).