Open Access This article is
freely available
re-usable
Review
Chemical and Biocatalytic Routes to Arbutin
†
1
State Key Laboratory of Biocatalysis and Enzyme Engineering, Hubei Collaborative Innovation Center for Green Transformation of Bio-Resources, Hubei Key Laboratory of Industrial Biotechnology, School of Life Sciences, Hubei University, Wuhan 430062, China
2
Max-Planck-Institut für Kohlenforschung, Kaiser-Wilhelm-Platz 1, 45470 Mülheim, Germany
3
Chemistry Department, Philipps-University, Hans-Meerwein-Str. 4, 35032 Marburg, Germany
†
Dedicated to Professor Dieter Schinzer on the occasion of his 65th birthday.

‡
These authors contributed equally to this work.

Received: 3 August 2019 / Accepted: 9 September 2019 / Published: 11 September 2019
Abstract
:
Arbutin (also called β-arbutin) is a natural product occurring in the leaves of a variety of different plants, the bearberries of the
Ericaceae
and
Saxifragaceae
families being prominent examples. It is a β-glucoside derived from hydroquinone (HQ; 1,4-dihydroxybenzene). Arbutin has been identified in traditional Chinese folk medicines as having, inter alia, anti-microbial, anti-oxidant, and anti-inflammatory properties that useful in the treatment of different ailments including urinary diseases. Today, it is also used worldwide for the treatment of skin ailments by way of depigmenting, which means that arbutin is a component of many products in the cosmetics and healthcare industries. It is also relevant in the food industry. Hundreds of publications have appeared describing the isolation, structure determination, toxicology, synthesis, and biological properties of arbutin as well as the molecular mechanism of melanogenesis (tyrosinase inhibition). This review covers the most important aspects with special emphasis on the chemical and biocatalytic methods for the production of arbutin.
Keywords:
arbutin; glycosyltransferases; glucosides; shikimate pathway; cosmetics; directed evolution; Chinese folk medicines
Author Contributions
Conceptualization, M.T.R. and A.L.; Investigation, A.L.; Visualization, H.Z.; Writing—original draft preparation, M.T.R.; Writing—review and editing, A.L., H.Z., and J.Z.
Funding
This research was funded by the Max-Planck-Society and State Key Laboratory of Biocatalysis and Enzyme Engineering.
Conflicts of Interest
The authors declare no conflicts of interest.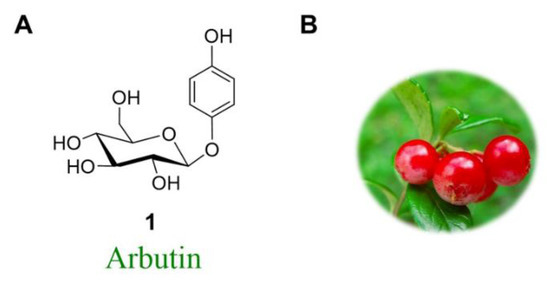 Figure 1. (A) Structural formula of arbutin (1); (B) Isolated from the bearberry plant in the genus.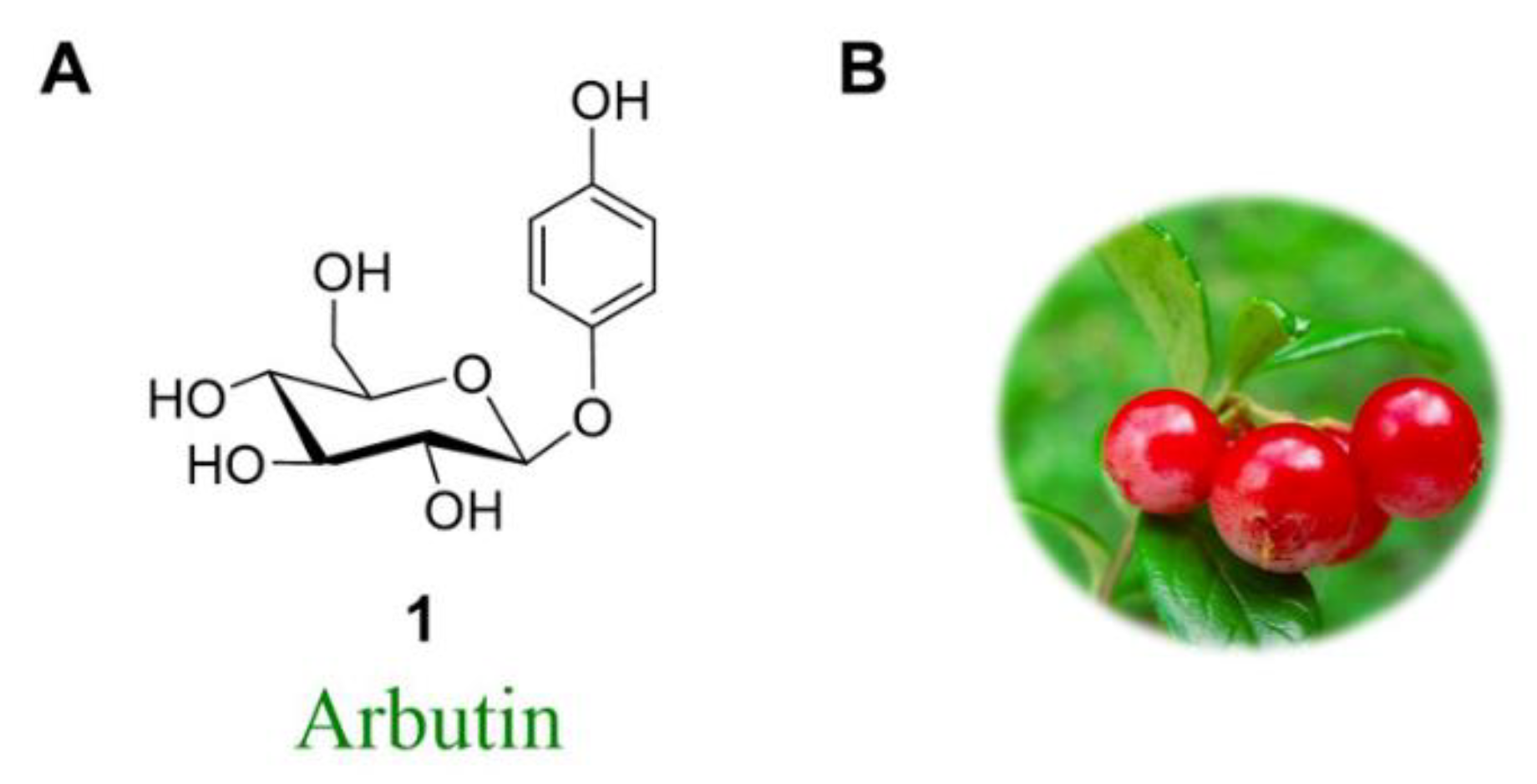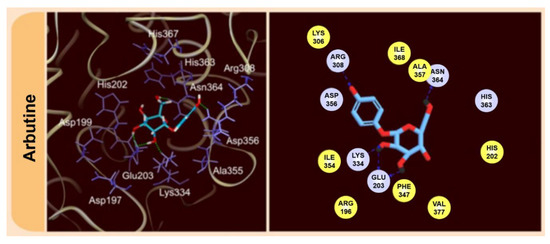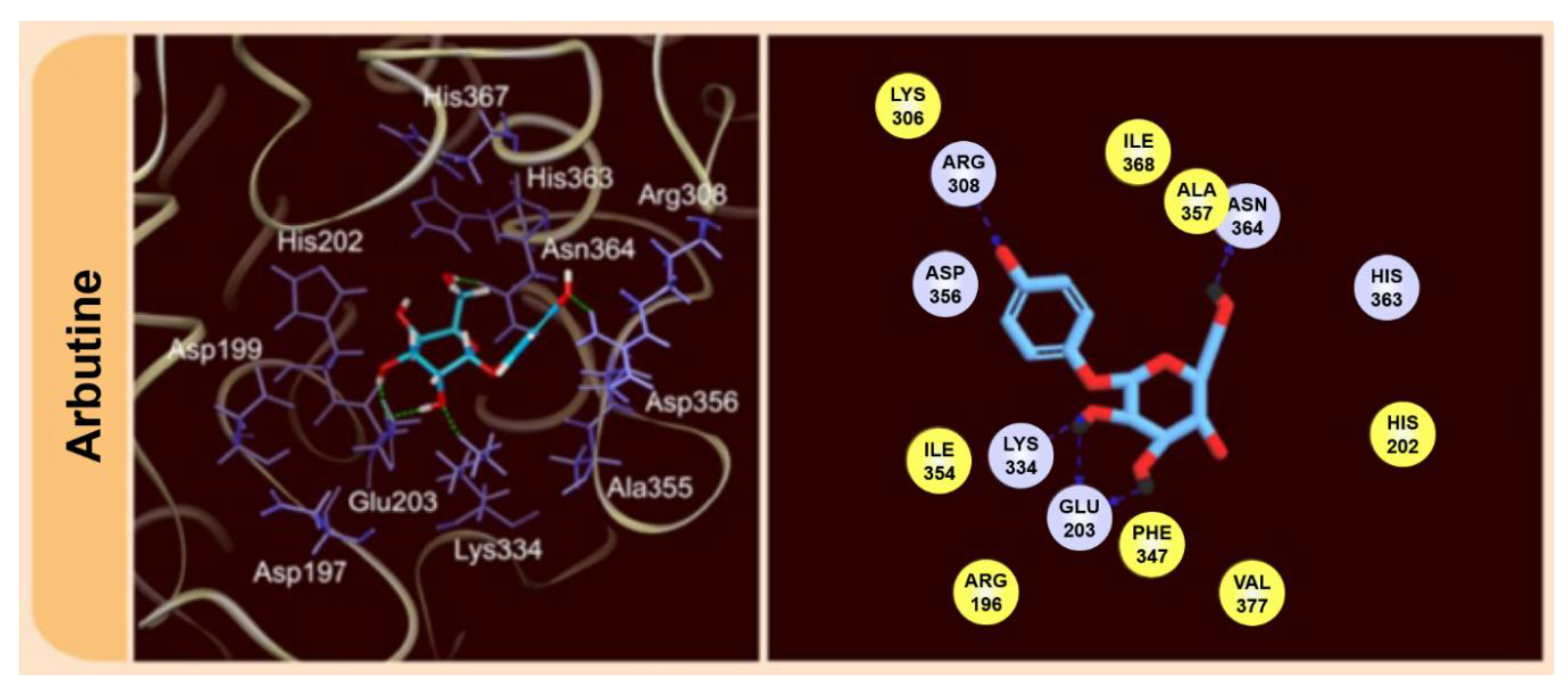 Scheme 1.
An efficient chemical synthesis of arbutin (
1
) [
30
].


Scheme 2.
Alternative synthesis of arbutin (
1
), likewise starting with compound 3 as the glyco-donor [
31
].


Scheme 3.
Biosynthesis of arbutin (
1
) by reaction of uridine diphosphate glucose (
6
) with HQ (
5
) catalyzed by an enzyme from wheat germ [
2
].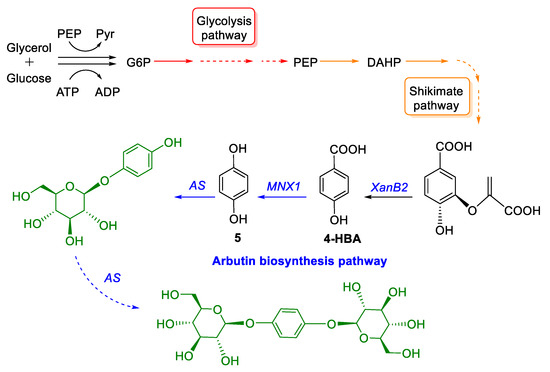 Figure 3.
A schematic representation of modular engineering approaches for arbutin biosynthesis in
P.chlororaphis
P3.G6P, glucose 6-phosphate; PEP, phosphoenolpyruvate; DAHP, 3-deoxy-
d
-arabino-heptulosonate-7-phosphate; 4-HBA, 4-hydroxybenzoate acid; HQ (5), hydroquninone;
XanB2
, chorismate-pyruvate lyase;
MNX1
, 4-hydroxybenzoate 1-hydroxylase;
AS
, glucosyltransferase [
34
].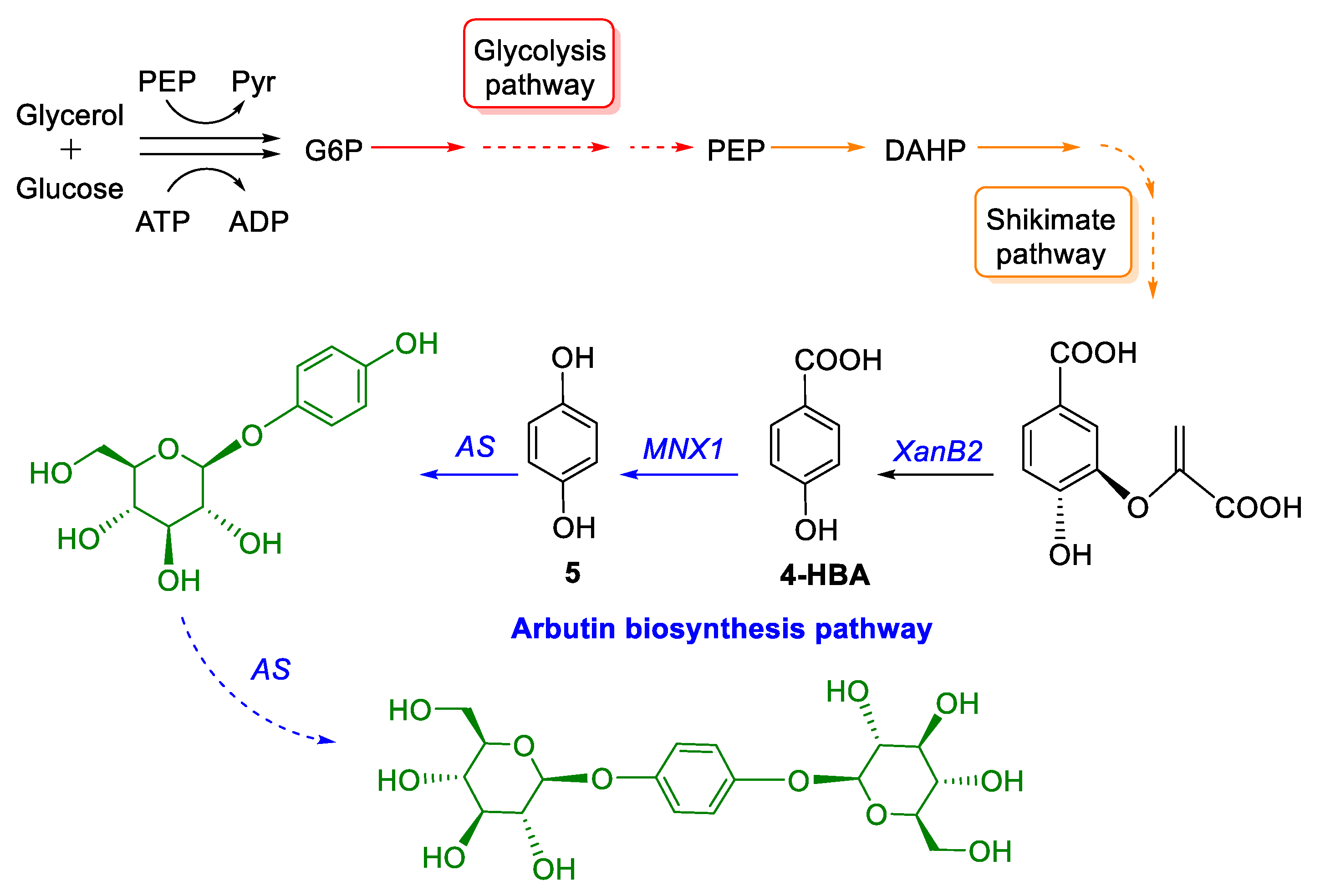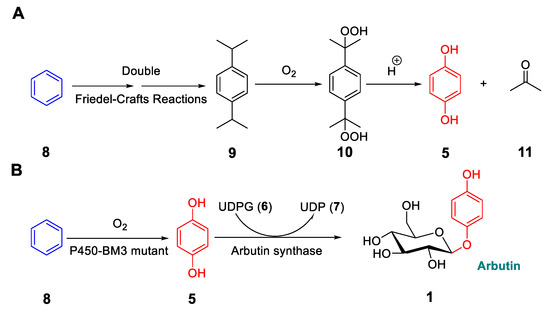 Figure 4.
Synthesis of hydroquinone (HQ) from benzene by the conventional chemical route (
A
), and biocatalytic synthesis of arbutin from benzene in a one-pot cascade using designed
E. coli
cells (
B
). Figure adapted with permission from [
36
]. Copyright 2018 Wiley-VCH.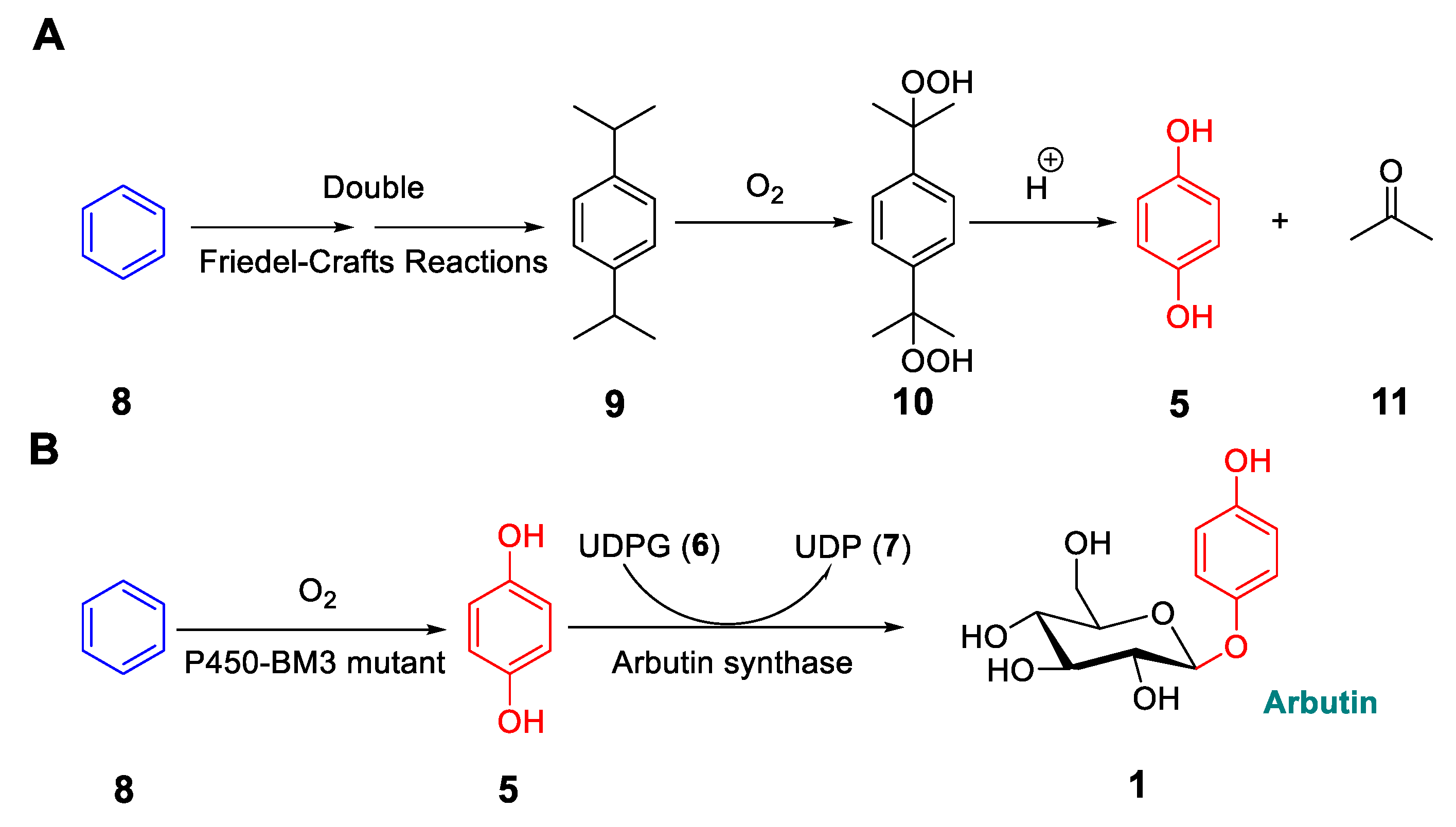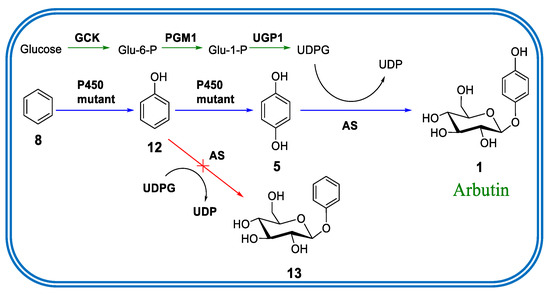 Figure 5.
Biosynthesis of arbutin versus construction of the designed
E. coli
whole cell catalyst for the one-pot production of arbutin (
1
) starting from benzene (
8
) [
36
]. Green arrows: Natural endogeneous metabolic pathway; blue arrows: artificial pathway. P450 mutant: Engineered mutants of P450-BM3 A82F/A328F; GCK: Glucokinase; PGM1: Phosphoglucomutase; UGP1: UDP-glucose pyrophosphorylase; AS: Arbutin synthase. Figure adapted with permission from [
36
]. Copyright 2018 Wiley-VCH.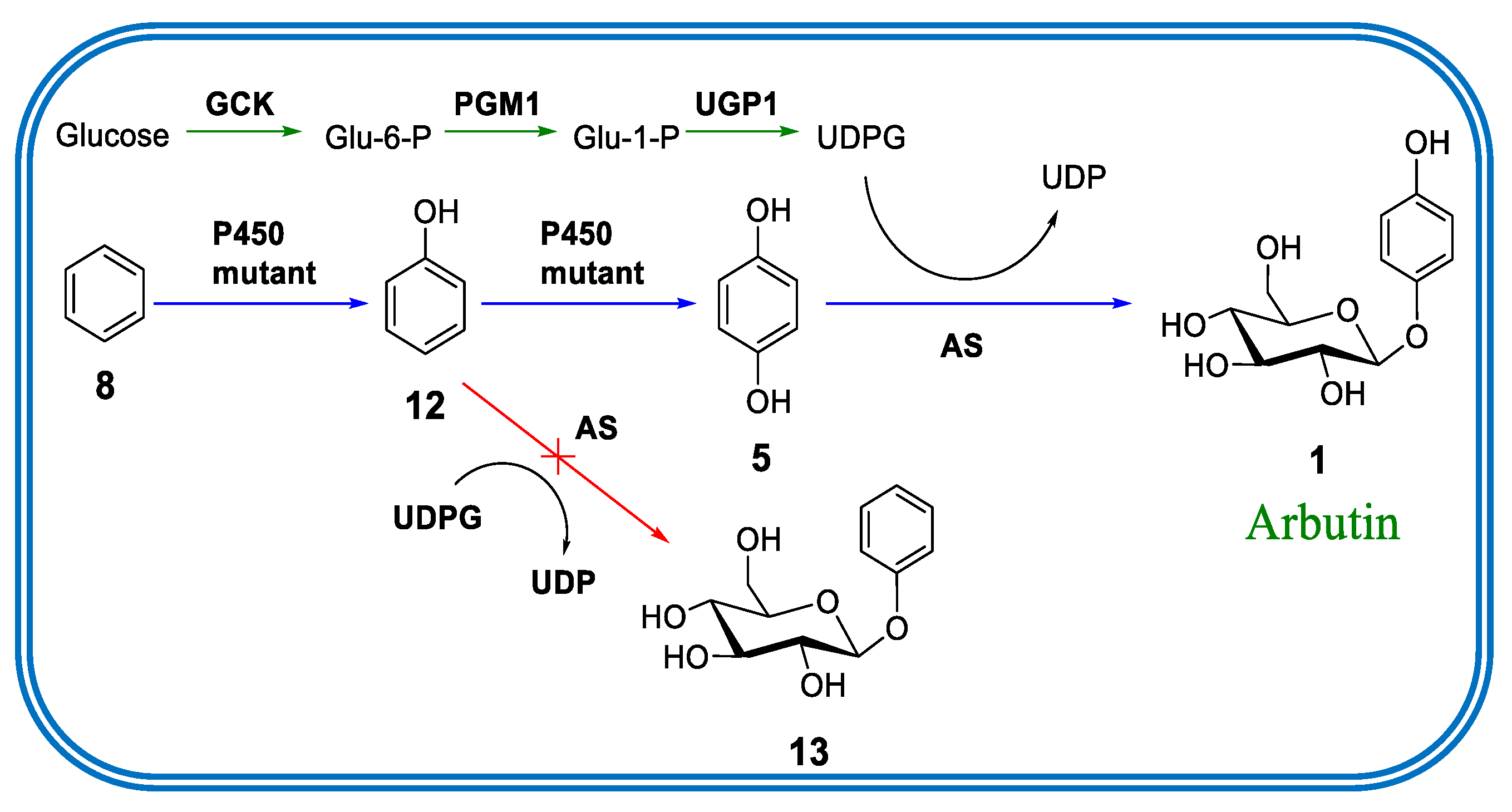 Table 1.
Chemo- and regioselective dihydroxylation of benzene with almost exclusive formation of HQ using the respective P450-BM3-containing
E. coli
resting cells.
Catalysts
Conv. [%] [a]
Product Distribution [%] [b]
HQ (5)
Phenol (12)
Catechol
WT
- [c]
- [c]
- [c]
- [c]
A82F
87
86
10
4
A82F/A328F
97
93
6
1
V78F/A82F/A328F
92
93
4
3
[a] Conditions: 10 mM substrate, 30 °C, 200 rpm, 5 h. Conversion was determined by HPLC-analysis and is based on the amount of converted substrate. For detailed conditions, see the Supporting Information. [b] Relative amounts based on the concentrations of products formed as analyzed by HPLC-analysis. [c] Not determined due to low activity. Mean values are given, standard deviation for conversion is ± 5%, and for product distribution ± 1%. Reprinted with permission from [36]. Copyright 2018 Wiley-VCH.

© 2019 by the authors. Licensee MDPI, Basel, Switzerland. This article is an open access article distributed under the terms and conditions of the Creative Commons Attribution (CC BY) license (http://creativecommons.org/licenses/by/4.0/).