VOC Profiles of Saliva in Assessment of Halitosis and Submandibular Abscesses Using HS-SPME-GC/MS Technique
1
Department of Environmental Chemistry and Bioanalytics, Faculty of Chemistry, Nicolaus Copernicus University, 7 Gagarina Str., 87-100 Toruń, Poland
2
Interdisciplinary Centre of Modern Technologies, Nicolaus Copernicus University, 4 Wileńska Str., 87-100 Toruń, Poland
3
Faculty of Chemistry and Chemical Engineering, Babeş-Bolyai University, 11 Arany Janos, RO-400028 Cluj-Napoca, Romania
4
Clinical Department of Maxillofacial Surgery in Regional Dental Centre, Located in Provincial Polyclinical Hospital in Toruń, 42 Konstytucji 3 Maja, 87-100 Toruń, Poland
*
Author to whom correspondence should be addressed.
Received: 21 July 2019 / Revised: 9 August 2019 / Accepted: 14 August 2019 / Published: 16 August 2019
Abstract
Halitosis and submandibular abscesses are examples of mouth-related diseases with the possible bacterial origin. Salivary volatile organic compounds (VOCs) are potential biomarkers of them, once they can be addressed as metabolites of bacterial activity. Healthy patients (n = 15), subjects with submandibular abscesses located in fascial deep space (n = 10), and subjects with halitosis (n = 5) were enrolled in the study. Saliva samples were subjected to headspace solid-phase microextraction (HS-SPME) and gas chromatography coupled to mass spectrometry (GC/MS) analysis. A total number of 164 VOCs was detected by the developed methodology, 23 specific for halitosis and 41 for abscess. Halitosis' profiles were characterized by a larger number of sulfur compounds, while for abscess they had a higher variety of alcohols, aldehydes, and hydrocarbons—biomarkers of inflammatory processes. Principal components analysis allowed visualization of clusters formed according to the evaluated conditions. Kruskal-Wallis test indicated that 39 VOCs presented differentiated responses between the studied groups, with statistical relevance (p < 0.05). Random forest was applied, and a prediction model based on eight VOCs (2-butanone, methyl thioacetate, 2-methylbutanoic acid, S-methyl pentanethioate, dimethyl tetrasulfide, indolizine, pentadecane, and octadecanal) provided 100% of sensitivity, 82% of specificity, and 91% of balanced accuracy, indicating the specific presence of submandibular abscess.
View Full-Text
►

▼

Figures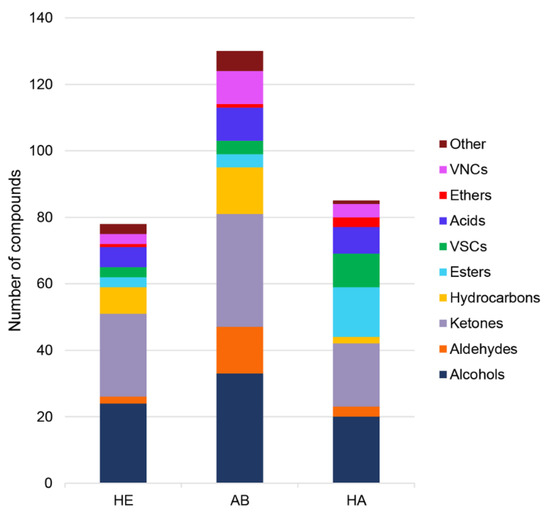 Figure 1
This is an open access article distributed under the
Creative Commons Attribution License
which permits unrestricted use, distribution, and reproduction in any medium, provided the original work is properly cited (CC BY 4.0).

Share & Cite This Article
MDPI and ACS Style
Monedeiro, F.; Milanowski, M.; Ratiu, I.-A.; Zmysłowski, H.; Ligor, T.; Buszewski, B. VOC Profiles of Saliva in Assessment of Halitosis and Submandibular Abscesses Using HS-SPME-GC/MS Technique. Molecules 2019, 24, 2977.
Note that from the first issue of 2016, MDPI journals use article numbers instead of page numbers. See further details here.
Related Articles
Comments
[Return to top]