Alpha-Hederin, the Active Saponin of
Nigella sativa

, as an Anticancer Agent Inducing Apoptosis in the SKOV-3 Cell Line

Department of Biology and Pharmaceutical Botany, Medical University of Gdańsk, Al. Hallera 107, 80-416 Gdańsk, Poland

*

Authors to whom correspondence should be addressed.

Received: 12 July 2019 / Revised: 10 August 2019 / Accepted: 13 August 2019 / Published: 15 August 2019
Abstract
Alpha-hederin (α-HN), a pentacyclic triterpene saponin, has recently been identified as one of the active compounds of
Nigella sativa
, as a potential anticancer agent. However, no extensive studies on α-HN have been done as yet, as it was in the case of thymoquinone—the main ingredient of the
N.
sativa
essential oil. To our knowledge, there are also no data available on how α-HN acts on the human cancer ovarian cell line SKOV-3. In this study we attempt to present the cytotoxic influence of α-HN on the SKOV-3 cell line by means of two methods: Real-Time xCELLigence and 3-(4,5-dimethylthiazol-2-yl)-2,5-diphenyltetrazolium bromide (MTT) assay. The obtained IC
50
values are 2.62 ± 0.04 μg/mL and 2.48 ± 0.32 μg/mL, respectively. An induction of apoptosis in SKOV-3 cells was confirmed by staining cellular nuclei with Hoechst 33342 dye and by flow cytometry analysis by binding annexin V to the cell membranes. We found that α-HN induces apoptosis in a dose-dependent manner. In the first stages of apoptosis, the mitochondrial membrane potential was found to decrease. Also, inactivation of anti-apoptotic protein Bcl-2 was observed, as well as the caspase-9 and then caspase-3/7 activation. In addition, the treatment of SKOV-3 cells with α-HN induced the cell cycle arrest of cancer cells in G0/G1 phase. The results of our investigations indicate that α-HN induces apoptosis in the SKOV-3 cell line and that the intrinsic mitochondrial pathway is involved in the programmed cancer cell death.
View Full-Text
►

▼

Figures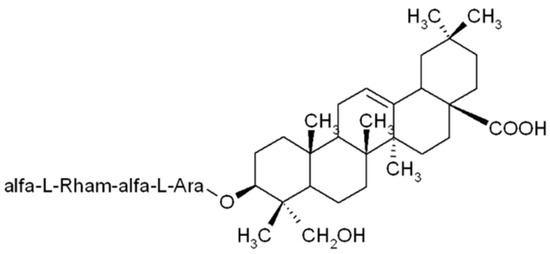 Figure 1
This is an open access article distributed under the
Creative Commons Attribution License
which permits unrestricted use, distribution, and reproduction in any medium, provided the original work is properly cited (CC BY 4.0).

Share & Cite This Article
MDPI and ACS Style
Adamska, A.; Stefanowicz-Hajduk, J.; Ochocka, J.R. Alpha-Hederin, the Active Saponin of Nigella sativa, as an Anticancer Agent Inducing Apoptosis in the SKOV-3 Cell Line. Molecules 2019, 24, 2958.
Note that from the first issue of 2016, MDPI journals use article numbers instead of page numbers. See further details here.
Related Articles
Comments
[Return to top]