Suitability of the Cyclic Voltammetry Measurements and DPPH• Spectrophotometric Assay to Determine the Antioxidant Capacity of Food-Grade Oenological Tannins
1
Department of Agricultural and Food Sciences, Alma Mater Studiorum—University of Bologna, Piazza Goidanich 60, 47521 Cesena, FC, Italy
2
Institute of Food Technology, University of Novi Sad, Bulevar cara Lazara 1, 21000 Novi Sad, Serbia
3
School of Chemical Sciences, The University of Auckland, Private Bag 92019, Auckland 1142, New Zealand
*
Author to whom correspondence should be addressed.
Academic Editors: Jacek Namieśnik and Justyna Płotka-Wasylka
Received: 21 July 2019 / Revised: 6 August 2019 / Accepted: 12 August 2019 / Published: 13 August 2019
Abstract
Twenty commercially available oenological tannins (including hydrolysable and condensed) were assessed for their antiradical/reducing activity, comparing two analytical approaches: The 2,2-diphenyl-1-picrylhydrazyl (DPPH•) radical scavenging spectrophotometric assay and the cyclic voltammetry (CV) electrochemical method. Electrochemical measurements were performed over a −200 mV–500 mV scan range, and integrated anodic currents to 500 mV were used to build a calibration graph with (+)-catechin as a reference standard (linear range: From 0.0078 to 1 mM, R
2
= 0.9887). The CV results were compared with the DPPH• assay (expressed as % of radical scavenged in time), showing high correlation due to the similarity of the chemical mechanisms underlying both methods involving polyphenolic compounds as reductants. Improved correlation was observed by increasing the incubation time with DPPH• to 24 h (R
2
= 0.925), demonstrating that the spectrophotometric method requires a long-term incubation to complete the scavenging reaction when high-molecular weight tannins are involved; this constraint has been overcome by using instant CV measurements. We concluded that the CV represents a valid alternative to the DPPH• colorimetric assay, taking advantage of fast analysis and control on the experimental conditions and, because of these properties, it can assist the quality control along the supply chain.
View Full-Text
►

▼

Figures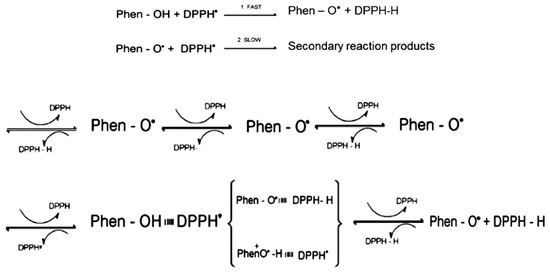 Figure 1
This is an open access article distributed under the
Creative Commons Attribution License
which permits unrestricted use, distribution, and reproduction in any medium, provided the original work is properly cited (CC BY 4.0).

Share & Cite This Article
MDPI and ACS Style
Ricci, A.; Parpinello, G.P.; Teslić, N.; Kilmartin, P.A.; Versari, A. Suitability of the Cyclic Voltammetry Measurements and DPPH• Spectrophotometric Assay to Determine the Antioxidant Capacity of Food-Grade Oenological Tannins. Molecules 2019, 24, 2925.
Note that from the first issue of 2016, MDPI journals use article numbers instead of page numbers. See further details here.
Related Articles
Comments
[Return to top]