A Strategy for Quality Control of
Vespa magnifica

(Smith) Venom Based on HPLC Fingerprint Analysis and Multi-Component Separation Combined with Quantitative Analysis

1

Yunnan Provincial Key Laboratory of Entomological Biopharmaceutical R&D, the National–Local Joint Engineering Laboratory for Entomoceutics, Dali University, Dali 671000, China

2

Yunnan Provincial 2011 Collaborative Innovation Center for Entomoceutics, Dali University, Dali 671000, China

3

Innovation Team of New Preparation for Entomological Biopharmaceutical R&D, Dali University, Dali 671000, China

*

Authors to whom correspondence should be addressed.

†

These authors contributed equally to this work.

Received: 12 July 2019 / Revised: 8 August 2019 / Accepted: 10 August 2019 / Published: 12 August 2019
Abstract
As a folk medicine of the Jingpo minority in Yunnan province, the venom of
Vespa magnifica
has been commonly used for the treatment of rheumatoid arthritis. Quality standardization of the wasp venom is a necessary step for its pharmaceutical research and development. To control the quality of the wasp venom, a method based on high-performance liquid chromatography (HPLC) was developed for chemical fingerprint analysis. In the chromatographic fingerprinting, chemometrics procedures, including similarity analysis (SA), hierarchical clustering analysis (HCA), and principal component analysis (PCA), were applied to classify 134 batches (S1–S134) of wasp venom from different origins. The HPLC fingerprint method displayed good precision (Relative standard deviation, RSD < 0.27%), stability (in 16 h, RSD < 0.34%), and repeatability (RSD < 1.00%). Simultaneously, four compounds (VMS1, VMS2, VMS3, and VMS4) in the wasp venom were purified and identified. VMS1 was 5-hydroxytryptamine, and the other compounds were three peptides that were sequenced as follows: Gly–Arg–Pro–Hyp–Gly–Phe–Ser–Pro–Phe–Arg–Ile–Asp–NH
2
(VMS2), Ile–Asn–Leu–Lys–Ala–Ile–Ala–Ala–Leu–Ala–Lys–Lys–Leu–Leu–NH
2
(VMS3), and Phe–Leu–Pro–Ile–Ile–Gly–Lys–Leu–Leu–Ser–Gly–Leu–Leu–NH
2
(VMS4). The quantifications for these components were 110.2 mg/g, 26.9 mg/g, 216.3 mg/g, and 58.0 mg/g, respectively. The results of this work indicated that the combination of the chemical fingerprint and quantitative analysis offers a reasonable way to evaluate the quality of wasp venom.
View Full-Text
►

▼

Figures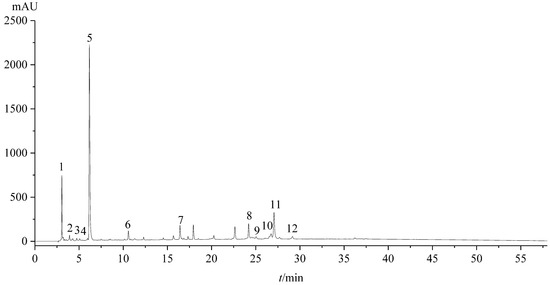 Figure 1
This is an open access article distributed under the
Creative Commons Attribution License
which permits unrestricted use, distribution, and reproduction in any medium, provided the original work is properly cited (CC BY 4.0).

Share & Cite This Article
MDPI and ACS Style
Zhou, S.-T.; Luan, K.; Ni, L.-L.; Wang, Y.; Yuan, S.-M.; Che, Y.-H.; Yang, Z.-Z.; Zhang, C.-G.; Yang, Z.-B. A Strategy for Quality Control of Vespa magnifica (Smith) Venom Based on HPLC Fingerprint Analysis and Multi-Component Separation Combined with Quantitative Analysis. Molecules 2019, 24, 2920.
Note that from the first issue of 2016, MDPI journals use article numbers instead of page numbers. See further details here.
Related Articles
Comments
[Return to top]