Open Access This article is
freely available
re-usable
Article
Study on the Synthetic Characteristics of Biomass-Derived Isosorbide-Based Poly(arylene ether ketone)s for Sustainable Super Engineering Plastic
1
Research Center for Bio-based Chemistry, Korea Research Institute of Chemical Technology (KRICT), Ulsan 44429, Korea
2
Department of Materials Science and Chemical Engineering, Hanyang University, Ansan 15588, Korea
3
Advanced Materials and Chemical Engineering, University of Science and Technology (UST), Daejeon 34113, Korea
†
These authors contributed equally to this work.

Received: 13 June 2019 / Accepted: 7 July 2019 / Published: 8 July 2019
Abstract
:
Demand for the development of novel polymers derived from biomass that can replace petroleum resources has been increasing. In this study, biomass-derived isosorbide was used as a monomer in the polymerization of poly(arylene ether ketone)s, and its synthetic characteristics were investigated. As a phase-transfer catalyst, crown ether has increased the weight-average molecular weight of polymers over 100 kg/mol by improving the reaction efficiency of isosorbide and minimizing the effect of moisture. By controlling the experimental parameters such as halogen monomer, polymerization solvent, time, and temperature, the optimal conditions were found to be fluorine-type monomer, dimethyl sulfoxide, 24 h, and 155 °C, respectively. Biomass contents from isosorbide-based polymers were determined by nuclear magnetic resonance and accelerator mass spectroscopy. The synthesized polymer resulted in a high molecular weight that enabled the preparation of transparent polymer films by the solution casting method despite its weak thermal degradation stability compared to aromatic polysulfone. The melt injection molding process was enabled by the addition of plasticizer. The tensile properties were comparable or superior to those of commercial petrochemical specimens of similar molecular weight. Interestingly, the prepared specimens exhibited a significantly lower coefficient of thermal expansion at high temperatures over 150 °C compared to polysulfone.
Keywords:
isosorbide; poly(arylene ether); super engineering plastic; 18-crown-ether; biomass content; thermal dimensional stability
1. Introduction
Therefore, there is ongoing research to find commercial, thermally recyclable, and sustainable SEPs, also called high-performance plastics, that utilize bio-derived monomers, e.g., ISB, instead of restricted petrochemicals, e.g., BPA. In the present study, a phase-transfer catalyst was used to polymerize ISB-based poly(arylene ether ketone)s with a high MW without removing moisture from the polymerization constituents. Through an experiment with various controlled parameters, such as the type of halogen monomer, polymerization solvent, time, and temperature, the effect on MW was identified. The biomass contents and thermal degradation stability were compared against commercial PSU. Solution cast transparent films and melt injection molded specimens were prepared to investigate the transparency, mechanical strength, and thermal dimensional stability.
2. Materials and Methods
2.1. Materials
Among the reagents used in the reaction and analysis, ISB was procured from Roquette Frères (Lestrem, France) and used after recrystallization in acetone, 4,4′-difluorobenzophenone (FBP, 99%) and 4,4′-dichlorobenzophenone (CBP, 99%) were purchased from TCI (Tokyo, Japan) and used after recrystallization in methanol. Potassium carbonate (K
2
CO
3
, 99%) was purchased from Sigma-Aldrich Corp. (St. Louis, MO, USA) and used after grinding into fine particles and drying in a vacuum oven together with phosphorus pentoxide, 18-crown-6 (18C6, 99%), dimethyl sulfoxide (DMSO, 99%),
N
,
N
-dimethlacetamide (DMAc, 99%), 1-methyl-2-pyrrolidinone (NMP, 99%), sulfolane (99%), toluene (99.5%), acetic acid (99%), chloroform (HPLC, 99.9%), and polyethylene glycol (PEG, 400 g/mol) were purchased from Aldrich. Methanol was purchased from Daejung Chemical (Gyeonggi-do, Korea), Commercial PSU was procured from BASF (Ludwigshafen, Germany). All chemicals were used without further purification unless stated.
2.2. Polymerization of ISB-Based Poly(arylene ether ketone)s
The polymerization experiment for IK-110 utilizing a phase-transfer catalyst is described as an example. After setting up a mechanical stirrer and Dean–Stark trap on a 100-mL three-neck round-bottom flask, ISB (3.00 g, 20.5 mmol), FBP (4.47 g, 20.5 mmol), K
2
CO
3
(3.55 g, 25.7 mmol), 18C6 (0.271 g, 1.02 mmol), and DMSO (20.4 mL, 37 wt/v% to the monomer content) were added to the flask. The reactor was set to stir for 24 h at 155 °C under a nitrogen atmosphere to carry out the polymerization process. Upon completion of the polymerization process, DMSO (20 mL) was used to dilute the contents. After cooling to room temperature, the contents were precipitated in a distilled water/methanol mixture (1 L, 50/50 vol%) containing acetic acid (10 mL). To remove any residual salt, the filtered precipitate was redissolved in DMAc solvent, after which it was reprecipitated. The precipitate was washed with distilled water and methanol and then vacuum-oven-dried for 24 h at 80 °C. Product yield (percent per theoretical yield): 6.46 g (96%),
M
w
: 110,200 g/mol, PDI: 1.68,
1
H NMR (chloroform-
d
, 300 MHz, ppm): δ 7.83–7.80, δ 7.08–7.01, δ 5.11–5.08, δ 4.97–4.90, δ 4.72–4.70, δ 4.28–4.11.
The polymerization of IK-72 utilizing toluene as an azeotropic solvent and without a phase-transfer catalyst was carried out by the same process as IK-110 described above, except toluene (5 mL) was added to the polymerization medium instead of 18C6. Prior to starting the actual polymerization process, moisture was removed from the reactants by azeotropic distillation at 120 °C for 2 h. Product yield: 6.39 g (95%),
M
w
: 72,200 g/mol, PDI: 1.73.
Table 1
summarizes the experimental parameters for the polymerization of other polymers.
2.3. Characterization
The chemical structures of the polymer and biomass monomer repeating unit-based content by weight were measured using a 300-MHz nuclear magnetic resonance (NMR) spectrometer (Bruker Avance, Billerica, MA, USA). The biocarbon content of the polymer was measured by accelerator mass spectroscopy (AMS, IonPlus, Dietikon, Switzerland). The MW of the polymer was measured by gel permeation chromatography (GPC). The MW relative to standard polystyrene was calculated through an experiment using chloroform as the elution solution at 40 °C in ACQUITY APC XT columns (Waters Corp., Milford, MA, USA). The glass transition temperature of the polymer was measured by differential scanning calorimetry (DSC, Q2000, TA Instruments, New Castle, DE, USA) under a nitrogen atmosphere within the range of 30–250 °C with a temperature variation rate of 10 °C/min. The thermal degradation stability of the polymer was determined by a thermogravimetric analyzer (TGA, Pyris 1, PerkinElmer Inc., Waltham, MA, USA), measuring the sample weight reduction and decomposition temperature by increasing the temperature by 10 °C/min under a nitrogen atmosphere.
Polymer films were fabricated by casting DMAc solution (10 wt%) in an aluminum dish, followed by drying for two days at room temperature, and then drying for an additional two days in a 100 °C convection oven. The transparency of the polymer film was measured by a UV/vis spectrometer (UV-2600, Shimadzu Corp., Kyoto, Japan). The scratch resistance of the polymer film was determined by a pencil hardness test in accordance with ASTM Standard D3360-00. The films hot-pressed under 100 bar at 200 °C for 5 min were subjected to tensile measurements using a universal testing machine made by Instron (Norwood, MA, USA) with a drawing rate of 10 mm/min. The test specimens were cut into a dumbbell shape, with a length, width, and thickness of 63.50 mm, 3.18 mm, and 100–120 μm, respectively. The fabrication process for the melt injection specimens was as follows. After dissolving the polymer (20 g) and PEG (2 g) in DMAc (200 ml), the mixture was dried for two days in a 100 °C convection oven. After grinding the dried mixture specimen, Haake™ Minijet (Thermo Scientific, Waltham, MA, USA) was used for injection molding into a dumbbell shape under a cylinder temperature of 200 °C, mold temperature of 160 °C, injection pressure of 500 bar, and filling time of 15 s. A tensile strength test on the injection specimens was performed at a drawing rate of 50 mm/min. The coefficient of thermal expansion (CTE) of the polymer film was measured by thermomechanical analysis (TMA, TA Instruments) under a nitrogen atmosphere with a probe force of 20 mN and heating rate of 10 °C/min. The film used for TMA was 15-mm wide, 4-mm long, and 70-μm thick. As a simple experiment for measuring the dimensional stability of the polymer film after exposure to heat, a heat gun (BOSCH, GHG 630 DCE, Gerlingen, Germany) was set-up, and film specimens (1-cm wide, 2.2-cm long, and 100-μm thick) with a dangled 10-g weight were exposed to a temperature of 200 °C from the heat gun at the same distance. After 2 min of heat exposure, changes in outer appearance of the film specimens, and stretch amount from the original length were observed.
3. Results and Discussion
4. Conclusions
In the present study, biomass-derived ISB as a monomer, and crown ether as a phase transfer catalyst was introduced for the synthesis of poly(arylene ether ketone)s with high MW. The optimal polymerization conditions were identified as using fluorine-type monomer as the halogen monomer, DMSO as the polymerization solvent, 155 °C as the polymerization temperature, and 24 h as the polymerization time. Biomass-derived ISB-based polymer showed a 14C-based biocarbon content of 32%. The synthesized polymer showed weaker thermal degradation stability than aromatic PSU. However, its high MW enabled the fabrication of a transparent film while exhibiting comparable or better tensile properties and a considerably superior thermal dimensional stability, as compared to PSU. Applications of transparent, highly heat-resistant next-generation materials are expected from such bio-based SEP materials.
Author Contributions
S.-A.P. and C.I. contributed equally to this work as first authors. Conceptualization, D.X.O., S.Y.H., Y.-W.C., H.J. and J.P.; formal analysis and investigation, S-.A.P., C.I. and J.H.K.; data curation, D.X.O., S.Y.H. and J.J.; writing—original draft preparation, S-.A.P. and C.I.; writing—review and editing, J.P.; supervision, Y.-W.C., H.J. and J.P.; funding acquisition, S.Y.H.
Funding
The research was supported by the Ministry of Trade, Industry and Energy (MOTIE, Korea) through the Technology Innovation Program (10070150), Korea Research Institute of Chemical Technology through Core Program (SI1941-20, KK1941-10, KK1941-30), and the Korea Institute for Advancement of Technology (KIAT) through the System Industrial Base Institution Support Program (P0001939).
Conflicts of Interest
The authors declare no competing financial interests.
| | |
| --- | --- |
| | Sample Availability: Samples of the compounds are available from the authors upon reasonable request. |
Figure 1. (a) Polymerization of ISB-based poly(arylene ether ketone)s of high molecular weight. (b) Photograph of IK-110 film (scale bar = 1 cm).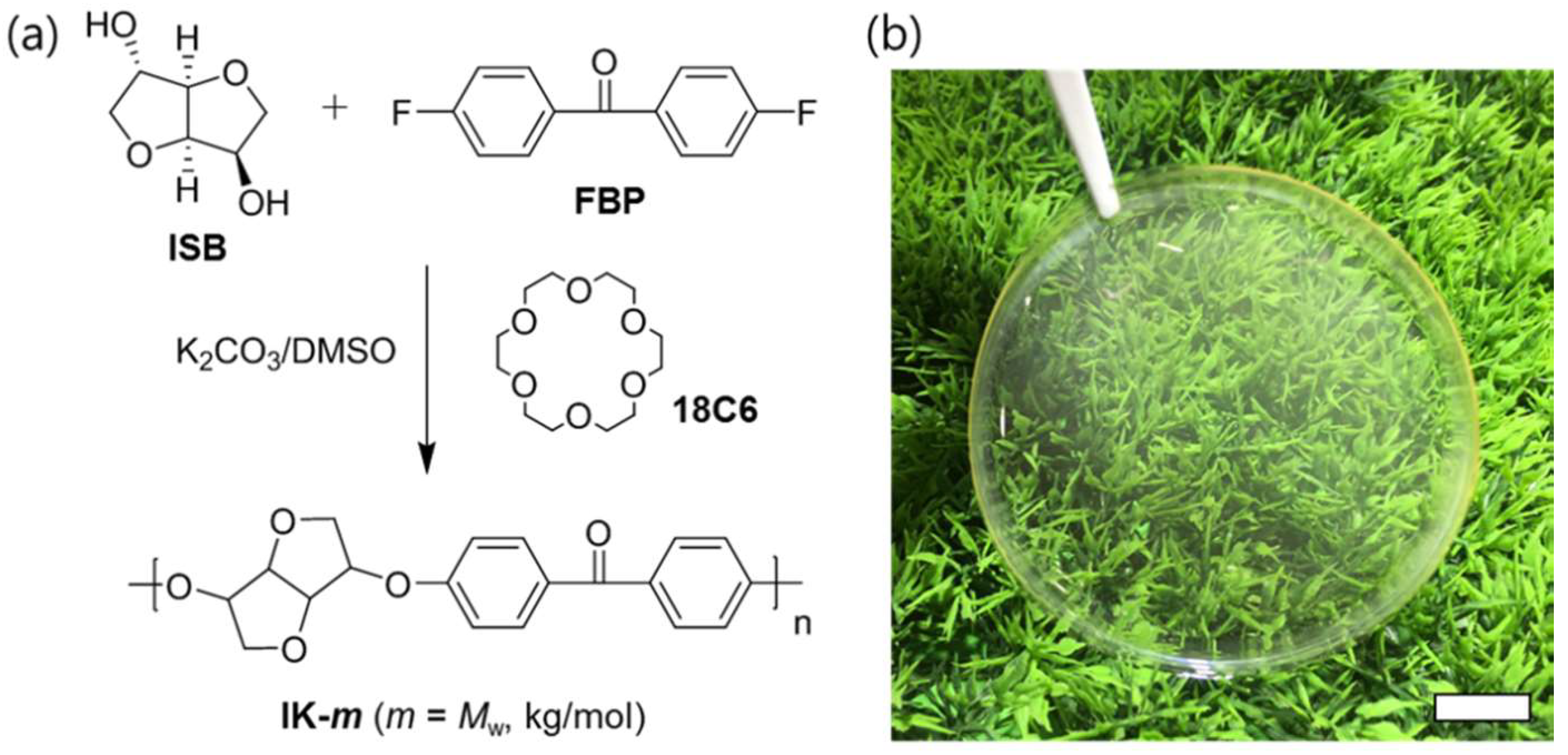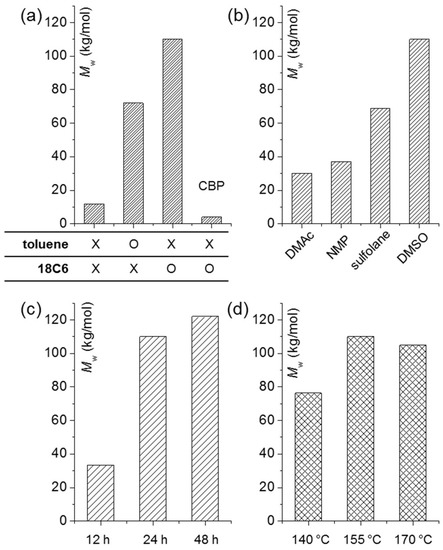 Figure 2.
M
w
of polymers depending on various polymerization conditions including (
a
) additives (CBP instead of FBP in the last column), and polymerization (
b
) solvent, (
c
) time, and (
d
) temperature.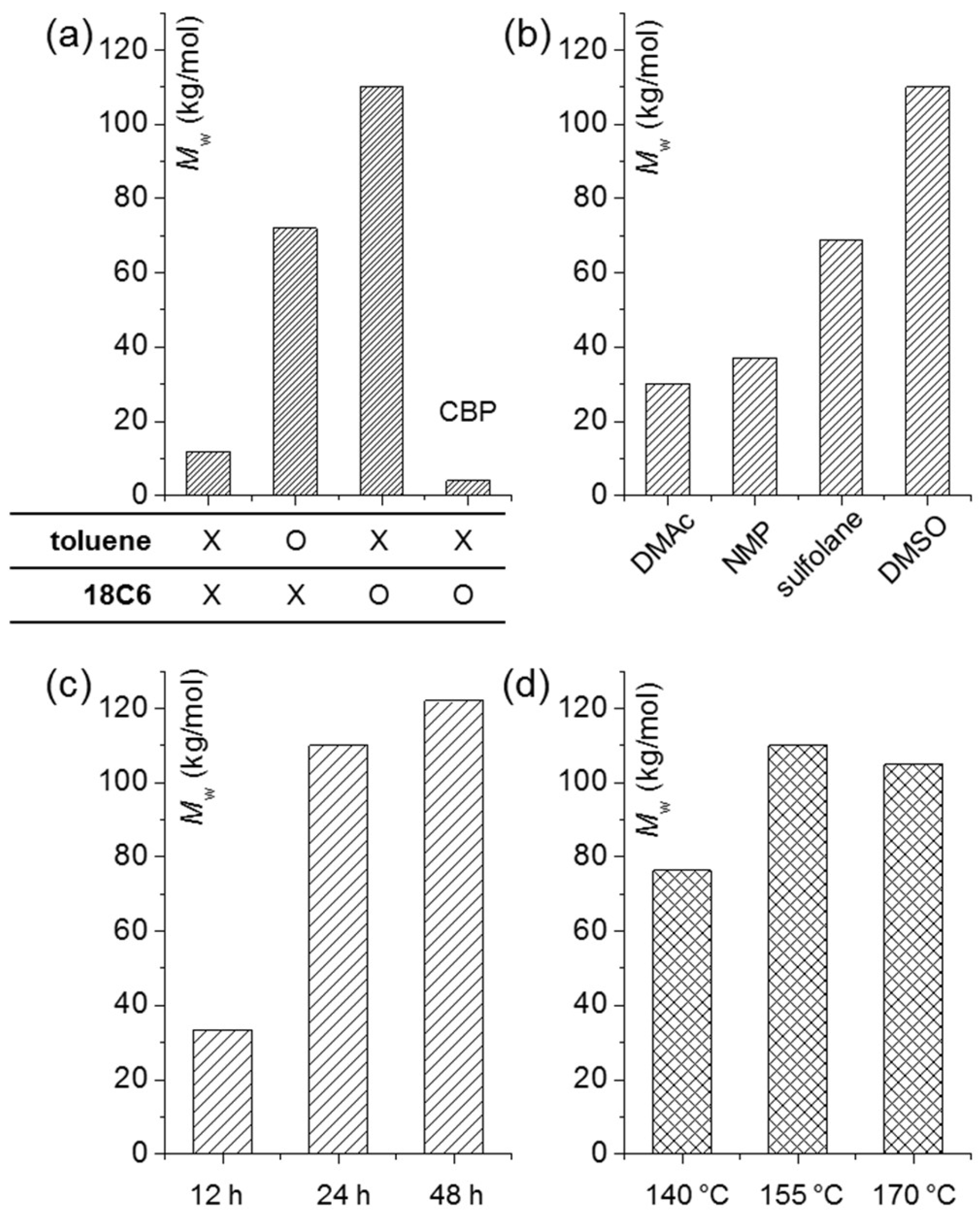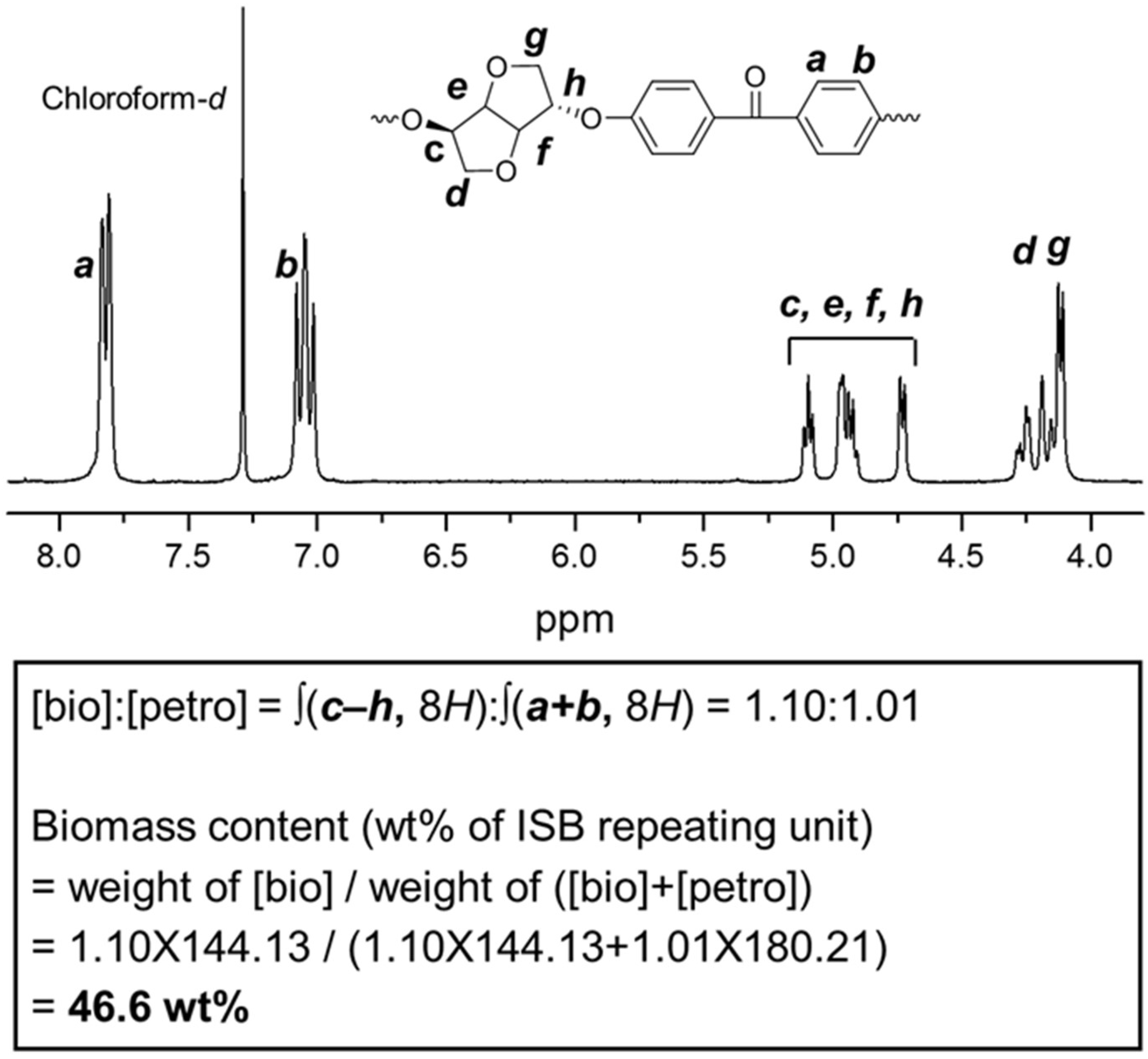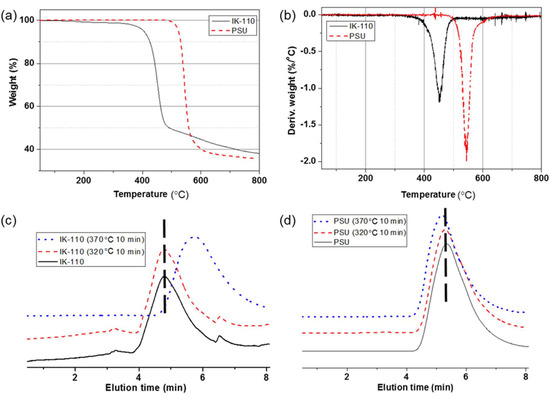 Figure 4. (a) Thermogravimetric analyzer (TGA) and (b) DTG curves of IK-110 and PSU. Chloroform-GPC profiles of (c) IK-110 and (d) PSU after thermal stress.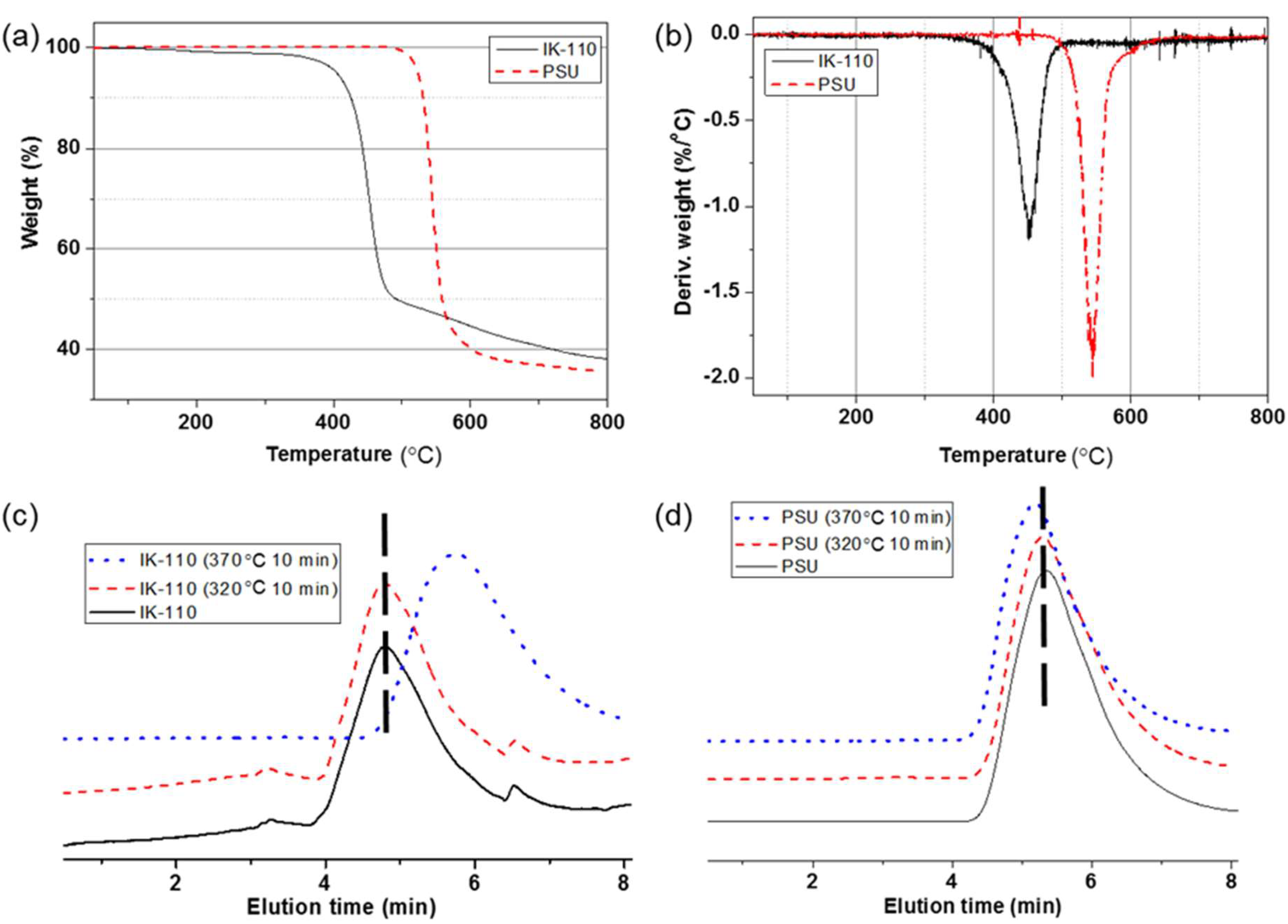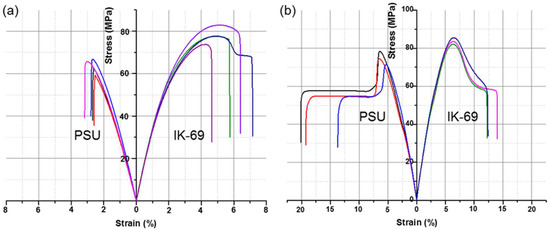 Figure 5. Tensile stress–strain curves of PSU and IK-69 ((a) solution cast films, (b) melt injection molded specimens).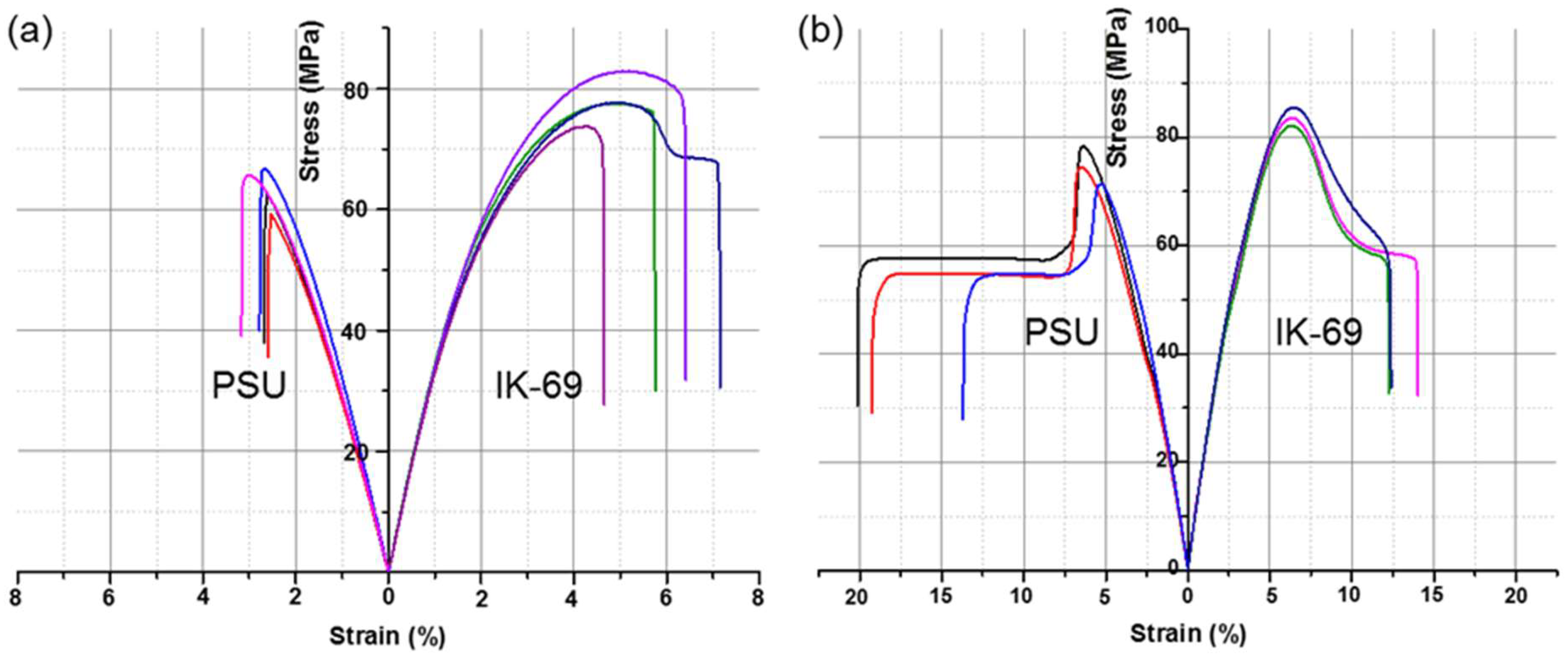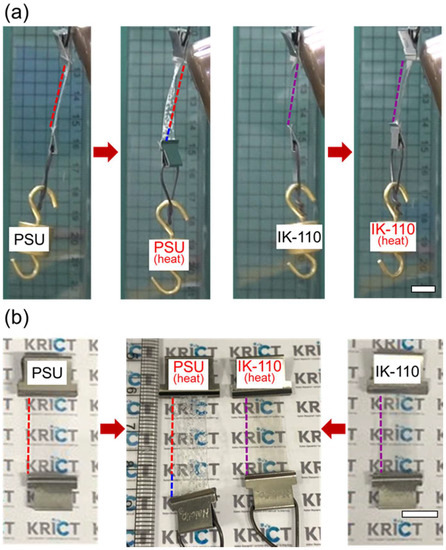 Figure 7. (a) Thermal dimensional stability experiment by heat-gun, and (b) photographs of PSU and IK-100 films before and after heat exposure to 200 °C for 2 min (scale bar: 1 cm).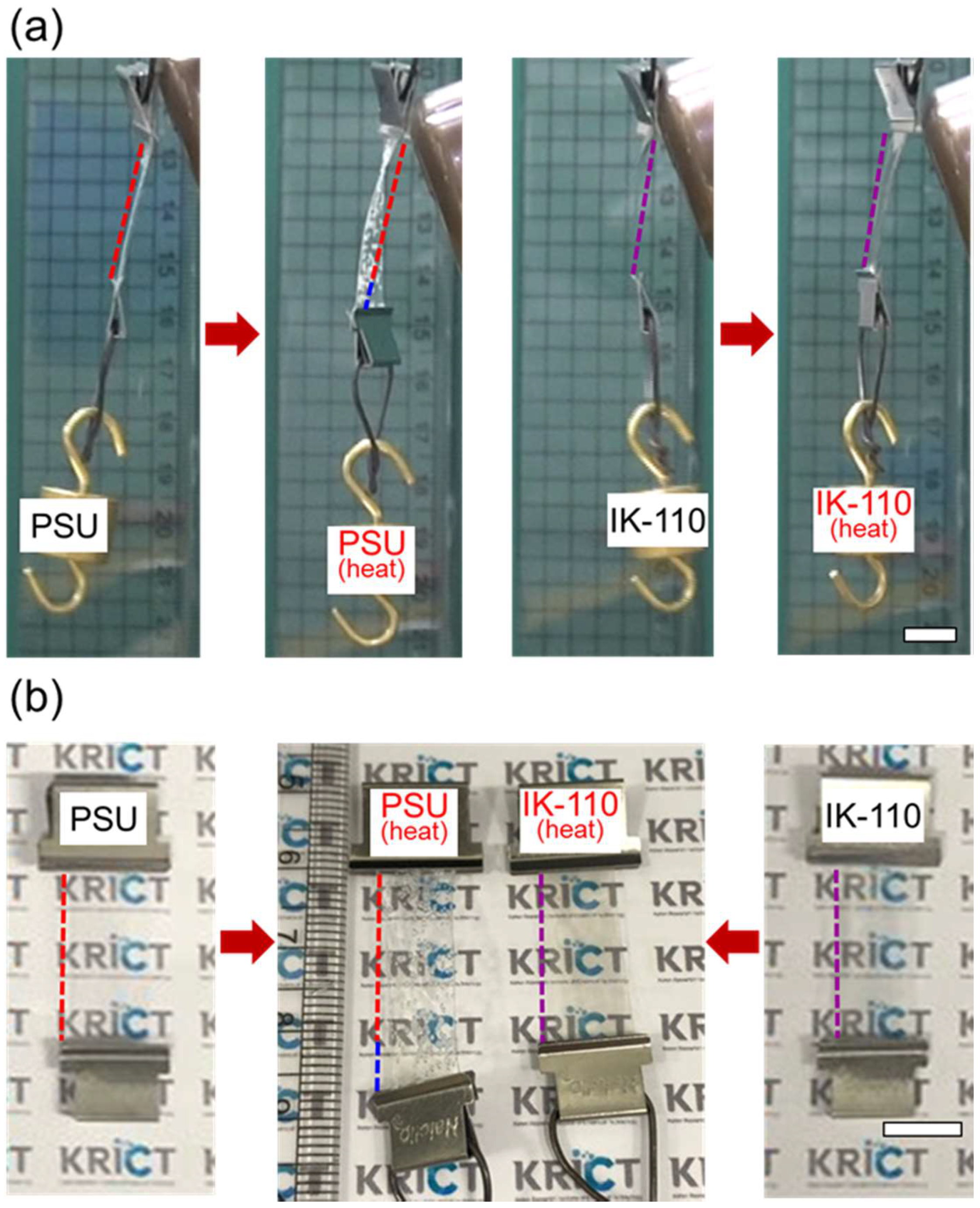 Entry (IK-

m

) a
Halogen b
18C6 c
Toluene d
Solvent e
Time/Temperature (h/°C) f

M

w (kg/mol) g
PDI g
IK-12
FBP
X
X
DMSO
24/155
11.6
1.86
IK-72
FBP
X
O
DMSO
24/155
72.2
1.73
IK-110
FBP
O
X
DMSO
24/155
110
1.68
IK-4
CBP
O
X
DMSO
24/155
4.0
1.65
IK-30
FBP
O
X
DMAc
24/155
30.0
2.21
IK-37
FBP
O
X
NMP
24/155
37.0
2.19
IK-69
FBP
O
X
sulfolane
24/155
68.8
1.62
IK-34
FBP
O
X
DMSO
12/155
33.5
2.11
IK-122
FBP
O
X
DMSO
48/155
122
2.08
IK-76
FBP
O
X
DMSO
24/140
76.3
1.56
IK-105
FBP
O
X
DMSO
24/170
105
2.06
PSU
-
-
-
-
-
63.7
1.64
a Polymers synthesized in this study are designated as IK-

m

, where

m

denotes

M

w in kg/mol. PSU is polysulfone supplied by BASF. b FBP is 4,4′-difluorobenzophenone and CBP is 4,4′-dichlorobenzophenone. c 18C6 fed with 5 mol% per ISB. d Toluene fed for azeotropic distillation of water. e Amount of solvent fed was 37 wt/v%. f Polymerization time and temperature. g Determined by chloroform-GPC using polystyrene standards (refractive index (RI) detector).
| | pMC a | Biocarbon Content (%) b |
| --- | --- | --- |
| IK-110 | 32.17 | 32 (±3) |
| PSU | 0.24 | 0 (±3) |
a Percentage of modern carbon. b Measured twice and corrected by a factor of 100.5 (ASTM D6866-18, method B).
IK-110
PSU

T

d5 (°C) a
411
522

T

max (°C) b
454
545
Weight loss at 320 °C for 1 h (wt%) c
2.5
0.1
Weight loss at 370 °C for 1 h (wt%) c
50.3
0.1

M

w after 10 min at 320 °C (kg/mol) d
114
63.3

M

w after 10 min at 370 °C (kg/mol) d
29.8
63.5
Transmittance at 550 nm (%) e
97.2
99.4
Pencil hardness
HB
HB
CTE (ppm, 30–80 °C) f
53.2
65.4
CTE (ppm, 80–170 °C) f
70.4
227
a Degradation temperature for 5% weight loss was measured by TGA with a heating rate of 10 °C/min (with N2). b Maximum degradation rate temperature. c Measured by TGA with N2. Temperatures were ramped to the target temperature at a heating rate of 20 °C/min, followed by an isotherm at the target temperature for 1 h. d Determined by chloroform-GPC using polystyrene standards (RI detector) after holding the samples at the target temperature for 10 min with N2. e Thickness of 70 μm. f Measured by TMA with a heating rate of 10 °C/min (2nd Scan).
Type
PSU
IK-69
Young's Modulus (GPa)
UTS (MPa)
Elongation at Break (%)
Toughness (MJ/m3)
Young's Modulus (GPa)
UTS (MPa)
Elongation at Break (%)
Toughness (MJ/m3)
Solution casted film
3.1 (± 0.09)
64 (±1.7)
2.8 (±0.13)
1.1 (±0.09)
3.7 (± 0.05)
78 (±2.2)
6.0 (±0.73)
3.5 (±0.57)
Injection molded specimen
2.0 (± 0.03)
74 (±2.1)
18 (±2.0)
9.3 (±1.3)
2.2 (± 0.03)
84 (±1.0)
13 (±0.6)
7.8 (±0.34)

© 2019 by the authors. Licensee MDPI, Basel, Switzerland. This article is an open access article distributed under the terms and conditions of the Creative Commons Attribution (CC BY) license (http://creativecommons.org/licenses/by/4.0/).