Open Access This article is
freely available
re-usable
Article
A Method of Calculating the Kamlet–Abboud–Taft Solvatochromic Parameters Using COSMO-RS
Green Chemistry Centre of Excellence, Department of Chemistry, University of York, Heslington, North Yorkshire YO10 5DD, UK
*
Authors to whom correspondence should be addressed.
Academic Editor: Joaquín García Álvarez
Received: 22 May 2019 / Accepted: 11 June 2019 / Published: 13 June 2019
Abstract
:
There is demand for safer and bio-based solvents, brought on by legislation and sustainability objectives. The prediction of physical properties is highly desirable to help design new molecules. Here we present an in silico approach to obtain calculated Kamlet–Abboud–Taft solvatochromic parameters using virtual experiments. The tautomerisation equilibrium of methyl acetoacetate and dimedone was calculated in different solvents with COSMO-RS theory and converted into estimates of solvent dipolarity and hydrogen bond accepting ability, respectively. Hydrogen bond donating ability was calculated as a function of the electron deficient surface area on protic solvents. These polarity descriptors correlate with rate constants and equilibria, and so ability of calculated Kamlet–Abboud–Taft solvatochromic parameters to recreate experimental free energy relationships was tested with sixteen case studies taken from the literature. The accuracy of the calculated parameters was also satisfactory for solvent selection, as demonstrated with a 1,4-addition reaction and a multicomponent heterocycle synthesis.
Keywords:
solvent effects; solvatochromism; polarity; kinetics; COSMO-RS
2. Results and Discussion
2.1. Virtual Isomerisation Experiments
Experimental data for nine solvents were used to validate the accuracy of the calculated equilibrium constants for the tautomerisation of
1
and
2
. Linear relationships were achieved, despite the overestimation of ln(K
T
) values. This systematic error is shared with other computational methods of predicting rate constants [
28
]. This being the case, it is convenient to normalise the equilibrium constants to assist data visualisation and interpretation. The proportionality achieved between experimental and calculated equilibrium constants (shown in
Figure 2
) means the latter also correlate with π* or β.
Figure 2
is also annotated with how calculated π* or β values are obtained, whereby a normalised calculated equilibrium constant corresponds to solvent polarity via the virtual free energy relationship equation.
A noteworthy observation was the in silico recreation of the experimental deviation of acidic solvents from the free energy relationship describing the tautomerisation of
1
(
Figure 2
a). A greater proportion of the diketo-tautomer exists in an acetic acid solution than anticipated from just the dipolarity (π*) of the solvent. This is due to the protonation of
1
, increasing the stabilisation of the diketo-tautomer compared to the enol [
20
]. This behaviour was validated by an additional virtual experiment in propionic acid (see
Supplementary Material
).
2.2. Dataset of Calculated Kamlet–Abboud–Taft Solvatochromic Parameters
2.3. Application of Calculated KAT Parameters to Free Energy Relationships
2.4. 2-Methyltetrahydrofuran Identified as a Rate Accelerating Solvent in Michael Addition Chemistry
The Menschutkin reaction is an uncomplicated reaction with many kinetic studies available in the literature and a strong history of empirical and computational analysis that makes solvent substitution reasonably straightforward. To provide a sterner test for this new methodology, a new experimental dataset for a reaction with previously unassessed solvent effects was created and used to identify a superior solvent. For this purpose, the kinetics of a Michael addition catalysed by potassium phosphate was measured in six solvents (
Scheme 2
). 1,4-Addition reactions are widely used in drug discovery and studied in the development of enantioselective catalysis [
37
]. It was found that the rate of the reaction favoured high β values and small solvent molar volumes (V
M
) according to Equation (4).
ln(k) = −5.16 + 5.59β + −0.0385VM,
In this reaction, a hydrogen bond accepting solvent may interact with the conjugate acid of the catalyst to favour the deprotonation of 3 and consequently the formation of 4. The molar volume term is indicative of a bimolecular reaction in which the cavity occupied by the reactants in solution is reduced in size upon forming a single activated complex.
Calculated KAT parameters and predicted molar volumes obtained in COSMOtherm were used to calculate ln(k) from the free energy relationship in Equation (4), which correlated to experimental values with sufficient accuracy to screen for potential new solvents (
Figure 6
). To increase the rate of this reaction, the required combination of a strongly hydrogen bond accepting solvent that is also a small molecule indicated 2-methyltetrahydrofuran (2-MeTHF) as a good candidate. It is bio-based and has become a popular replacement for traditional ethers in process chemistry [
38
]. By extrapolating the empirical relationship in Equation (4), an accelerated rate of reaction was predicted in 2-MeTHF over the previous best solvent (dimethyl carbonate) of 131%. When using the corrected calculated β value of 2-MeTHF and its calculated molar volume, a rate enhancement of 150% is predicted. Experiment found the actual rate constant to increase by 180%.
2.5. Design of a Novel Solvent for the Synthesis of Tetrahydropyridines
3. Materials and Methods
ArgusLab (version 4.0.1, Mark Thompson and Planaria Software LLC, 2004, Seattle, WA, USA) was used to obtain approximate atomic coordinates of compounds. The conformations of the molecules were calculated with COSMOconfX (version 4.0; COSMOlogic GmbH & Co. KG, Leverkusen, Germany, 2015). COSMOthermX (version C30_1705; COSMOlogic GmbH & Co. KG, 2017, TZVP basis set level) was used to provide molecular surface charges, σ-profiles, σ-moments, and execute the virtual experiments. Specifically, tautomerisation equilibria of
1
and
2
were calculated using the 'Reaction' function of COSMOtherm in the chosen solvent. In each case, the diketo-tautomer was selected as the reactant, and the enol-tautomer as the product. Equilibrium constants were calculated with the assumption of infinite dilution at 25 °C. The calculation of α is described in the
Supplementary Material
, as are screenshots of the different stages and outputs of the calculations. HSPiP (version 5.0.03, Abbott and Yamamoto, Ipswich, UK, 2015) was used to create the Hansen sphere.
4. Conclusions
A new method for the calculation of KAT parameters with diverse uses in describing chemical phenomena has been developed. Our reliance on empirical free energy relationships remains, but now it is possible to use a known relationship between a chemical phenomenon and the solvent to design and select new solvents to maximise performance prior to making them or evaluating their polarity. This process has been used to optimise the reaction rate of a Michael addition and improve the yield of a multicomponent synthesis of tetrahydropyridines. Experimental results reported in the literature have been recreated in silico to confirm the broad applicability of this approach (including the frequently studied Menschutkin reaction), which can be adopted by other practitioners without specialised expertise in computational chemistry. Some limitations remain, specifically, the inability to model acids and bases and the need for correctional factors. COSMO-RS theory would need to be modified to eliminate these restrictions. Additional experimental data would also help to refine the correction factors, especially for multifunctional compounds. A more complex but general method of error correction needs to be developed to enhance the model. As it stands, this method is an advantageous development in the context of previous attempts to estimate KAT parameters. The ability demonstrated here to accelerate the design of a new generation of solvents will be invaluable as the restriction of toxic solvents continues to force solvent substitutions across the chemical sciences.
Supplementary Materials
The following are available online. Document: Full details of the calculations and an explanation of solvatochromism and the COSMOtherm software [
42
,
43
,
44
,
45
,
46
,
47
,
48
,
49
,
50
,
51
,
52
,
53
,
54
,
55
,
56
,
57
,
58
,
59
,
60
,
61
,
62
,
63
,
64
,
65
,
66
,
67
,
68
]. Spreadsheet: List of experimental and calculated KAT parameters, data for 16 additional case studies, and attempts to directly predict equilibrium constants in COSMOtherm.
Author Contributions
Conceptualization, J.S.; Formal analysis, J.S.; Investigation, J.S. and J.G.; Methodology, J.S.; Resources, J.S., C.R.M. and J.H.C.; Supervision, C.R.M. and J.H.C.; Validation, J.S. and J.G.; Visualization, J.S.; Writing—original draft, J.S.; Writing—review & editing, J.S., J.G., C.R.M. and J.H.C.
Funding
This work was supported by the Bio-Based Industries Joint Undertaking (BBI JU) under the EU Horizon2020 research and innovation program (project agreement no. 745450). This work reflects only the authors' view, and the BBI JU is not responsible for any use that could be made of the information it contains.
Acknowledgments
COSMO-RS calculations are courtesy of, and authorised for the purposes of, Circa Group Pty Ltd.
Conflicts of Interest
The authors declare no conflict of interest. The funders had no role in the design of the study; in the collection, analyses, or interpretation of data; in the writing of the manuscript, or in the decision to publish the results.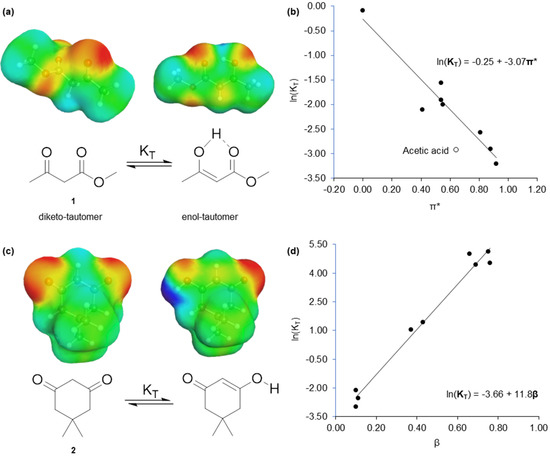 Figure 1. The solvent effect on the tautomerisation of acyclic and cyclic 1,3-dicarbonyl compounds. (a) The tautomerisation of 1, with σ-surfaces superimposed over the lowest energy conformation of both tautomers; (b) The tautomerisation of 1 is inversely proportional to π* due to the smaller dipole moment of the enol-tautomer; (c) The tautomerisation of 2; (d) The free energy relationship between the tautomerisation of 2 and β showing stabilisation of the enol-tautomer is provided by hydrogen bond accepting solvents.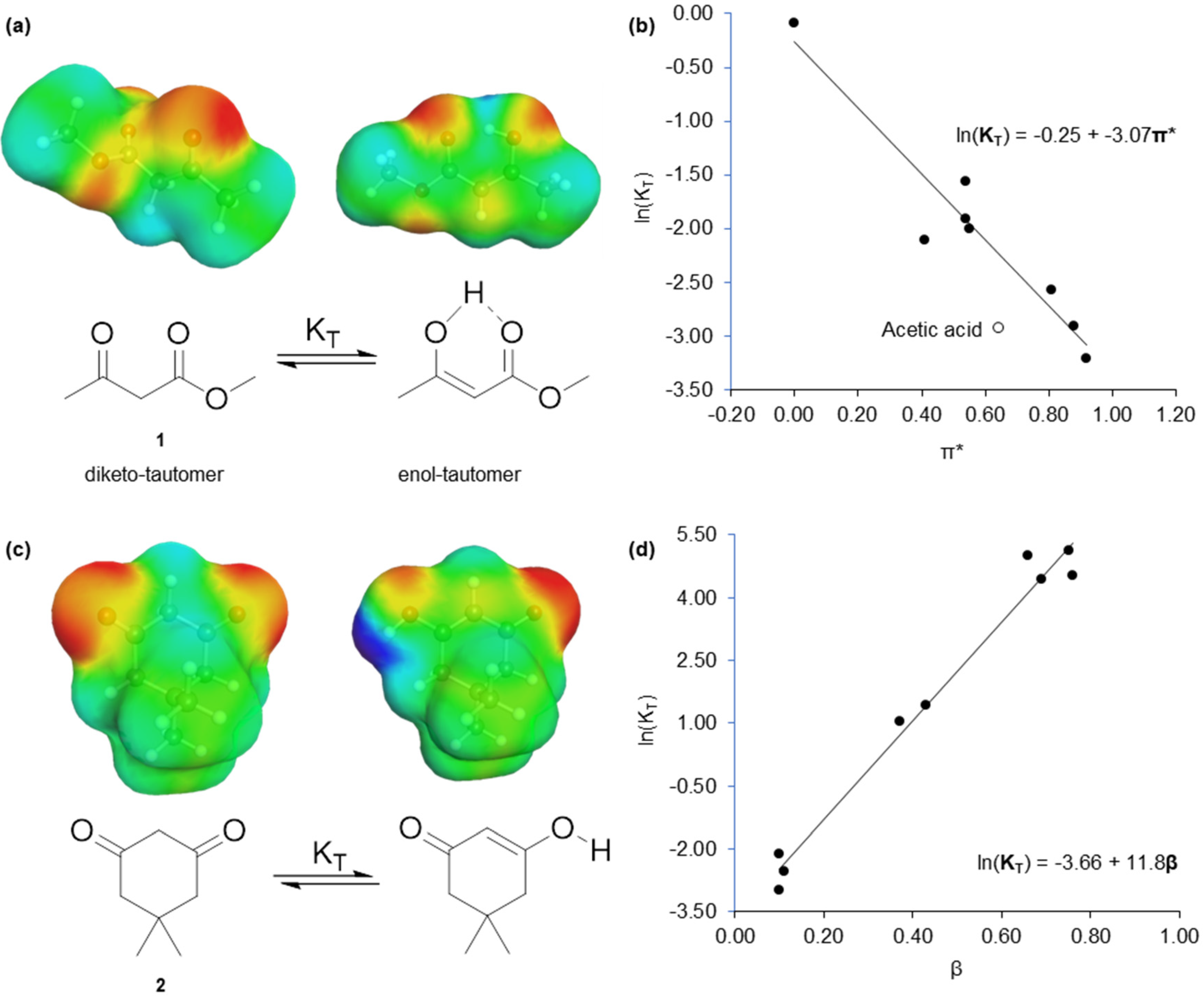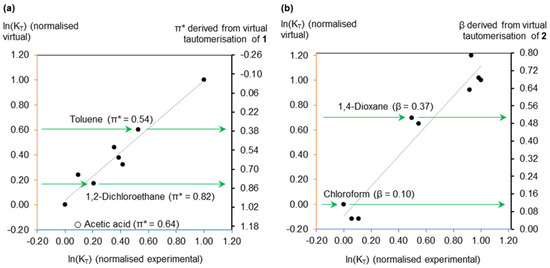 Figure 2. Model training datasets to establish the relationship between experimental and virtual equilibrium constants. (a) The π* calculation, annotated with the most accurate prediction (1,2-dichloroethane) and the least accurate (toluene). Acetic acid deviated from the trend; (b) The β calculation, annotated with the most accurate prediction (chloroform) and the least accurate (1,4-dioxane).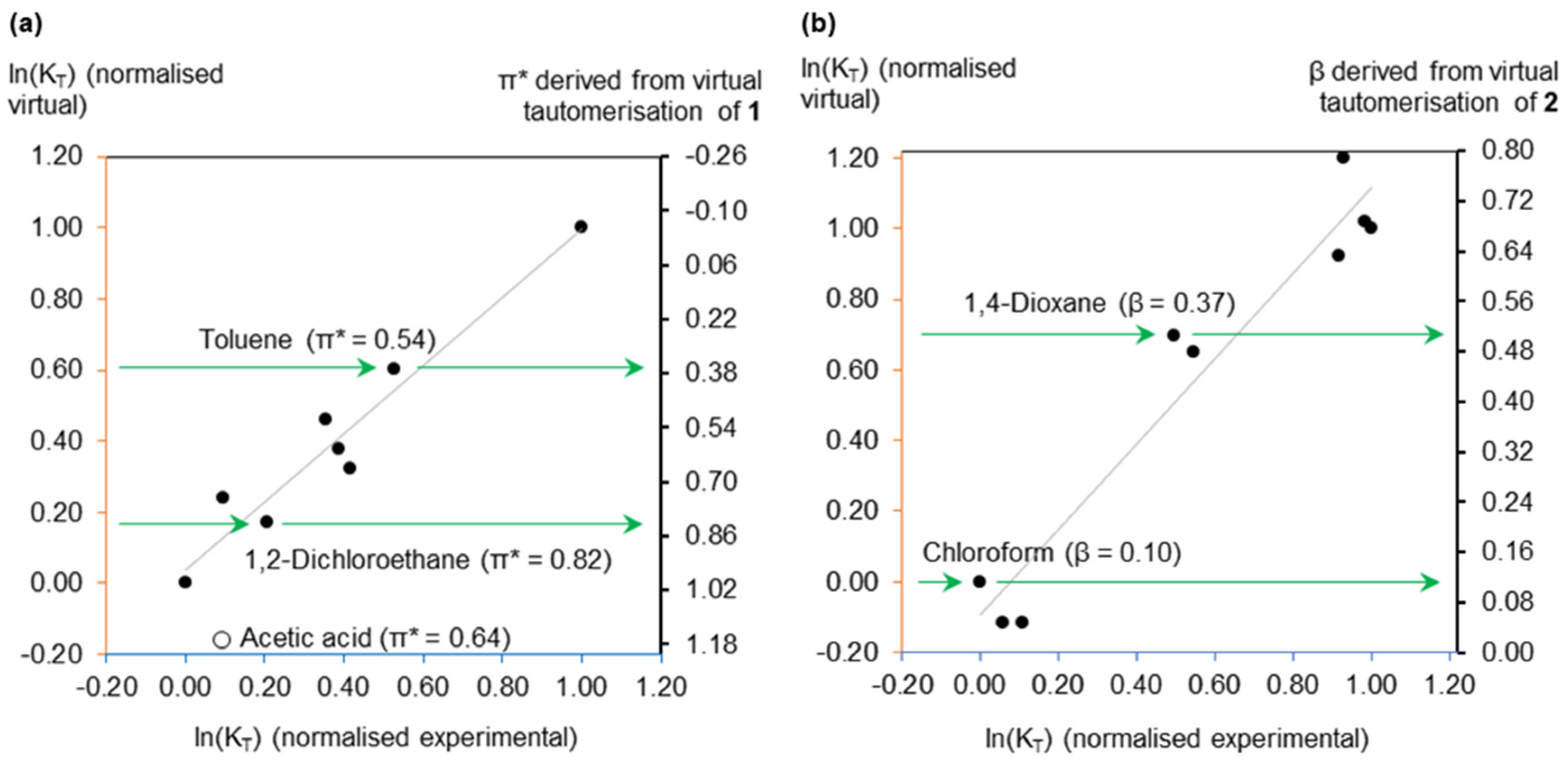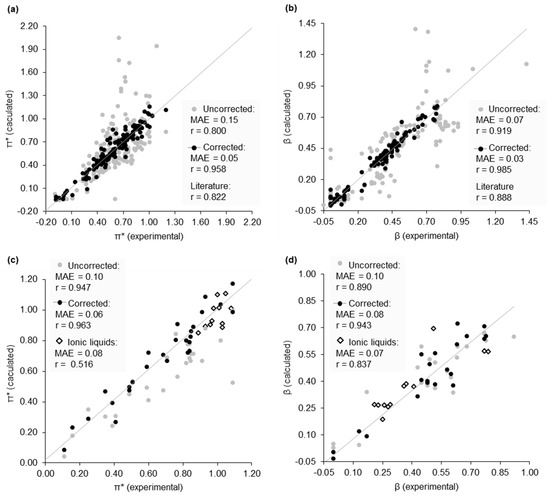 Figure 3.
Calculated Kamlet–Abboud–Taft (KAT) parameters correlated to experimental data, accompanied by an error analysis and reference to literature methods [
26
]. (
a
) π* calculations, primary dataset; (
b
) β calculations, primary dataset; (
c
) π* calculations, secondary dataset, and ionic liquids; (
d
) β calculations, secondary dataset and ionic liquids.
Figure 4. Error correction for the calculated KAT parameters of acyclic ethers as linear functions of σ-moments. (a) Calculated π* error correction; (b) Calculated β error correction.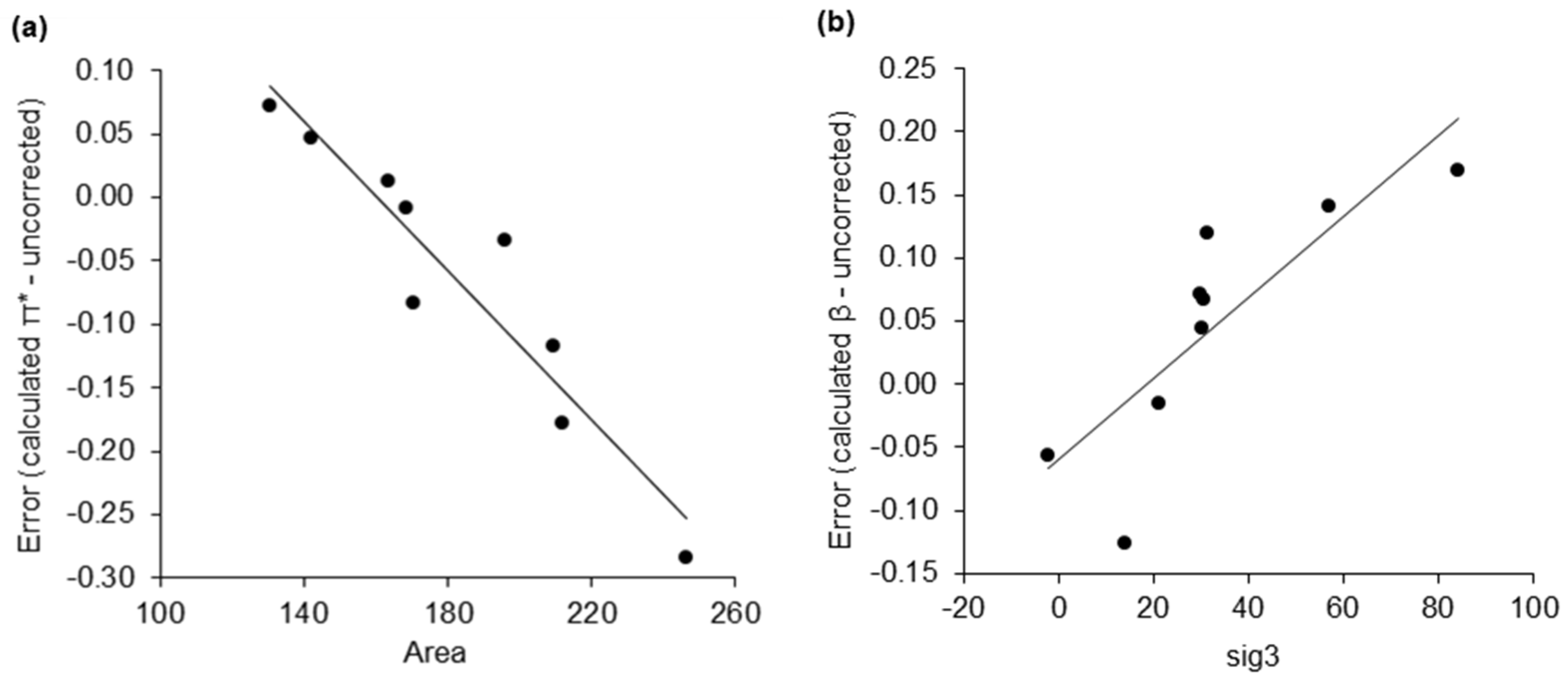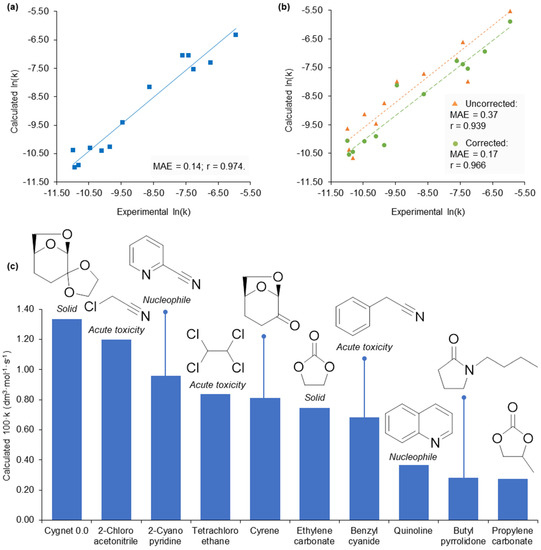 Figure 5.
A demonstration of solvent selection for a Menschutkin reaction. (
a
) Comparison of experimental ln(k) and calculated ln(k) values (based on Equation (3) solved with experimental KAT parameters). (
b
) Substitution with calculated KAT parameters for the prediction of ln(k) and compared to experimental data. (
c
) The ten solvents with the highest predicted rate constants, annotated with practical issues and molecular schemes. Cygnet 0.0 is spiro-6,8-dioxabicyclo[3.2.1]octane-4,2′-[1,3]dioxolane [
35
], and Cyrene™ is dihydrolevoglucosenone [
33
].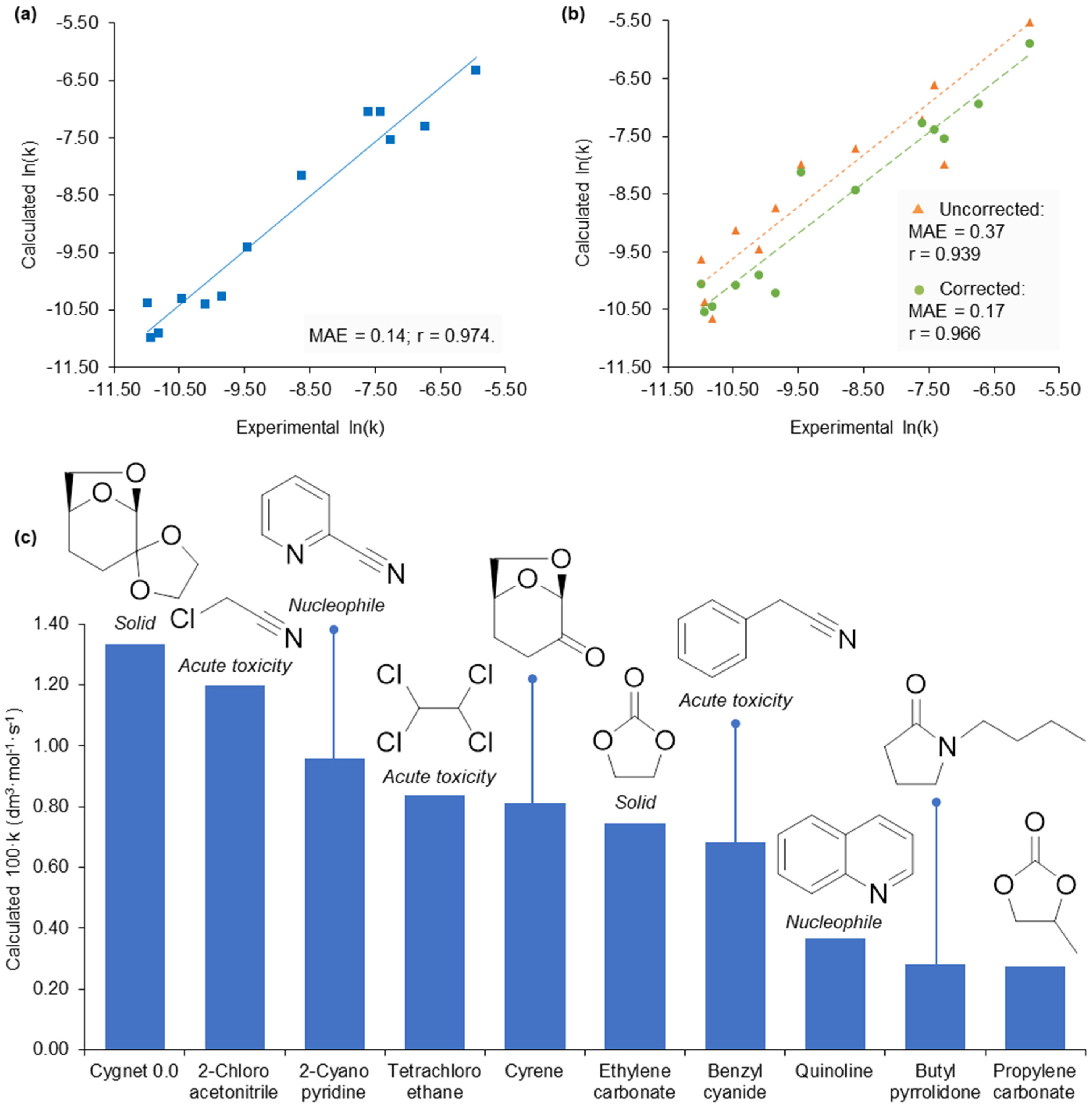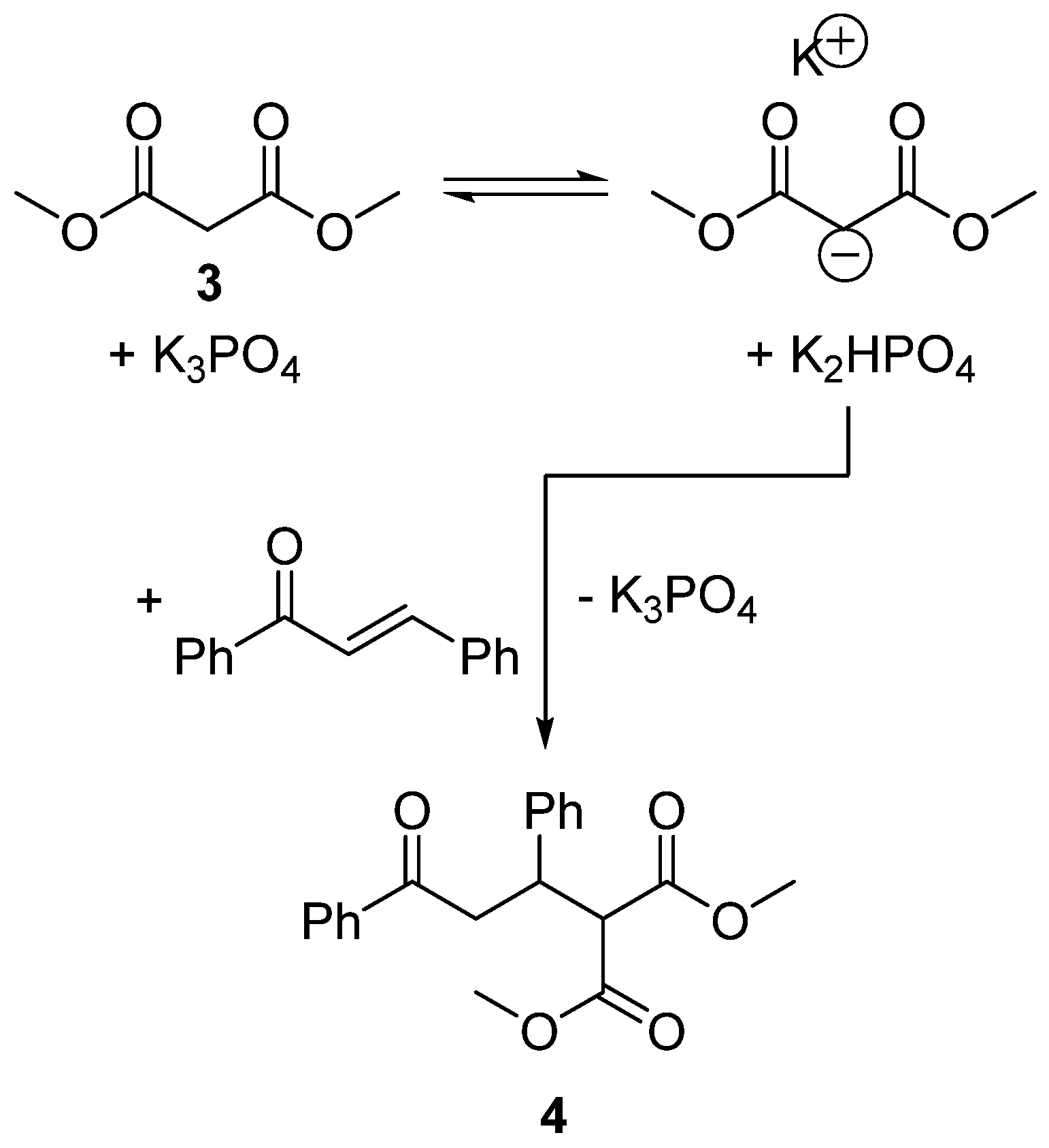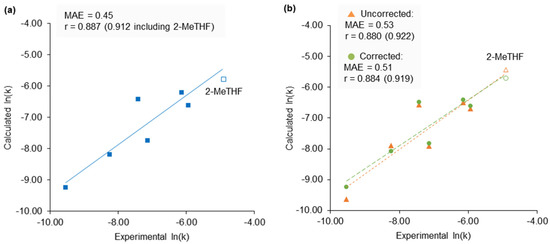 Figure 6. The predicted rate of a Michael addition using experimental and calculated KAT parameters. (a) Reaction rate constants calculated using experimental KAT parameters in Equation (4). The trendline is calculated without 2-MeTHF and extrapolated; (b) Calculated KAT parameters used to solve Equation (4) for the prediction of ln(k) and compared to experimental data. Trendlines are calculated without 2-MeTHF and extrapolated.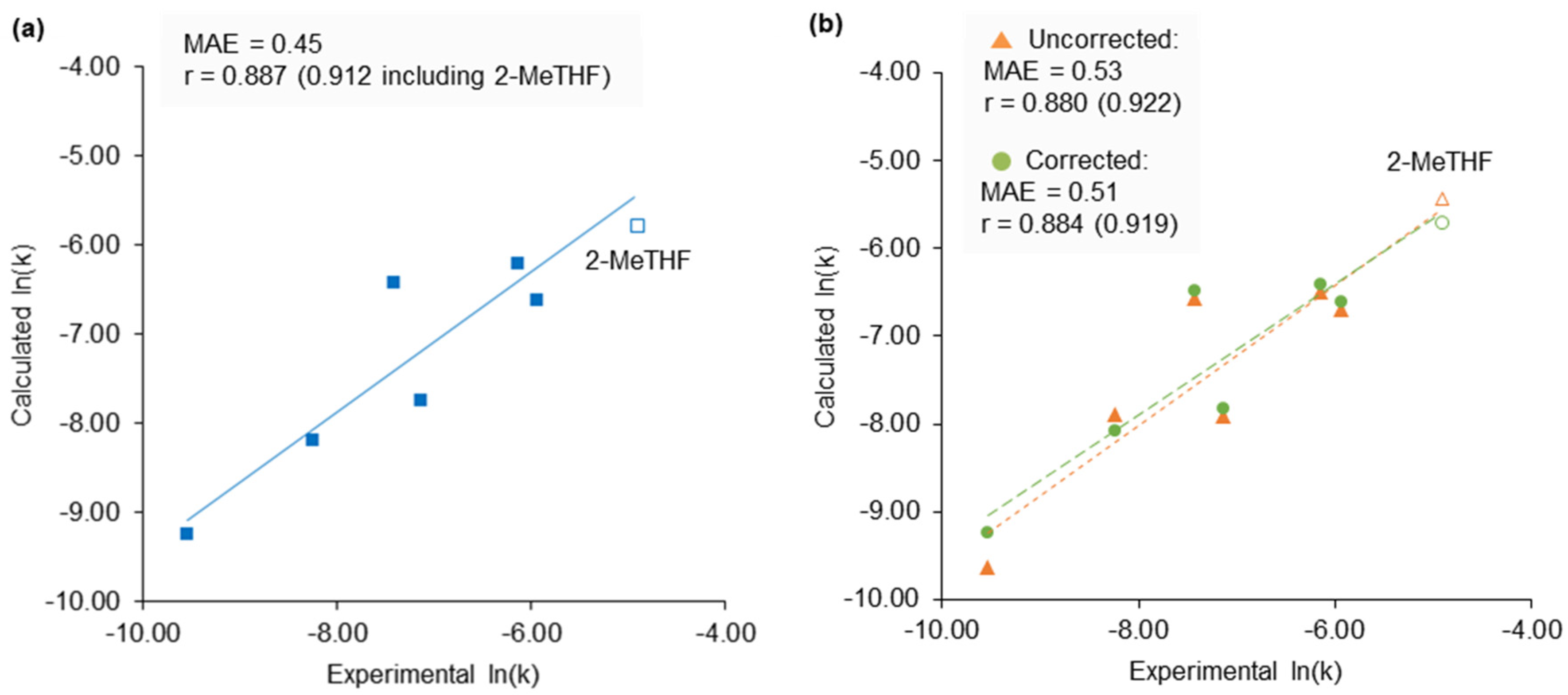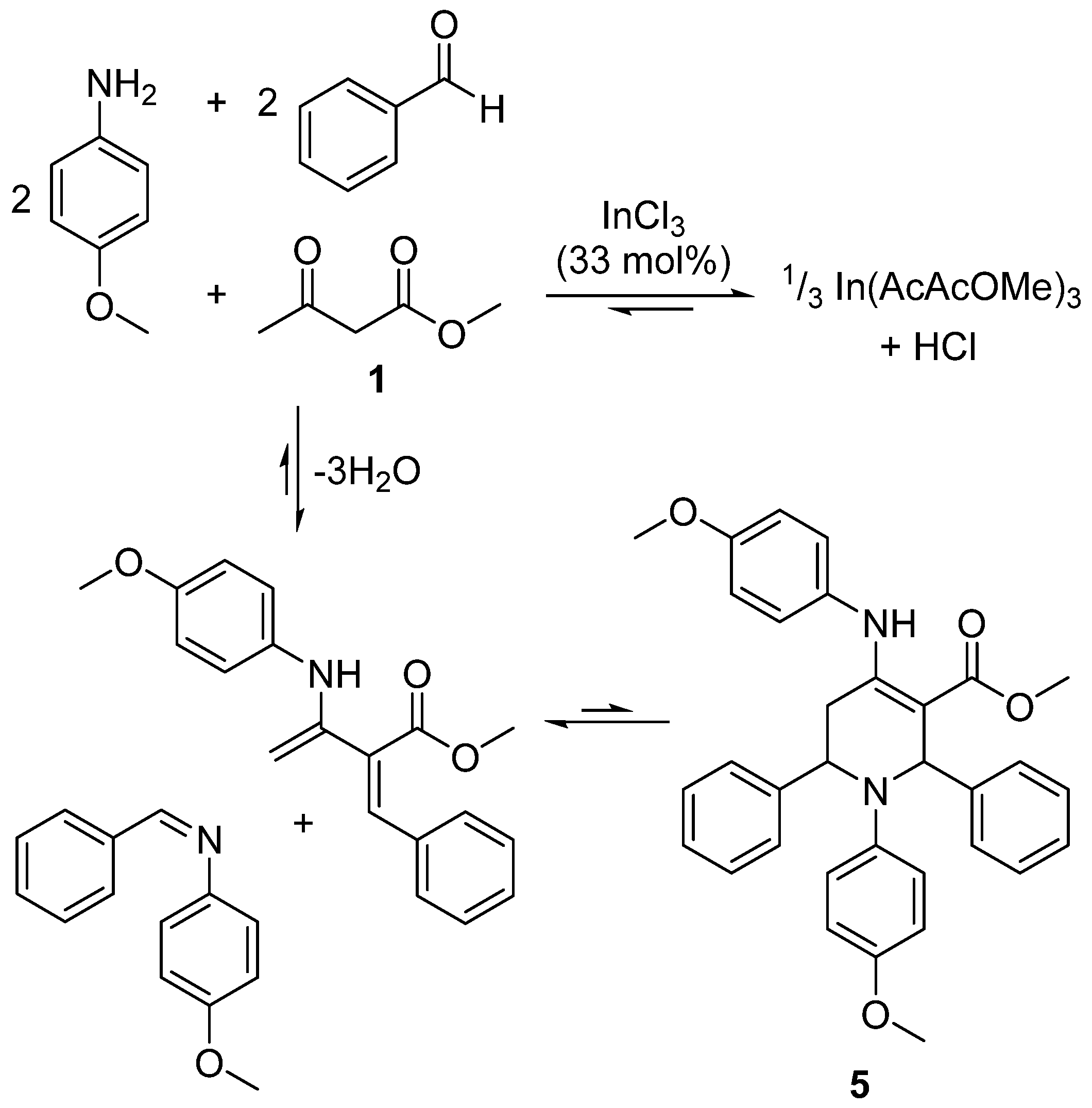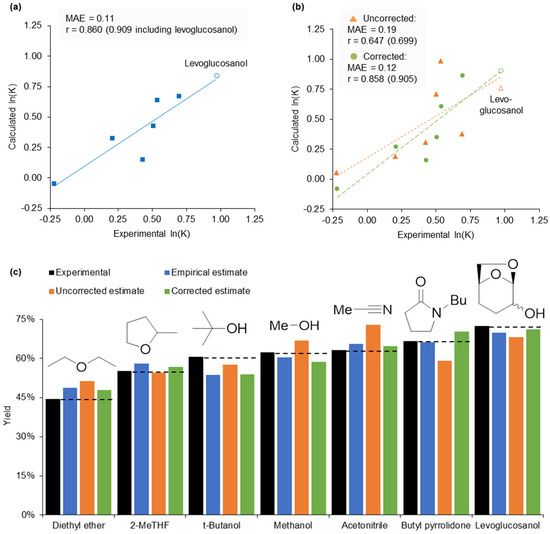 Figure 7. Solvent optimisation for a multicomponent reaction. (a) Calculation of ln(K') from the free energy relationship in Equation (6) using experimental KAT parameters, and compared to experimental data. The trendline is calculated without levoglucosanol and extrapolated; (b) Calculation of ln(K') using calculated KAT parameters. Trendlines are calculated without levoglucosanol and extrapolated; (c) Experimental reaction yields and predictions based on the empirical free energy relationship, and the result of the same correlation with calculated π* values.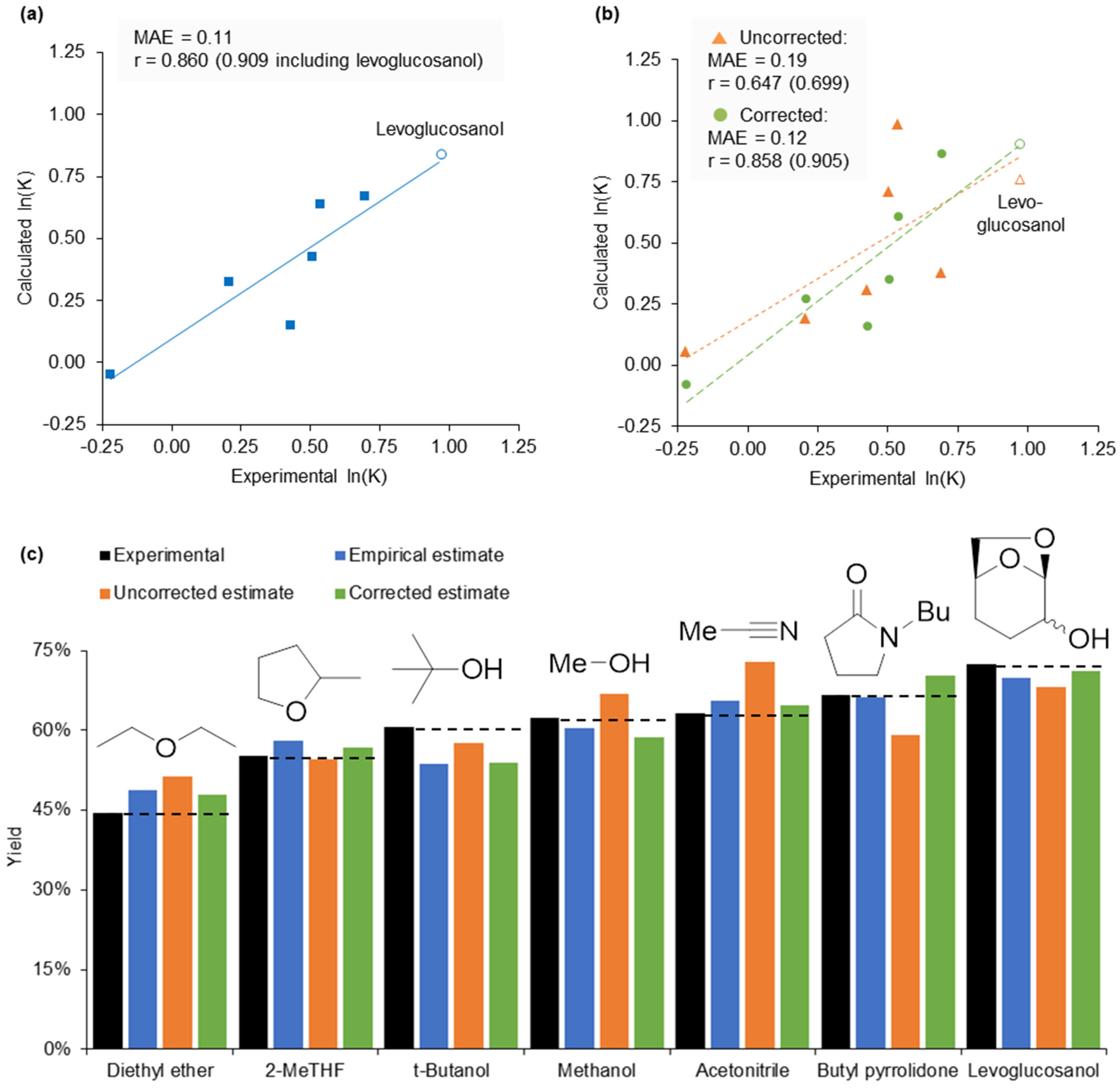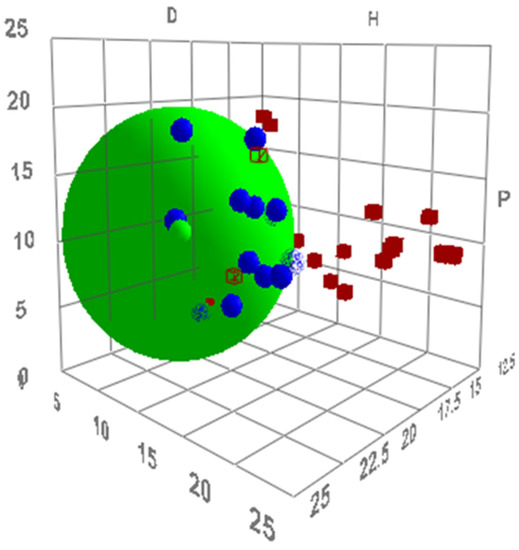 Figure 8. The Hansen sphere of compound 5 (green data point). Solvents are shown as blue data points and used to fit the sphere. Non-solvents are shown as red data points.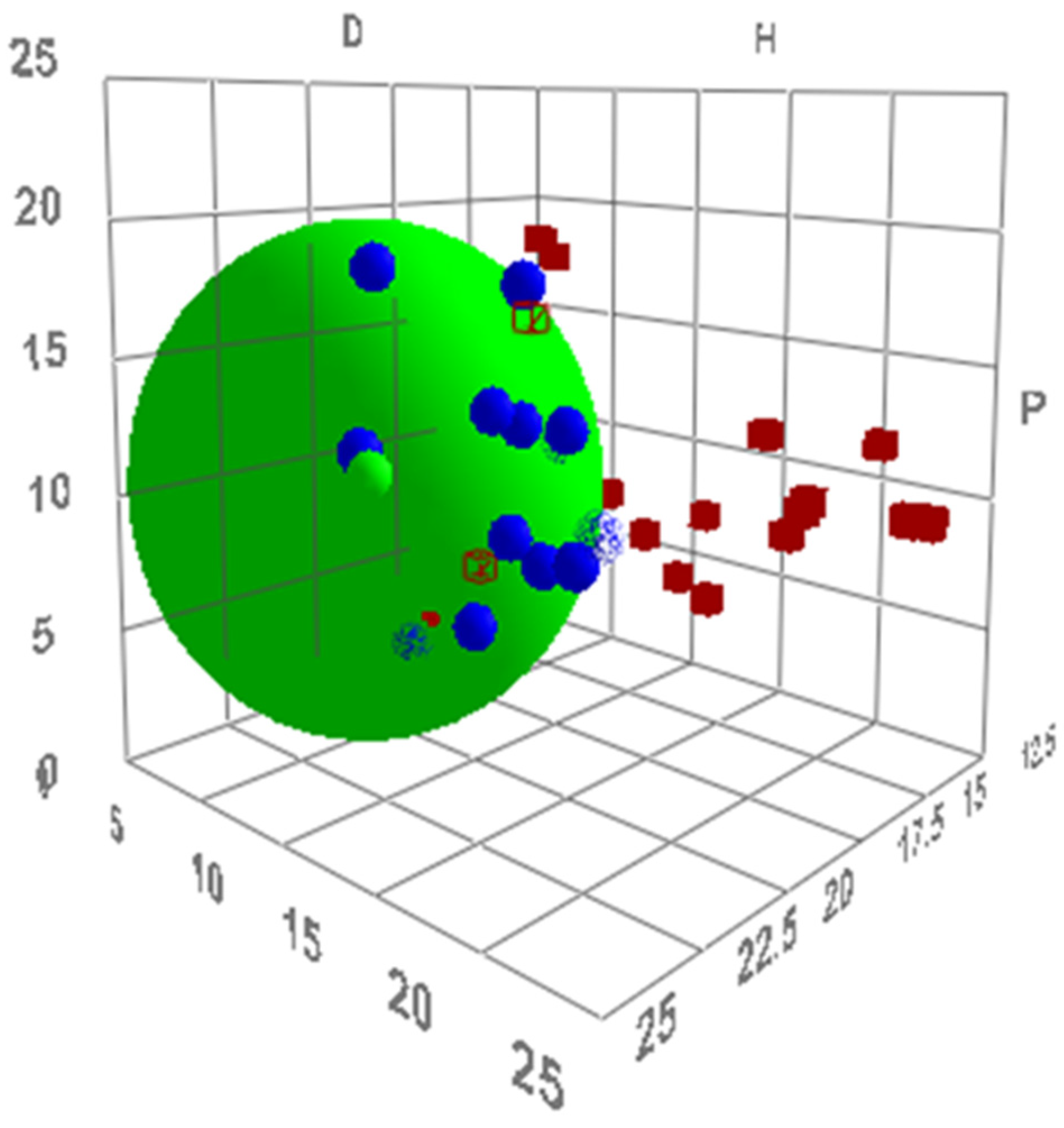 | σ-Moment | Description |
| --- | --- |
| Area | Molecular surface area. |
| sig1 | Charge (zero for organic solvents). |
| sig2 | The global electrostatic polarity of the molecule. |
| sig3 | The asymmetry of the σ-profile, measured by skewness. |
| HBdon | Hydrogen bond donor moment. |
| HBacc | Hydrogen bond acceptor moment. |

© 2019 by the authors. Licensee MDPI, Basel, Switzerland. This article is an open access article distributed under the terms and conditions of the Creative Commons Attribution (CC BY) license (http://creativecommons.org/licenses/by/4.0/).