p53 Binds Preferentially to Non-B DNA Structures Formed by the Pyrimidine-Rich Strands of GAA·TTC Trinucleotide Repeats Associated with Friedreich's Ataxia
1
Institute of Biophysics, Academy of Sciences of the Czech Republic v.v.i., Královopolská 135, 612 65 Brno, Czech Republic
2
Department of Molecular Biology and Pharmaceutical Biotechnology, Faculty of Pharmacy, University of Veterinary and Pharmaceutical Sciences Brno, Palackého 1/3, 612 42 Brno, Czech Republic
3
Faculty of Science, University of Ostrava, Chittussiho 10, 701 03 Ostrava, Czech Republic
4
School of Biological Sciences, University of East Anglia, Norwich Research Park, Norwich NR4 7TJ, UK
5
Central European Institute of Technology, Masaryk University, Kamenice 753/5, CZ-62500 Brno, Czech Republic
*
Author to whom correspondence should be addressed.
†
Current Address for Pavla Bazantova: Institute of Biology and Medical Genetics, First Faculty of Medicine, Charles University and General University Hospital in Prague, Prague, Czech Republic.
Academic Editors: Liliya Yatsunyk and David Monchaud
Received: 30 April 2019 / Revised: 19 May 2019 / Accepted: 30 May 2019 / Published: 31 May 2019
Abstract
Expansions of trinucleotide repeats (TNRs) are associated with genetic disorders such as Friedreich's ataxia. The tumor suppressor p53 is a central regulator of cell fate in response to different types of insults. Sequence and structure-selective modes of DNA recognition are among the main attributes of p53 protein. The focus of this work was analysis of the p53 structure-selective recognition of TNRs associated with human neurodegenerative diseases. Here, we studied binding of full length p53 and several deletion variants to TNRs folded into DNA hairpins or loops. We demonstrate that p53 binds to all studied non-B DNA structures, with a preference for non-B DNA structures formed by pyrimidine (Py) rich strands. Using deletion mutants, we determined the C-terminal DNA binding domain of p53 to be crucial for recognition of such non-B DNA structures. We also observed that p53 in vitro prefers binding to the Py-rich strand over the purine (Pu) rich strand in non-B DNA substrates formed by sequence derived from the first intron of the frataxin gene. The binding of p53 to this region was confirmed using chromatin immunoprecipitation in human Friedreich's ataxia fibroblast and adenocarcinoma cells. Altogether these observations provide further evidence that p53 binds to TNRs' non-B DNA structures.
View Full-Text
►

▼

Figures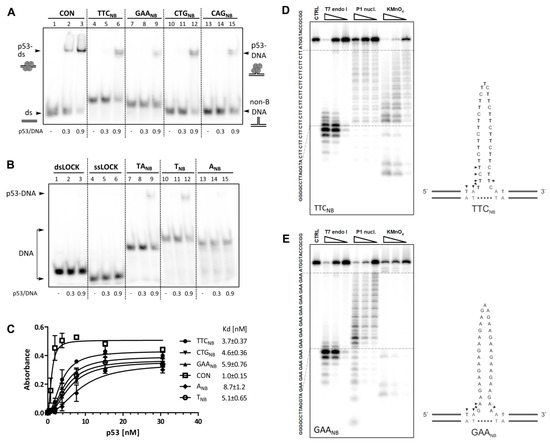 Figure 1
This is an open access article distributed under the
Creative Commons Attribution License
which permits unrestricted use, distribution, and reproduction in any medium, provided the original work is properly cited (CC BY 4.0).

Share & Cite This Article
MDPI and ACS Style
Helma, R.; Bažantová, P.; Petr, M.; Adámik, M.; Renčiuk, D.; Tichý, V.; Pastuchová, A.; Soldánová, Z.; Pečinka, P.; Bowater, R.P.; Fojta, M.; Brázdová, M. p53 Binds Preferentially to Non-B DNA Structures Formed by the Pyrimidine-Rich Strands of GAA·TTC Trinucleotide Repeats Associated with Friedreich's Ataxia. Molecules 2019, 24, 2078.
Note that from the first issue of 2016, MDPI journals use article numbers instead of page numbers. See further details here.
Related Articles
Comments
[Return to top]