An Unexpected Iron (II)-Based Homogeneous Catalytic System for Highly Efficient CO2-to-CO Conversion under Visible-Light Irradiation
1
College of Chemistry and Engineering, Yunnan Normal University, Kunming 650092, China
2
Key Laboratory of Photochemical Conversion and Optoelectronic Materials and HKU-CAS Joint Laboratory on New Materials, Technical Institute of Physics and Chemistry, Chinese Academy of Sciences, Beijing 100190, China
*
Author to whom correspondence should be addressed.
†
These authors contributed equally to this work.
Received: 16 April 2019 / Revised: 10 May 2019 / Accepted: 13 May 2019 / Published: 16 May 2019
Abstract
We present two as-synthesized Fe(II)-based molecular catalysts with 1,10-phenanthroline (phen) ligands; Fe(phen)
3
Cl
2
(
1
) and [Fe(phen)
2
(CH
3
CH
2
OH)Cl]Cl (
2
), and their robust catalytic properties for the conversion of CO
2
to CO in DMF/TEOA (DMF =
N
,
N
'-dimethylformamide; TEOA = triethanolamine) solution containing Ru(bpy)
3
2+
and BIH (1,3-dimethyl-2-phenyl-2,3- dihydro-1
H
-benzo-[d]-imidazole). High turnover numbers (TONs) of 19,376 were achieved with turnover frequencies (TOFs) of 3.07 s
−1
for complex
1
(1.5 × 10
−7
M). A quantum efficiency of 0.38% was observed after 5 h irradiated by 450 nm monochromatic light. The generation rate of CO
2
and H
2
were tuned by optimizing the experimental conditions, resulting in a high CO selectivity of 90%. The remarkable contribution of the photosensitizer to the total TON
CO
was found being 19.2% (as shown by tests under similar conditions without catalysts) when BIH was employed as a sacrificial electron donor. The product selectivity in complex
2
reached 95%, and the corresponding TON
CO
and TOF
CO
were 33,167 and 4.61 s
−1
in the same concentration with complex
1
used as catalyst; respectively. This work provides guidance for future designs of simple, highly efficient and selective molecular catalytic systems that facilitate carbon-neutral solar-to-fuel conversion processes
View Full-Text
►

▼

Figures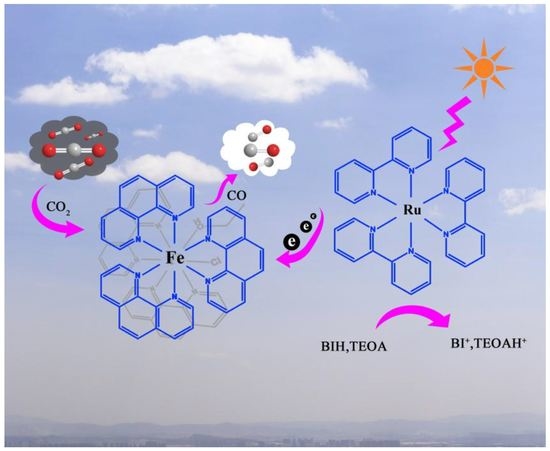 Graphical abstract
This is an open access article distributed under the
Creative Commons Attribution License
which permits unrestricted use, distribution, and reproduction in any medium, provided the original work is properly cited (CC BY 4.0).

Share & Cite This Article
MDPI and ACS Style
Fu, Z.-C.; Mi, C.; Sun, Y.; Yang, Z.; Xu, Q.-Q.; Fu, W.-F. An Unexpected Iron (II)-Based Homogeneous Catalytic System for Highly Efficient CO2-to-CO Conversion under Visible-Light Irradiation. Molecules 2019, 24, 1878.
Note that from the first issue of 2016, MDPI journals use article numbers instead of page numbers. See further details here.
Related Articles
Comments
[Return to top]