Efficacy of Two Monoterpenoids, Carvacrol and Thymol, and Their Combinations against Eggs and Larvae of the West Nile Vector
Culex pipiens
1
Department of Veterinary Parasitology, Babol-Branch, Islamic Azad University, Babol 484, Iran
2
Faculty of Veterinary Medicine, Amol University of Special Modern Technologies, Amol 46131-46391, Iran
3
Young Researchers and Elite Club, Babol Branch, Islamic Azad University, Babol 484, Iran
4
Cellular and Molecular Biology Research Center, Health Research Center, Babol University of Medical Sciences, Babol 47176-47745, Iran
5
Department of Agronomy, Food, Natural Resources, Animals and Environment (DAFNAE), University of Padova, 35020 Legnaro, Italy
6
Department of Pharmaceutical and Pharmacological Sciences, University of Padova, 35139 Padova, Italy
7
Department of Agriculture, Food and Environment, University of Pisa, via del Borghetto 80, 56124 Pisa, Italy
8
School of Pharmacy, University of Camerino, 62032 Camerino, Italy
*
Authors to whom correspondence should be addressed.
Academic Editor: Derek McPhee
Received: 6 April 2019 / Revised: 30 April 2019 / Accepted: 11 May 2019 / Published: 15 May 2019
Abstract
Background
: Insect vector control is facing the challenges of resistance development and environmental hazards caused by synthetic pesticides. This has led to a considerable market opportunity for botanical insecticides. In this scenario, our study investigated the potential of selected bioactive monoterpenoids, carvacrol and thymol, as safe and effective tools to control the West Nile vector
Culex pipiens
. Furthermore, the combined effect of thymol-carvacrol mixtures and their possible interactions were assessed.
Methods
: For determining larvicidal and ovicidal 50% lethal concentration (LC
50
), each monoterpenoid was tested at different concentrations (5–500 mg/L). Then, the fixed ratio method was used for evaluating their combinational efficacy.
Results
: Carvacrol was more toxic against larvae of
Cx. pipiens,
with a LC
50
value of 14 mg/L, whereas thymol exhibited a LC
50
value of 49 mg/L. Comparable trends of efficacy were observed when toxicity on
Cx. pipiens
eggs was investigated, with LC
50
values of 7 and 13 mg/L for carvacrol and thymol, respectively. In combinational toxicity assays, the mixture thymol-carvacrol at 1:4 ratio achieved a synergistic effect against larvae of
Cx. pipiens,
whereas an additive effect was observed on eggs. Other ratios showed antagonistic effects.
Conclusions
: Overall, our findings pointed out that the 1:4 ratio of thymol-carvacrol blend can enhance the insecticidal efficacy on
Cx. pipiens
young instars and can be considered further as active ingredient for developing botanical insecticides to be used in mosquito control operations.
View Full-Text
►

▼

Figures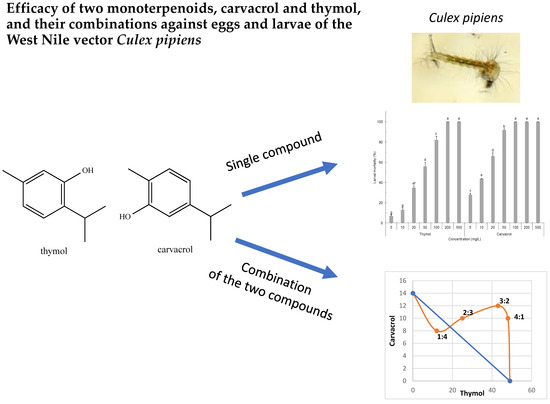 Graphical abstract
This is an open access article distributed under the
Creative Commons Attribution License
which permits unrestricted use, distribution, and reproduction in any medium, provided the original work is properly cited (CC BY 4.0).

Share & Cite This Article
MDPI and ACS Style
Youssefi, M.R.; Tabari, M.A.; Esfandiari, A.; Kazemi, S.; Moghadamnia, A.A.; Sut, S.; Dall'Acqua, S.; Benelli, G.; Maggi, F. Efficacy of Two Monoterpenoids, Carvacrol and Thymol, and Their Combinations against Eggs and Larvae of the West Nile Vector Culex pipiens. Molecules 2019, 24, 1867.
Note that from the first issue of 2016, MDPI journals use article numbers instead of page numbers. See further details here.
Related Articles
Comments
[Return to top]