Discovery of Cisplatin Binding to Thymine and Cytosine on a Single-Stranded Oligodeoxynucleotide by High Resolution FT-ICR Mass Spectrometry
1
Beijing National Laboratory for Molecular Sciences, National Centre for Mass Spectrometry in Beijing, CAS Key Laboratory of Analytical Chemistry for Living Biosystems, Institute of Chemistry, Chinese Academy of Sciences, Beijing 100190, China
2
University of Chinese Academy of Sciences, Beijing 100049, China
3
Key Laboratory of Hubei Province for Coal Conversion and New Carbon Materials, School of Chemistry and Chemical Engineering, Wuhan University of Science and Technology, Wuhan 430081, China
4
Basic Medical College, Shandong University of Chinese Traditional Medicine, Jinan 250355, China
*
Authors to whom correspondence should be addressed.
Academic Editors: Carlo Santini and Maura Pellei
Received: 16 April 2019 / Revised: 9 May 2019 / Accepted: 13 May 2019 / Published: 14 May 2019
Abstract
The clinically widely-used anticancer drug, cisplatin, binds strongly to DNA as a DNA-damaging agent. Herein, we investigated the interaction of cisplatin with a 15-mer single-stranded C,T-rich oligodeoxynucleotide, 5′-CCTT
4
CTT
7
G
8
C
9
T
10
TCTCC-3′ (ODN15), using ultra-high resolution Fourier transform ion cyclotron resonance mass spectrometry (FT-ICR MS) in conjunction with tandem mass spectrometry (top-down MS). Top-down MS analysis with collision-induced dissociation (CID) fragmentation of the mono-platinated and di-platinated ODN15 provided abundant and informative Pt-containing or Pt-free a/[a − B], w and internal fragments, allowing the unambiguous identification of T
4
, T
7
, C
9
, and T
10
as the platination sites on the cisplatin-ODN15 adducts. These results revealed that, in addition to the well-established guanine site, the unexpected thermodynamic binding of cisplatin to cytosine and thymine bases was also evident at the oligonucleotide level. Furthermore, the binding models of cisplatin with cytosine and thymine bases were built as the Pt coordinated to cytosine-N(3) and thymine-N(3) with displacement of the proton or tautomerization of thymine. These findings contribute to a better understanding of the mechanism of action of cisplatin and its preference for gene loci when the drug binds to cellular DNA, and also demonstrate the great potential and superiority of FT-ICR MS in studying the interactions of metallodrugs with large biomolecules.
View Full-Text
►

▼

Figures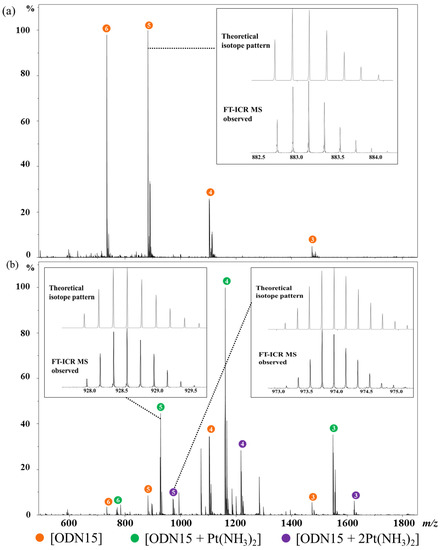 Figure 1
This is an open access article distributed under the
Creative Commons Attribution License
which permits unrestricted use, distribution, and reproduction in any medium, provided the original work is properly cited (CC BY 4.0).

Share & Cite This Article
MDPI and ACS Style
Zeng, W.; Zhang, Y.; Zheng, W.; Luo, Q.; Han, J.; Liu, J.; Zhao, Y.; Jia, F.; Wu, K.; Wang, F. Discovery of Cisplatin Binding to Thymine and Cytosine on a Single-Stranded Oligodeoxynucleotide by High Resolution FT-ICR Mass Spectrometry. Molecules 2019, 24, 1852.
Note that from the first issue of 2016, MDPI journals use article numbers instead of page numbers. See further details here.
Related Articles
Comments
[Return to top]