Small Molecule Oligopeptides Isolated from Walnut (
Juglans regia

L.) and Their Anti-Fatigue Effects in Mice

1

Department of Nutrition and Food Hygiene, School of Public Health, Peking University, Beijing 100191, China

2

Medical Center, SinoMed Peptide Valley Bioengineering Co., Ltd., Beijing 100027, China

*

Author to whom correspondence should be addressed.

Received: 20 October 2018 / Revised: 7 December 2018 / Accepted: 19 December 2018 / Published: 22 December 2018
Abstract
Walnut (
Juglans regia
L.) is unique for its extensive biological activities and pharmaceutical properties. There are few studies on walnut oligopeptides (WOPs), which are small molecule peptides extracted from walnuts. This study aimed to evaluate the anti-fatigue effects of WOPs on ICR mice and explore the possible underlying mechanism. Mice were randomly divided into four experimental sets and each set of mice were then randomly divided into four groups. The vehicle group was administered distilled water, and the three WOP intervention groups were orally administered WOP solution at a dose of 110, 220, and 440 mg/kg of body weight, respectively. After 30 days of WOP intervention, the anti-fatigue activity of WOPs were evaluated using the weight-loaded swimming test and by measuring the change of biochemical parameters, glycogen storage and energy metabolism enzymes, anti-oxidative capacity and mitochondrial function. It was observed that WOPs could significantly prolong the swimming time, decrease the accumulation of lactate dehydrogenase (LDH), creatine kinase (CK), blood urea nitrogen (BUN) and blood lactic acid (BLA), and increased the glycogen storage of liver and gastrocnemius muscle. WOPs also markedly inhibited fatigue induced oxidative stress by increasing the activity of superoxide dismutase (SOD), glutathione peroxidase (GPX) and decreasing the content malondialdehyde (MDA). Notably, WOPs improved the activity of pyruvate kinase (PK), succinate dehydrogenase (SDH), Na+-K+-ATPase, and enhanced the mRNA expression of mitochondrial biogenesis factors and mitochondrial DNA content in skeletal muscles of mice. These results suggest that WOPs have beneficial anti-fatigue effects, which may be attributed to their positive effects on increasing glycogen storage, improving energy metabolism, inhibiting oxidative stress, enhancing mitochondrial function in skeletal muscle, and ameliorating the cell damage and the muscular injury.
View Full-Text
►

▼

Figures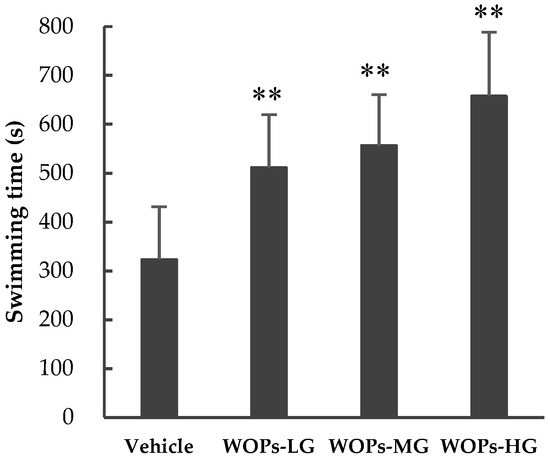 Figure 1
This is an open access article distributed under the
Creative Commons Attribution License
which permits unrestricted use, distribution, and reproduction in any medium, provided the original work is properly cited (CC BY 4.0).

Share & Cite This Article
MDPI and ACS Style
Liu, R.; Wu, L.; Du, Q.; Ren, J.-W.; Chen, Q.-H.; Li, D.; Mao, R.-X.; Liu, X.-R.; Li, Y. Small Molecule Oligopeptides Isolated from Walnut (Juglans regia L.) and Their Anti-Fatigue Effects in Mice. Molecules 2019, 24, 45.
Note that from the first issue of 2016, MDPI journals use article numbers instead of page numbers. See further details here.
Related Articles
Comments
[Return to top]