Synthesis and Spectroscopic Identification of Certain Imidazole-Semicarbazone Conjugates Bearing Benzodioxole Moieties: New Antifungal Agents
1
Department of Pharmaceutical Chemistry, College of Pharmacy, King Saud University, P.O. Box 2457, Riyadh 11451, Saudi Arabia
2
Department of Medicinal Chemistry, Faculty of Pharmacy, Mansoura University, Mansoura 35516, Egypt
3
Department of Pharmaceutics, College of Pharmacy, King Saud University, P.O. Box 2457, Riyadh 11451, Saudi Arabia
4
Microbiology and Immunology Department, Faculty of Pharmacy, Al-Azhar University, Cairo 11884, Egypt
5
Medicinal and Pharmaceutical Chemistry Department, Pharmaceutical and Drug Industries Research Division, National Research Centre (ID: 60014618), El Bohooth Street, Dokki, Giza 12622, Egypt
*
Authors to whom correspondence should be addressed.
Received: 28 November 2018 / Revised: 24 December 2018 / Accepted: 3 January 2019 / Published: 7 January 2019
Abstract
During the last three decades the extent of life-threatening fungal infections has increased remarkably worldwide. Synthesis and structure elucidation of certain imidazole-semicarbazone conjugates
5a
–
o
are reported. Single crystal X-ray analysis of compound
5e
unequivocally confirmed its assigned chemical structure and the (
E
)-configuration of its imine double bond. Compound
5e
crystallized in the triclinic system, P-1, a = 6.3561 (3) Å, b = 12.5095 (8) Å, c = 14.5411 (9) Å, α = 67.073 (4)°, β = 79.989 (4)°, γ =84.370 (4)°, V = 1048.05 (11) Å
3
, Z = 2. In addition, DIZ and MIC assays were used to examine the in vitro antifungal activity of the title conjugates
5a
–
o
against four fungal strains. Compound
5e
, bearing a 4-ethoxyphenyl fragment, showed the best MIC value (0.304 µmol/mL) against both
C. tropicalis
and
C. parapsilosis
species, while compounds
5c
(MIC = 0.311 µmol/mL),
5k
, and
5l
(MIC = 0.287 µmol/mL) exhibited the best anti-
C. albicans
activity.
View Full-Text
►

▼

Figures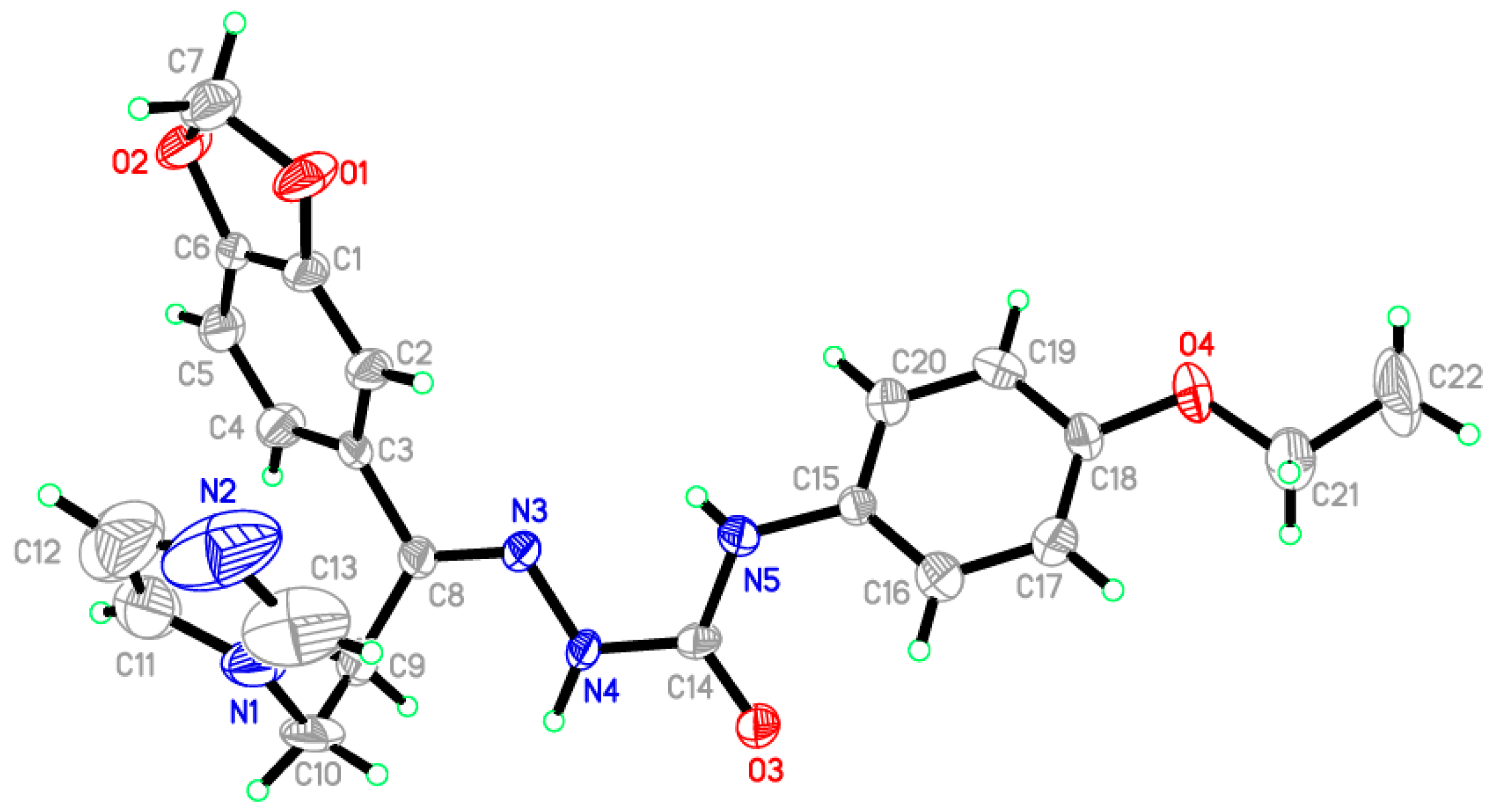 Figure 1
This is an open access article distributed under the
Creative Commons Attribution License
which permits unrestricted use, distribution, and reproduction in any medium, provided the original work is properly cited (CC BY 4.0).

Share & Cite This Article
MDPI and ACS Style
Al-Wabli, R.I.; Al-Ghamdi, A.R.; Ghabbour, H.A.; Al-Agamy, M.H.; Attia, M.I. Synthesis and Spectroscopic Identification of Certain Imidazole-Semicarbazone Conjugates Bearing Benzodioxole Moieties: New Antifungal Agents. Molecules 2019, 24, 200.
Note that from the first issue of 2016, MDPI journals use article numbers instead of page numbers. See further details here.
Related Articles
Comments
[Return to top]