Profile of Phosphatidylserine Modifications under Nitroxidative Stress Conditions Using a Liquid Chromatography-Mass Spectrometry Based Approach
1
Mass Spectrometry Centre, UI QOPNA, Chemistry Department, University of Aveiro, 3810-193 Aveiro, Portugal
2
Chemistry Department, University of Trás-os-Montes e Alto Douro, 5000-801 Vila Real, Portugal
3
Biology Department & CESAM & ECOMARE, University of Aveiro, 3810-193 Aveiro, Portugal
*
Author to whom correspondence should be addressed.
Academic Editors: Nicola Marchetti and Anna Laura Capriotti
Received: 9 November 2018 / Revised: 19 December 2018 / Accepted: 24 December 2018 / Published: 29 December 2018
Abstract
Nitrated lipids have been detected in vitro and in vivo, usually associated with a protective effect. While nitrated fatty acids have been widely studied, few studies reported the nitration and nitroxidation of the phospholipid classes phosphatidylcholine, and phosphatidylethanolamine. However, no information regarding nitrated and nitroxidized phosphatidylserine can be found in the literature. This work aims to identify and characterize the nitrated and nitroxidized derivatives of 1-palmitoyl-2-oleoyl-
sn
-3-glycero-phosphoserine (POPS), obtained after incubation with nitronium tetrafluoroborate, by liquid chromatography (LC) coupled to mass spectrometry (MS) and tandem MS (MS/MS). Several nitrated and nitroxidized products were identified, namely, nitro, nitroso, nitronitroso, and dinitro derivatives, as well as some nitroxidized species such as nitrosohydroxy, nitrohydroxy, and nitrohydroperoxy. The fragmentation pathways identified were structure-dependent and included the loss of HNO and HNO
2
for nitroso and nitro derivatives, respectively. Combined losses of PS polar head group plus HNO or HNO
2
and carboxylate anions of modified fatty acyl chain were also observed. The nitrated POPS also showed antiradical potential, demonstrated by the ability to scavenge the ABTS
●+
and DPPH
●
radicals. Overall, this in vitro model of nitration based on LC-MS/MS provided additional insights into the nitrated and nitroxidized derivatives of PS and their fragmentation fingerprinting. This information is a valuable tool for targeted analysis of these modified PS in complex biological samples, to further explore the new clues on the antioxidant potential of nitrated POPS.
View Full-Text
►

▼

Figures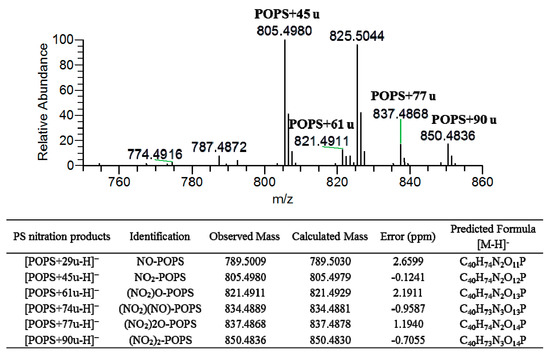 Figure 1
This is an open access article distributed under the
Creative Commons Attribution License
which permits unrestricted use, distribution, and reproduction in any medium, provided the original work is properly cited (CC BY 4.0).

Share & Cite This Article
MDPI and ACS Style
Neves, B.; Domingues, P.; Oliveira, M.M.; Domingues, M.R.; Melo, T. Profile of Phosphatidylserine Modifications under Nitroxidative Stress Conditions Using a Liquid Chromatography-Mass Spectrometry Based Approach. Molecules 2019, 24, 107.
Note that from the first issue of 2016, MDPI journals use article numbers instead of page numbers. See further details here.
Related Articles
Comments
[Return to top]