Removal Properties of Anionic Dye Eosin by Cetyltrimethylammonium Organo-Clays: The Effect of Counter-Ions and Regeneration Studies
1
Community College, Taibah University-Al-Mahd Branch, Al-Mahd 42112, Saudi Arabia
2
Institute of Chemical and Engineering Sciences, 1 Pesek Road, Jurong Island, Singapore 627833, Singapore
3
Department of Chemistry, Taibah University, POBox 30002, Al-Madinah Al-Munawwarah 41147, Saudi Arabia
4
Département de Chimie, Faculté des Sciences Dhar El Mahraz, Université Sidi Mohamed Ben Abdellah, B. P. 1796 (Atlas), Fès 30003, Morocco
*
Author to whom correspondence should be addressed.
Received: 19 August 2018 / Revised: 10 September 2018 / Accepted: 11 September 2018 / Published: 15 September 2018
Abstract
The organo-clays (OCs) were prepared by a cation exchange reaction between surfactant (cetyltrimethylammonium, C16TMA) from different counterions (Bromide, Chloride, and Hydroxide). The effect of the counterions was investigated on the physico-chemical properties of the prepared organo-clays. The highest uptake of organic cations (1.60 mmol/g) was achieved using cetyl trimethylammonium bromide solution and the lowest value (0.93 mmol/g) was obtained after modification with cetyl trimethylammonium hydroxide solution starting from the same initial ratio of mmol/g of clay greater than 2.40. The arrangement of C16TMA cations within the interlayer space was assumed to be perpendicular with a tilt angle of 32° to the plane of clay sheets instead of being parallel to the clay surface using C16TMAOH solution at the same ratio. Different techniques were used to characterize these materials. The thermal stability of these organ-clays was investigated using an in-situ X-ray diffraction (XRD) technique. The decomposition of the surfactant moiety occurred at temperatures higher than 215 °C and was accompanied with a shrinkage of the basal spacing value to 1.42 nm. These materials were applied in the removal of an acid dye "eosin." The removed amount of eosin depended on the initial concentrations and the content of surfactants in the organo-clays. The removal of eosin was found to be an endothermic process. The maximum amount of 90 mg/g was achieved. The preheated treatment temperature of two selected OCs did affect the removal properties of eosin. A progressive reduction was observed at temperatures higher than 200 °C. The regeneration of spent OCs was studied and acceptable removal efficiency was maintained after 4 to 6 cycles depending on the used initial concentrations.
View Full-Text
►

▼

Figures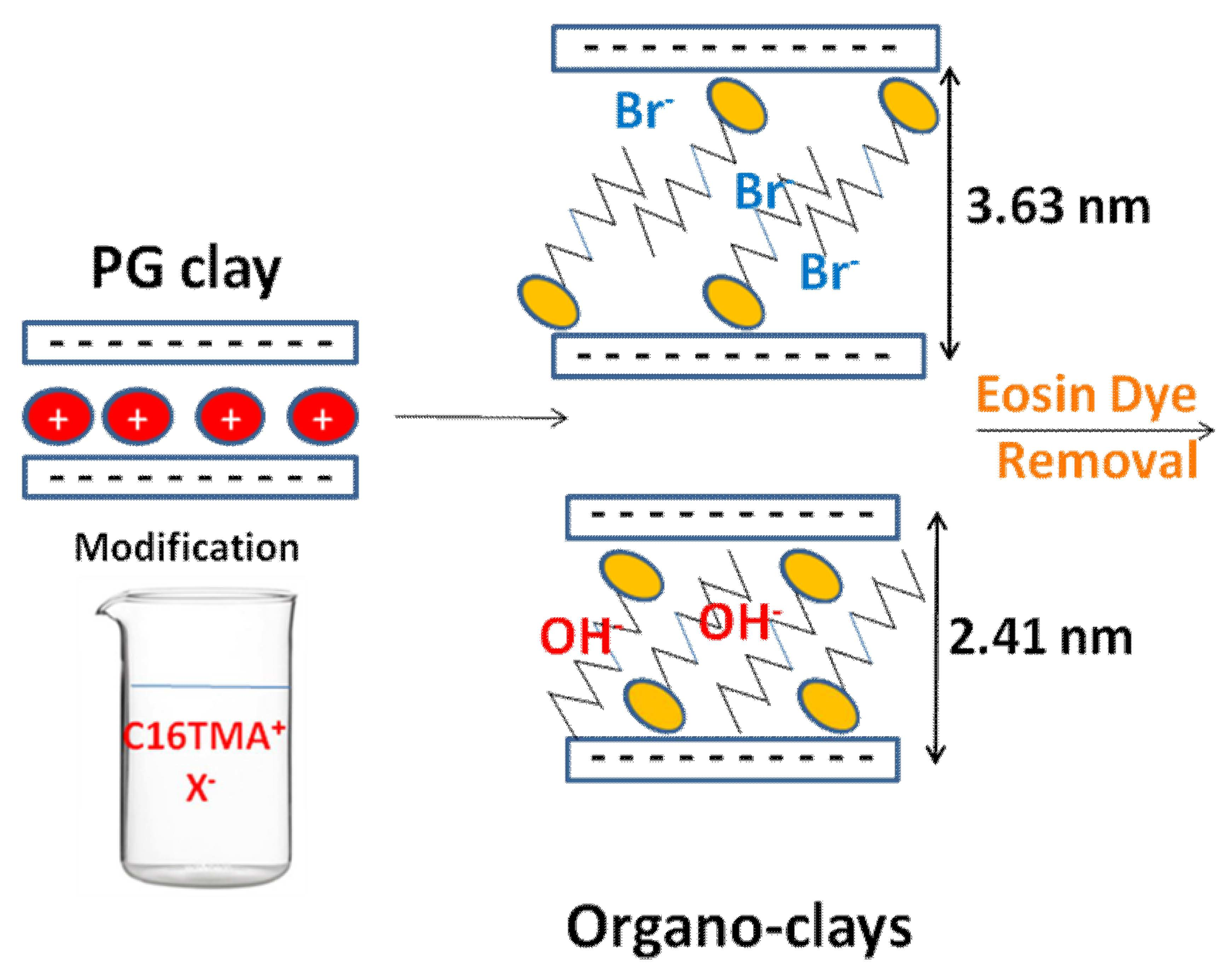 Graphical abstract
This is an open access article distributed under the
Creative Commons Attribution License
which permits unrestricted use, distribution, and reproduction in any medium, provided the original work is properly cited (CC BY 4.0).

Share & Cite This Article
MDPI and ACS Style
Kooli, F.; Liu, Y.; Abboudi, M.; Rakass, S.; Oudghiri Hassani, H.; Ibrahim, S.M.; Al-Faze, R. Removal Properties of Anionic Dye Eosin by Cetyltrimethylammonium Organo-Clays: The Effect of Counter-Ions and Regeneration Studies. Molecules 2018, 23, 2364.
Note that from the first issue of 2016, MDPI journals use article numbers instead of page numbers. See further details here.
Related Articles
Comments
[Return to top]