Resveratrol Suppresses Matrix Metalloproteinase-2 Activation Induced by Lipopolysaccharide in Mouse Osteoblasts via Interactions with AMP-Activated Protein Kinase and Suppressor of Cytokine Signaling 1
1
Department of Endodontics, School of Stomatology, China Medical University, Shenyang 110002, China
2
Liaoning Province Key Laboratory of Oral Diseases, Shenyang 110002, China
*
Author to whom correspondence should be addressed.
Academic Editors: Philippe Jeandet and Christophe Clément
Received: 1 June 2018 / Revised: 4 September 2018 / Accepted: 8 September 2018 / Published: 12 September 2018
Abstract
Porphyromonas endodontalis
(
P. endodontalis
) lipopolysaccharide (LPS) is associated with the progression of bone resorption in periodontal and periapical diseases. Matrix metalloproteinase-2 (MMP-2) expression and activity are elevated in apical periodontitis and have been suggested to participate in bone resorption. Therefore, inhibiting MMP-2 activation may be considered a therapeutic strategy for treating apical periodontitis. Resveratrol is a natural non-flavonoid polyphenol that has been reported to have antioxidant, anti-cancer, and anti-inflammatory properties. However, the capacity of resveratrol to protect osteoblast cells from
P. endodontalis
LPS insults and the mechanism of its inhibitory effects on MMP-2 activation is poorly understood. Here, we demonstrate that cell viability is unchanged when 10 mg L
−1
P. endodontalis
LPS is used, and MMP-2 expression is drastically induced by
P. endodontalis
LPS in a concentration- and time-dependent manner. Twenty micromolar resveratrol did not reduce MC3T3-E1 cell viability. Resveratrol increased AMP-activated protein kinase (AMPK) phosphorylation, and Compound
C
, a specific AMPK inhibitor, partially abolished the resveratrol-mediated phosphorylation of AMPK. In addition, AMPK inhibition blocked the effects of resveratrol on MMP-2 expression and activity in LPS-induced MC3T3-E1 cells. Treatment with resveratrol also induced suppressor of cytokine signaling 1 (SOCS1) expression in MC3T3-E1 cells. SOCS1 siRNA negated the inhibitory effects of resveratrol on LPS-induced MMP-2 production. Additionally, resveratrol-induced SOCS1 upregulation was reduced by treatment with compound
C
. These results demonstrate that AMPK and SOCS1 activation are important signaling events during resveratrol-mediated inhibition of MMP-2 production in response to LPS in MC3T3-E1 cells, and there is crosstalk between AMPK and SOCS1 signaling.
View Full-Text
►

▼

Figures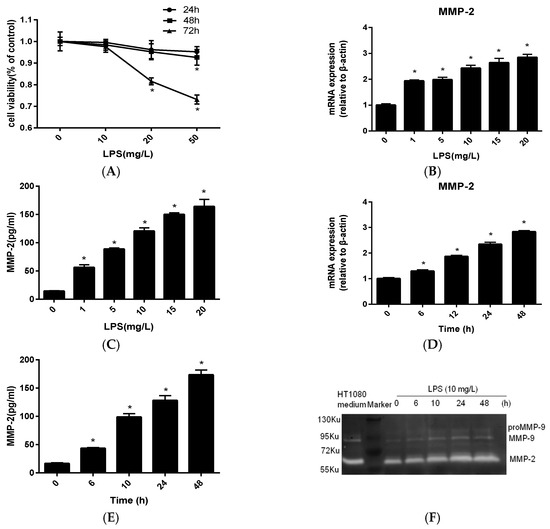 Figure 1
This is an open access article distributed under the
Creative Commons Attribution License
which permits unrestricted use, distribution, and reproduction in any medium, provided the original work is properly cited (CC BY 4.0).

Share & Cite This Article
MDPI and ACS Style
Yu, Y.; Li, X.; Mi, J.; Qu, L.; Yang, D.; Guo, J.; Qiu, L. Resveratrol Suppresses Matrix Metalloproteinase-2 Activation Induced by Lipopolysaccharide in Mouse Osteoblasts via Interactions with AMP-Activated Protein Kinase and Suppressor of Cytokine Signaling 1. Molecules 2018, 23, 2327.
Note that from the first issue of 2016, MDPI journals use article numbers instead of page numbers. See further details here.
Related Articles
Comments
[Return to top]