Open Access This article is
freely available
re-usable
Review
Recent Advances in Mitochondria-Targeted Gene Delivery
1
Department of Chemical and Biological Engineering, Sookmyung Women's University, Seoul 04310, Korea
2
Institute of Advanced Materials and Systems, Sookmyung Women's University, Seoul 04310, Korea
3
Research Institute of ICT Convergence, Sookmyung Women's University, Seoul 04310, Korea
*
Author to whom correspondence should be addressed.
Received: 24 August 2018 / Accepted: 8 September 2018 / Published: 11 September 2018
Abstract
:
Mitochondria are the energy-producing organelles of cells. Mitochondrial dysfunctions link to various syndromes and diseases including myoclonic epilepsy and ragged-red fiber disease (MERRF), Leigh syndrome (LS), and Leber hereditary optic neuropathy (LHON). Primary mitochondrial diseases often result from mutations of mitochondrial genomes and nuclear genes that encode the mitochondrial components. However, complete intracellular correction of the mutated genetic parts relevant to mitochondrial structures and functions is technically challenging. Instead, there have been diverse attempts to provide corrected genetic materials with cells. In this review, we discuss recent novel physical, chemical and biological strategies, and methods to introduce genetic cargos into mitochondria of eukaryotic cells. Effective mitochondria-targeting gene delivery systems can reverse multiple mitochondrial disorders by enabling cells to produce functional mitochondrial components.
Keywords:
mitochondrial gene delivery; mitochondrial disease; mitochondrial genomes; heteroplasmy; mitochondrial matrix
1. Introduction
Mitochondria are intracellular organelles that produce adenosine triphosphate (ATP), which is a usable form of energy for cells. In eukaryotes, cells convert nutrients to ATP through oxidative phosphorylation that is carried out by the electron transport chain complex in the membranes of mitochondria. In addition, mitochondria take part in the regulation of cell growth and synthesis of multiple biological molecules such as pyrimidine, heme, neurotransmitters, and hormones. Mitochondrial proteins play key roles in these cellular processes and they are encoded by mitochondrial DNA (mtDNA) or nuclear DNA (nDNA). In human cells, mitochondria are present in a wide range of numbers from a few hundred to about one thousand depending on their tissue origins and one mitochondrion contains two to eight copies of mtDNA in the mitochondrial matrix [
1
,
2
,
3
]. mtDNA encodes 13 mRNAs that are used to produce multiple protein components for the electron transport chain complex (
Figure 1
). nDNA encodes genes for not only the remaining components of the complex but also proteins involved in various mitochondrial functions.
Mutations in mtDNA or parts of nDNA alter the sequences of mitochondrial proteins, which ultimately causes mitochondrial dysfunction. Neurodegeneration, seizures, myopathy, cardiomyopathy, deafness, optic atrophy, and developmental delays are common symptoms of mitochondrial disorders. Multiple therapeutic strategies to treat mitochondrial dysfunctions that were caused by mtDNA mutations, in particular, have been based on the consideration of mtDNA heteroplasmy. Mitochondria normally contain more than one type of genome including possibly the wild type mtDNA and mutant variants in some cases. Therefore, a small percentage of mtDNA with mutations around multiple copies of wild type mtDNA is not sufficient to lead to a disease phenotype. However, if the percentage is over the threshold (typically >80%), mitochondrial disease occurs [
4
]. Based on this heteroplasmic feature of mtDNA, it might be possible to recover mitochondrial functions by supplementing the impaired genes above the clinical threshold with the corresponding normal genes in gene therapy.
Development of gene delivery systems that can pass through the mitochondrial double membranes is a key to the success of mitochondrial gene therapy. Mitochondria are roughly structured by two phospholipid bilayers including the mitochondrial outer membrane and the inner membrane, which are separated by the intermembrane space and enclose the mitochondrial matrix. Small molecules such as ions, ATP, and proteins smaller than 10 kDa can freely diffuse across the channels of the outer membrane. The mitochondrial inner membrane, however, forms a barrier that selectively transports molecules into the mitochondrial matrix. The mitochondrial inner membrane is composed of cardiolipin, which has four alkyl tails, which render the membrane impermeable to hydrophilic molecules. Outflow or inflow of molecules related to mitochondrial functions is only enabled with the help of various proteins such as transporters and translocases.
Delivery of DNA molecules encoding the corrected versions of genes into mitochondria is a promising strategy to treat mitochondrial disease. Due to the impermeability of the mitochondrial inner membrane to hydrophilic molecules, however, passage of DNA through the mitochondrial double membrane remains a challenge. In this review, we summarize various recent physical, chemical, and biological approaches to transfer DNA into mitochondria and discuss the advantages and limitations for these approaches (
Table 1
and
Figure 2
). Methods for enhancing the expression of the cargo DNA are also introduced. At last, we highlight the applications of these strategies to treat mitochondrial diseases.
2. Physical Approaches
Physical gene delivery systems can provide a simple and direct way to transfer exogenous genes into cells because they penetrate the cell membrane without the need for carrier molecules to enhance accessibility to the cells or intracellular organelles. One such physical method known as microinjection uses a fine glass micropipette or needle to directly introduce liquids containing genetic materials into cells. Another example known as particle bombardment uses helium gas flow at a high velocity to propel DNA-coated micropellets into target cells. In addition, pulse electric fields and ultrasonic sound waves have been used in electroporation and sonoporation, respectively, to penetrate the cell membrane. Recently, these physical approaches have been applied for exogenous gene delivery specifically into the mitochondria.
Using hydrodynamic limb vein injection, Yasuzaki et al. demonstrated that naked plasmid DNA could be delivered into rat liver mitochondria in vivo [
5
]. Hydrodynamic injection uses hydrodynamic pressure generated by injecting a large volume of fluid into a blood vessel to permeabilize the capillary endothelium and induce pores in the plasma membranes of surrounding cells [
29
]. They injected a solution containing plasmid DNA into the distal vein of limbs in anesthetized rats [
5
,
6
]. As a result, they verified mitochondrial delivery of the plasmid DNA by quantifying it in the mitochondria-enriched fraction based on quantitative polymerase chain reaction (PCR).
Biolistic technology, which is another physical method, introduces DNA into the plasma membrane of target cells by coating it onto heavy metal particles and moving these complexes at high speed. Gene delivery to mitochondria using biolistic technology was carried out in
Saccharomyces cerevisiae
[
8
]. Since mitochondrial genetic systems of single-cell eukaryotes are well known, methods to introduce DNA into mitochondria in single-cell eukaryotes can provide a useful reference for multi-cell eukaryote systems. First, DNA was precipitated onto tungsten particles (<1 µm), which were then penetrated into the plasma membrane by high-pressure helium gas-driven acceleration. After bombardment, the DNA was randomly imported into mitochondria and cells with transformed mitochondria were subsequently selected. Biolistic gene delivery is advantageous in that it can be used regardless of the cell type and non-toxic metal particles are available. However, to date, there have been few reports of its use for mitochondrial gene delivery in mammalian cells.
In contrast to chemical and biological methods, physical methods do not require carrier molecules (
Table 1
). Therefore, they do not introduce any toxicity associated with these molecules. However, physically imported DNA is evenly distributed throughout the cytoplasm and it enters the mitochondrial matrix randomly, which makes it difficult to deliver DNA specifically to the mitochondria. Another limitation of physical methods is that the target cells can be damaged in the process of penetrating the cell membrane (
Table 1
).
5. Combinatorial Approaches
7. Applications as Disease Therapies
8. Concluding Remarks
In contrast to chromosomes in the nucleus, mitochondria possess many copies of their genome and, thus, only a small percentage of mutated alleles do not cause mitochondrial disease. This feature can be exploited to treat mitochondrial diseases caused by genetic mutations in mtDNA by complementing essential genes. The major challenge of gene delivery is passage through the mitochondrial double membranes to transfer cargo DNA into the mitochondrial matrix (
Figure 2
). Based on the structure of mitochondria, cationic amphiphiles linked to DNA binding or encapsulating motifs have been used as carriers for transgene delivery. Another challenge is the stable expression of the transgene to produce functional proteins to restore mitochondrial activity. To date, few studies have reported successful delivery of genetic cargo and transgene expression in cells or animals with mitochondrial disease. Various approaches have been used to deliver wild type genes into the mitochondrial matrix and have been improved steadily to overcome the challenges including passage through the mitochondrial membranes, low and unstable transgene expression, or cytotoxicity derived from carrier molecules (
Table 1
). Most studies reviewed here provide targeting strategies to transfer genetic cargo into mitochondria with ongoing improvements. However, compared to nuclear gene delivery methods, mitochondrial gene delivery methods are currently far from being clinically applicable. We think that new approaches and trials would be required to effectively deliver parts of or the entire wild-type mitochondrial genome to cells of interest in order to achieve long-term expression of transgenes. Additionally, more disease models need to be developed to cover the wide range of genetic mutations in mitochondria.
Funding
This work was supported by the Medical Research Center Program (No. 2011-0030074) through the National Research Foundation of Korea (NRF) grant funded by the Korea government (MSIP).
Conflicts of Interest
The authors declare no conflict of interest.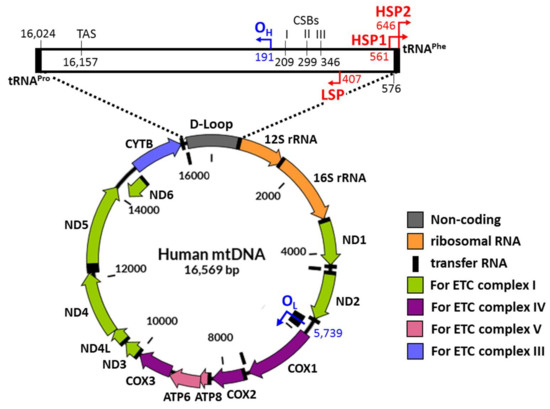 Figure 1. Schematic diagram of human mitochondrial genomic DNA. Mitochondrial DNA is 16,569 bp long. mtDNA encodes 13 mRNAs required to produce components for the electron transport chain complex and 2 rRNAs and 22 tRNAs for mitochondrial translation. D-Loop is the major non-coding region that contains the promoter components called HSP1, HSP2, and LSP. The replication origins of heavy and light strands known as OH and OL control the mtDNA replications. Compared with OH, locating within the D-Loop, OL is located between the region encoding three tRNAs and the region encoding two other tRNAs. The names of the protein-coding genes are shown in the diagram. LSP = light strand promoter. HSP1 and HSP2 = heavy strand promoters. CSB = conserved sequence block. TAS = termination-associated sequence.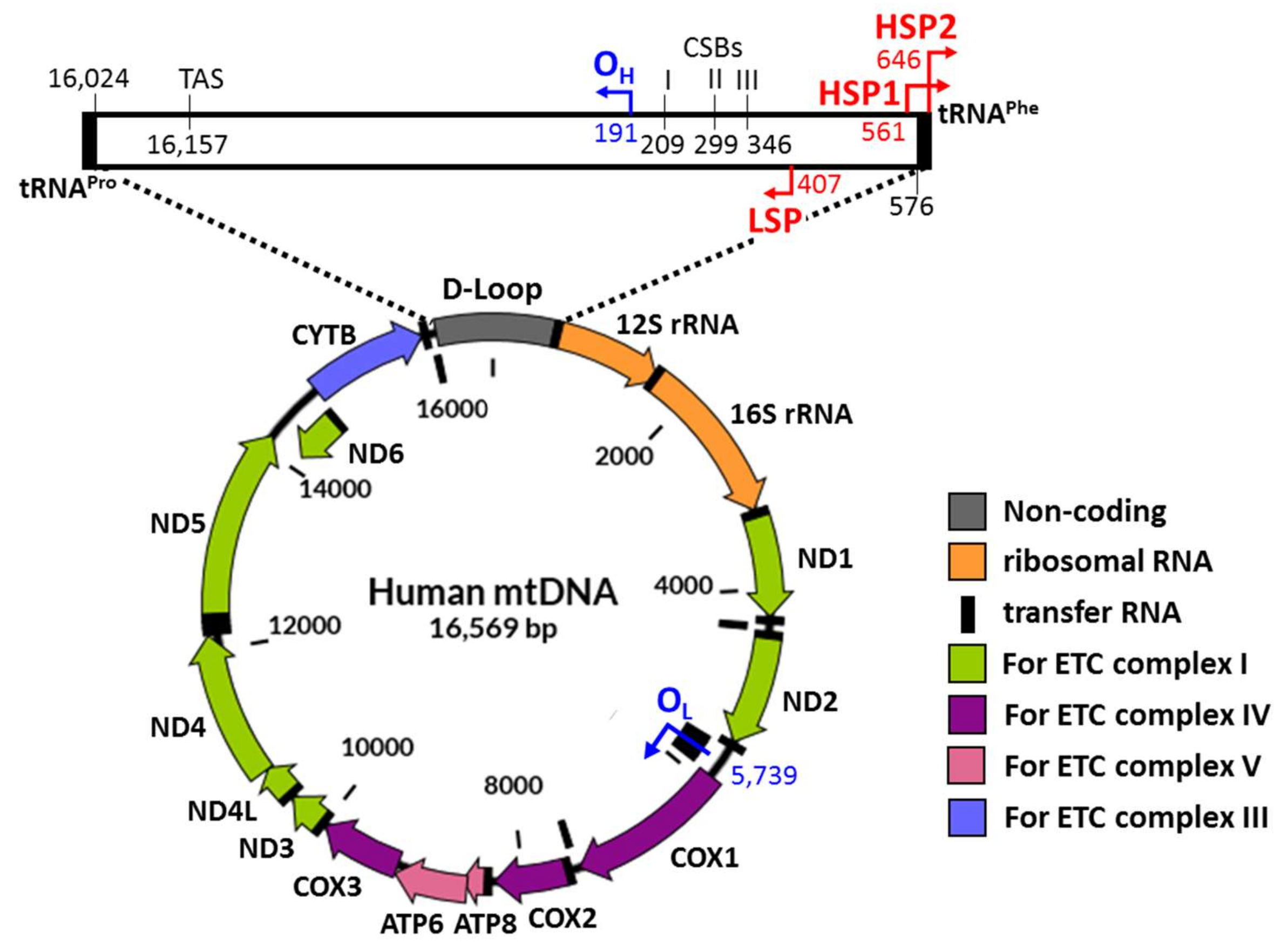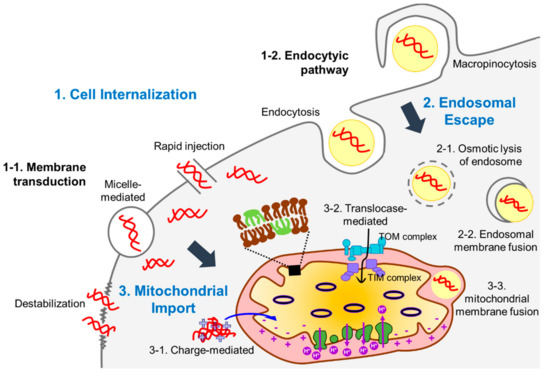 Figure 2. Barriers against delivery of exogenous DNA into mitochondrial matrix. There are three main barriers (words in blue) that need to be overcome to deliver DNA into mitochondria: the cell membrane (against cell internalization, (1), the endosomes (against endosome escape, (2), and mitochondrial double membranes (against mitochondrial import, (3). The hydrophilic feature of DNA molecules links to their low cell membrane permeability. Various strategies have been applied to enhance the passage of DNA molecules through the cell membrane. Physical, chemical, and biological methods enhance the DNA molecule internalization into cells by generating pores in the plasma membrane (via membrane transduction) or depending on the cellular endocytic pathways. In the latter case, cargo DNA needs to escape from endosomes before being degraded by hydrolytic enzymes in the late endosomes or lysosomes. Multiple carrier molecules can facilitate endosomal escape of DNA molecules often via osmotic lysis of endosomes. Liposome-based carriers have fusogenic activity with an endosomal membrane to enhance the release of DNA molecules from endosomes to the cytoplasm. DNA or carrier molecule-DNA complex in the cytoplasm needs to pass through mitochondrial double membranes to reach the mitochondrial matrix, which is the final destination. Commonly, cationic molecules are used as carrier molecules to facilitate the transfer of DNA molecules into the matrix because the matrix is negatively charged by the actions of an electron transport chain complex. In addition, mitochondrial targeting signal peptides that can be recognized by receptors of translocases in the mitochondrial membranes are often linked to carrier molecules. Like fusion with endosomal membranes, liposome-based carrier molecules can be imported into the mitochondrial matrix through membrane fusion when their lipid composition is properly designed.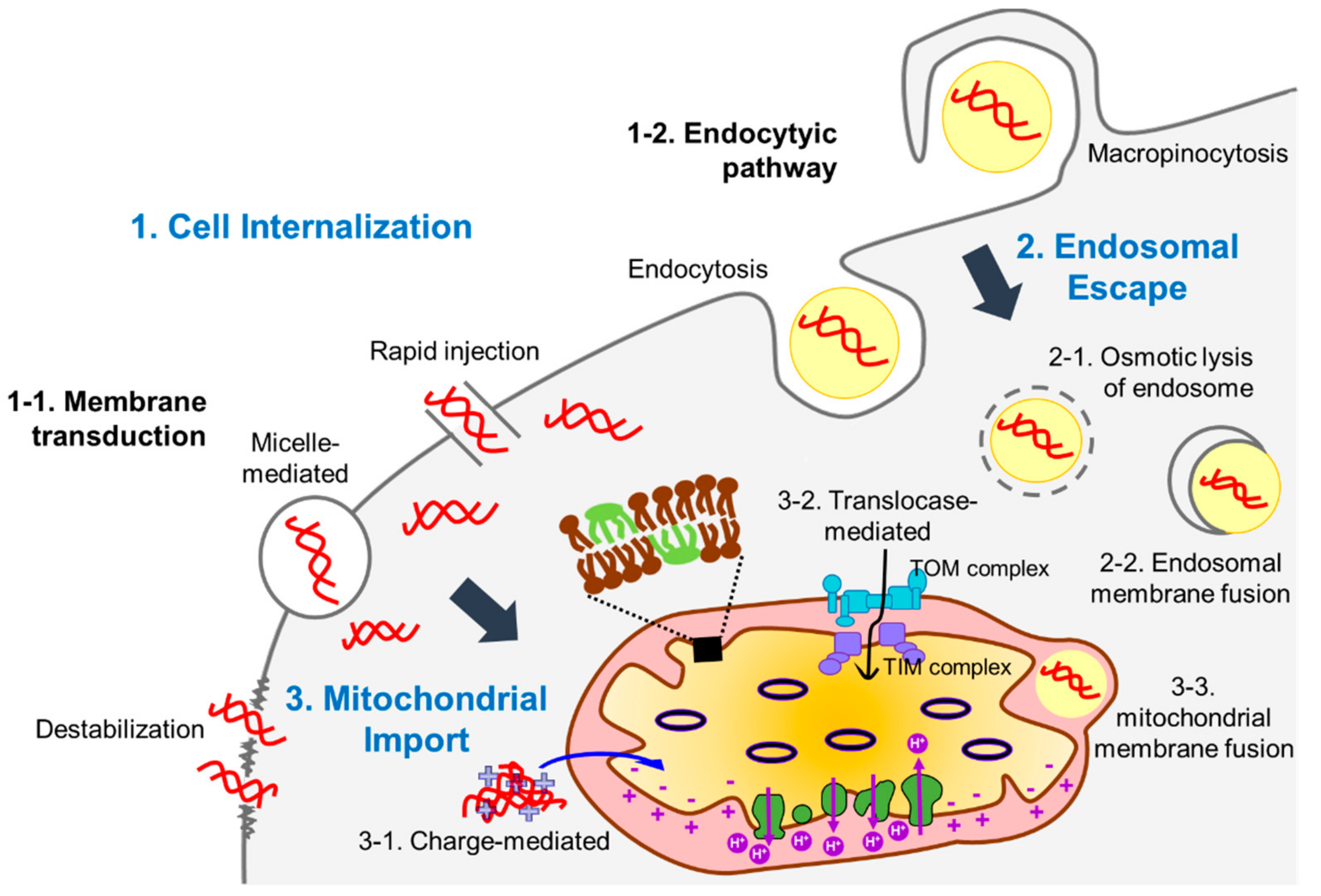 Classification
Key Acting Component
Delivery-Target Systems
Strategy
Advantages
Limitations
Ref.
Physical
Hydrodynamic injection
Rat, Mice
Cell penetration by hydrodynamic force
Simplicity
No mitochondria-targeting
[5,6,7]
Biolistics
Yeast
Cell penetration by bombardment
Cell type-independent
Potential cell damage, No mitochondria-targeting
[8]
Chemical
Gemini surfactants
HeLa cell
Formation of cationic micelle-like structure with DNA
Works in small dose
Weak specificity to mitochondria
[9]
Rhodamine 123
Normal human dermal fibroblast (NHDF) adult donor cell
Precipitation of DNA using lipophilic molecule with delocalized positive charge
Can be traced due to fluorescence
Expression from transferred DNA has not been confirmed
[10,11]
DQAsomes
BT 20 cell
Transport of DNA by ampiphilic and cationic lipid-based vesicle
High specificity to mitochondria
Low transfection efficiency, Cytotoxicity
[12,13,14]
DQA80s
Primary human dermal fibroblasts, HeLa cell
Lipid incorporation into DQAsomes
Improved transfection efficiency
Delivery of DNA around mitochondria not into the matrix
[15]
MITO-Porter
HeLa cell, Rat
Membrane fusion by lipid-based nano carrier
Easy surface modification
[16,17,18,19]
R8-MITO-Porter
Rat
Enhancing cellular uptake by functionalization with cationic peptide
High fusogenic activity with mitochondrial outer membrane
Low fusogenic activity with mitochondrial inner membrane, Moderate cytotoxicity
[16,17]
KALA-MITO-Porter
HeLa cell, Mice
Enhancing cellular uptake by functionalization with membrane destabilizing peptide
Improved transfection efficiency
High cytotoxicity
[19,20]
STPP-liposome
4T1 cell, Mice
Conjugation of stearyl residue to lipophilic and cationic TPP for ampiphilic property
Selective accumulation in mitochondria
Cytotoxicity
[21]
TPP-PEG-PE liposome
HeLa, 4T1 cell, Mice
Substitution of stearyl moiety with biocompatible PEG-PE polymer
Decreased cytotoxicity
Transgene expression not confirmed
[22]
TPP-PAMAM dendrimer
HeLa, MCF-7, 4T1, NIH 3T3 cell
DNA condensation by high positive surface charge, endosomal escape by free tertiary amine groups
Efficient endosomal escape and high serum resistance
Transgene expression not confirmed
[23]
Biological
MTS-PNA
Myoblasts, Fibroblasts, NT 2, IMR 32, HeLa, HepG2, C2C12 cell
MTS-guided localization of DNA hybridized with PNA to mitochondria
High specificity to mitochondria via actions of translocase
Only can transfer short nucleic acids
[24,25]
MTS-KH peptide
HEK 293 cell
Mitochondrial localization of MTS-conjugated DNA-binding peptide and exogenous DNA complex
Can transfer large DNA with high specificity to mitochondria
[26]
MTS-AAV
Neuronal G11778A NT 2 cybrid, HEK 293T cell, Mice
Mitochondrial localization of DNA by inserting MTS into the AAV capsid
Proven effects of transgene expression
Inability to carry large DNA
[27,28]

© 2018 by the authors. Licensee MDPI, Basel, Switzerland. This article is an open access article distributed under the terms and conditions of the Creative Commons Attribution (CC BY) license (http://creativecommons.org/licenses/by/4.0/).