An Ab Initio Investigation of the Geometries and Binding Strengths of Tetrel-, Pnictogen-, and Chalcogen-Bonded Complexes of CO2, N2O, and CS2 with Simple Lewis Bases: Some Generalizations
1
Instituto de Química Médica (IQM-CSIC), Juan de la Cierva, 3, E-28006 Madrid, Spain
2
School of Chemistry, University of Bristol, Cantock's Close, Bristol BS8 1TS, UK
*
Authors to whom correspondence should be addressed.
Received: 20 August 2018 / Revised: 29 August 2018 / Accepted: 30 August 2018 / Published: 4 September 2018
Abstract
Geometries, equilibrium dissociation energies (
D
e
), and intermolecular stretching, quadratic force constants (
k
σ
) are presented for the complexes B⋯CO
2
, B⋯N
2
O, and B⋯CS
2
, where B is one of the following Lewis bases: CO, HCCH, H
2
S, HCN, H
2
O, PH
3
, and NH
3
. The geometries and force constants were calculated at the CCSD(T)/aug-cc-pVTZ level of theory, while generation of
D
e
employed the CCSD(T)/CBS complete basis-set extrapolation. The non-covalent, intermolecular bond in the B⋯CO
2
complexes involves the interaction of the electrophilic region around the C atom of CO
2
(as revealed by the molecular electrostatic surface potential (MESP) of CO
2
) with non-bonding or π-bonding electron pairs of B. The conclusions for the B⋯N
2
O series are similar, but with small geometrical distortions that can be rationalized in terms of secondary interactions. The B⋯CS
2
series exhibits a different type of geometry that can be interpreted in terms of the interaction of the electrophilic region near one of the S atoms and centered on the C
∞
axis of CS
2
(as revealed by the MESP) with the n-pairs or π-pairs of B. The tetrel, pnictogen, and chalcogen bonds so established in B⋯CO
2
, B⋯N
2
O, and B⋯CS
2
, respectively, are rationalized in terms of some simple, electrostatically based rules previously enunciated for hydrogen- and halogen-bonded complexes, B⋯HX and B⋯XY. It is also shown that the dissociation energy
D
e
is directly proportional to the force constant
k
σ
, with a constant of proportionality identical within experimental error to that found previously for many B⋯HX and B⋯XY complexes.
View Full-Text
►

▼

Figures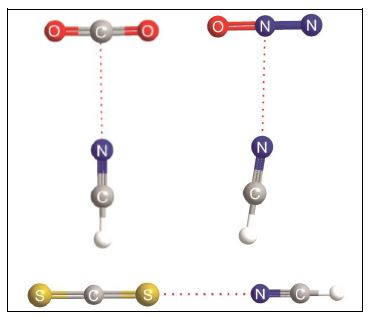 Graphical abstract
This is an open access article distributed under the
Creative Commons Attribution License
which permits unrestricted use, distribution, and reproduction in any medium, provided the original work is properly cited (CC BY 4.0).

Share & Cite This Article
MDPI and ACS Style
Alkorta, I.; Legon, A.C. An Ab Initio Investigation of the Geometries and Binding Strengths of Tetrel-, Pnictogen-, and Chalcogen-Bonded Complexes of CO2, N2O, and CS2 with Simple Lewis Bases: Some Generalizations. Molecules 2018, 23, 2250.
Note that from the first issue of 2016, MDPI journals use article numbers instead of page numbers. See further details here.
Related Articles
Comments
[Return to top]