Excited State Structural Evolution of a GFP Single-Site Mutant Tracked by Tunable Femtosecond-Stimulated Raman Spectroscopy
1
Department of Chemistry, Oregon State University, Corvallis, OR 97331, USA
2
Institute of Molecular Biology and Department of Physics, University of Oregon, Eugene, OR 97403, USA
*
Author to whom correspondence should be addressed.
Received: 26 July 2018 / Revised: 29 August 2018 / Accepted: 31 August 2018 / Published: 1 September 2018
Abstract
Tracking vibrational motions during a photochemical or photophysical process has gained momentum, due to its sensitivity to the progression of reaction and change of environment. In this work, we implemented an advanced ultrafast vibrational technique, femtosecond-stimulated Raman spectroscopy (FSRS), to monitor the excited state structural evolution of an engineered green fluorescent protein (GFP) single-site mutant S205V. This mutation alters the original excited state proton transfer (ESPT) chain. By strategically tuning the Raman pump to different wavelengths (i.e., 801, 539, and 504 nm) to achieve pre-resonance with transient excited state electronic bands, the characteristic Raman modes of the excited protonated (A*) chromophore species and intermediate deprotonated (I*) species can be selectively monitored. The inhomogeneous distribution/population of A* species go through ESPT with a similar ~300 ps time constant, confirming that bridging a water molecule to protein residue T203 in the ESPT chain is the rate-limiting step. Some A* species undergo vibrational cooling through high-frequency motions on the ~190 ps time scale. At early times, a portion of the largely protonated A* species could also undergo vibrational cooling or return to the ground state with a ~80 ps time constant. On the photoproduct side, a ~1330 cm
−1
delocalized motion is observed, with dispersive line shapes in both the Stokes and anti-Stokes FSRS with a pre-resonance Raman pump, which indicates strong vibronic coupling, as the mode could facilitate the I* species to reach a relatively stable state (e.g., the main fluorescent state) after conversion from A*. Our findings disentangle the contributions of various vibrational motions active during the ESPT reaction, and offer new structural dynamics insights into the fluorescence mechanisms of engineered GFPs and other analogous autofluorescent proteins.
View Full-Text
►

▼

Figures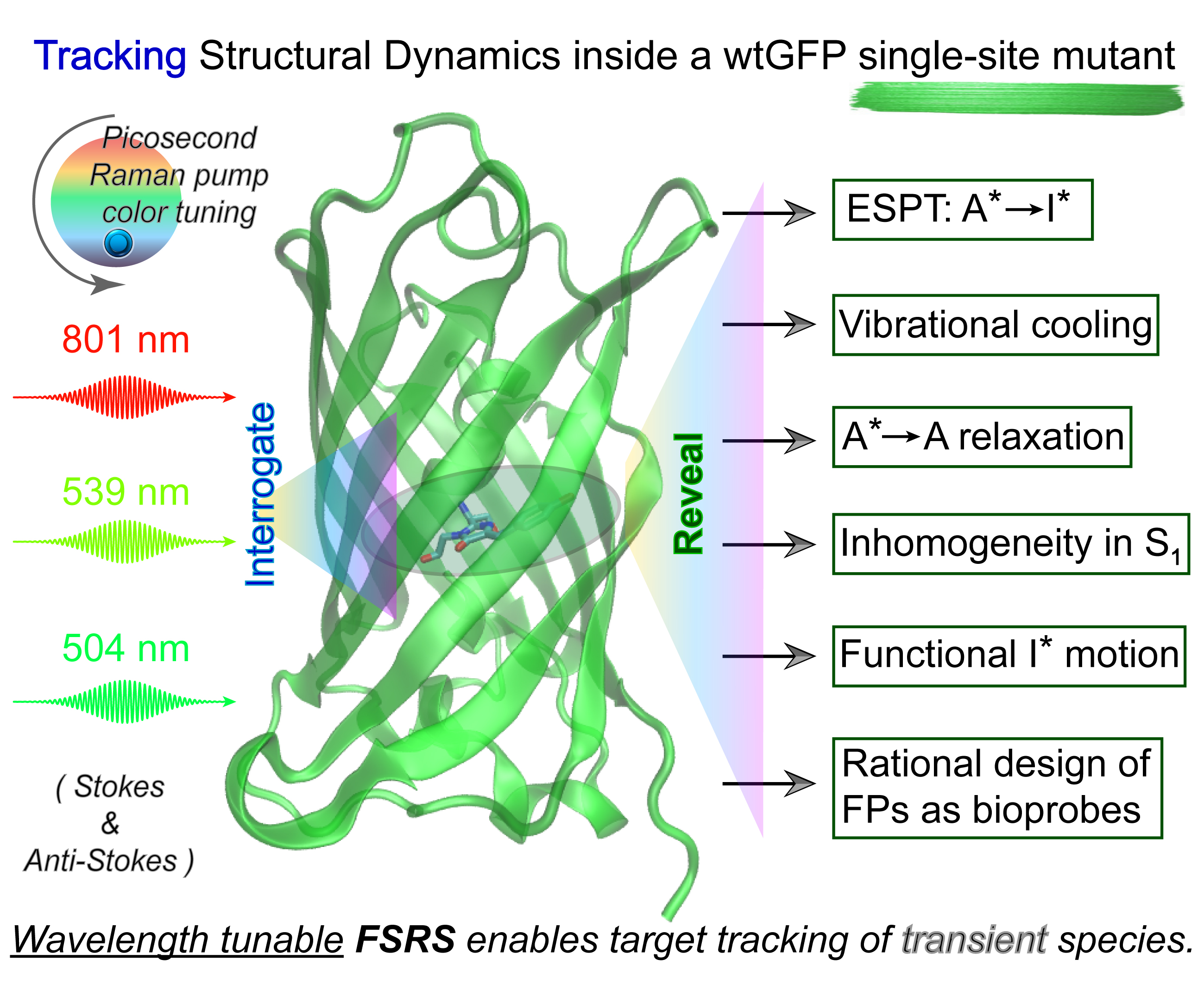 Graphical abstract
This is an open access article distributed under the
Creative Commons Attribution License
which permits unrestricted use, distribution, and reproduction in any medium, provided the original work is properly cited (CC BY 4.0).

Share & Cite This Article
MDPI and ACS Style
Tang, L.; Zhu, L.; Taylor, M.A.; Wang, Y.; Remington, S.J.; Fang, C. Excited State Structural Evolution of a GFP Single-Site Mutant Tracked by Tunable Femtosecond-Stimulated Raman Spectroscopy. Molecules 2018, 23, 2226.
Note that from the first issue of 2016, MDPI journals use article numbers instead of page numbers. See further details here.
Related Articles
Comments
[Return to top]