Aqueous-Methanol Extracts of Orange-Fleshed Sweet Potato (
Ipomoea

batatas

) Ameliorate Oxidative Stress and Modulate Type 2 Diabetes Associated Genes in Insulin Resistant C2C12 Cells

1

Department of Biochemistry, North West University, Private Bag X2046, Mmabatho 2735, South Africa

2

Department of Crop Science, North-West University, Private Bag X2046, Mmabatho 2735, South Africa

*

Author to whom correspondence should be addressed.

Received: 17 June 2018 / Revised: 6 August 2018 / Accepted: 8 August 2018 / Published: 17 August 2018
Abstract
Edible plants such as sweet potato are sources of natural antioxidants that can be exploited in the management and treatment of insulin resistance. This present study investigated the effects of the extracts of an orange-fleshed sweet potato on oxidative stress biomarkers (glutathione status and lipid peroxidation) and activities of antioxidant enzymes (catalase, CAT and glutathione peroxidase, GPx) in palmitate-induced insulin resistant C2C12 cells. The intracellular antioxidant status of the cells was also measured using Ferric reducing antioxidant power (FRAP) and Trolox equivalent antioxidant capacity (TEAC) assays. Furthermore, this study determined the effect of the extracts on the regulation of some type 2 diabetes associated genes; glucose transporter 4 (
glut4
), Nuclear respiratory factor 1 (
nrf1
), Myocyte enhanced factor 2A (
mef2a
), Carnitine palmitoyltransferase 1 (
cpt1
) and Acetyl-CoA carboxylase 2 (
acc2
). The results showed a significant (
p
< 0.05) increase in intracellular GSH level, a significant reduction in the level of malonaldehyde and a significant improvement in the intracellular antioxidant status upon treatment of the insulin resistant cells with the extracts. The extracts were also able to positively modulate the expression levels of the type 2 diabetes associated genes. On the other hand, HPLC-MS analysis of the extracts showed the presence of polyphenols which could have contributed to the bioactivity of the extracts through their antioxidant effects.
View Full-Text
►

▼

Figures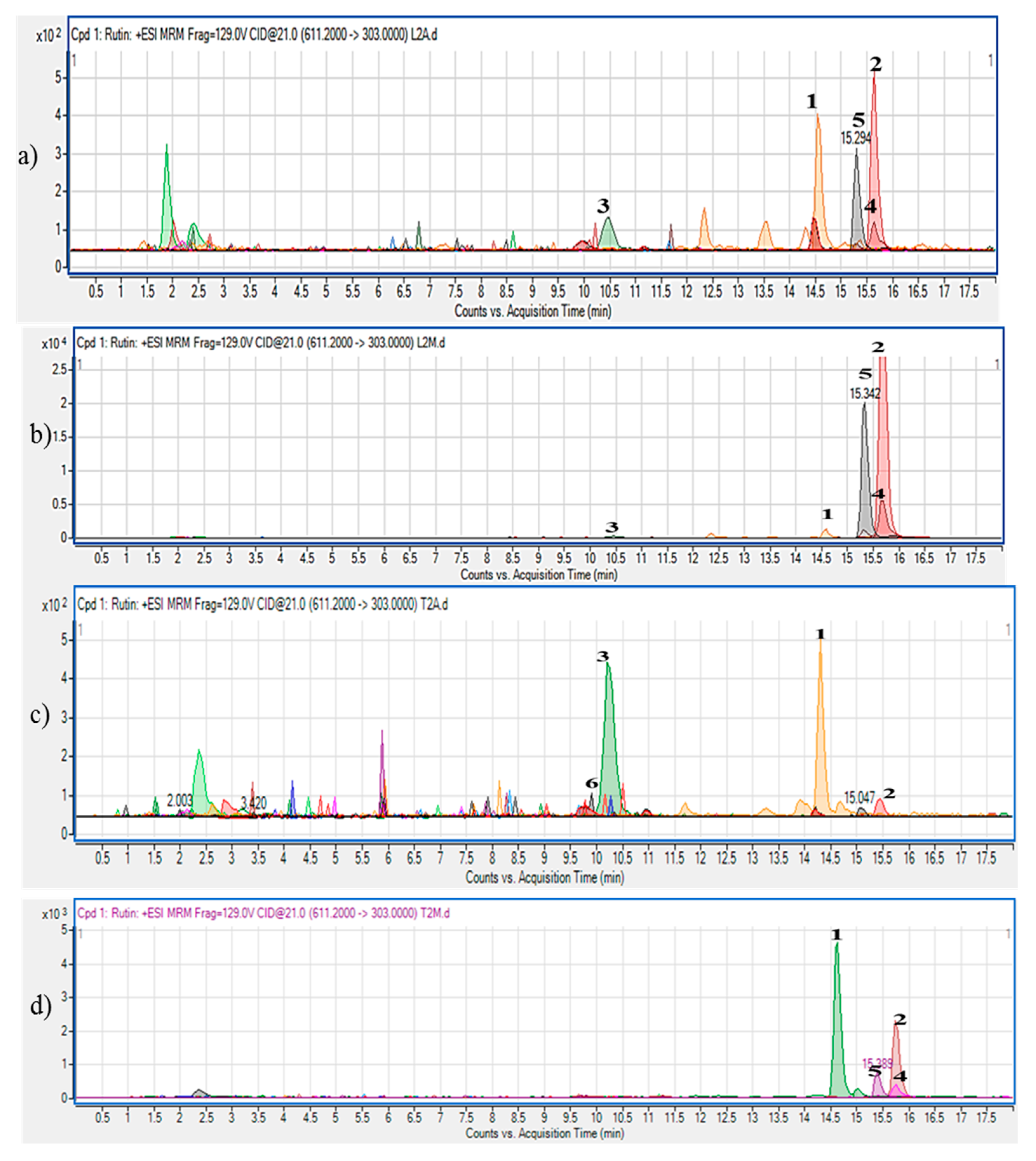 Figure 1
This is an open access article distributed under the
Creative Commons Attribution License
which permits unrestricted use, distribution, and reproduction in any medium, provided the original work is properly cited (CC BY 4.0).

Share & Cite This Article
MDPI and ACS Style
Ayeleso, T.B.; Ramachela, K.; Mukwevho, E. Aqueous-Methanol Extracts of Orange-Fleshed Sweet Potato (Ipomoea batatas) Ameliorate Oxidative Stress and Modulate Type 2 Diabetes Associated Genes in Insulin Resistant C2C12 Cells. Molecules 2018, 23, 2058.
Note that from the first issue of 2016, MDPI journals use article numbers instead of page numbers. See further details here.
Related Articles
Comments
[Return to top]