Synthesis and Cytotoxicity Studies of Novel NHC*-Gold(I) Complexes Derived from Lepidiline A
1
School of Chemistry, University College Dublin, Belfield, Dublin 4, Ireland
2
Organic Chemistry Laboratory, University of Bayreuth, Universitätsstr. 30, 95440 Bayreuth, Germany
3
Irish Centre of High-End Computing, Grand Canal Quay, Dublin 2, Ireland
*
Author to whom correspondence should be addressed.
Received: 3 August 2018 / Revised: 7 August 2018 / Accepted: 13 August 2018 / Published: 14 August 2018
Abstract
Ten novel
N
-heterocyclic carbene gold(I) complexes derived from lepidiline A (1,3-dibenzyl-4,5-dimethylimidazolium chloride) are reported here with full characterisation and biological testing. (1,3-Dibenzyl-4,5-diphenylimidazol-2-ylidene)gold(I) chloride (NHC*-AuCl) (
1
) was modified by substituting the chloride for the following: cyanide (
2
), dithiocarbamates (
3
–
5
),
p
-mercaptobenzoate derivatives (
12
–
14
) and
N
-acetyl-
l
-cysteine derivatives (
15
–
17
). All complexes were synthesised in good yields of 57–78%. Complexes
2
,
12
,
13
, and
14
were further characterised by X-ray crystallography. Initial evaluation of the biological activity was conducted on all ten complexes against the multidrug resistant MCF-7
topo
breast cancer, HCT-116
wt
, and p53 knockout mutant HCT-116
−/−
colon carcinoma cell lines. Across the three cell lines tested, mainly single-digit micromolar IC
50
values were observed. Nanomolar activity was exhibited on the MCF-7
topo
cell line with
3
displaying an IC
50
of 0.28 μM ± 0.03 μM. Complexes incorporating a Au–S bond resulted in higher cytotoxic activity when compared to complexes
1
and
2
. Theoretical calculations, carried out at the MN15/6–311++G(2df,p) computational level, show that NHC* is the more favourable ligand for Au(I)-Cl when compared to PPh
3
.
View Full-Text
►

▼

Figures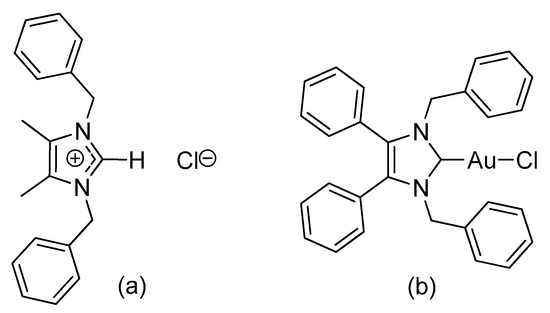 Figure 1
This is an open access article distributed under the
Creative Commons Attribution License
which permits unrestricted use, distribution, and reproduction in any medium, provided the original work is properly cited (CC BY 4.0).

Share & Cite This Article
MDPI and ACS Style
Curran, D.; Dada, O.; Müller-Bunz, H.; Rothemund, M.; Sánchez-Sanz, G.; Schobert, R.; Zhu, X.; Tacke, M. Synthesis and Cytotoxicity Studies of Novel NHC*-Gold(I) Complexes Derived from Lepidiline A. Molecules 2018, 23, 2031.
Note that from the first issue of 2016, MDPI journals use article numbers instead of page numbers. See further details here.
Related Articles
Comments
[Return to top]