Open Access This article is
freely available
re-usable
Review
Antiulcer Agents: From Plant Extracts to Phytochemicals in Healing Promotion
1
Department of Medical Parasitology, Zabol University of Medical Sciences, Zabol 61663335, Iran
2
Department of Biochemistry, Faculty of Science, University of Yaounde I, Yaounde Po.Box 812, Cameroon
3
Department of Pharmaceutical Technology, Avicenna Tajik State Medical University, Rudaki 139, Dushanbe 734003, Tajikistan
4
Nutrition and Dietetics Department, School of Pharmacy, University of Concepción, Concepción 4070386, VIII–Bio Bio Region, Chile
5
Functional Foods, Nutraceuticals and Phytomedicine Unit, Department of Biochemistry, Federal University of Technology, Akure 340001, Nigeria
6
Institute of Pharmacology, Clinical Pharmacology and Toxicology, Medical Faculty, University of Belgrade, Belgrade 11129, Serbia
7
Medical Ethics and Law Research Center, Shahid Beheshti University of Medical Sciences, Tehran 88777539, Iran
8
Student Research Committee, Shahid Beheshti University of Medical Sciences, Tehran 22439789, Iran
9
Faculty of Medicine, University of Porto, Alameda Prof. Hernâni Monteiro, Porto 4200-319, Portugal
10
Institute for Research and Innovation in Health (i3S), University of Porto–Portugal, Porto 4200-135, Portugal
11
Department of Agricultural and Environmental Sciences, Milan State University, via G. Celoria 2, Milan 20133, Italy
12
Phytochemistry Research Center, Shahid Beheshti University of Medical Sciences, Tehran 11369, Iran
13
Department of Chemistry, Richardson College for the Environmental Science Complex, The University of Winnipeg, Winnipeg, MB R3B 2G3, Canada
*
Authors to whom correspondence should be addressed.
Academic Editor: Derek J. McPhee
Received: 30 June 2018 / Accepted: 14 July 2018 / Published: 17 July 2018
Abstract
:
In this narrative review, we have comprehensively reviewed the plant sources used as antiulcer agents. From traditional uses as herbal remedies, we have moved on to preclinical evidence, critically discussing the in vitro and in vivo studies focusing on plant extracts and even isolated phytochemicals with antiulcerogenic potential. A particular emphasis was also paid to
Helicobacter pylori
activity, with emphasis on involved mechanisms of action. Lastly, the issue of safety profile of these plant products has also been addressed.
Keywords:
peptic ulcer;
Helicobacter pylori
; gastric cancer; bioactive phytochemicals; herbal remedies; traditional healing systems
1. Introduction
Peptic ulcers (PU) are sores or lesions in the gastrointestinal mucosa extending throughout the muscularis mucosae, typically characterized by different stages of necrosis, neutrophil infiltration, blood flow reduction, increased oxidative stress and inflammation [
1
]. PU manifest as a non-fatal disease, majorly represented by periodic symptoms of epigastric pain, which are often relieved by food or alkali, besides to trigger much discomfort to patients, disrupting their daily routines and also causing mental agony [
2
].
The disease is mostly categorized based on its anatomical origins, such as gastric (found along the lesser curvature of the stomach) and duodenal (occurring in the duodenal bulb—the most exposed area to gastric acid) ulcers [
3
]. Studies have shown that peptic ulcer disease (PUD) occurs because of an imbalance between aggressive injurious (e.g., pepsin, HCl) and defensive mucosa-protective factors (e.g., prostaglandins, mucus and bicarbonate barrier and adequate blood flow) [
4
]. All ulcers of the upper gastrointestinal tract were originally thought to be caused by the aggressive action of pepsin and gastric acid on mucosa. However, the denomination "peptic ulcer" has lately pointed to
Helicobacter pylori
infection, where the chronic use of non-steroidal anti-inflammatory drugs (NSAIDs) and acetylsalicylic acid (ASA) are some of the disease-causing factors.
Thus, based on the latest advances on this field and stress the fact that PUD is an important cause of morbidity and health care costs, the present report aims to provide a general overview on peptic ulcers, namely considering their epidemiology, main symptoms and clinical features, pathogenesis, where a particular emphasis will be given to
H. pylori
infection, pharmacological agents used in an effective management and also pointing out the latest challenges and opportunities of using plant phytochemicals as upcoming antiulcerogenic agents. Lastly, a special emphasis was given on plant products safety and security, in order to trigger the interest in deepening skills on this matter and to ensure an effective managing competence for health-related systems.
2. Epidemiology of Peptic Ulcer
Epidemiological studies have established that the prevalence of PU is a reflection of
H. pylori
infection prevalence, increasing with NSAIDs and ASA use, as also with ageing population. PUD had a tremendous effect on morbidity and mortality until the last decades of 20th century, when a significant decline in its incidence was observed [
5
]. This dramatic shift in the prevalence pattern of the disease was correlated to changes in environmental factors, such as modernization. Moreover, it was hypothesized that through improving hygiene and overall health quality in developed countries may have resulted in reduced rates of childhood infections and
H. pylori
spread [
6
]. Also, two more important findings were stated as influencing the decrease in PUD rates: the discovery of effective and potent acid suppressants and
H. pylori
infection treatment and prevention. However, by the turn of the century, the increased use of NSAIDs has resulted in a decline in duodenal ulcers (
H. pylori
-associated infection) and increase in gastric ulcers (NSAIDs-caused ulcers) [
7
]. Nevertheless, PU still remain common worldwide, especially in developing countries, where
H pylori
infection is highly prevalent [
8
]. Studies have revealed that a high percentage of children are infected with
H. pylori
before the age of 10 and the prevalence peaks at more than 80% before the age of 50 in the developing countries [
9
]. However, serologic evidence of
H. pylori
infection is uncommon before age 10 in developed countries, such as US but increases to 10% between 18 and 30 years and to 50% in ages above 60 years [
9
]. Indeed, the lifetime risk for developing a PU is estimated to be approximately 10% [
10
]. Anyway, only a minority of cases with
H. pylori
infection will lead to an ulcer, while a larger proportion of people will get non-specific discomfort, abdominal pain or gastritis.
3. Symptoms and Clinical Features of Peptic Ulcer
Most patients with PU present abdominal discomfort, pain or nausea, with epigastric pain being the most common PU symptom (gastric and duodenal ulcers). This is characterized by a gnawing or burning sensation occurring after meals. Usually, duodenal ulcer pains can be relieved with food or antacids [
11
], while gastric ulcer pain is often aggravated by meals. Furthermore, duodenal ulcer is associated with nightly pain occurring in about 50–80% of sufferers as opposed to about 30–40% in gastric ulcer patients. Pains radiating to the back may suggest that an ulcer has penetrated posteriorly, or the pain may be from pancreatic origin. Other possible manifestation of the disease includes dyspepsia, such as belching, bloating, distention, intolerance to fatty foods, weight loss, or poor appetite [
11
]; heartburn, chest pain/discomfort, hematemesis and even anemia [
12
]. Patients may often be asymptomatic with only 20–25% of them having suggestive symptoms of peptic ulceration, found to have peptic ulcer after investigation.
4. Pathogenesis
The pathogenesis of PU has been found to be complex and multifactorial. However, one common feature in its pathogenesis is the imbalance between aggressive luminal factors (gastric acid and pepsin) and defensive mucosal barrier function [
5
]. Critical to trigger gastric ulceration are the contribution of several host and environmental factors, which increase gastric acid secretion, and/or weaken mucosal barriers. Emotional stress, smoking, nutritional deficiencies, excessive alcohol consumption and prolonged ingestion of NSAIDs are relevant etiological environmental factors contributing to PU development [
5
,
13
,
14
]. Furthermore,
H. pylori
infection has been known to play central role in the development of chronic gastritis, gastric ulcers, duodenal ulcers and gastric cancer [
15
].
H. pylori
triggers chronic gastritis by gastric epithelium infiltration and underlying lamina propria by immune cells, such as neutrophils, macrophages, lymphocytes and mast cells. Also,
H. pylori
produces some toxic biomolecules to the epithelial cells, such as ammonia produced to regulate stomach pH, proteases and vacuolating cytotoxin A, which damages epithelial cells and could cause apoptosis and certain phospholipases [
16
]. Else,
H. pylori
-derived biomolecules, such as lipopolysaccharide (LPS) and cysteine-rich proteins (Hcp), particularly HcpA (hp0211), have been shown to trigger immune response and contribute to inflammation [
17
,
18
]. Therefore, chronic gastritis (inflammation of the stomach lining) can be considered as resulting from stomach bacterial colonization at sites of infection.
Studies have established an association between chronic NSAIDs use and incidence of PU in the developed world. This was consequent upon the discovery and treatment of
H. pylori
infection. In fact, it has been reported that chronic NSAIDs use could damage gastric and duodenal mucosa via several mechanisms, such as drugs-induced topical irritation of the epithelium, impairment of the barrier properties of mucosal membrane, suppression of prostaglandins synthesis in the gastric area, reduction of blood flow to the gastric mucosal and interference with superficial injury repair [
19
]. Anyway, the presence of acid in the stomach lumen also contributes to the pathogenesis of NSAID-induced ulcers and bleeding, through impairing hemostasis and inhibiting growth factors that are important in mucosal defense and repair [
19
].
5. Pharmacological Agents Effective in Disease Management
Pharmacological management of PU continues to evolve despite the availability of diverse types of new therapeutic agents, with the aim of centering treatment on pain relieving, ulcer healing and in ulcer recurrence delay. However, many of the pharmacological agents available for treating PU are targeted at either counteracting the aggressive factors or stimulating the mucosal defense. Such drugs (
Table 1
), targeted to inhibit/neutralize gastric acid secretion, includes antacids, histamine H2-receptor antagonists, proton pump inhibitors, anticholinergics and prostaglandins [
20
].
6. Plant Products and Phytochemicals as Antiulcerogenic and Gastroprotective Agents
Since ancient times, plants and plant derived-products have been used in folklores around the world for the treatment of several ailments and diseases. Nowadays, herbal medicine is becoming a viable alternative treatment over the commercially available synthetic drugs on PU management/treatment. This is premised on its lower cost, perceived effectiveness, availability as well as little or no adverse effects. A number of these herbal remedies have demonstrated gastroprotective properties [
2
,
27
,
28
,
29
] and have been used in the treatment of PU, digestive disorders and other related ailments for several centuries.
7. Safety of Plant Products Used as Antiulcerogenic Agents
In an attempt to find an effective treatment for various diseases, the modern medicine turns to traditional medicine. There are decades of using specific plants or certain plants parts in the treatment of several health conditions throughout the world. Many side effects because of using conventional antiulcer drugs has shifted the search for new drugs to folk and traditional medicines. Indeed, there is an effort in pharmacology to confirm the real benefits of traditionally used plants in antiulcer therapy and to identify active compound(s) responsible for their positive effects. The new modern approach with improved technology is unthinkable without the use of laboratory animals. Nonetheless, there are few animal models developed in ulcers research, usually including rats. All ethical principles for using of animals in experiments should be followed and protocols approved by the Institutional Ethics Committee.
The assessment of the acute gastroprotective activity of plant extracts is generally performed using two different animal models of gastric ulcer: ethanol-induced and indomethacin (a non-steroidal anti-inflammatory agent)-induced gastric ulcer. On the other hand, the evaluation of the chronic gastroprotective activity is usually performed on animals with gastric ulcer induced by acetic acid.
8. Conclusions and Future Perspectives
The overall findings shared in this report clearly stress that plant products represent a rich source of bioactive molecules with antiulcer potential. Moving from traditional uses to preclinical studies, the efficacy of certain herbal remedies has been substantially investigated by in vitro and even in vivo studies, and, in some cases, their activity has been ascribed to specific classes of phytochemicals, such as alkaloids, tannins, simple phenols and polyphenols (particularly flavonoids).
Analysis of literature data indicated that phytochemicals are natural, safe and effective resources that can be used in the prevention and even treatment of ulcers. However, the paucity of human studies, at the top of the evidence-based medicine pyramid, slows down these promising findings, thus requiring, in the near future, more clinical trials to support and even to validate the myriad of preclinical data.
Author Contributions
All authors (M.S.-R., P.V.T.F., F.S., M.M., A.O.A., J.R., B.S., N.M., M.I., and J.S.-R.) contributed equally to this work. B.S., J.S.-R., M.I., and N.M. critically reviewed the manuscript. All the authors read and approved the final manuscript.
Funding
This work was supported by the Vice-chancellor for Research Affairs of Shahid Beheshti University of Medical Sciences, Tehran, Iran and Vicerrectoría de Investigación y Desarrollo from University of Concepción, Chile (216.073.031-1.0IN and 217.073.033-1.0).
Acknowledgments
N.M. thank to Portuguese Foundation for Science and Technology (FCT–Portugal) for the Strategic project ref. UID/BIM/04293/2013 and "NORTE2020-Programa Operacional Regional do Norte" (NORTE-01-0145-FEDER-000012).
Conflicts of Interest
The authors declare no conflict of interest.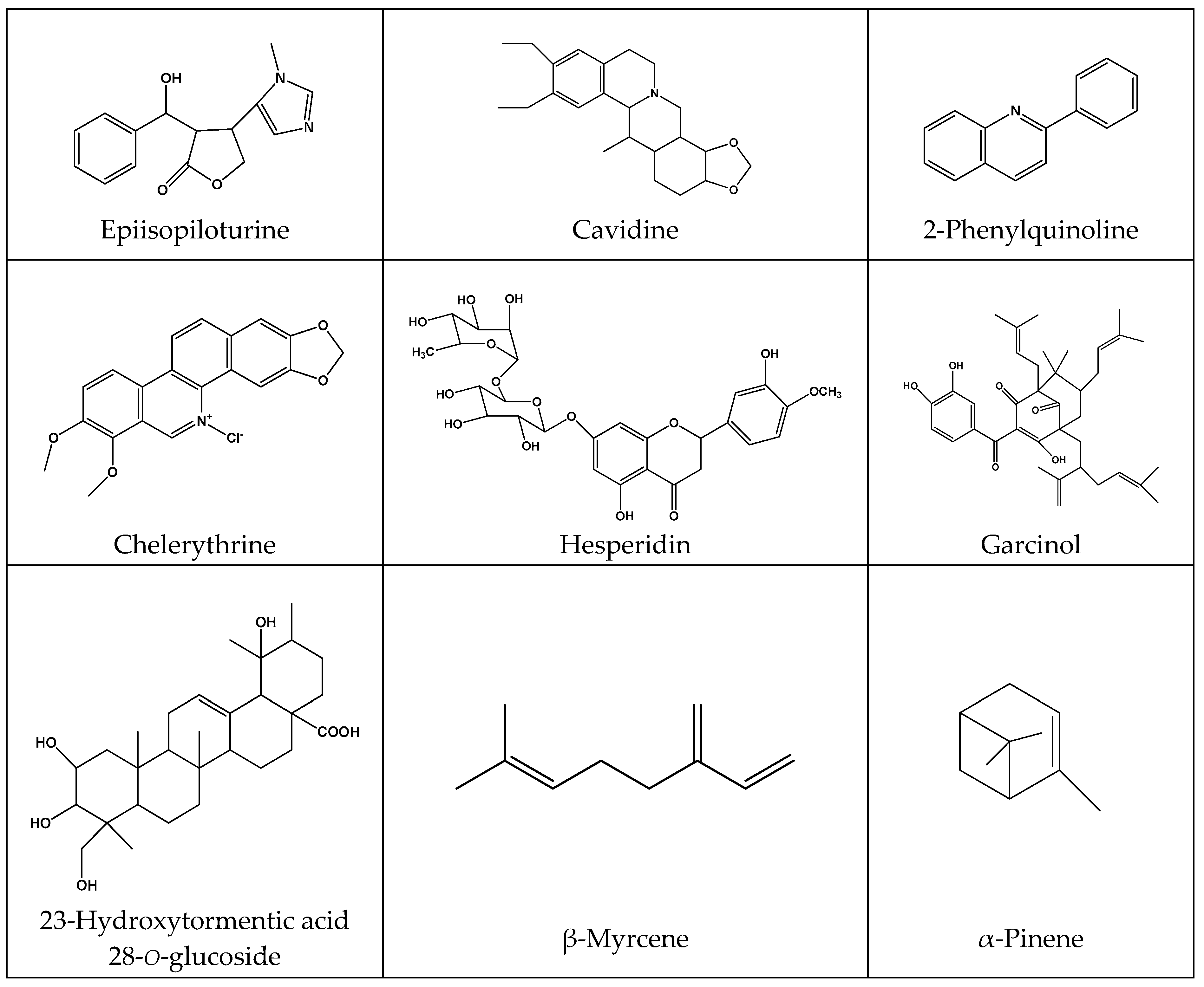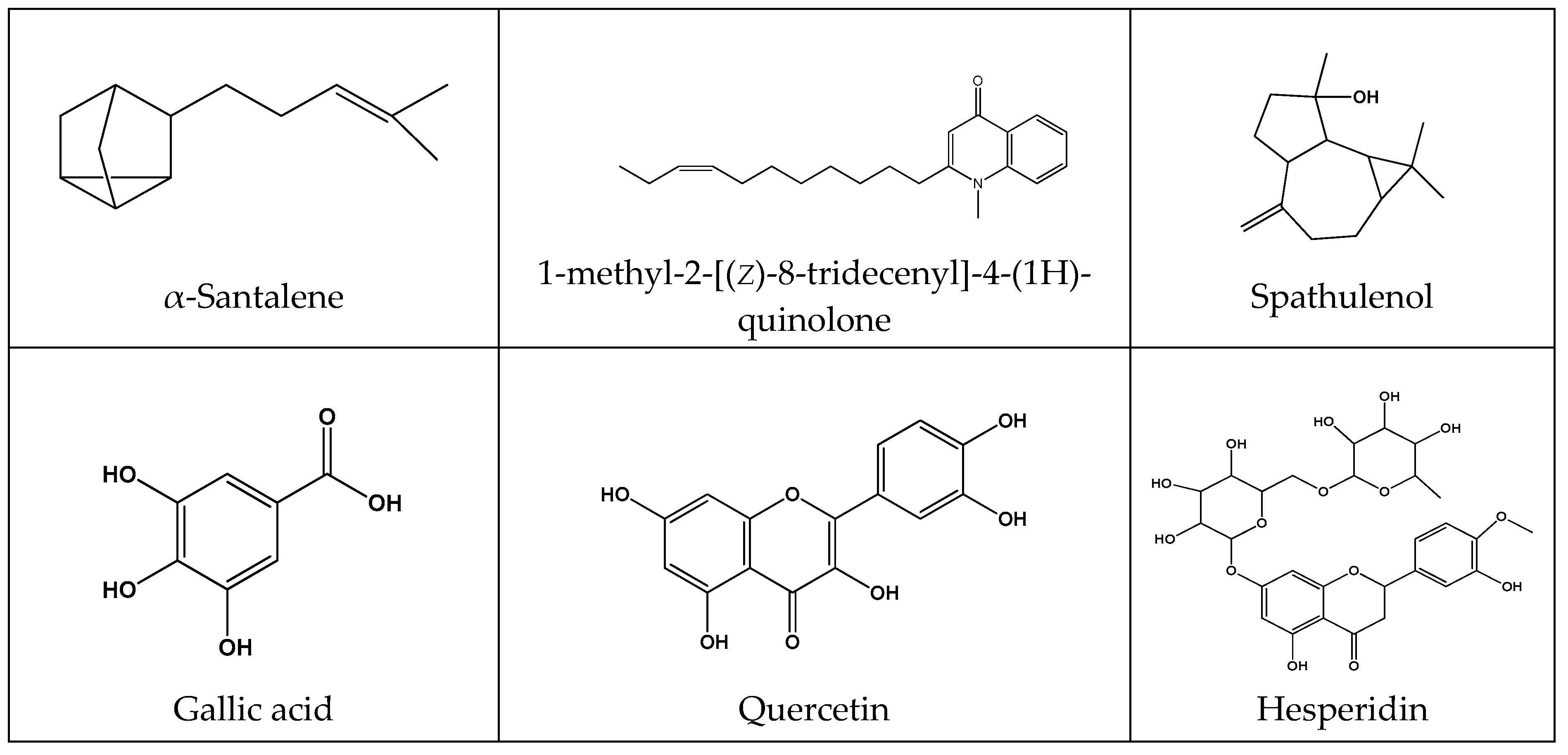 Drug Classes
Characteristics
Types
Reference
Antacids
Help in neutralizing gastric acid, reducing acid delivery in duodenum and pepsin activity, besides to bind bile acids
Calcium and magnesium carbonates, aluminum hydroxide and magnesium trisilicate
[21,22,23]
Anti-secretory agents
Reduce gastric acid secretion, help relieve ulcer pain and stimulate ulcer healing, inhibit

H. pylori

growth and proliferation in gastric tissues
Histamine H2-receptor antagonist (cimetidine, famotidine, nizatidine and ranitidine), proton pump inhibitors (esomeprazole, lansoprazole, omeprazole, pantoprazole and rabeprazole)
[24]
Cytoprotective agents
Reduce/prevent gastric mucosal damage (increase mucus and bicarbonate secretion, strengthen gastric mucosal barrier, decrease gastric motility, increase blood flow to gastric mucosa, increase prostaglandins and sulfhydryl biosynthesis, scavenge free radicals, stimulate cell growth and repair and decrease leukotrienes release)
Prostaglandins, fatty acids, sulfhydryl compounds, aluminum-containing antacids, sucralfate, bismuth chelate and liquorice
[25,26]
Order
Family
Binomial Name
Mechanism of Gastroprotection
Reference
Apiales
Apiaceae

Centella asiatica

Wound healing, mucus production, antioxidant, anti-inflammatory
[30,31]
Asterales
Asteraceae

Baccharis dracunculifolia

Wound healing, antioxidant, mucus production
[32,33]

Baccharis trimera

Wound healing, anti-secretory, antioxidant
[34,35,36]

Hieracium gymnocephalum

Wound healing, anti-inflammatory
[37]

Tanacetum larvatum

Wound healing, anti-inflammatory, antioxidant
[38]

Vernonia condensata

Wound healing, inhibition of gastric secretion, antioxidant, mucus production, cytoprotective
[39,40]

Solidago chilensis

Wound healing, antioxidant, anti-secretory, mucus production
[41,42]
Boraginales
Boraginaceae

Cordia dichotoma

Wound healing, antioxidant, anti-inflammatory
[43]
Brassicales
Capparaceae

Capparis zeylanica

Wound healing
[44]
Moringaceae

Moringa oleifera

Wound healing, serotonin release, anti-secretory, cytoprotective, anti-inflammatory
[45,46,47]
Salvadoraceae

Salvadora indica

Wound healing, cytoprotective
[48]
Celastrales
Celastraceae

Maytenus robusta

Wound healing, mucus production, antioxidant, anti-inflammatory, cytoprotective, gastroprotective, anti-secretory
[27,28,49,50]
Cucurbitales
Cucurbitaceae

Momordica cymbalaria

Wound healing, anti-secretory
[51]

Mukia maderaspatana

Wound healing, antioxidant, anti-inflammatory, mucus production
[52]
Cyatheales
Cibotiaceae

Cibotium barometz

Wound healing, antioxidant, HSP70 up-regulation, Bax protein down-regulation, mucus production
[53,54]
Cyperales
Cyperaceae

Cyperus rotundus

Wound healing, antioxidant activity, anti-inflammatory
[55,56]
Fabales
Caesalpinieae

Caesalpinia sappan

Wound healing, antioxidant, cytoprotective, anti-inflammatory
[57]
Fabaceae

Archidendron jiringa

Wound healing, mucus production, antioxidant
[58]

Alhagi maurorum

Antioxidant, antiapoptotic
[59]

Cassia sieberiana

Wound healing, cytoprotective, antioxidant, anti-inflammatory
[60,61]

Parkia speciosa

Wound healing, mucus production, antioxidant, anti-inflammatory, HSP70 up-regulation, Bax protein down-regulation
[62]

Tamarindus indica

Wound healing, anti-secretory
[63]
Gentianales
Rubiaceae

Morinda citrifolia

Wound healing, anti-secretory, antioxidant, anti-inflammatory
[64]
Lamiales
Bignoniaceae

Kigelia africana

Wound healing, antioxidant
[65]
Boraginaceae

Cordia verbenacea

Wound healing, antioxidant, cytoprotective
[66]
Acanthaceae

Barleria lupulina

Anti-inflammatory, wound healing, anti-secretory
[67,68]

Eremomastax speciosa

Wound healing, anti-secretory, mucus production, antioxidant, cytoprotective
[69,70,71]
Lamiaceae

Calamintha officinalis

Wound healing, antioxidant
[72]

Hyptis suaveolens

Wound healing, cytoprotective, anti-inflammatory
[73,74]

Tectona grandis

Wound healing, inhibition of gastric secretion
[75,76]
Magnoliales
Myristicaceae

Myristica malabarica

Wound healing, anti-inflammatory, angiogenesis, cytoprotective
[77,78,79,80]
Magnoliopsida
Talinaceae

Talinum portulacifolium

Wound healing, anti-secretory
[81]
Malpighiales
Calophyllaceae

Mammea americana

Wound healing, anti-secretory
[82]
Hypericaceae

Cratoxylum arborescens

Wound healing, anti-

H. pylori

, anti-secretory, mucus production, antioxidant, antiapoptotic, anti-inflammatory, cytoprotective
[83,84]
Myrtales
Combretaceae

Terminalia arjuna

Wound healing, anti-

H. pylori

, anti-secretory
[85,86]

Terminalia belerica

Wound healing, anti-secretory, mucus production
[87]

Terminalia catappa

Wound healing, anti-

H. pylori

, mucus production, anti-inflammatory, cytoprotective
[88]

Terminalia chebula

Wound healing, anti-secretory, cytoprotective
[89,90]

Terminalia coriacea

Wound healing, anti-secretory, mucus production, antioxidant
[91]

Terminalia fagifolia

Wound healing, anti-secretory, antioxidant
[92]
Papaverales
Papaveraceae

Argemone mexicana

Wound healing
[93]
Piperales
Piperaceae

Piper betle

Wound healing, antioxidant, mucus production, anti-inflammatory
[94,95,96,97,98]
Rosales
Moraceae

Ficus religiosa

Wound healing, inhibition of gastric secretion
[99]
Santalales
Rhamnaceae

Scutia buxifolia

Wound healing, antioxidant
[29]

Ziziphus jujuba

Anti-

H. pylori

, mucus production, antioxidant
[2]
Urticaceae

Cecropia glaziovii

Wound healing, anti-secretory
[100]
Santalaceae

Osyris quadripartita

Wound healing
[101]
Sapindales
Anacardiaceae

Anacardium occidentale

Wound healing, antioxidant, anti-inflammatory, cytoprotective
[102,103,104,105]

Anacardium humile

Wound healing, mucus production, anti-inflammatory, cytoprotective
[106,107]
Meliaceae

Spondias mombin

Wound healing, antioxidant, anti-inflammatory, inhibition of gastric secretion
[108,109]

Toona ciliata

Wound healing, anti-secretory, cytoprotective
[110]
Saxifragales
Crassulaceae

Bryophyllum pinnatum

Wound healing, anti-inflammatory
[111,112]
Zingiberales
Zingiberaceae

Aframomum pruinosum

Wound healing, anti-

H. pylori

, mucus production, anti-inflammatory, cytoprotective
[113]
Phytochemicals
Plant Source
Model
Dose/Results
Mode of Action
Reference
Alkaloids
1-methyl-2-[(

z

)-8-tridecenyl]-4-(1

H

)-quinolone and 1-methyl-2-[(

z

)-7-tridecenyl]-4-(1

H

)-quinolone

Evodia rutaecarpa

In vitro antibacterial activity against

H. pylori

0.05 μg/mL
Highly selective activity against

H. pylori

[150]
2-Phenylquinoline

Galipea longiflora

Gastric ulcer induced by 60% ethanol/0.03 M HCl, indomethacin-induced acute lesions in rats
10–100 mg/kg
SOD and GST activity normalization, increased GSH and reduced LPO and TNF-α levels in gastric mucosa
[151]
Cavidine
Co

rydalis impatiens

Ethanol-induced acute gastric ulcer in mice
10 mg/kg
Increased mucosa GSH, SOD and PGE2 levels, decreased IL-6 and TNF-α levels
[152]
Chelerythrine
Papaveraceae and Rutaceae family
Ethanol-induced gastric ulcer in mice
1.5, 10 mg/kg
Reduced myeloperoxidase activity, IL-6 and TNF-α levels and inhibited NO
[153]
Epiisopiloturine

Pilocarpus microphyllus

Naproxen-induced gastrointestinal damage in rats
10 mg/kg
Reduced pro-inflammatory cytokines, oxidative stress and increased gastric mucosal blood flow
[154]
Uleine

Himatanthus lancifolius

Ethanol-induced acute gastric ulcer and pylorus ligature-induced ulcer in rats
30, 82 mg/kg
Increased GSH level, antioxidant response and decreased H+/K+-ATPase activity
[155]
Alkaloid fraction extract

Tylophora conpicua

Gastric acid secretion and ulceration in rat
40 mg/kg
Decreased histamine insulted gastric acid secretion
[155]
Alkaloid fraction (columbamine, jatrorrhizine, palmatine and berberine)

Mahonia bealei

Pyloric ligation-induced gastric ulcer in rats
18.6 mg/kg
Anti-H+/K+-ATPase anti-gastrin effects
[156]
Terpenes and Terpenoids
23-hydroxytormentic acid 28-

o

-glucoside and its aglycone

Rubus coreanus

Gastric ulcer induced by oral administration of ethanol + sodium salicylate
10, 30 mg/kg
Increased SOD and GPx activity
[157]
α-Pinene

Pistacia atlantica

Ethanol-induced gastric ulcer
12.32 mg/kg (EC50)
Antibacterial activity on metronidazole-resistant

H. pylori

[158]
α-Pinene (50.8%), cineole (20.3%), β-pinene (18.3%)

Hyptis spicigera

Ethanol and NSAIDs rodent models
100 mg/kg
Increased gastric mucus production and induced PGE2
[159]
α-Pinene (13.4%), 1,8-cineole (18%), camphor (32.8%), β-caryophyllene (12.9%)

Hyptis crenata

Gastric ulcer induced by oral administration of absolute ethanol or indomethacin
30, 100, 300 mg/kg
Accelerated gastric emptying effect and reduced oxidative damages
[160]
α-Santalene

Gallesia integrifolia

In vivo and in vitro experimental models
80 mg/kg
Gastroprotective and curative effects, probably due to antioxidant, anti-inflammatory, anti-secretory, mucogenic and nitrergic and activity
[161]
β-Myrcene

Citrus aurantium

Ethanol, NSAIDs, stress,

H. pylori

, ischemia reperfusion injury and cysteamine-induced ulcers
7.5 mg/kg
Decreased gastric and duodenal lesions, SOD activity, increased gastric mucus production, mucosal MDA levels and GPx and GR activity
[162]
Spathulenol (22.5%), 1,8-cineole (18.3%)

Croton rhamnifolioides

Gastric ulcer induced by administration of absolute ethanol, acidified ethanol or indomethacin
100 mg/kg
Modulation of opioid receptors and NO
[163]
Phenolics and Favonoids
Anthocyanins

Rubus coreanus

Naproxen-induced gastric ulcer
20, 50 and 80 mg/kg
Via association with regulation of matrix metalloproteinase-2 activity; prevented lipid peroxidation and increased CAT, SOD and GPx activities
[164]
Ellagic and gallic acids

Euphorbia umbellata

(Pax) Bruyns
Ethanol-induced acute gastric lesions in rats
50, 100, 200 mg/kg
Potent antioxidant activity (PG, NO/cyclic guanosine monophosphate pathway related to antiulcer action)
[165]
Gallic acid
Widespread in plant kingdom
Ethanol-induced gastric ulcerogenesis
25–50 mg/kg
Inhibited gastric acid secretion or through antioxidant action
[166]
Gallic acid and catechin
Widespread in plant kingdom

In vitro

antimicrobial test on two

H. pylori

strains
1 mg/mL
High inhibitory effect against

H. pylori

[167]
Gallic acid + famotidine
Aspirin plus pyloric ligation induced ulcer in rat
50 + 10 mg/kg (respectively)
Increased SOD, CAT, GR, GSH and G6PD levels and decreased myeloperoxidase and lipid peroxidation in stomach tissue
[168]
Gallic, chlorogenic and caffeic acids, rutin and quercetin

Caryocar coriaceum

Gastric ulcer induced by ethanol, acidified ethanol, acetic acid or indomethacin
100 mg/kg
Opioid receptors, α2-adrenergic receptors and primary afferent neurons sensitive to capsaicin
[169]
Garcinol

Garcinia indica

Acute ulceration in rats induced by indomethacin and water immersion stress
200 mg/kg
Suppressed superoxide anion, hydroxyl and methyl radicals
[170]
Hesperidin

Citrus sinensis

Indomethacin plus hypothermic restrain stress-induced ulceration in rats
150, 300 and 450 mg/kg
Increased GSH and mucin levels, prevented oxidative cell injury
[171]
Quercetin, rutin and kaempferol
Widespread in plant kingdom
gastric damage produced by acidified ethanol in rats
25–100 mg/kg
Inhibited mucosal content of platelet-activating factor
[172]
Rutin and quercetin

Piper umbellatum

L.
Experimental rodent models
30, 100 and 300 mg/kg
Antioxidant, anti-secretory, anti-inflammatory and mucosa regeneration
[173]

p

-Coumaric acid

Macrotyloma uniflorum

Indomethacin and ethanol-induced ulcer in rats
250 mg/kg
Underlying antioxidant activity (attenuated ulcer elevated MDA levels and reduced GSH, SOD, CAT, GPx and GR levels)
[174]
Tannins
Ellagitannin-rich fraction

Eucalyptus citriodora

Ethanol-induced gastric ulceration in rats
25, 50 and 100 mg/kg
Increased GSH and SOD levels
[175]
Tannins (TF) and flavonoids (FF) fractions

Mouriri pusa

Gastric ulcer induced by ethanol and acetic acid
25 mg/kg (TF) or 50 mg/kg (FF)
Cell proliferation improved, anti-inflammatory activity by reducing COX-2 levels, increased mucus secretion and angiogenesis
[176]
Fatty Acids
Oleic acid (C18:1

cis

9)
Olive oil
Ulcer created in mice using ischemia-reperfusion-induced skin injury
1500 mg/kg
Accelerated ROS and NO synthesis and reduced oxidative damage, inflammatory cells infiltration and TNF-α expression
[177]
CAT, catalase; FF, flavonoids fraction; G6PD, glucose-6-phosphate dehydrogenase; GSH, glutathione; GPx, glutathione peroxidase; GST, glutathione-

S

-transferase; GR, glutathione reductase; HTA, hydroxytormentic acid; HCl, hydrochloric acid; IL-6, interleukin-6; LPO, lipid peroxide; MDA, malondialdehyde; MIC, minimal inhibitory concentration; NO, nitric oxide; PG, prostaglandins; PGE2, prostaglandin E2; ROS, reactive oxygen species; SOD, superoxide dismutase; TF, tannins fraction; TNF-α, tumor necrosis factor-α.

© 2018 by the authors. Licensee MDPI, Basel, Switzerland. This article is an open access article distributed under the terms and conditions of the Creative Commons Attribution (CC BY) license (http://creativecommons.org/licenses/by/4.0/).