Application of the Fluorescent Dye BODIPY in the Study of Lipid Dynamics of the Rice Blast Fungus
Magnaporthe oryzae
1
State Key Laboratory Breeding Base for Zhejiang Sustainable Pest and Disease Control, Institute of Plant Protection and Microbiology, Zhejiang Academy of Agricultural Sciences, Hangzhou 310021, China
2
College of Chemistry and Life Sciences, Zhejiang Normal University, Jinhua 321004, China
3
The Key Laboratory for Quality Improvement of Agricultural Products of Zhejiang Province, School of Agricultural and Food Sciences, Zhejiang Agriculture and Forest University, Hangzhou 311300, China
*
Author to whom correspondence should be addressed.
Received: 5 June 2018 / Revised: 23 June 2018 / Accepted: 29 June 2018 / Published: 30 June 2018
Abstract
Rice blast is one of the most serious diseases affecting rice yield which is caused by
Magnaporthe oryzae
, a model organism for studies on plant pathogenic fungi. Lipids stored in
M. oryzae
cells have been shown to be crucial for the development of appressorium turgor and the ability of the pathogen to cause infection. Nile red staining is a common method to study lipid dynamics in phytopathogenic fungi. However, the disadvantages of this dye include its wide spectrum, poor water solubility, and susceptibility to quenching. Boron dipyrromethene (BODIPY) is a new type of fluorescent dye that has a different emission wavelength to that of Nile red as well as many desirable spectral and chemical properties. In this study, we used BODIPY to stain the lipids in
M. oryzae
cells to seek a possible substitute to Nile red in the study of lipid dynamics in plant pathogenic fungi. Our data showed that through simple and routine procedures, BODIPY was able to distinctly label lipids in the cells of mycelia and conidia. The positions of lipids labeled by BODIPY were essentially identical to those labeled by Nile red, but with more clear fluorescence labelling, lower background, and higher specificity. The use of BODIPY to stain germinating
M. oryzae
conidia allowed the lipid dynamics to be clearly tracked during this process. We also achieved double and multiple fluorescent staining conidia by combining BODIPY with the red fluorescent protein mCherry and other fluorescent dyes, such as Calcofluor white and DAPI, in conidia, mycelia, and sexual structures of
M. oryzae
. These results indicate that BODIPY is an ideal fluorescent dye for staining fungal lipids and provide a method for the study of the lipid dynamics and lipid metabolism in plant pathogenic fungi.
View Full-Text
►

▼

Figures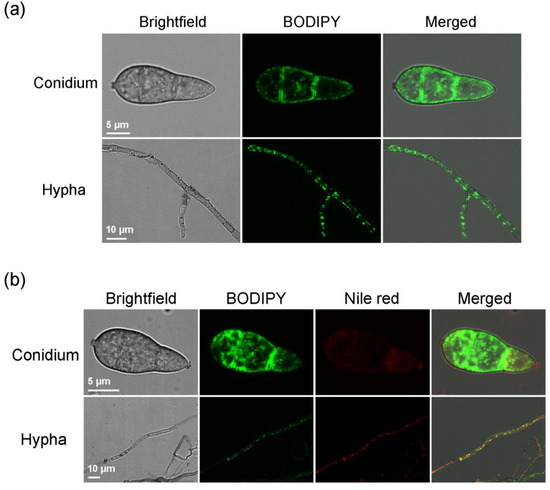 Figure 1
This is an open access article distributed under the
Creative Commons Attribution License
which permits unrestricted use, distribution, and reproduction in any medium, provided the original work is properly cited (CC BY 4.0).

Share & Cite This Article
MDPI and ACS Style
Wang, J.; Guo, X.; Li, L.; Qiu, H.; Zhang, Z.; Wang, Y.; Sun, G. Application of the Fluorescent Dye BODIPY in the Study of Lipid Dynamics of the Rice Blast Fungus Magnaporthe oryzae. Molecules 2018, 23, 1594.
Note that from the first issue of 2016, MDPI journals use article numbers instead of page numbers. See further details here.
Related Articles
Comments
[Return to top]