Protein Carriers for Glycoconjugate Vaccines: History, Selection Criteria, Characterization and New Trends
1
GSK Vaccines Institute for Global Health (GVGH), 53100 Siena, Italy
2
GSK, 53100 Siena, Italy
*
Author to whom correspondence should be addressed.
Received: 22 May 2018 / Revised: 8 June 2018 / Accepted: 13 June 2018 / Published: 15 June 2018
Abstract
Currently licensed glycoconjugate vaccines are composed of a carbohydrate moiety covalently linked to a protein carrier. Polysaccharides are T-cell independent antigens able to directly stimulate B cells to produce antibodies. Disease burden caused by polysaccharide-encapsulated bacteria is highest in the first year of life, where plain polysaccharides are not generally immunogenic, limiting their use as vaccines. This limitation has been overcome by covalent coupling carbohydrate antigens to proteins that provide T cell epitopes. In addition to the protein carriers currently used in licensed glycoconjugate vaccines, there is a search for new protein carriers driven by several considerations: (i) concerns that pre-exposure or co-exposure to a given carrier can lead to immune interference and reduction of the anti-carbohydrate immune response; (ii) increasing interest to explore the dual role of proteins as carrier and protective antigen; and (iii) new ways to present carbohydrates antigens to the immune system. Protein carriers can be directly coupled to activated glycans or derivatized to introduce functional groups for subsequent conjugation. Proteins can be genetically modified to pre-determine the site of glycans attachment by insertion of unnatural amino acids bearing specific functional groups, or glycosylation consensus sequences for in vivo expression of the glycoconjugate. A large portion of the new protein carriers under investigation are recombinant ones, but more complex systems such as Outer Membrane Vesicles and other nanoparticles are being investigated. Selection criteria for new protein carriers are based on several aspects including safety, manufacturability, stability, reactivity toward conjugation, and preclinical evidence of immunogenicity of corresponding glycoconjugates. Characterization panels of protein carriers include tests before conjugation, after derivatization when applicable, and after conjugation. Glycoconjugate vaccines based on non-covalent association of carrier systems to carbohydrates are being investigated with promising results in animal models. The ability of these systems to convert T-independent carbohydrate antigens into T-dependent ones, in comparison to traditional glycoconjugates, needs to be assessed in humans.
View Full-Text
►

▼

Figures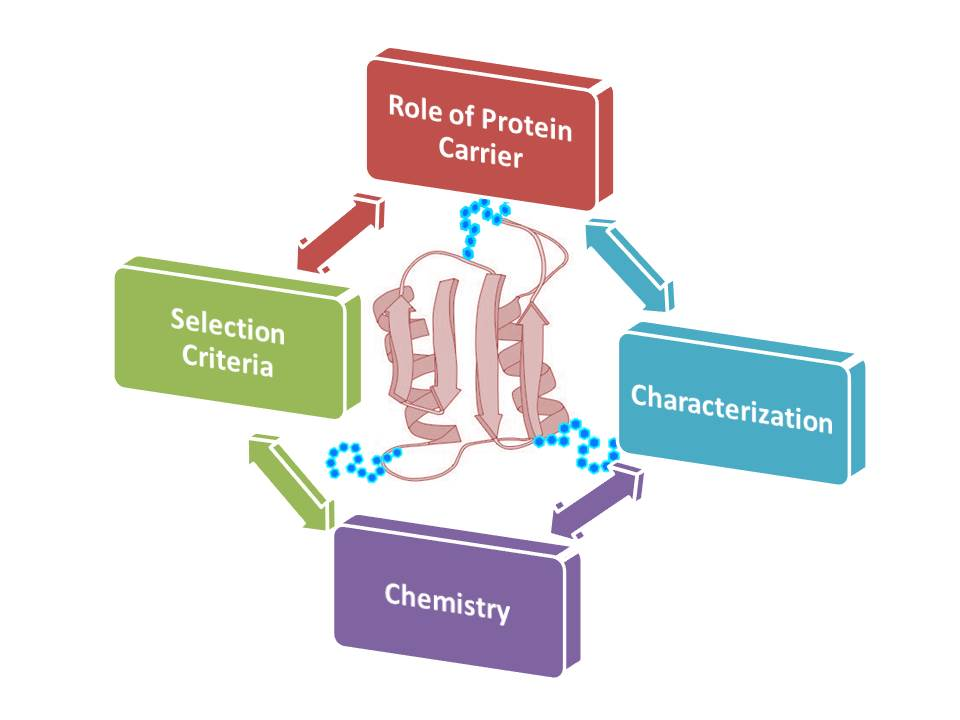 Graphical abstract
This is an open access article distributed under the
Creative Commons Attribution License
which permits unrestricted use, distribution, and reproduction in any medium, provided the original work is properly cited (CC BY 4.0).

Share & Cite This Article
MDPI and ACS Style
Micoli, F.; Adamo, R.; Costantino, P. Protein Carriers for Glycoconjugate Vaccines: History, Selection Criteria, Characterization and New Trends. Molecules 2018, 23, 1451.
Note that from the first issue of 2016, MDPI journals use article numbers instead of page numbers. See further details here.
Related Articles
Comments
[Return to top]