Structure–Activity Relationship and Molecular Docking of Natural Product Library Reveal Chrysin as a Novel Dipeptidyl Peptidase-4 (DPP-4) Inhibitor: An Integrated In Silico and In Vitro Study
1
Departamento de Biofísica, Escuela Nacional de Ciencias Biológicas, Instituto Politécnico Nacional, Prolongación de Carpio y Plan de Ayala S/N. Col. Santo Tomás, C.P. 11340 Ciudad de México, Mexico
2
Departamento de Ingeniería Bioquímica, Escuela Nacional de Ciencias Biológicas, Instituto Politécnico Nacional, Av. Wilfrido Massieu S/N, Col. Unidad Profesional Adolfo López Mateos, Zacatenco, C.P. 07738 Ciudad de México, Mexico
*
Author to whom correspondence should be addressed.
Received: 1 May 2018 / Revised: 2 June 2018 / Accepted: 4 June 2018 / Published: 6 June 2018
Abstract
Numerous studies indicate that diets with a variety of fruits and vegetables decrease the incidence of severe diseases, like diabetes, obesity, and cancer. Diets contain a variety of bioactive compounds, and their features, like diverge scaffolds, and structural complexity make them the most successful source of potential leads or hits in the process of drug discovery and drug development. Recently, novel serine protease dipeptidyl peptidase-4 (DPP-4) inhibitors played a role in the management of diabetes, obesity, and cancer. This study describes the development of field template, field-based qualitative structure–activity relationship (SAR) model demonstrating DPP-4 inhibitors of natural origin, and the same model is used to screen virtually focused food database composed of polyphenols as potential DPP-4 inhibitors. Compounds' similarity to field template, and novelty score "high and very high", were used as primary criteria to identify novel DPP-4 inhibitors. Molecular docking simulations were performed on the resulting natural compounds using FlexX algorithm. Finally, one natural compound, chrysin, was chosen to be evaluated experimentally to demonstrate the applicability of constructed SAR model. This study provides the molecular insights necessary in the discovery of new leads as DPP-4 inhibitors, to improve the potency of existing DPP-4 natural inhibitors.
View Full-Text
►

▼

Figures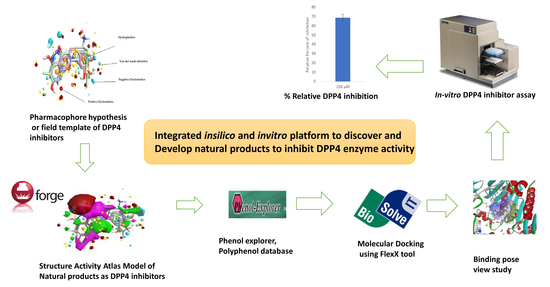 Graphical abstract
This is an open access article distributed under the
Creative Commons Attribution License
which permits unrestricted use, distribution, and reproduction in any medium, provided the original work is properly cited (CC BY 4.0).

Share & Cite This Article
MDPI and ACS Style
Kalhotra, P.; Chittepu, V.C.S.R.; Osorio-Revilla, G.; Gallardo-Velázquez, T. Structure–Activity Relationship and Molecular Docking of Natural Product Library Reveal Chrysin as a Novel Dipeptidyl Peptidase-4 (DPP-4) Inhibitor: An Integrated In Silico and In Vitro Study. Molecules 2018, 23, 1368.
Note that from the first issue of 2016, MDPI journals use article numbers instead of page numbers. See further details here.
Related Articles
Comments
[Return to top]