Supercritical Fluid Chromatography with Photodiode Array Detection in the Determination of Fat-Soluble Vitamins in Hemp Seed Oil and Waste Fish Oil
1
New Chemical Syntheses Institute, Supercritical Extraction Department, Puławy 24-110, Poland
2
Medical University of Wrocław, Faculty of Health Sciences, Department of Angiology, Wrocław 50-367, Poland
3
Department of Pharmacognosy with Medicinal Plant Unit, Medical University of Lublin, Lublin 20-093, Poland
*
Author to whom correspondence should be addressed.
Academic Editors: Jacek Namieśnik and Justyna Płotka-Wasylka
Received: 10 April 2018 / Revised: 6 May 2018 / Accepted: 8 May 2018 / Published: 10 May 2018
Abstract
In the presented study for the first time a new, optimized, fast SFC (supercritical fluid chromatography) method was applied to separate in one run fat-soluble vitamins from waste fish oil, including
cis
-and
tran
s-retinyl palmitate,
cis
- and
trans
-retinyl acetate, retinol, α-tocopherol, β-tocopherol, γ‑tocopherol, δ-tocopherol, ergocalciferol (D
2
), cholecalciferol (D
3
),
cis
- and
trans
-phylloquinone (K
1
) and menaquinone-4 (K
2
-MK4). Vitamins were baseline separated on an Acquity UPC
2
(ultra performance convergence chromatography) HSS C18 SB (highly strength chemically modified silica) column within 13 min. The influence of the stationary phase, such as Torus 1-AA (1-aminoanthracene), Torus Diol (high density diol), Torus DEA (diethylamine), BEH (silica with no bonding), BEH-2EP (2-ethylpirydine), CSH Fluoro-Phenyl (silica with fluoro-phenyl groups), column temperature, flow rate and back pressure on the separation of the compounds was described. The application of the modified saponification procedure allowed us to increase concentration in the sample prepared for the analysis of γ‑tocopherol from less than 1% (wt %) to 14% for the first time. In addition, α‑tocopherol, γ‑tocopherol, δ‑tocopherol and retinol were identified in waste fish oil. Vitamin purification and analysis in waste fish oil are reported for the first time here. Due to the short time and effectiveness of the proposed method, it can be easily applied in industrial processes.
View Full-Text
►

▼

Figures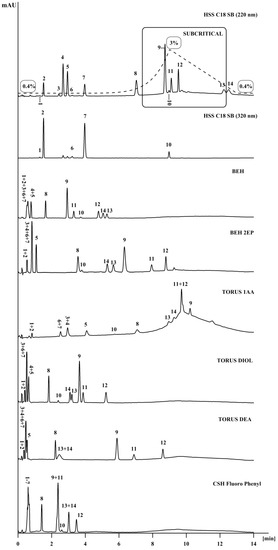 Figure 1
This is an open access article distributed under the
Creative Commons Attribution License
which permits unrestricted use, distribution, and reproduction in any medium, provided the original work is properly cited (CC BY 4.0).

Share & Cite This Article
MDPI and ACS Style
Tyśkiewicz, K.; Gieysztor, R.; Maziarczyk, I.; Hodurek, P.; Rój, E.; Skalicka-Woźniak, K. Supercritical Fluid Chromatography with Photodiode Array Detection in the Determination of Fat-Soluble Vitamins in Hemp Seed Oil and Waste Fish Oil. Molecules 2018, 23, 1131.
Note that from the first issue of 2016, MDPI journals use article numbers instead of page numbers. See further details here.
Related Articles
Comments
[Return to top]