Cancer Drug Development of Carbonic Anhydrase Inhibitors beyond the Active Site
Department of Biochemistry and Molecular Biology, University of Florida, Gainesville, FL 32611, USA
*
Author to whom correspondence should be addressed.
Academic Editor: Claudiu T. Supuran
Received: 23 March 2018 / Revised: 19 April 2018 / Accepted: 20 April 2018 / Published: 30 April 2018
Abstract
Carbonic anhydrases (CAs) catalyze the reversible hydration of carbon dioxide to produce bicarbonate and a proton. Multiple CA isoforms are implicated in a range of diseases, including cancer. In solid tumors, continuously dividing cells create hypoxic conditions that eventually lead to an acidic microenvironment. Hypoxic tumor cells have different mechanisms in place to regulate and adjust the surrounding microenvironment for survival. These mechanisms include expression of CA isoform IX (CA IX) and XII (CA XII). These enzymes help maintain a physiological intracellular pH while simultaneously contributing to an acidic extracellular pH, leading to tumor cell survival. Expression of CA IX and CA XII has also been shown to promote tumor cell invasion and metastasis. This review discusses the characteristics of CA IX and CA XII, their mechanism of action, and validates their prospective use as anticancer targets. We discuss the current status of small inhibitors that target these isoforms, both classical and non-classical, and their future design in order to obtain isoform-specificity for CA IX and CA XII. Biologics, such as monoclonal antibodies, monoclonal-radionuclide conjugated chimeric antibodies, and antibody-small molecule conjugates are also discussed.
View Full-Text
►

▼

Figures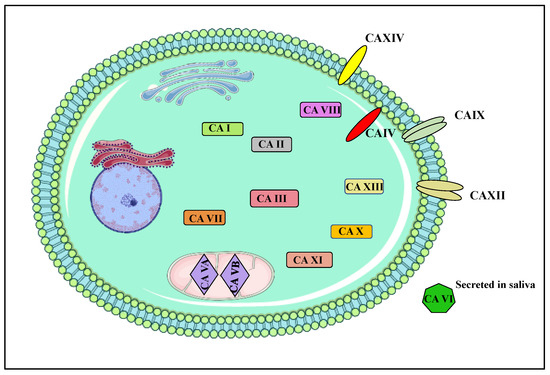 Figure 1
This is an open access article distributed under the
Creative Commons Attribution License
which permits unrestricted use, distribution, and reproduction in any medium, provided the original work is properly cited (CC BY 4.0).

Share & Cite This Article
MDPI and ACS Style
Singh, S.; Lomelino, C.L.; Mboge, M.Y.; Frost, S.C.; McKenna, R. Cancer Drug Development of Carbonic Anhydrase Inhibitors beyond the Active Site. Molecules 2018, 23, 1045.
Note that from the first issue of 2016, MDPI journals use article numbers instead of page numbers. See further details here.
Related Articles
Comments
[Return to top]