Phenolic Composition and Bioactivity of
Lavandula pedunculata

(Mill.) Cav. Samples from Different Geographical Origin

1

Centro de Investigação de Montanha (CIMO), Instituto Politécnico de Bragança, Campus de Santa Apolónia, 5300-253 Bragança, Portugal

2

Institute for Biological Research "Siniša Stanković", Department of Plant Physiology, University of Belgrade, Bulevar Despota Stefana 142, 11000 Belgrade, Serbia

3

Banco Português de Germoplasma Vegetal, Instituto Nacional de Investigação Agrária e Veterinária, I.P. (INIAV, I.P.), Quinta S. José, S. Pedro de Merelim, 4700-859 Braga, Portugal

*

Author to whom correspondence should be addressed.

Received: 9 April 2018 / Revised: 24 April 2018 / Accepted: 27 April 2018 / Published: 28 April 2018
Abstract
The aim of this study was to characterize the phenolic composition and evaluate the bioactivity of several samples of
Lavandula pedunculata
(Mill.) Cav, and to compare aqueous and hydroethanolic extracts. Plant materials were obtained by growing some accessions (seed samples) of various wild populations from different regions of Portugal conserved at the Portuguese Genebank in Braga. Phenolic compounds were analised by HPLC-DAD-ESI/MSn, antioxidant potential through in vitro assays (DPPH radical scavenging activity, reducing power and inhibition of lipid peroxidation), cytotoxicity on tumor cells (MCF-7, NCI-H460, HeLa and HepG2) and non-tumor (PLP2) cells, anti-inflammatory activity in rat RAW 264.7 macrophages, by the ability to inhibit NO production and antimicrobial potential by the microdilution method with INT dye (iodonitrotetrazolium chloride). Thirteen compounds were identified, being salvianolic acid B, rosmarinic acid and luteolin-7-
O
-glucuronide, the main compounds present, with values ranging between 44.3–582, 50.9–550, and 24.36–101.5 mg/g extract, respectively.
L. pedunculata
aqueous extract revealed a higher antioxidant potential (EC
50
values between 14 to 530 μg/mL), which could be related to its higher concentration in phenolic compounds; however, the hydroethanolic extract showed a higher anti-inflammatory (lower EC
50
values than 124 μg/mL) potential and antiproliferative capacity (lower GI
50
values than 34 μg/mL). Thus, this study highlights the bioactive effects of this species and opens up possibilities of uses in food and pharmaceutical formulations. However, there are potential differences in such properties according to geographical origin of plant material, as in general, the samples from Alentejo presented higher results in all the bioactivities, compared with Trás-os-Montes samples.
View Full-Text
►

▼

Figures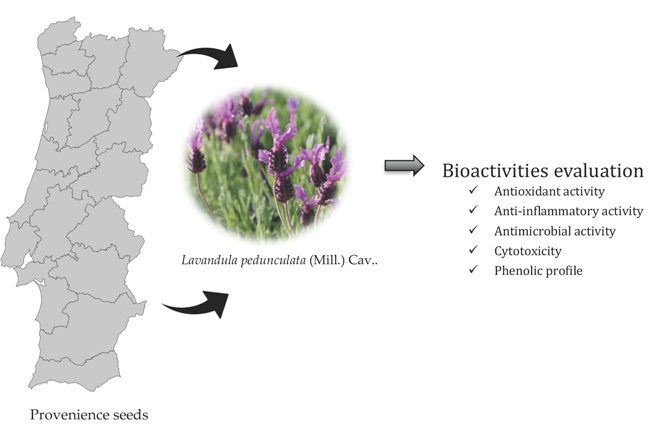 Graphical abstract
This is an open access article distributed under the
Creative Commons Attribution License
which permits unrestricted use, distribution, and reproduction in any medium, provided the original work is properly cited (CC BY 4.0).

Share & Cite This Article
MDPI and ACS Style
Lopes, C.L.; Pereira, E.; Soković, M.; Carvalho, A.M.; Barata, A.M.; Lopes, V.; Rocha, F.; Calhelha, R.C.; Barros, L.; Ferreira, I.C. Phenolic Composition and Bioactivity of Lavandula pedunculata (Mill.) Cav. Samples from Different Geographical Origin. Molecules 2018, 23, 1037.
Note that from the first issue of 2016, MDPI journals use article numbers instead of page numbers. See further details here.
Related Articles
Comments
[Return to top]