Carotenoid Lutein Selectively Inhibits Breast Cancer Cell Growth and Potentiates the Effect of Chemotherapeutic Agents through ROS-Mediated Mechanisms
1
Department of Pediatrics, Paul L. Foster School of Medicine, Texas Tech University Health Sciences Center, El Paso, TX 79905, USA
2
Paul L. Foster School of Medicine, Texas Tech University Health Sciences Center, El Paso, TX 79905, USA
3
Department of Biomedical Sciences, Paul L. Foster School of Medicine, Texas Tech University Health Sciences Center, El Paso, TX 79905, USA
*
Author to whom correspondence should be addressed.
Academic Editor: Francesca Giampieri
Received: 28 March 2018 / Revised: 10 April 2018 / Accepted: 11 April 2018 / Published: 14 April 2018
Abstract
Increasing evidence suggests that dietary carotenoids may reduce the risk of breast cancer. However, anti-breast cancer effects of carotenoids have been controversial, albeit understudied. Here, we investigated the effects of specific carotenoids on a wide range of breast cancer cell lines, and found that among several carotenoids (including β-carotene, lutein, and astaxanthin), lutein significantly inhibits breast cancer cell growth by inducing cell-cycle arrest and caspase-independent cell death, but it has little effect on the growth of primary mammary epithelial cells (PmECs). Moreover, lutein-mediated growth inhibition of breast cancer cells is quantitatively similar to that induced by chemotherapeutic taxanes, paclitaxel and docetaxel, and exposure to lutein plus taxanes additively inhibits breast cancer cell growth. Analysis of mechanisms showed that lutein treatment significantly increases the intracellular reactive oxygen species (ROS) production in triple-negative breast cancer (TNBC) cells, but not in normal PmECs. Lutein-induced growth inhibition is also attenuated by the radical oxygen scavenger
N
-acetyl cysteine, suggesting a role for ROS generation in the growth inhibitory effect of lutein on TNBC cells. Additionally, we found that the p53 signaling pathway is activated and HSP60 levels are increased by lutein treatment, which may contribute partly to the induction of growth inhibition in TNBC cells. Our findings show that lutein promotes growth inhibition of breast cancer cells through increased cell type-specific ROS generation and alternation of several signaling pathways. Dietary lutein supplementation may be a promising alternative and/or adjunct therapeutic candidate against breast cancer.
View Full-Text
►

▼

Figures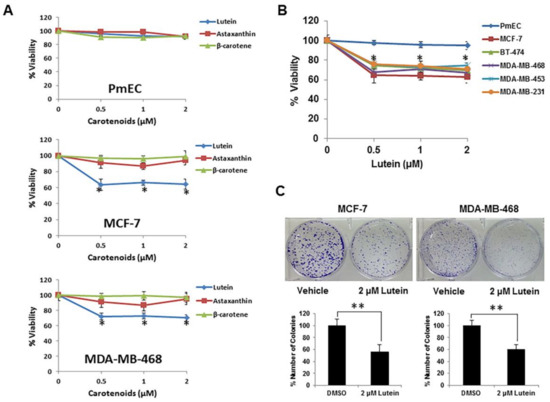 Figure 1
This is an open access article distributed under the
Creative Commons Attribution License
which permits unrestricted use, distribution, and reproduction in any medium, provided the original work is properly cited (CC BY 4.0).

Share & Cite This Article
MDPI and ACS Style
Gong, X.; Smith, J.R.; Swanson, H.M.; Rubin, L.P. Carotenoid Lutein Selectively Inhibits Breast Cancer Cell Growth and Potentiates the Effect of Chemotherapeutic Agents through ROS-Mediated Mechanisms. Molecules 2018, 23, 905.
Note that from the first issue of 2016, MDPI journals use article numbers instead of page numbers. See further details here.
Related Articles
Comments
[Return to top]