Polymer-Mediated Delivery of siRNAs to Hepatocellular Carcinoma: Variables Affecting Specificity and Effectiveness
1
Department of Engineering and Architecture, University of Trieste, Via Alfonso Valerio, 6/A, I-34127 Trieste, Italy
2
Laboratory of Bioinorganic Chemistry, Department of Pharmacy and Biotechnology, University of Bologna, I-40127 Bologna, Italy
3
Department of Life Sciences, Cattinara University Hospital, Trieste University, Strada di Fiume 447, I-34149 Trieste, Italy
4
Department of Experimental Oncology, Institute of Oncology, Ljubljana, Zaloska 2, SI-1000 Ljubljana, Slovenia
5
Faculty of Health Sciences, University of Primorska, Polje 42, SI-6310 Izola, Slovenia
6
Faculty of Chemistry and Chemical Technology, University of Ljubljana, Večna pot 113, SI-1000 Ljubljana, Slovenia
7
Department of "Scienze Mediche, Chirurgiche e della Salute", University of Trieste, Cattinara Hospital, Strada di Fiume 447, I-34149 Trieste, Italy
8
Center for Translational Medicine (CTM), International Clinical Research Center (ICRC), St. Anne's University Hospital, Studenstka 6, 656 91 Brno, Czech Republic
9
Experimental and Clinical Pharmacology Unit, C.R.O.-National Cancer Institute, via Franco Gallini 2, I-33081 Aviano (PN), Italy
10
Doctoral School in Molecular Biomedicine, University of Trieste, 34100 Trieste, Italy
11
Doctoral School in Chemistry, University of Trieste, Trieste 34100, Italy
12
Department of Molecular Sciences and Nanosystems, Ca' Foscari University, via Torino 155, I-30172, Mestre (Venezia), Italy
*
Author to whom correspondence should be addressed.
Academic Editors: Jean Jacques Vanden Eynde and Annie Mayence
Received: 26 February 2018 / Revised: 22 March 2018 / Accepted: 23 March 2018 / Published: 28 March 2018
Abstract
Despite the advances in anticancer therapies, their effectiveness for many human tumors is still far from being optimal. Significant improvements in treatment efficacy can come from the enhancement of drug specificity. This goal may be achieved by combining the use of therapeutic molecules with tumor specific effects and delivery carriers with tumor targeting ability. In this regard, nucleic acid-based drug (NABD) and particularly small interfering RNAs (siRNAs), are attractive molecules due to the possibility to be engineered to target specific tumor genes. On the other hand, polymeric-based delivery systems are emerging as versatile carriers to generate tumor-targeted delivery systems. Here we will focus on the most recent findings in the selection of siRNA/polymeric targeted delivery systems for hepatocellular carcinoma (HCC), a human tumor for which currently available therapeutic approaches are poorly effective. In addition, we will discuss the most attracting and, in our opinion, promising siRNA-polymer combinations for HCC in relation to the biological features of HCC tissue. Attention will be also put on the mathematical description of the mechanisms ruling siRNA-carrier delivery, this being an important aspect to improve effectiveness reducing the experimental work.
View Full-Text
►

▼

Figures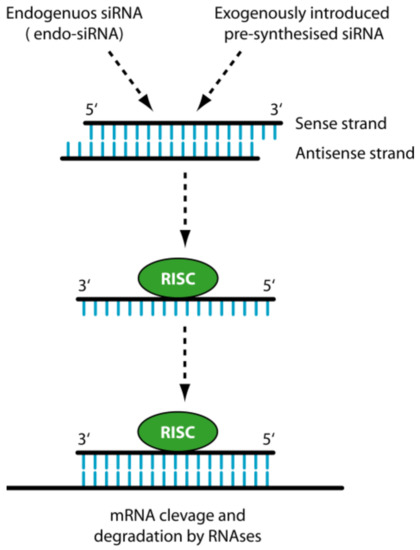 Figure 1
This is an open access article distributed under the
Creative Commons Attribution License
which permits unrestricted use, distribution, and reproduction in any medium, provided the original work is properly cited (CC BY 4.0).

Share & Cite This Article
MDPI and ACS Style
Farra, R.; Musiani, F.; Perrone, F.; Čemažar, M.; Kamenšek, U.; Tonon, F.; Abrami, M.; Ručigaj, A.; Grassi, M.; Pozzato, G.; Bonazza, D.; Zanconati, F.; Forte, G.; El Boustani, M.; Scarabel, L.; Garziera, M.; Russo Spena, C.; De Stefano, L.; Salis, B.; Toffoli, G.; Rizzolio, F.; Grassi, G.; Dapas, B. Polymer-Mediated Delivery of siRNAs to Hepatocellular Carcinoma: Variables Affecting Specificity and Effectiveness. Molecules 2018, 23, 777.
Note that from the first issue of 2016, MDPI journals use article numbers instead of page numbers. See further details here.
Related Articles
Comments
[Return to top]