The Effect of Tomatine on Gene Expression and Cell Monolayer Integrity in Caco-2
1
Department of the Sciences of Agriculture, Food and Environment, University of Foggia, Via Napoli 25, 71122 Foggia, Italy
2
Wageningen Food & Biobased Research, Wageningen University and Research, Bornse Weilanden 9, P.O. Box 17, 6700 AA Wageningen, The Netherlands
3
Department of Soil, Plant and Food Sciences, Plant Genetics and Breeding Unit; Via Amendola 165/A, 70125 Bari, Italy
4
Laboratory of Food Chemistry, Wageningen University and Research Centre, Bomenweg 2, P.O. Box 8129, 6700 EV Wageningen, The Netherlands
*
Author to whom correspondence should be addressed.
Received: 29 January 2018 / Revised: 6 March 2018 / Accepted: 11 March 2018 / Published: 13 March 2018
Abstract
More understanding of the risk-benefit effect of the glycoalkaloid tomatine is required to be able to estimate the role it might play in our diet. In this work, we focused on effects towards intestinal epithelial cells based on a Caco-2 model in order to analyze the influence on the cell monolayer integrity and on the expression levels of genes involved in cholesterol/sterol biosynthesis (LDLR), lipid metabolism (NR2F2), glucose and amino acid uptake (SGLT1, PAT1), cell cycle (PCNA, CDKN1A), apoptosis (CASP-3, BMF, KLF6), tight junctions (CLDN4, OCLN2) and cytokine-mediated signaling (IL-8, IL1β, TSLP, TNF-α). Furthermore, since the bioactivity of the compound might vary in the presence of a food matrix and following digestion, the influence of both pure tomatine and in vitro digested tomatine with and without tomato fruit matrix was studied. The obtained results suggested that concentrations <20 µg/mL of tomatine, either undigested or in vitro digested, do not compromise the viability of Caco-2 cells and stimulate cytokine expression. This effect of tomatine, in vitro digested tomatine or in vitro digested tomatine with tomato matrix differs slightly, probably due to variations of bioactivity or bioavailability of the tomatine. The results lead to the hypothesis that tomatine acts as hormetic compound that can induce beneficial or risk toxic effects whether used in low or high dose.
View Full-Text
►

▼

Figures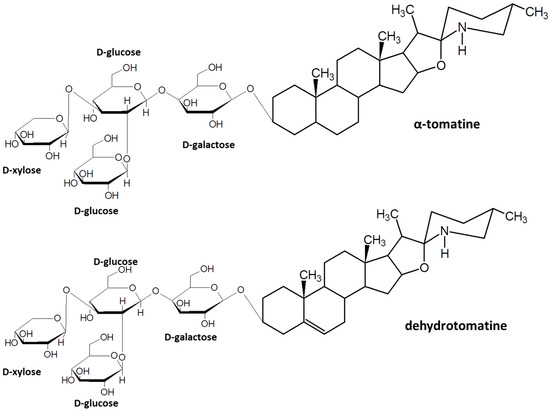 Figure 1
This is an open access article distributed under the
Creative Commons Attribution License
which permits unrestricted use, distribution, and reproduction in any medium, provided the original work is properly cited (CC BY 4.0).

Share & Cite This Article
MDPI and ACS Style
Arena, M.P.; Govers, C.; Lotti, C.; Ricciardi, L.; Wichers, H.J.; Mes, J.J. The Effect of Tomatine on Gene Expression and Cell Monolayer Integrity in Caco-2. Molecules 2018, 23, 644.
Note that from the first issue of 2016, MDPI journals use article numbers instead of page numbers. See further details here.
Related Articles
Comments
[Return to top]