Open Access This article is
freely available
re-usable
Review
Cell Migration Related to MDR—Another Impediment to Effective Chemotherapy?
Institute of Medical Biology, Polish Academy of Sciences, 106 Lodowa Str, 93-232 Lodz, Poland
*
Author to whom correspondence should be addressed.
Received: 8 January 2018 / Accepted: 1 February 2018 / Published: 5 February 2018
Abstract
:
Multidrug resistance, mediated by members of the ATP-binding cassette (ABC) proteins superfamily, has become one of the biggest obstacles in conquering tumour progression. If the chemotherapy outcome is considered successful, when the primary tumour volume is decreased or completely abolished, modulation of ABC proteins activity is one of the best methods to overcome drug resistance. However, if a positive outcome is represented by no metastasis or, at least, elongation of remission-free time, then the positive effect of ABC proteins inhibition should be compared with the several side effects it causes, which may inflict cancer progression and decrease overall patient health. Clinical trials conducted thus far have shown that the tested ABC modulators add limited or no benefits to cancer patients, as some of them are merely toxic and others induce unwanted drug–drug interactions. Moreover, the inhibition of certain ABC members has been recently indicated as potentially responsible for increased fibroblasts migration. A better understanding of the complex role of ABC proteins in relation to cancer progression may offer novel strategies in cancer therapy.
Keywords:
ABC transporters; MRP; multidrug resistance in cancer; MDR reversal; metastasis; cell migration
Acknowledgments
This review was supported by statutory funds to the Institute of Medical Biology PAS and the Polish–Norwegian Research Programme operated by the National Centre for Research and Development under the Norwegian Financial Mechanism 2009–2014 in the frame of the Project MOMENTO (Pol-Nor/202952/5/2013).
Author Contributions
Jakub Kryczka wrote the manuscript. Joanna Boncela conceived the structure of the review, and revised and edited the manuscript.
Conflicts of Interest
The authors declare no conflict of interest.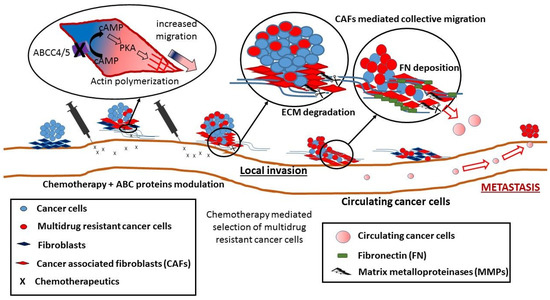 Figure 1.
Putative effect of ABCC4/5 modulation on cancer metastasis. Inhibition of ABCC4/5 mediated cyclic nucleotide transport increases cAMP intracellular concentration, leading to enhanced actin polymerization, via cAMP-dependent protein kinase (PKA), and resulting in a gain in the high migratory abilities by cancer associated fibroblasts (CAFs) [
136
] and cancer cells [
149
,
150
]. Chemotherapy mediates tumour regression but increases the number of multidrug resistant cancer cells. CAFs forms an "advance guard" on the leading edge of invading cancer cells and process extracellular matrix (ECM) to prepare a metastatic niche. Red arrows indicate cell migration, black arrows—enlarged part of the scheme.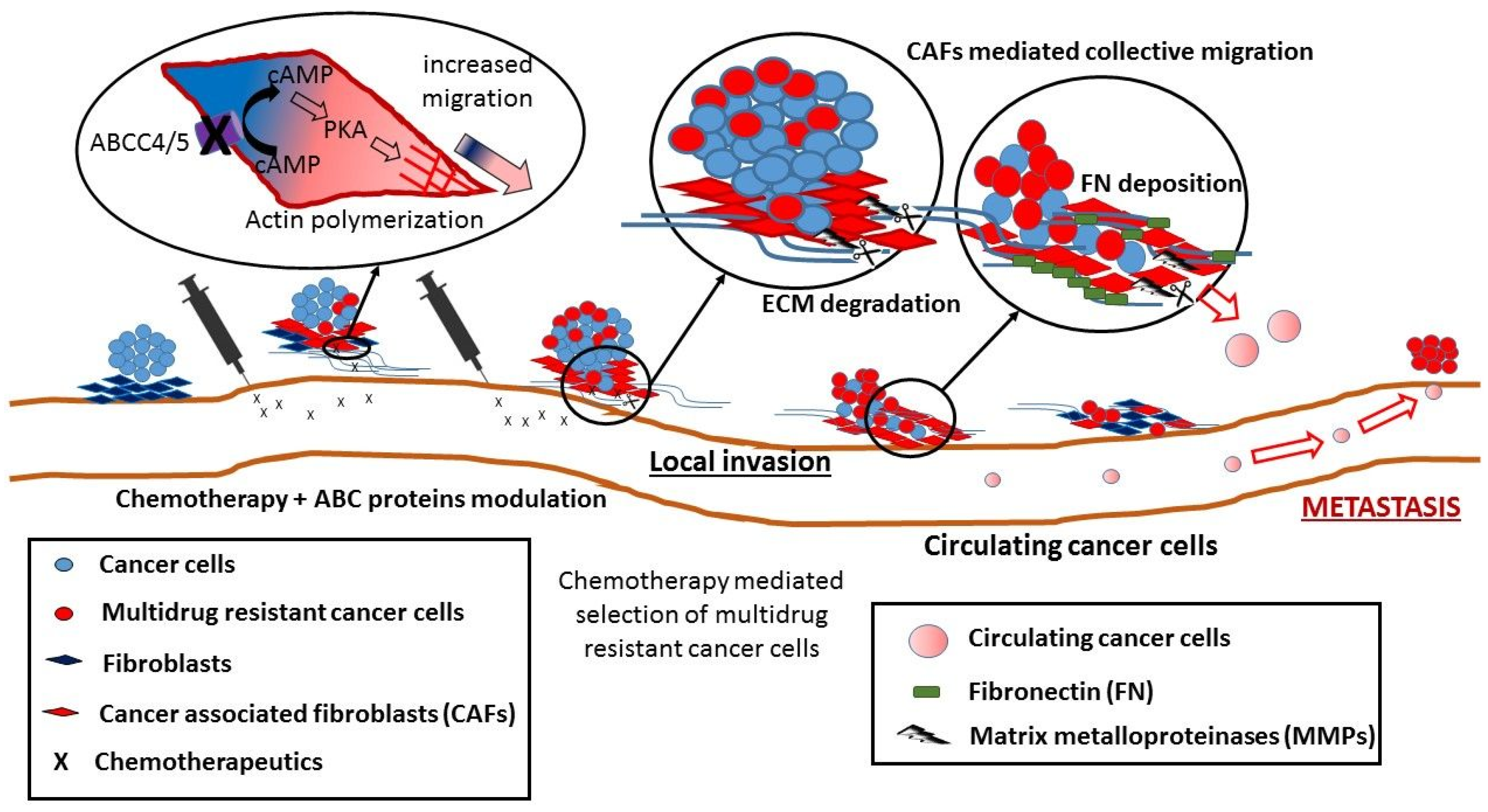 Table 1. Multidrug resistance associated ABC protein nomenclature.

| ABC Gene | Alternative Names |
| --- | --- |
| ABCB1 | MDR1 P-gp (P-glycoprotein 1) |
| ABCC1 | MRP1 |
| ABCC2 | MRP2 cMOAT |
| ABCC3 | MRP3 cMOAT-2 |
| ABCC4 | MRP4 MOAT-B |
| ABCC5 | MRP5 MOAT-C |
| ABCC6 | MRP6 |
| ABCC10 | MRP7 |
| ABCC11 | MRP8 |
| ABCC12 | MRP9 |
| ABCG2 | BCRP1 MXR1 |
Table 2. ABC proteins modulators (inhibitors).
ABC Protein Activity Modulator
Target
Effect
Biricodar
ABCB1 ABCC1 ABCG2
direct interaction [65]
Celecoxib
ABCC1
COX-2 inhibitor [66]
Curcumin
ABCB1 ABCC1 ABCG2
interacts directly with drug binding site of the transporter [67]
Cyclosporine A
ABCB1 ABCC1 ABCC2 ABCC10 ABCG2
interacts directly with drug binding site of the transporter [65,68]
Dexaverapamil
ABCB1
interacts directly with drug binding site of the transporter [69]
Dipiridamole
ABCB1 ABCC1 ABCC4
phosphodiesterase inhibitor [70]
Dofequidar
ABCB1 ABCC1 ABCG2
direct interaction [71]
Elacradir
ABCB1 ABCG2
direct interaction [65]
Indomethacin
ABCC1 ABCC2
COX and glutathione-S-transferase inhibitor, direct ABC protein inhibition [72]
Losartan
ABCB1 ABCC4
direct interaction [73,74]
MK571
ABCC family ABCG2
LTC4 receptor antagonist [55,75]
MRK-16
ABCB1
Antibody [44,76]
Ontogen
ABCB1
direct interaction [49]
Piperine
ABCB1 ABCC1 ABCG2
reduces ATPase activity of ABCB1 at high concentration and stimulates it at low concentration, decreases the expression level of

ABCB1

,

ABCC1

and

ABCG2

genes [77]
Probenecid
ABCC family
an organic anion transport inhibitor [56,78]
Quercetin
ABCC family
Interact with ATP binding site (NBD) [79]
Reversan
ABCB1 ABCC1
small molecule inhibitor [80]
Sildenafil
ABCB1 ABCC4 ABCG2
PDE5 inhiitor [70,81]
Sorafenib
ABCB1 ABCC1-3
multi-kinase inhibitor, downregulates

ABC

mRNA [58]
Tariquidar
ABCB1 ABCC1 ABCC10 ABCG2
interacts the transporter but not with drug binding site [51,52,82]
Valspodar
ABCB1 ABCC2
interacts directly with drug binding site of the transporter [75,83]
Verapamil
ABCB1 ABCC1
interacts directly with drug binding site of the transporter [65]
Zosuquidar
ABCB1
direct interaction [50]

© 2018 by the authors. Licensee MDPI, Basel, Switzerland. This article is an open access article distributed under the terms and conditions of the Creative Commons Attribution (CC BY) license (http://creativecommons.org/licenses/by/4.0/).