MicroRNA-125a-5p Mediates 3T3-L1 Preadipocyte Proliferation and Differentiation
1
College of Animal Science and Technology, Sichuan Agricultural University, Chengdu 611130, China
2
Sichuan Province General Station of Animal Husbandry, Chengdu 611130, China
3
College of Life and Science, Sichuan Agricultural University, Chengdu 611130, China
4
Chongqing Academy of Animal Sciences, Chongqing 402460, China
*
Authors to whom correspondence should be addressed.
†
These authors contributed equally to this work.
Received: 25 December 2017 / Revised: 26 January 2018 / Accepted: 28 January 2018 / Published: 2 February 2018
Abstract
Excessive accumulation of adipose tissue is a main cause of obesity or overweight, which is significantly involved in increasing the risk of diseases. Recently, numerous studies have proved that microRNAs (miRNAs) play important roles in adipogenesis by negatively regulating gene expression at posttranscriptional levels. In this study, we showed that miR-125a-5p was expressed at lower levels in the adipose tissues of high-fat diet (HFD)-fed mice than the normal chow (NCW)-fed mice. MiR-125a-5p expression were strongly up-regulated by nearly five-fold, when 3T3-L1 preadipocyte were induced and differentiated into mature adipocytes. Functional analysis indicated that overexpression of miR-125a-5p promoted 3T3-L1 preadipocyte proliferation and inhibited its differentiation. By contrast, inhibition of miR-125a-5p repressed 3T3-L1 preadipocyte proliferation and accelerated its differentiation. Furthermore, a dual-luciferase reporter assay demonstrated that signal transducer and activator of transcription 3 (STAT3) is a direct target gene of miR-125a-5p during 3T3-L1 preadipocyte differentiation. Further analysis confirmed that the process of miR-125a-5p inhibiting 3T3-L1 preadipocyte differentiation might be associated with the regulation of fatty acid metabolism related genes. Taken together, our results indicated that miR-125a-5p might promote 3T3-L1 preadipocyte proliferation, whereas inhibiting 3T3-L1 preadipocyte differentiation by negatively regulating STAT3.
View Full-Text
►

▼

Figures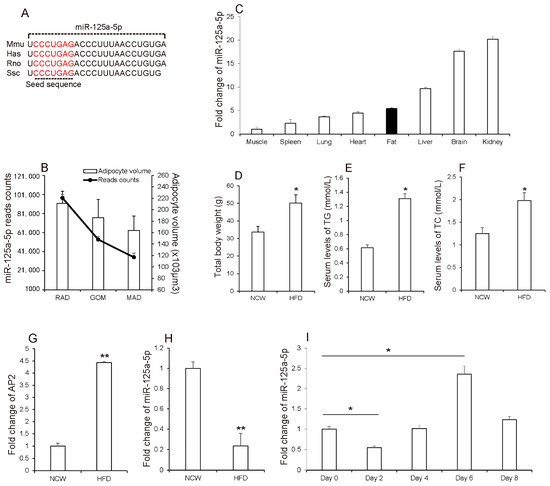 Figure 1
This is an open access article distributed under the
Creative Commons Attribution License
which permits unrestricted use, distribution, and reproduction in any medium, provided the original work is properly cited (CC BY 4.0).

Share & Cite This Article
MDPI and ACS Style
Xu, Y.; Du, J.; Zhang, P.; Zhao, X.; Li, Q.; Jiang, A.; Jiang, D.; Tang, G.; Jiang, Y.; Wang, J.; Li, X.; Zhang, S.; Zhu, L. MicroRNA-125a-5p Mediates 3T3-L1 Preadipocyte Proliferation and Differentiation. Molecules 2018, 23, 317.
Note that from the first issue of 2016, MDPI journals use article numbers instead of page numbers. See further details here.
Related Articles
Comments
[Return to top]