Open Access This article is
freely available
re-usable
Review
Cell Penetrating Peptides as Molecular Carriers for Anti-Cancer Agents
Molecular Biology and Viral Oncology Unit, Istituto Nazionale Tumori IRCCS Fondazione Pascale, 80131 Naples, Italy
†
These authors equally contributed to this work.

Received: 19 December 2017 / Accepted: 27 January 2018 / Published: 31 January 2018
Abstract
:
Cell membranes with their selective permeability play important functions in the tight control of molecular exchanges between the cytosol and the extracellular environment as the intracellular membranes do within the internal compartments. For this reason the plasma membranes often represent a challenging obstacle to the intracellular delivery of many anti-cancer molecules. The active transport of drugs through such barrier often requires specific carriers able to cross the lipid bilayer. Cell penetrating peptides (CPPs) are generally 5–30 amino acids long which, for their ability to cross cell membranes, are widely used to deliver proteins, plasmid DNA, RNA, oligonucleotides, liposomes and anti-cancer drugs inside the cells. In this review, we describe the several types of CPPs, the chemical modifications to improve their cellular uptake, the different mechanisms to cross cell membranes and their biological properties upon conjugation with specific molecules. Special emphasis has been given to those with promising application in cancer therapy.
Keywords:
peptides; chemical modifications; cell penetrating peptides (CPPs); peptide cyclization;
d
-amino acids; chemotherapeutic drugs; gene delivery; cellular uptake; transfection
1. Introduction
Cell penetrating peptides (CPPs), formerly defined as protein transduction domains, are a large class of short amino acid sequences (5–30 residues) able to traverse biological membranes and to deliver numerous compounds including small molecules, nucleic acids, proteins, viruses, imaging agents and drugs inside the cells [
1
,
2
].
The discovery of the first protein crossing the cell membrane was made independently by two research groups in 1988 [
3
,
4
]. They observed that the human immunodeficiency virus 1 (HIV 1) trans-activating (Tat) protein was able to enter tissue-cultured cells, to translocate into the nucleus and to transactivate the viral gene expression. The α-helical domain of Tat protein spanning the residues 48 to 60, mainly composed of basic amino acids, was found as the main determinant for cell internalization and nucleus translocation [
5
,
6
]. The Tat dodecapeptide GRKKRRQRRRPQ has been shown to be the minimal functional molecule and many CPPs have been derived from the original sequence [
7
]. In 1991, the homeodomain encoded by Antennapedia gene of
Drosophila melanogaster
was shown to cross the neuronal membrane, to translocate into the nucleus and to cause morphological differentiation of neurons [
8
]. The 16 amino acid peptide (RQIKIWFQNRRMKWKK) of the third helix of the Antennapedia homeodomain, namely Penetratin peptide, was able to efficiently cross the cell membranes with an energy-independent mechanism [
9
].
In almost 30 years an impressive number of CPPs have been used in basic research and in preclinical studies for the treatment of several diseases such as infections, inflammation, neurodegenerative disorders and cancer [
10
]. However, few molecules have been evaluated in clinical trials due to the limited permeability of plasma membranes, low delivery efficiency and poor specificity for target tumor cells. Several experimental approaches have been used to produce active molecules able to specifically reach cancer cells and deliver their cargo of anticancer drugs inside the cells. The advantages of peptide-based strategies over other delivery system are multiple. Peptides are non-immunogenic molecules, usually not cytotoxic, stable in physiological conditions and effective for rapid delivery into cells of many cargoes, such as protein, other peptides or nucleic acids [
11
].
This review describes the advances in the development and use of CPPs mainly as carriers for anticancer therapeutics. In particular, we summarize the chemical properties, the mechanisms of cell uptake, the different molecules transported by CPPs and the ongoing clinical trials evaluating CPP-based therapeutics.
2. Chemical Properties of Cell Penetrating Peptides
The amphipathic CPPs contain both polar and nonpolar amino acidic regions, are mainly involved in the intracellular transport and accumulate preferentially in the nucleus. They include multiple antigen peptide (MAP), integrin receptor targeting peptide arginine-glycine-aspartic (RGD), and herpes simplex virus protein VP22.
Chemical Modifications of CPPs to Enhance Therapeutic Delivery
3. Mechanisms of Cell Uptake
4. CPPs and Anti-Cancer Drug Delivery
Cancer is a major cause of death worldwide and chemotherapy is the most common therapeutic approach [
139
]. However, major problems of chemotherapeutics are the poor penetration of drugs into tumor tissues, the appearance of resistant tumors to high dosage or to long-term treatment and dose-dependent side effects. The low penetration of drugs in the cancer tissues is due to a dense connective stroma that hinders the entry of molecules into tumoral tissue (pancreatic cancer is an example) and the presence of high interstitial pressure caused by abnormal blood and lymphatic vessels. CPPs can improve the drug delivery in tumor cells by facilitating extravasation and penetration of cancer cells while other tissues remains unaffected by the drug. Therapeutic strategies that use antibodies or peptides recognizing target molecules specific to tumor cells allow to concentrate into tumoral tissue an amount of drug able to inhibit cancer growth. Thus, increased activity and reduced toxicity to healthy tissues are expected when the drug is localized and accumulated preferentially in the tumor site [
140
]. Endogenous stimuli such as activation of specific enzymes or pH value which characterize different cancer cells can increase cell specificity. Also extrinsic stimuli, such as mild heat have had encouraging results enhancing cargo delivery and increasing the accumulation of CPP delivered drugs.
4.1. CPPs for Delivery of Chemotherapeutic Agents
4.2. CPP and Nuclear Acids Delivery for Anti-Cancer Therapy
4.3. CPP and Protein Delivery for Anti-Cancer Therapy
More recently, the new direction of translational research is focused heavily on the use of therapeutic proteins and vaccine peptides in anticancer therapies. The first response to a peptide-based vaccine is a humoral antibody response. The activation of cytotoxic T-cell lymphocytes (CTLs) requires the antigen processing via the MHC class I pathway and CPPs can foster the cytosolic uptake of vaccine-peptides through the MHC I presentation. LAH4, a non-covalently bound cell-penetrating peptide, enhanced the cellular delivery of a tyrosinase-related protein 2 (TRP2) peptide vaccine, inducing anticancer effect in tumor tissues expressing TRP2 in mouse models [
131
,
164
].
A novel amphipathic CPP, p28 (
Table 1
), is derived from a redox protein (azurin) from the pathogen
Pseudomonas aeruginosa
. A minimal protein domain of azurin (amino acids 50 to 67) named p18, contains the cell penetrating properties and enables azurin to enter into human cancer cells. Fragment p28 (amino acids 50 to 77), additionally, can influence p53, can bind and stabilize p53 producing p53-mediated apoptosis and antitumor effects [
165
]. This CPP p28 also has anti-angiogenic effects and entered clinical trials in humans [
166
,
167
].
Although many clinical trials based on the use of CPP are underway no CPP-based drug has obtained US Food and Drug Administration (FDA) approval as a cancer therapeutic [
89
]. Clinical applications of CPPs show several disadvantages and limitations. CPPs can be degraded by enzymes circulating in the plasma. The use of protease resistant-CPP is the first useful strategy to resolve this obstacle [
108
]. Sometimes, CPPs have been sterically shielded by polyethylene glycol (PEG) chains attached to the surface by a linker that can be cleaved via stimulus from tumor tissues, changing local environmental conditions and inactivating PEG protection [
168
,
169
].
4.4. "Smart" Intracellular Drug Delivery Systems for CPP-Mediated Cancer Therapy
A novel system to control the safety of CPP-mediated intracellular drug delivery is based on the use of a prodrug made up of two components. The first element is an antibody which is a heparin-linked tumor-targeting unit or a magnetic iron oxide nanoparticle (MION) carrier that represents a targeting component. The second element is a drug complex consisting of a covalent polycationic CPPs, such as TAT or LMWP, and a macromolecular drug, such as a protein or a nucleic acid [
170
,
171
].
The drug candidate is a protein toxin or a siRNA which is linked via a degradable S-S bond to nontoxic CPP with low molecular weight such as LMWP. The targeting unit is a MION carrier with a superparamagnetic feature and is covered with a biocompatible heparin-dextran polymer. Together constitute an LMWP-modified drug and the heparin-coated MION as unique pro-drug. The binding between LMWP and heparin of a MION carrier hinders the cell-penetrating function of LMWP during tumor targeting. When the concentration of the MION carriers in the tumor is high, the administration of protamine, a heparin antidote that binds heparin stronger than LMWP, allows the release of LMWP-drug. At the end the drug is removed from LMWP through the degradation of the S-S bond leading to the initiation of tumor death by apoptosis [
172
].
4.5. Increasing Cell Specificity Systems for CPP-Mediated Cancer Therapy and Diagnosis
4.6. CPP and Organelle-Specific Delivery for Anti-Cancer Therapy: Mitochondrial Delivery
Mitochondria are the powerhouses of cells, and they control several programmed cell death mechanisms. One of the hallmarks of the cancer is the hypoxic condition that is lethal for healthy cells. Under inadequate amounts of oxygen, mitochondria do not produce enough ATP, tumor cells overexpress hypoxia-inducible factor-1 (HIF-1), and the induction of this factor upregulates the glycolytic pathway. Accumulation of Krebs cycle substrates such as succinate occurs. Malignant cells are characterized by decreased expression or mutated p53 which cause the escape from hypoxia-mediated cell death. The mutated tumor suppressor protein causes a down-regulation of mitochondrial respiration an up-regulation of glycolysis. Reactive oxygen species (ROS) are produced during a normal cellular function. Also, a dysfunctional mitochondrial respiratory chain produces an abnormal amount of ROS that are extremely reactive and unstable species. This chemical reactivity induces lipid peroxidation and protein oxidation and degradation. ROS induce damage mitochondrial DNA (mtDNA) in the form of mutations, deletions, gene amplification, and rearrangements. The mitochondria-mediated intrinsic apoptotic pathway is suppressed, and the activation of oncogenes and the inactivation of suppressor genes can occur (over-expressed anti-apoptotic proteins such as Bcl-2, Bcl-XL, Mcl-1, and Bcl-w). These changes are typical of cancer cells [
177
,
178
]
.
Since mitochondria play this critical role in mediating cell death, could be promising to have anti-cancer drugs targeting the mitochondria. Horton et al. [
179
] described a class of synthetic and natural peptides defined as mitochondrial-penetrating peptides (MPP) that have a cellular uptake like cationic CPPs and can deliver the cargo to mitochondria. Recently a dual role antioxidant and mitochondria-penetrating peptide, mtCPP1, was prepared from the Szeto-Schiller (SS) tetrapeptide antioxidants that enter the cell by an independent energy mechanism and localizes to the inner mitochondrial membrane. mtCPP-1 was able to deliver 5(6)-carboxyfluorescein (5-FAM) across the cell membrane and preferentially target it to the mitochondria. It is also able to decrease Ros production [
131
,
180
,
181
].
5. Conclusions
The discovery of small peptides able to cross cell membranes led to the development of new drug delivery systems. The numerous studies obtained from multiple preclinical and clinical trials have clearly demonstrated the ability of CPPs to increase the therapeutic response in different types of human disease including cancer.
In the last decade several CPP-based drugs have been evaluated for their activities in phase I/II clinical trials. The AZX100, a phosphorylated peptide analogue of heat shock protein 20 (HSP20) fused to a Tat peptide derived sequence (PTD4, YARAAARQARA) has shown to reduce keloids, surgical scarring and fibrotic disorders (NCT00811577, NCT00825916). The RT001, made of botulinum toxin type A molecule fused to a positively charged lysine-rich central peptidic domain situated between two Tat peptides, for the treatment of lateral canthal lines, crow's feet, and facial wrinkles (NCT01124565). The KAI-9803, the δ-PKC-selective inhibitor peptide dV1-1 conjugated to Tat peptide, has been found effective to limit tissue damage following myocardial infarction (NCT00093197).
Few clinical trials evaluated the efficacy of CPP-based drugs for cancer therapy. The p28, a 28-amino-acid peptide derived from the bacterial protein azurin, has shown to cross the cell membrane and to enter the nucleus where it suppresses p53 degradation causing inhibition of the cell cycle and cancer cell proliferation [
182
]. The p28 entered a Phase I clinical trial for treatment of p53-positive progressive central nervous system tumors resistant to standard treatments (NCT00914914 and NCT01975116). The results showed that p28 was well tolerated with no immunogenicity and effective in patients with refractory disease [
168
].
Several cancer types are treated with the irinotecan, a prodrug that is converted into its active metabolite SN38 by the action of liver carboxylesterases. The SN38 drug cannot be administered directly due to its high insolubility, then the DTS-108, a water-soluble compound comprising SN38 linked to the highly charged oligopeptide DPV1047 (Vectocell1), has been produced and evaluated in preclinical and clinical studies [
183
,
184
]. The antitumoral efficacy of DTS-108 was dose-dependent when evaluated in lung human tumors and superior to irinotecan [
185
], while DTS-108, a novel peptidic pro-drug of SN38, has been used in a phase I clinical study for the treatment of advanced/metastatic solid tumors [
186
].
The major obstacle to CPP-based therapies has been the limited cell type specificity, given that most CPPs are internalized by all cell types, their poor stability in bloodstream and their low bioavailability in target tissues due poor tissue penetration and/or cellular uptake. Several strategies have been developed to increase CPP specificity to diseased tissues such as the conjugation of CPPs with homing peptides or with other targeting ligands such as RGD peptides, folic acid and hyaluronic acid [
187
]. These active ligands are usually highly expressed in several tumor types but not in normal cells thus healthy tissues remain unaffected by drug delivery.
Pharmacokinetics and short blood plasma half-life can be improved by using unnatural amino acids and by coupling CPPs and drugs to macromolecular carriers, such as liposomes or biopolymers. The absence of cell specificity has been addressed by variety of controlled delivery strategies using endogenous or extrinsic stimuli to selectively increase uptake of CCP at the disease site.
It should be considered that the conjugation of a CPP with cargo could sometimes generate new epitopes inducing immune responses, while a single CPP did not elicit any immune responses. Further experimental and clinical studies are needed to optimize the use of CPPs for delivery of anticancer drugs.
Acknowledgments
A.L.T. is the recipient of a postdoctoral fellowship from Regione Campania (PO FSE 2007/2013 DR N. 134 del 18/05/2015).
Author Contributions
A.B., A.L.T., M.L.T. and F.M.B. conceived and wrote the review article.
Conflicts of Interest
The authors have declared no conflicts of interest.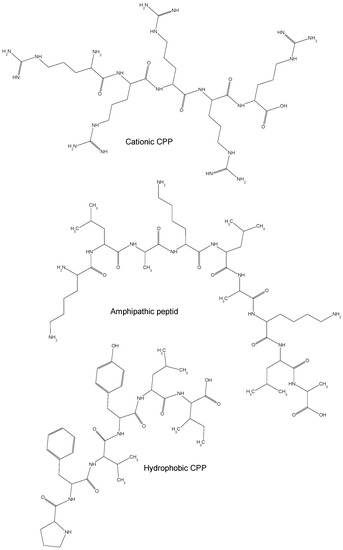 Figure 1. Representative structures of the three classes of CPPs: polyarginine (as cationic prototype, RRRRR), amphipathic (i.e., KLAKLAKLA) and hydrophobic (i.e., PFVYLI).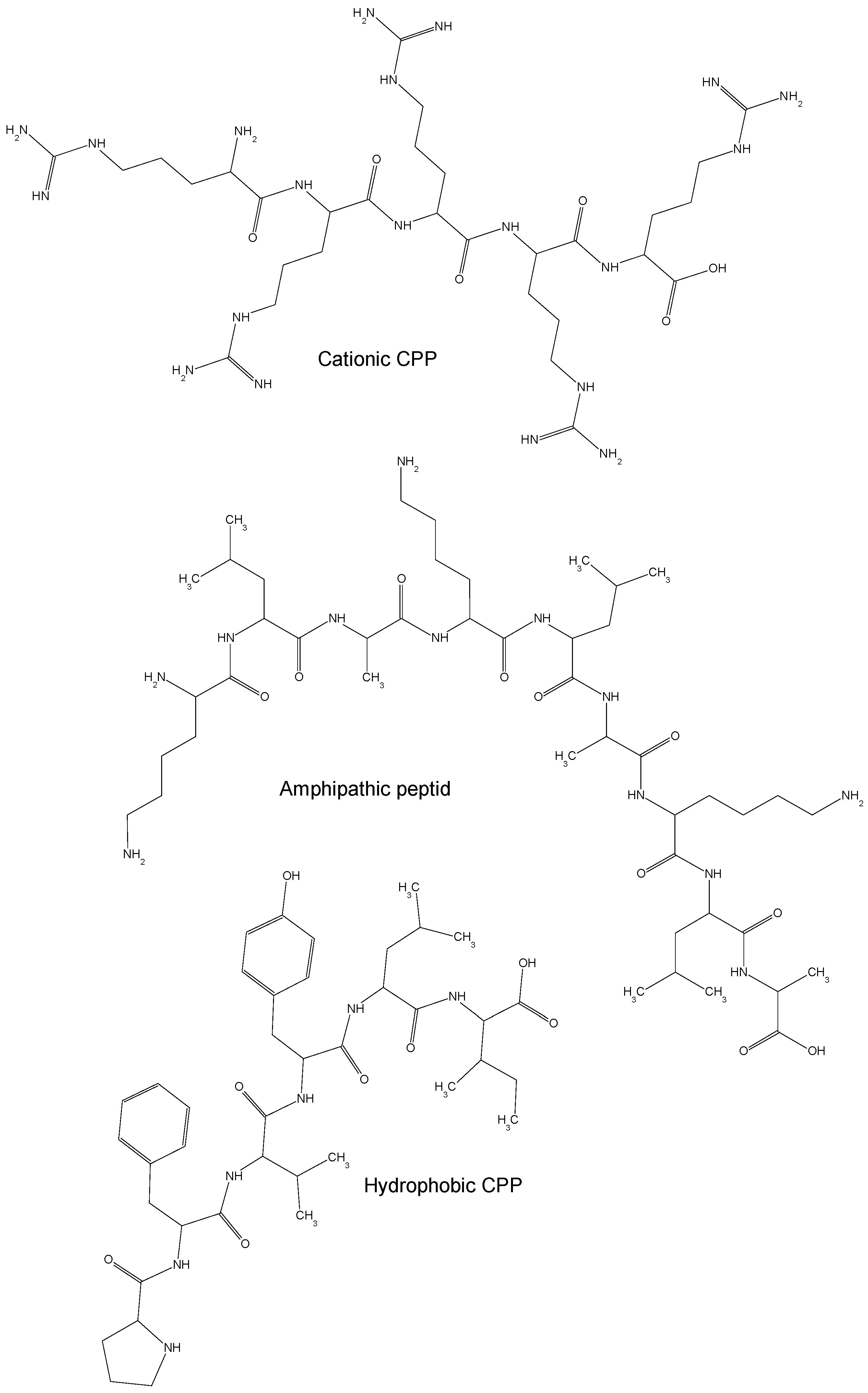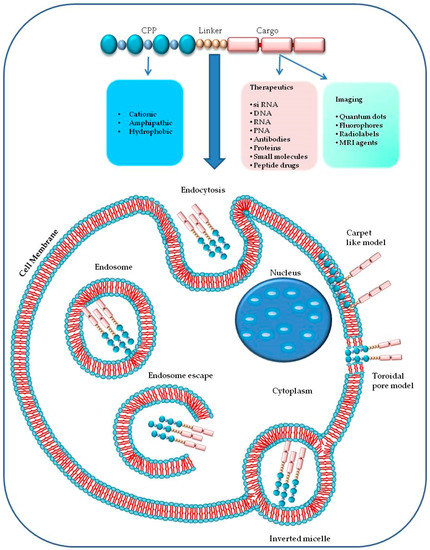 Figure 2. Schematic representation of several cargo types delivered by CPPs and of cellular uptake mechanisms including endocytosis (clathrin mediated endocytosis, caveolae mediated endocytosis, clathrin/caveolae indipendent) and direct traslocation (carpet like model, toroidal pore model).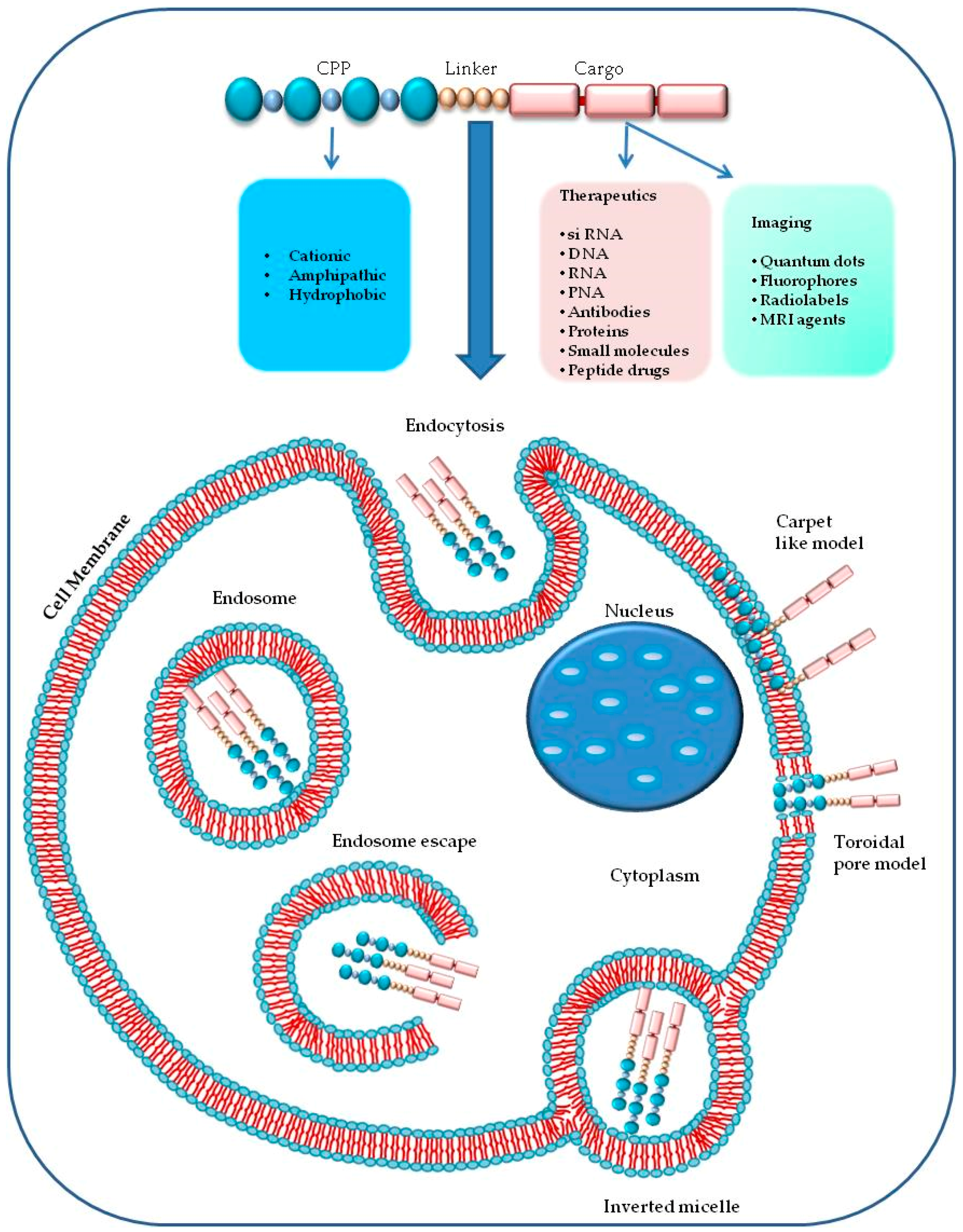 Table 1. List of CPP-derived molecules selected from CPPsite 2.0 database and from the literature for in vivo and/or in vitro anticancer therapy.
Table 1. List of CPP-derived molecules selected from CPPsite 2.0 database and from the literature for in vivo and/or in vitro anticancer therapy.
Name
Peptide Sequence *
Activity
Cells/Tumors
Cargo
Ref.
YTA2
YTA4
YTAIAWVKAFIRKLRK
IAWVKAFIRKLRKGPLG
CPP conjugated to the methotrexate (MTX) as therapeutic for drug resistant tumor cells.
Breast cancer cells MDA-MB-231
MTX
[47]
TAT
Pen
R12
R16
r8
r12
R5
R7
GRKKRRQRRRPPQC
RQIKIWFQNRRMKWKKGC
RRRRRRRRRRRRGC
RRRRRRRRRRRRRRRRGC
RrrrrrrrGC
rrrrrrrrrrrrGC
Fl-ahx-RRRRR
RRRRRRR
Accumulation of oligoarginine peptides in tumor-xenografted mice.
Nude mice implanted with HeLa and CHO-K1 cells
Doxorubicin Paclitaxel
[40,48,49,50]
Glu-Oct-6
Glu-Lys
6-Oct
Phe-Oct-6
Asn-Oct-6
Tyr-Oct-6
EEEAAGRKRKKRT
EEEAAKKK
GRKRKKRT
FFFAAGRKRKKRT
NNNAAGRKRKKRT
YYYAAGRKRKKRT
CPP with enhanced nuclear localization in prostate cancer cells.
Prostate cancer cells DU-145 and LNCaP
Nucleic acid
[51]
RV24
RRRRRRRRRGPGVTWTPQAWFQWV
Amphipathic peptide-carrier for targeting cancer cells.
T98G, HepG2 and HeLa cells
β-galactosidase and eGFP
[52]
TAT-NBD
TMTP1-TAT-NBD
YGRKKRRQRRRGTALDWSWLQTE
CGNVVRQGC-G-YGRK-KRRQRRR-G-TALDWSWLQTE
Anticancer effects and inhibition of tumor metastasis by the TMTP1 compound peptide.
BALB/c nu/nu mice; PC-3M-1E8, MDA-MB-231, MCF-7 and PC-3M-2B4 cells
Tumor molecular targeted peptide 1 (TMTP1)
[53]
AgNP-TAT
CGGGYGRKKRRQRRR
TAT-modified nanosilver for multidrug-resistant cancer.
Nude mice implanted with B16 melanoma cells; Caco-2 cells
Nanosilver Nanoparticles
[54]
Crotamine
YKQCHKKGGHCFPKEKICLPPSSDFGKMDCRWRWKCCKKGSG
Crotamine as carrier for anti-cancer molecules.
B16-F10, HCT116, 3T3 cells; C57BL6 or nude mice
Nucleic acid
[55]
1 (TAT)
2
7
10
28
30
33
44
45
47
48
YGRKKRPQRRR
DSLKSYWYLQKFSWR
KLWMRWWSPTTRRYG
RLWMRWYSPWTRRWG
RLIMRIYAPTTRRYG
RLYMRYYSPTTRRYG
RLWMRWYSPRTRAYG
KRPTMRFRYTWNPMK
WKCRRQCFRVLHHWN
WKCRRQAFRVLHHWN
WKARRQCFRVLHHWN
-TAT derived CPP as anticancer molecular delivery systems.
-Co-delivery of doxorubicin and paclitaxel using multi-functional micelles.
NOD-SCID mice model of xenograft human tumor cells; Many Human neoplastic cells including HeLa, Lovo, A549, MCF-7,MKN45,HepG2, LNCap, KPK,U2OS, RC15,RDES,H28,K562,U251,NHDF
KB cells
Doxorubicin and Paclitaxel
[56]
R9-GO-203
rrrrrrrrrcqcrrkn
Inhibition of the MUC1-C oncoprotein and delivery of cytotoxic agents in breast cancer cell lines.
MCF-7 and ZR-75-1 cell lines
Taxol and Doxorubicin
[57]
iRGD-CDD
CRGDKGPDC
Proapoptotic peptide to intratumorally spreading cancer therapy.
Athymic nude mice and Balb/C mice; Human embryonic kidney (HEK) 293T, prostate cancer PPC1, mouse breast cancer 4T1, Human tumor cell line M21, Human breast cancer cell line MCF-10CA1a.
Bit1 (a pro-apoptotic mitochondrial protein)
[58]
P7-4
P7-5
P7-6
P7-7
R7-KLA
KLA-R7
RRRRRRRGGIYLATALAKWALKQGF
IYLATALAKWALKQGFGGRRRRRRR
RRRRRRRGGIYLATALAKWALKQ
IYLATALAKWALKQGGRRRRRRR
RRRRRRRGGKLAKLAKKLAKLAK
KLAKLAKKLAKLAKGGRRRRRRR
Membrane permeabilization by peptides with anticancer properties.
Male white rats; Jurkat and CHO
Peptide P7–27
[59]
P1
P2
P3
P4
RGD-ADDA-RRRRRRRR
RGD-Ahx-RRRRRRRR
RGD-RRRRRRRR
RRRRRRRR
Self-assembled BolA-like amphiphilic peptides as viral-mimetic gene vectors.
293T and HeLa
Plasmid DNA
[60]
MG2A
GIGKFLHSAKKFGKAFVGEIMNSGGKKWKMRRNQFWVKVQRG
Penetratin-mediated delivery for antitumor activity of the cationic antimicrobial peptide Magainin II.
HeLa and A549 cells
Antimicrobial peptide MG2A
[61]
CRGDK
CRGDK
Functionalized micelles for delivery of anticancer drugs.
Breast MDA-MB-231 and prostatic PC3 cancer cell lines
Doxorubicin
[62]
L1
CTSTTAKRKKRKLK
Lipopeptides derived from human papillomavirus type-16 capsid for gene delivery.
Malignant human glioma cells U87MG and COS-7 cells
Plasmid DNA and siRNA
[63]
oligoarginine
rrrrrrrr
Multifunctional liposomes for targeted therapy of prostate cancer.
22Rv1 xenograft murine model; PC-3 cells
Folate
[64]
GC/R8-Lip
RRRRRRRR
Octaarginine-modified liposome as carriers of alpha-galactosylceramide.
C57BL/6 (H-2b) female mice; JAWSII cells
GC (-galactosylceramide), ovalbumin
[65]
p21-ELP1-Bac
Bac-ELP43
Bac-ELP63
Bac-ELP122
RRIRPRPPRLPRPRPRPLPFPRPG
Therapeutic peptide based on thermo-responsive elastin-like polypeptide.
Female athymic nude mice (Ncr-nu/nu); S2013, Mia PaCa-2 and Panc-1.
p21 peptide
[66,67]
TP10-SRC1LXXLL
R7-SRC1LXXLL
TP10-SRC1(1222–1245)
R7-SRC1(1222–1245)
PKKKRKV-AGYLLGKINLKALAALAKKIL-
PQMQQNVFQYPGAGMVPQGEANF
PKKKRKV-RRRRRRR-YSQTSHKLVQLLTTAEQQ
PKKKRKV-AGYLLGKINLKALAALAKKIL-
PQMQQNVFQYPGAGMVPQGEANF
PKKKRKV-RRRRRRR-PQMQQNVFQYPGAGMVPQGEANF
LXXLL peptide to convert transportan 10 to a potent inducer of apoptosis in breast cancer cells.
MCF-7 cells
Peptide (LXXLL)
[68]
pep5-cpp
N-pep5-cpp
N2-pep5-cpp
N3-pep5-cpp
C2-pep5-cpp
C3-pep5-cpp *
C4-pep5-cpp
C5-pep5-cpp
C6-pep5-cpp
C7-pep5-cpp
A
B
C
Ac-pep5-cpp
WELVVLGKL-YGRKKRRQRRR
ELVVLGKL-YGRKKRRQRRR
LVVLGKL-YGRKKRRQRRR
VVLGKL-YGRKKRRQRRR
WELVVLG-YGRKKRRQRRR
WELVVL-YGRKKRRQRRR
WELVV-YGRKKRRQRRR
WELV-YGRKKRRQRRR
WEL-YGRKKRRQRRR
WE-YGRKKRRQRRR
WELVVA-YGRKKRRQRRR
WEAVVL-YGRKKRRQRRR
WEAVVA-YGRKKRRQRRR
Ac-WELVVL-YGRKKRRQRRR
Peptide derived from g1/s cyclin d2 that induces cell death.
C6 rat; HeLa cells
Pep-5 derivatives
[69]
C24-LMWP
VSRRRRRRGGRRRR
Low-molecular-weight protamine-modified PLGA nanoparticles for overcoming drug-resistant breast cancer.
BALB/c-nu nude mice; A549/T and MCF-7/ADR
LMWP/PLGA nanoparticles and doxorubicin
[70]
TAT-gelonin
YGRKKRRQRRR
Combination of antibody targeting and PTD-mediated intracellular toxin delivery for colorectal cancer.
C57BL/6 mice; LS174T and HCT116, MDCK and 293 HEK
Gelonin
[71]
TAT-BID
YGRKKRRQRRR
Controlled delivery of BID protein fused with TAT peptide sensitizes cancer cells to apoptosis.
PC3, LNCaP, A549, and HeLa
BID protein
[72]
PTX-TAT-LP
PTX-C-TAT-LP
PTX-N-TAT-LP
CAYGRKKRRQRRR
CAYGRKKRRQRRR
CYGRKKRRQRRR
Tumor-targeted paclitaxel delivery and enhanced penetration using TAT-decorated liposomes comprising redox-responsive poly(ethylene glycol).
B16F1 tumor-bearing C57 mice; Murine B16F1 melanoma tumor cells
Paclitaxel (PTX)
[73]
B1
B1-Leu
B1-Lys
VKRFKKFFRKLKKSV
VKRFKKFFRKLKKLV
VKRFKKFFRKLKKKV
Design, synthesis and biological evaluation of novel peptides with anti-cancer and drug resistance-reversing activities.
MCF-7 cells
B1 peptides
[74]
TAT-LP-PTX
T7/TAT-LP-PTX
T7-LP
CAYGRKKRRQRRR
CAYGRKKRRQRRR
CHAIYPRH
Efficacy of dual-functional liposomes containing paclitaxel for treatment of lung cancer.
BALB/c male athymic nude mice; A549
Paclitaxel (PTX)
[75]
TP
TP-biot1
TP-biot13
TP-10
TP10-biot1
GWTLNSAGYLLGKINLKALAALAKKIL
GWTLNSAGYLLGKINLKALAALAKKIL
GWTLNSAGYLLGKINLKALAALAKKIL
AGYLLGKINLKALAALAKKIL
AGYLLGKINLKALAALAKKIL
Protein and siRNA delivery by transportan and transportan 10 into colorectal cancer cell lines.
HT29 and HCT116
siRNA
[76]
Peptide 1
Peptide 2
Peptide 3
Peptide 4
Peptide 5
Peptide 6
Peptide 7
Peptide 8
Peptide 9
Peptide 10
R9
Peptide 1-C3G
Peptide 1-NΔ
Peptide 1-SΔ
Peptide 1-NSΔ
Peptide 1-NTSΔ
Peptide 1-NTCSΔ
Peptide 1-NTHSΔ
NTCTWLKYHS
CASGQQGLLKLC
YNNFAYSVFL
ECYPKKGQDP
RHVYHVLLSQ
HATKSQNINF
YRDRFAFQPH
IWRYSLASQQ
YQKQAKIMCS
VQLRRRWC
RRRRRRRRR
NTGTWLKYHS
TCTWLKYHS
NTCTWLKYH
TCTWLKYH
CTWLKYH
TWLKYH
CTWLKY
Novel cell-penetrating peptide targeting human glioblastoma cell lines.
U87MG cells
p16(INK4a) functional peptide
[40,49,77]
P28
LSTAADMQGVVTDGMASGLDKDYLKPDD
p28, an anionic cell-penetrating peptide, increases the activity of wild type and mutated p53.
MCF-7, MDA-MB-231, and T47D, HCT116 and HT29, HT1080, (HTB-88), osteosarcoma (TE85), rhabdomyosarcoma (RD), glioblastoma (U87 and LN229), neuroblastoma (SK-N-BE2), prostate cancer (DU145), pancreatic cancer (MIA-Paca2) and ovarian cancer (ES-2)]. Melanoma lines (UISO-Mel-23, 29
P28
[78]
RALA peptide
WEARLARALARALARHLARALARA
Readily traversed the plasma membrane of both cancer and fibroblast cell lines and elicited reporter-gene expression following intravenous delivery in vivo

.

ZR-75-1 human breast cancer, PC-3 human prostate cancerand NCTC-929 murine fibroblast cell lines
Plasmid DNA
[79]
TAT(47–57)
Penetratin
PEP-1
DS4.3
YGRKKRRQRRR
RQIKIWFQNRRMKWKK
KETWWETWWTEWSQPKKKRKV
RIMRILRILKLAR
Anti-tumoral effect of the mitochondrial target domain of Noxa delivered by an engineered Salmonella typhimurium.
Male Balb/c mice; CT26 mouse colon cancer cells, HeLa and Hep3B cells
Mitochondrial Target Domain of NOXA
[80]
SR9
HR9
PR9
SRRRRRRRRR
CHHHHHRRRRRRRRRHHHHHC
FFLIPKGRRRRRRRRR
Direct membrane traslocation. Enhance the gene expression intensity.
A549 cells
Plasmid DNA
[81]
PF14
AGYLLGKLLOOLAAAALOOLL
Delivery pDNA forming stable nanoparticles that improve the transfection efficiency.
HeLa pLuc705 cells
Nucleic acids
[82,83]
d-NTD
q-NTD
KGRKKRRQRRRPPQ
KGRKKRRQRRRPPQ
d-NTD is the most potent conjugate against HepG2 human liver cancer cells.
HepG2
Doxorubicin
[84]
TH
AGYLLGHINLHHLAHL(Aib)HHIL-NH2
Acid-activated pH response for targeting delivery of antitumor drugs.
Hela cells
pH-responsive
[85]
* Amino acids in capital letters are in

l

configuration while those in lower case letters are in

d

configuration; Fl = Fluorescein moiety; Ahx = aminohexanoic acid; O = ornithine; Aib = aminoisobutyric acid.

© 2018 by the authors. Licensee MDPI, Basel, Switzerland. This article is an open access article distributed under the terms and conditions of the Creative Commons Attribution (CC BY) license (http://creativecommons.org/licenses/by/4.0/).