Synthesis, Biological Evaluation and Low-Toxic Formulation Development of Glycosylated Paclitaxel Prodrugs
1
Research Center of Chinese Herbal Resource Science and Engineering, Guangzhou University of Chinese Medicine, Guangzhou 510006, China
2
Key Laboratory of Chinese Medicinal Resource from Lingnan (Guangzhou University of Chinese Medicine), Ministry of Education, Guangzhou 510006, China
3
Joint Laboratory of National Engineering Research Center for the Pharmaceutics of Traditional Chinese Medicines, Guangzhou 510006, China
*
Authors to whom correspondence should be addressed.
Received: 21 November 2018 / Revised: 3 December 2018 / Accepted: 3 December 2018 / Published: 5 December 2018
Abstract
Paclitaxel (PTX) is a famous anti-cancer drug with poor aqueous solubility. In clinical practices, Cremophor EL (polyethoxylated castor oil), a toxic surfactant, is used for dissolution of PTX, which accounts for serious side effects. In the present study, a single glucose-conjugated PTX prodrug (SG-PTX) and a double glucose-conjugated PTX prodrug (DG-PTX) were synthesized with a glycosylated strategy via succinate linkers. Both of the two prodrugs presented significant solubility improvement and drug-like lipophilicities. Compared to DG-PTX, SG-PTX manifested more promising release of the parent drug in serum. A high percentage of PTX released from SG-PTX could be detected after enzymatic hydrolysis of β-glucuronidase. Besides, both of the two prodrugs exhibited effective cytotoxicity against breast cancer cells and ovarian cancer cells, but presented reduced cytotoxicity against normal breast cells. Moreover, SG-PTX manifested impressive solubility in a low toxic formulation (without ethanol) with a different percentage of Cremophor EL. These results indicated that glycosylation is a promising strategy for PTX modification and SG-PTX may be a feasible and potential type of PTX prodrug. In addition, ethanol-free formulation with a low percentage of Cremophor EL might have the potential to develop a safer formulation for further studies of glycosylated PTX prodrugs.
View Full-Text
►

▼

Figures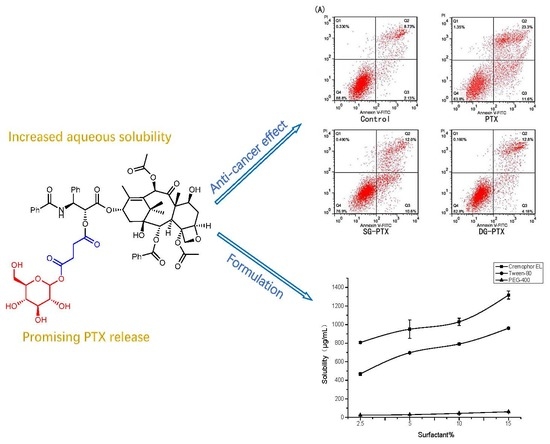 Graphical abstract
This is an open access article distributed under the
Creative Commons Attribution License
which permits unrestricted use, distribution, and reproduction in any medium, provided the original work is properly cited (CC BY 4.0).

Share & Cite This Article
MDPI and ACS Style
Mao, Y.; Zhang, Y.; Luo, Z.; Zhan, R.; Xu, H.; Chen, W.; Huang, H. Synthesis, Biological Evaluation and Low-Toxic Formulation Development of Glycosylated Paclitaxel Prodrugs. Molecules 2018, 23, 3211.
Note that from the first issue of 2016, MDPI journals use article numbers instead of page numbers. See further details here.
Related Articles
Comments
[Return to top]