Gas Phase Hydrogenation of Furaldehydes via Coupling with Alcohol Dehydrogenation over Ceria Supported Au-Cu
Chemical Engineering, School of Engineering and Physical Sciences, Heriot Watt University, Edinburgh EH14 4AS, Scotland, UK
*
Author to whom correspondence should be addressed.
Received: 7 October 2018 / Revised: 4 November 2018 / Accepted: 5 November 2018 / Published: 7 November 2018
Abstract
We have investigated the synthesis and application of Au-Cu/CeO
2
(Cu: Au = 2) in the continuous gas phase (
P =
1 atm;
T
= 498 K) coupled hydrogenation of 5-hydroxymethyl-2-furaldehyde (HMF) with 2-butanol dehydrogenation. STEM-EDX analysis revealed a close surface proximity of both metals in Au-Cu/CeO
2
post
-TPR. XPS measurements suggest (support → metal) charge transfer to form Au
δ
−
and strong metal-support interactions to generate Cu
0
and Cu
+
. Au-Cu/CeO
2
promoted the sole formation of 2,5-dihydroxymethylfuran (DHMF) and 2-butanone in the HMF/2-butanol coupling with full hydrogen utilisation. Under the same reaction conditions, Au/CeO
2
was fully selective to DHMF in standard HMF hydrogenation (using an external hydrogen supply), but delivered a lower production rate and utilised less than 0.2% of the hydrogen supplied. Exclusive -C=O hydrogenation and -OH dehydrogenation is also demonstrated for the coupling of a series of
m-
substituted (-CH
3
, -CH
2
CH
3
, -CH
2
OH, -CF
3
, -N(CH
3
)
2
, -H) furaldehydes with alcohol (1-propanol, 1-butanol, 2-propanol, 2-butanol, cyclohexanol) dehydrogenation over Au-Cu/CeO
2
, consistent with a nucleophilic mechanism. In each case, we observed a greater hydrogenation rate and hydrogen utilisation efficiency with a 3–15 times lower E-factor in the coupling process relative to standard hydrogenation. Our results demonstrate the feasibility of using hydrogen generated in situ through alcohol dehydrogenation for the selective hydrogenation of
m-
furaldehydes with important industrial applications.
View Full-Text
►

▼

Figures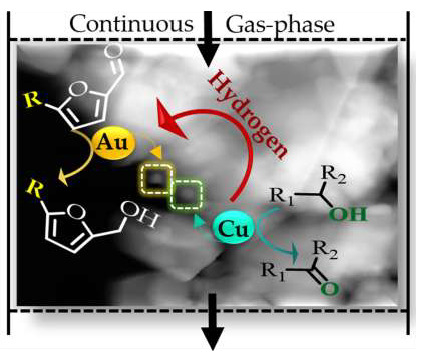 Graphical abstract
This is an open access article distributed under the
Creative Commons Attribution License
which permits unrestricted use, distribution, and reproduction in any medium, provided the original work is properly cited (CC BY 4.0).

Share & Cite This Article
MDPI and ACS Style
Pischetola, C.; Collado, L.; Keane, M.A.; Cárdenas-Lizana, F. Gas Phase Hydrogenation of Furaldehydes via Coupling with Alcohol Dehydrogenation over Ceria Supported Au-Cu. Molecules 2018, 23, 2905.
Note that from the first issue of 2016, MDPI journals use article numbers instead of page numbers. See further details here.
Related Articles
Comments
[Return to top]