Ultra-High-Performance Liquid Chromatography Tandem Mass Spectrometry Assay for Determination of Endogenous GHB and GHB-Glucuronide in Nails
1
Dep. of Excellence-Biomedical Sciences and Public Health, University "Politecnica delle Marche" of Ancona, 60020 Ancona, Italy
2
Comedical S.r.L., 38100 Trento, Italy
3
Unit of Forensic Toxicology (UoFT), Department of Anatomical, Histological, Forensic and Orthopedic Sciences, Sapienza University of Rome, 00167 Rome, Italy
4
National Centre on Addiction and Doping, Istituto Superiore di Sanità, 00167 Rome, Italy
*
Author to whom correspondence should be addressed.
Received: 29 September 2018 / Revised: 11 October 2018 / Accepted: 15 October 2018 / Published: 18 October 2018
Abstract
Background
: The short chain fatty acid gamma-hydroxybutyric acid (GHB) is a precursor, and the metabolite of gamma-aminobutyric acid is commonly used as an illegal recreational drug of abuse.
Methods
: An ultra-high-performance liquid chromatography tandem mass spectrometry was developed and validated for endogenous GHB and its glucuronide in nails, to complement hair in forensic contexts for a retrospective detection of psychotropic drugs consumption.
Results
: GHB endogenous values for children and adolescents, adult females, and adult males in fingernails ranged from 0.3 to 3.0, 3.2, and 3.8 ng/mg, respectively, and toenails values ranged from 0.3 to 1.8, 2.0, and 2.4 ng/mg, respectively. In the three different groups, values of GHB in fingernails were statistically higher than those in toenails. GHB glucuronide could only be detected in finger nails with values ranging from 0.08 to 0.233, 0.252 and 0.243 in children and adolescents, adult females and adult males, respectively.
Conclusions
: The validated method was efficaciously applied to real finger and toe nails specimens from a population of males and females non GHB consumers. A preliminary cut-off of 5.0 ng/mg nail for endogenous GHB and 0.5 ng/mg for endogenous GHB-Gluc in the general population was proposed.
View Full-Text
►

▼

Figures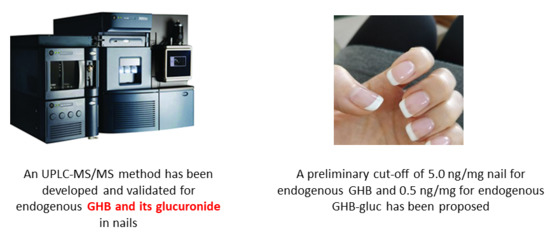 Graphical abstract
This is an open access article distributed under the
Creative Commons Attribution License
which permits unrestricted use, distribution, and reproduction in any medium, provided the original work is properly cited (CC BY 4.0).

Share & Cite This Article
MDPI and ACS Style
Busardò, F.P.; Gottardi, M.; Tini, A.; Mortali, C.; Giorgetti, R.; Pichini, S. Ultra-High-Performance Liquid Chromatography Tandem Mass Spectrometry Assay for Determination of Endogenous GHB and GHB-Glucuronide in Nails. Molecules 2018, 23, 2686.
Note that from the first issue of 2016, MDPI journals use article numbers instead of page numbers. See further details here.
Related Articles
Comments
[Return to top]