Hepatoprotective Effect of Ugonin M, A
Helminthostachys

zeylanica

Constituent, on Acetaminophen-Induced Acute Liver Injury in Mice

1

Department of Chinese Pharmaceutical Sciences and Chinese Medicine Resources, College of Chinese Medicine, China Medical University, Taichung 40402, Taiwan

2

School of Pharmacy, College of Pharmacy, China Medical University, Taichung 40402, Taiwan

3

Department of Nursing, Hungkuang University, Taichung 43302, Taiwan

4

Department of Biotechnology, Asia University, Taichung 41354, Taiwan

5

Chinese Crude Drug Pharmacy, China Medical University Hospital, Taichung 40402, Taiwan

*

Authors to whom correspondence should be addressed.

†

These authors contributed equally to this work.

Received: 29 August 2018 / Revised: 14 September 2018 / Accepted: 20 September 2018 / Published: 21 September 2018
Abstract
The present study aimed to discover the possible effectiveness of Ugonin M, a unique flavonoid isolated from
Helminthostachys zeylanica
—a traditional Chinese medicine used as anti-inflammatory medicine—and to elucidate the potential mechanisms of Ugonin M in the acute liver injury induced by acetaminophen (APAP). In this study, Ugonin M significantly ameliorated APAP-induced histopathological changes and the typical liver function biomarkers (i.e., alanine aminotransferase (ALT), aspartate aminotransferase (AST), and total bilirubin (T-Bil)). It also affected APAP-induced abnormal lipid metabolism including total cholesterol (TC) and triglyceride (TG) in the serum. In inflammatory pharmacological action, Ugonin M suppressed the pro-inflammatory mediators such as nitric oxide (NO) and the lipid peroxidation indicator malondialdehyde (MDA). In addition, Ugonin M reinforced hemeoxygenase-1 (HO-1) protein expression and the production of antioxidant enzymes viz superoxide dismutase (SOD), glutathione peroxidase (GPx), and catalase (CAT). Furthermore, inflammation-associated cytokines including tumor necrosis factor-
α
(TNF-
α
), interleukin-6 (IL-6), and IL-1
β
as well as proteins such as inducible nitric oxide synthase (iNOS) and cyclooxygenase-2 (COX-2) were decreased by the pretreatment of Ugonin M. Moreover, this study found that pretreatment of Ugonin M apparently decreased nuclear factor-kappa B (NF-
κ
B) and mitogen-activated protein kinases (MAPKs) activation via inhibition of the degradation of NF-
κ
B, inhibitory κB-
α
(I
κ
B-
α
)
,
extracellular regulated kinase (ERK), c-Jun-
N
-terminal (JNK), and p38 active phosphorylation. In conclusion, Ugonin M significantly showed a protective effect against APAP-induced liver injury by reducing oxidative stress and inflammation. Thus, Ugonin M could be one of the effective components of
H. zeylanica
that plays a major role in the treatment of inflammatory disorders.
View Full-Text
►

▼

Figures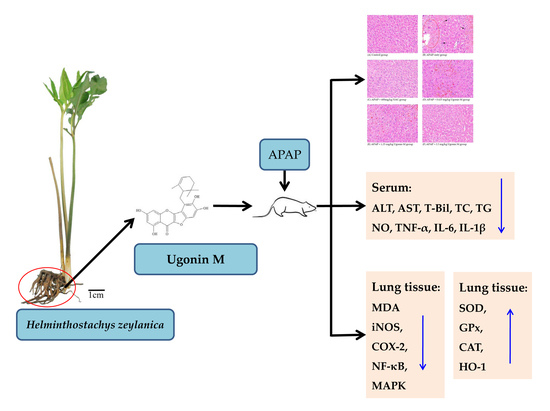 Graphical abstract
This is an open access article distributed under the
Creative Commons Attribution License
which permits unrestricted use, distribution, and reproduction in any medium, provided the original work is properly cited (CC BY 4.0).

Share & Cite This Article
MDPI and ACS Style
Wu, K.-C.; Ho, Y.-L.; Kuo, Y.-H.; Huang, S.-S.; Huang, G.-J.; Chang, Y.-S. Hepatoprotective Effect of Ugonin M, A Helminthostachys zeylanica Constituent, on Acetaminophen-Induced Acute Liver Injury in Mice. Molecules 2018, 23, 2420.
Note that from the first issue of 2016, MDPI journals use article numbers instead of page numbers. See further details here.
Related Articles
Comments
[Return to top]