Open Access This article is
freely available
re-usable
Review
Recent Advances in Organocatalyzed Domino C–C Bond-Forming Reactions
Department of Chemistry and Biochemistry, Berry College, P.O. Box 495016, Mt. Berry, GA 30149, USA
*
Author to whom correspondence should be addressed.
Received: 11 December 2017 / Accepted: 22 December 2017 / Published: 23 December 2017
Abstract
:
Reactions that form a C–C bond make up a foundational pillar of synthetic organic chemistry. In addition, organocatalysis has emerged as an easy, environmentally-friendly way to promote this type of bond formation. Since around 2000, organocatalysts have been used in a variety of C–C bond-forming reactions including Michael and aldol additions, Mannich-type reactions, and Diels–Alder reactions, to name a few. Many of these methodologies have been refined and further developed to include cascade and domino processes. This review will focus on recent advances in this area with an emphasis on methodologies having applications in the synthesis of biologically-significant compounds.
Keywords:
organocatalysis; domino; tandem; Henry; aldol; Mannich
1. Introduction
Reactions that form carbon–carbon bonds are an important tool for a synthetic organic chemist. Since the early 2000s, the field of organocatalysis has developed as an attractive alternative to traditional metal Lewis acid catalysis [
1
]. As the field of organocatalysis has matured, chemists have found methods for many organocatalyzed domino processes allowing for the synthesis of complex molecules in an efficient manner [
2
]. The aim of this mini-review is to highlight the work done over the past two years in organocatalyzed domino processes that involve the formation of a carbon–carbon bond. In particular, we will focus on reports that have led to the synthesis of compounds with biological and medicinal significance. Also, we have tried to avoid reviewing literature that has been recently cited elsewhere [
3
].
3. Henry Reactions
The reaction tolerated a variety of electron-donating and electron-withdrawing groups on the aryl substituent of the nitroalkene, although the electronic characteristics played a role in the yield. Those aryl groups with electron-withdrawing substituents typically gave higher yields of the cyclohexane product. The scope of the reaction with respect to the α-ketoester included alkyl, alkenyl, and aryl substituents with little effect on the yield or selectivity. While the utility of the products has not been fully realized, this report provides a remarkable example of an organocatalyzed domino reaction.
It is noteworthy that the synthesized HPKs have five to six contiguous stereocenters and two quaternary carbons. This report provides a hallmark example of the utility of domino reactions to create complex products efficiently.
4. Aldol Reactions
The aldol reaction is arguably one of the most researched and versatile C–C bond-forming reactions in all of organic chemistry [
65
,
66
,
67
]. Not surprisingly, there are many examples of organocatalyzed aldol reactions, typically catalyzed by proline and its derivatives [
68
,
69
,
70
]. Aldol reactions have commonly been incorporated in domino reactions and reviewed somewhat recently [
71
,
72
]; therefore, we will focus on reports from this year only.
Rios and co-workers developed a double Michael addition to α,β-unsaturated aldehydes, followed by an intramolecular aldol reaction to synthesize pyridine derivatives using a chiral secondary amine catalyst
1
(
Scheme 8
) [
73
].
Remarkably, this cascade resulted in the formation of three C–C bonds with moderate yield and diastereoselectivity and excellent enantiopurity. Enals with appended electron-withdrawing groups (e.g.,
p
-nitro,
p
-cyano) were excellent substrates, whereas enal substrates with substituted halogen atoms provided the final products in only moderate yield (63–72%). Unfortunately, if an electron-donating group such as an aliphatic aldehyde was employed as the substrate, the reaction gave a complex mixture. Nevertheless, this report provides an excellent example of the power of the aldol reaction in a domino process.
The (
S
)-TMS-diarylprolinol catalyst
1
has also been used recently to catalyze a Michael/Michael/aldol condensation to provide tricyclic chromanes bearing four contiguous stereogenic centers, one of which is tetrasubstituted (
Scheme 9
) [
74
]. Chromanes are a commonly-found scaffold in a variety of natural products, some of which have anticancer and antibacterial [
75
,
76
], antifungal [
77
], analgesic [
78
], and antimalarial properties [
79
,
80
]. This methodology has a large reaction scope. Nitrochromenes with appended electron-neutral (H), electron-donating, or electron-withdrawing groups at the C6 or C7 position were excellent substrates in this reaction. In addition, dihalogenated 3-nitro-2
H
-chromenes at the C6 and C8 positions provided products in moderate yield and excellent enantioselectivity. Many aliphatic aldehydes were also used as substrates, with moderate yield of chromene products; however, isovaleraldehyde and
tert
-butyl acetaldehyde were not successful substrates even after five days of reaction. The authors also screened different α,β-unsaturated aldehydes, where aliphatic aldehydes (e.g., acrylaldehyde) provided the desired product in good yield and excellent diastereoselectivity and enantioselectivity. The selectivity remained high for aromatic α,β-unsaturated aldehydes bearing electron-neutral, electron-donating, and electron-withdrawing groups. It is noteworthy that this methodology was shown to be viable on a gram scale, demonstrating the applicability of this protocol.
Pan and co-workers recently reported a method for the synthesis of 3-acyloxypyrazoles from unsaturated pyrazolones and α-nitroketones through an asymmetric Michael/Hemiketalization/retro-aldol reaction to product 3-acyloxy pyrazoles (
Scheme 10
) [
81
].
Pyrazoles are particularly important nitrogen containing motifs because they are found in a wide variety of bioactive compounds [
82
,
83
]. A wide variety of pyrazolones having different benzylidene substituents were tolerated in this reaction. Both electron-donating and electron-withdrawing groups at the ortho-, meta-, and para-position of the aryl group afforded the pyrazoles in excellent yields and enantioselectivities. In addition, various pyrazolones with N-substitutions (e.g., 4-MeC
6
H
4
) were also successful substrates with yields of pyrazoles ranging from 81% to 93% with excellent enantioselectivities. The generality of the reaction was further demonstrated as the scope of nitroketones included various those with appended aryl groups, heteroaromatic rings, and alkyl groups.
5. Other Reactions
5.1. Knoevenegal/Diels-Alder Reactions
Estévez-Braun and co-workers have recently reported two examples of Knoevenegal/Hetero-Diels–Alder domino reactions (DKHDA) in the synthesis of embelin derivatives (
Scheme 11
) [
84
,
85
]. Embelin, a biologically-active compound derived from a plant, has been reported to be a promising structural backbone for potential drug candidates [
86
].
This report is particularly significant because it is the first time intramolecular DKHDA reactions with non-terminal alkynes type
O
-(arylpropynloxy)-salicylaldehydes have been used. Thirty-five aryl-substituted alkynyl ethers were prepared using this methodology, with the majority of reactions giving moderate to high yields of product. The reaction tolerated a variety of electron-donating and electron-withdrawing groups on either aryl ring. The authors hypothesized that the added molecular complexity, introduced with ease because of the domino process, may result in more active and selective biological molecules when compared to embelin.
5.2. Wittig Reactions
Organocatalyzed Michael/Wittig reactions have been used in the synthesis of pyrazoles [
87
] and trisubstituted cyclohexene carboxylates [
88
]. Recently, Ghorai and co-workers reported the use of bifunctional squaramide/thiourea catalyst in a Wittig/oxa-Michael reaction to synthesize benzoxaborole derivatives (
Scheme 12
) [
89
].
Benzoxaboroles have been shown to have many potential pharmaceutical applications because of their anti-parasitic, antimalarial, anti-inflammatory, antibacterial, and antiviral properties [
90
]. The bifunctional organocatalyst is thought to coordinate to the carbonyl of the substrates through the squaramide/thiourea functional groups of the catalyst (the pull), and the tertiary nitrogen of the catalyst coordinates to the boron in the substrate providing the "push". The substitution on the aryl moiety was found to be quite general, as electron-donating and electron-withdrawing substituents worked well, resulting in the isolation of the benzoxaboroles in excellent yield and enantioselectivities. The authors also were able to use the benzoxaborles as substrates in the synthesis of chiral β-hydroxy ketones in good yield and enantioselectivity (
Scheme 13
).
Acknowledgments
The authors would like to acknowledge Berry College for their financial support.
Conflicts of Interest
The authors declare no conflict of interest.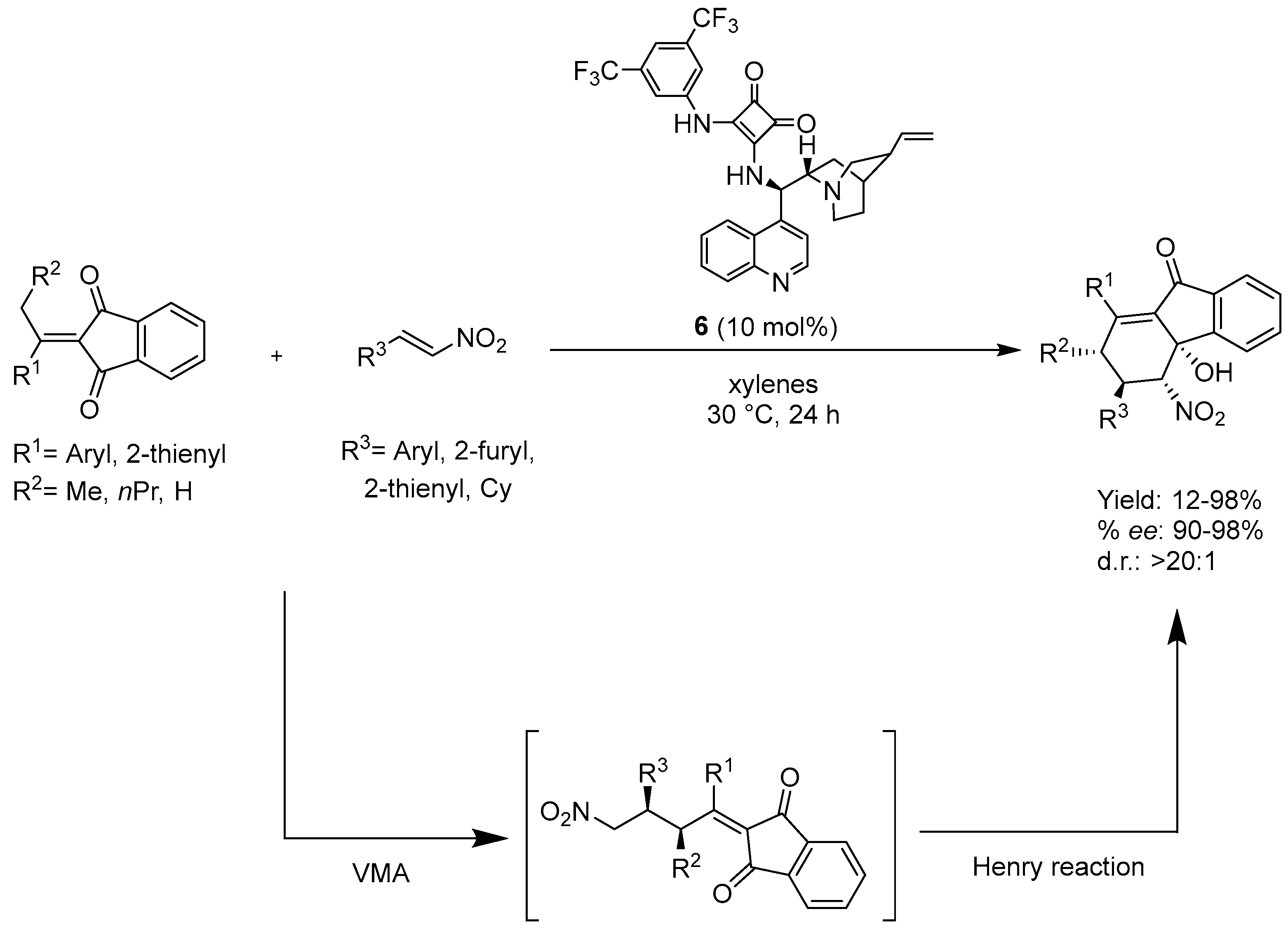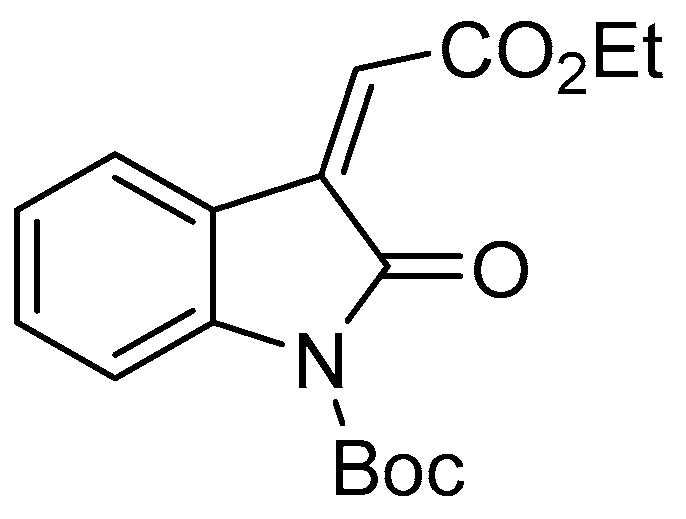 Scheme 11. Synthesis of embelin derivatives via organocatalyzed Knoevenegal/Hetero-Diels–Alder domino reactions (DKHDA) reaction.




© 2017 by the authors. Licensee MDPI, Basel, Switzerland. This article is an open access article distributed under the terms and conditions of the Creative Commons Attribution (CC BY) license (http://creativecommons.org/licenses/by/4.0/).